15 Paracord Watch Band Projects with Instructions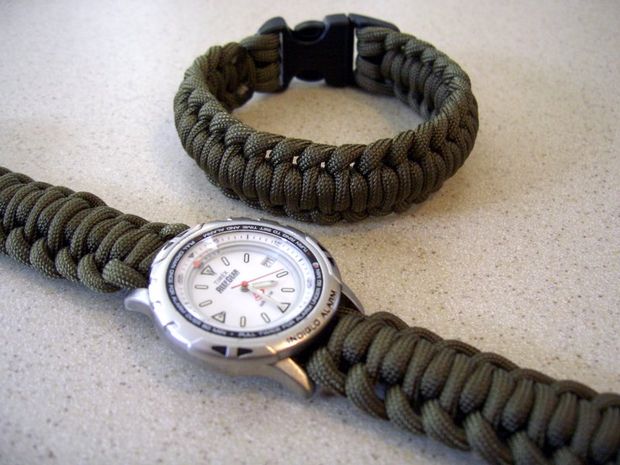 Paracord is a stylish and durable accessory and is ideal for outdoor activities. Paracord Lanyards and other paracord projects are always preferred owing to the light weight and durability of the material. Let's make some sassy and trendy paracord watch bands and wear it around your wrist making a style statement.
Compilation of DIY Tutorials with Step-by-Step Directions on How to Make a Paracord Watch Band
Making a Paracord Watchband with a side release buckle using the alternate half-hitch is well explained in this tutorial. A perfect handmade paracord project to carry in outdoor trekking and hiking activities.

Make your own paracord band for your G-Shock watch with is sturdy, durable and tough. Paracord is the first choice when it comes to accessories you watch in a tactical way using 550 paracords.

Making a Paracord watch band for watches is advisable since it is lightweight and strong, and can hold up the watch really well no matter how soaked it gets. A detailed step-by-step guide to instruct you well how to make watch band out of paracord with simple weaving techniques.

Go creative and add these shackle at the end of the paracord watch band instead of buckles. This gives it a new trendy look to your new wristband.

Time to attach your watch with paracord band for an exciting trip. Using dark color shades is idle if you are looking for outdoor activities since the dirt cannot be seen easily on the nylon strap. Tying the loose ends with a buckle makes it convenient to wear the watch.

A cool and stylish watchband using two colored paracords with a side release buckle at the end. Learn to make a paracord watch band in an easy way with complete instructions to guide you.

If you are looking to make a paracord watch for your Apple or Luminox watch, then you need to make a wide band! In this video tutorial, you learn how to make a wide Solomon Paracord watch band.

If you are not looking for something bulky, then go for this gutted paracord look. Gutted paracord watch bands are thinner in comparison to regular paracord bands since the inner cordage is removed. It is ideal for small wrist size of for ladies who prefer thin bands.

Ideal pattern if you want a thin paracord watch strap. This is made using 36 inch gutted strands of paracord. The single color used is giving it a tough look.

If you are a beginner with paracord try this relatively quick and easier tutorial to make an amazing paracord watch band and make a homemade cool accessory for yourself.

Make this amazing watch band for using 550 paracord and simple cross knot braiding technique. Well explained in this tutorial with detailed instructions with pictures.

This band only uses about 6 feet of paracord and it is a basic cobra stitch!

A fishtail weave for your paracord band gives it a clean sophisticated look.

A camo paracord watch band with simple box knot patterns looks stylish around your wrist. A perfect outdoor survival gear for hikers.

This tactical survival gear is a must when exploring the outdoors. A classy color choice and the buckle makes it an ideal choice.
Time to weave some cool paracord watch band from the patterns of your choice. Whether you want to trendy a sporty and bulky look or a simple classic one paracord meets all your demands. With the variety of knotting and weaving techniques, you can make unique handmade paracord survival gears and accessories!
Leave a comment