16 DIY Pine Cone Owls | Amazing Craft Ideas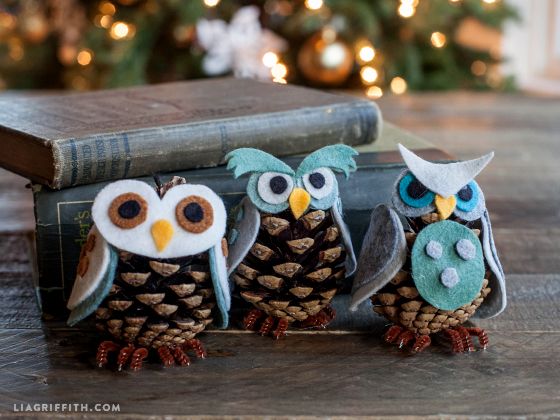 We all love pinecone crafts. Let's explore the different ways of making pine cone owl and owl babies on your own. You can use the wonderful owl ornaments to decorate your Christmas Trees or as showpieces. They make great gifts for friends and family and are affordable too. Channelise your creative skills and recycle ordinary pine cones into amazing owls! You may need pine cones, felt, googly eyes, some paint, and cotton to make this craft!
How to Make Homemade Pinecone Owls Crafts with Instructions
Whooo's got, crafty kids? Keep their little hands occupied this holiday season with this fun and easy tutorial and step-by-step instructions. I just love those little-felt faces! They make adorable gift items in the festive season!

 

If you have large pinecones in your backyard, then time to make some beautiful ornaments for the festive season. To make this beautiful owls all you need is some pine cones, colored feathers, and googly eyes.

 

These adorable owl ornaments are made from pinecone and felt! They make amazing showpieces and is an easy and rustic craft idea for autumn!

 

Making pine cone owls is a fun autumn craft for kids. You can combine this craft with a nature hike to find the pine cones, acorn cups, and leaves used in the activity. You paint the eyes made of acorn tops and attach candy corns for the nose and talons.

 

Try turning pinecones into owls! Not only will you and the little ones have a "hoot," it's also a great way to explore nature and create fine motor skills.

 

Crafting with natural materials is fun. Bring a bit of the outdoors inside with these darling Pinecone Owls. A fun crating idea for kids too.

 

This is one of the favorite designs to make own ornaments from pine cones and felt. You need to cut out the head, eyes, and wings and stick them to the pine cones.

 

Follow the simple instructions to make these quirky owls from pinecone.

 

This cute little pinecone owl captures the whimsy excitement of the holiday season!

 

Free Pine Cone Owls Template

There are three types of owl designs which can be printed and cut out to stick on the pine cones. Make your owl ornaments in no time with kids!

 

We hope you liked the designs and templates and you will surely go in your garden to hunt for the fallen pine cones. Turn them into unique owl ornaments and decor pieces this fall!
Leave a comment