30 Crochet Valance | Free Patterns & Tutorials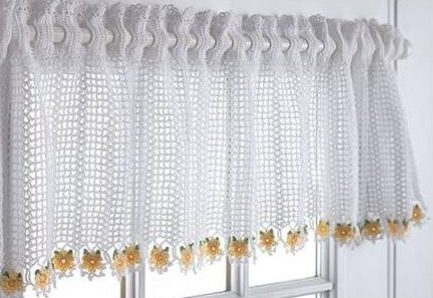 With summer approaching in some months, you are probably hoping to give your windows a new look. Custom handmade crochet valance or window treatments look nice and are great for pulling off the perfect look you are hoping to create in each room of your home.
Making your own crochet valance patterns can be a great way to save money when decorating your kitchen, bedroom or bathroom. Here are 30 Free Crochet Valance Patterns and Tutorials for your windows to get you started.
 Collection of Amazing Crochet Valance Patterns
Time to crochet this colorful flower pattern for your window valance. A very creative blend of colors to adorn your windows with! The free tutorial has step-by-step directions to make it easy for you to crochet the same in no time!

Time to crochet a ruffled splendor curtain valance to give it a fresh and elegant look.

Handmade crochet valance adds timeless charm to your kitchen window or living room windows. A simple but interesting decoration for your windows. You can explore with interesting color combinations or choose to crochet a soothing white valance for summers!

Delicate valance adds a light and airy feel and looks great in a bedroom or kitchen window. Ideal for the summer or spring months. Crocheting these intricate white motifs and daisy form an edging for this charming valance that will go with just about any style of decor.

Making your own crochet flower lattice curtain valance is an amazing idea for your room windows. The pattern is simple enough for you to finish it quickly. You can determine the length of the valance as per your choice! Ecru crocheted valances would look equally amazing.

A lacy, old-fashioned feather stitch valance pattern adds a contemporary style with a touch of vintage charm to this very pretty window topper that's versatile enough for any room.

This crochet pattern requires knowledge of the broomstick lace and the beaded loop stitch. You can also make matching curtains to go with this valance. The only thing, with curtains it might get a little heavy.

A beautiful crochet designed valance for your window panes. Gives it a little see-through and rustic touch.

Filet Crochet a fresh new look for your window! Make this beautifully crocheted heart and flower valance for your windows and see the sunshine seep in through the gaps.

Make this pretty valance for your windows and add a colorful spark to your decor. You can choose different colors of your choice according to the season and make this easy crochet pattern yourself.

This simply crocheted daisy valance will definitely brighten up your home. The flower design will bring a lively, fresh, spring vibe all year round and perk up your decor. This pattern is a perfect crochet project for beginner crocheters looking to create crocheted home items for their abode.

Time to weave and make this interesting lacy heart design for your window valance with tassels added to the end to give it an artistic touch.

If you love hummingbirds, you'll love this edging-runner worked in filet crochet. Use it as a valance for your windows. The instructions include how to make it longer (or shorter) to suit your needs!

 Dress up a window with the nostalgic beauty of this lacy valance accented with openwork diamonds! Adorn your home with these pretty crochet window topper!

If you have some old crocheted doilies put them to some creative use! Stitch the doilies together to make amazing designs!

Great idea for a valance and very striking where you can stitch crocheted flowers! You can make this half circle design instead of the usual rectangle ideas!

Brighten up your room by hanging this circular flower power valance in your kitchen or living room. With a splash of bright colors make adorably crocheted valance!

This simple open crochet pattern is for a cotton valance. This design is a classy and instricate one for advanced crochet lovers!

Create amazing crochet hankie with bright borders and hang them together in loops to make amazing window valance.
Leave a comment