22+ Easy and Creative DIY Business Cards Ideas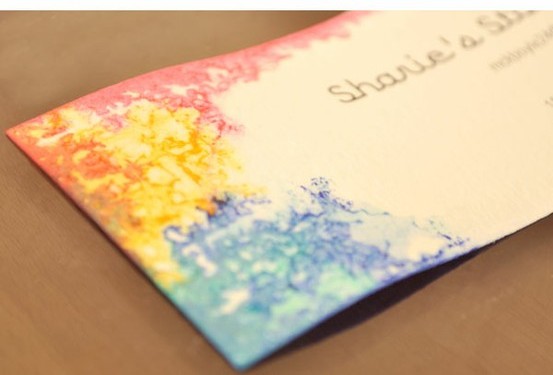 Do you run a business of your own? Does your work involve meeting people and clients all the time? Then why don't you get a few business cards of your own? That would surely make it easier for your clients to contact you. If you have an issue with spending too much on business cards, then make one for yourself. These creative ideas will guide even beginners in making the perfect DIY Business Cards with step-by-step tutorials.
>> How to Make DIY Birthday Cards <<
Hand-Picked Collection of Amazing How to Make DIY Business Cards Ideas
1. Tie Dye DIY Business Card Tutorial
The tie-dyed business cards will spruce up the minimal design and be catchy at the first sight.
2. Handmade Business Cards (Step-By-Step Instructions)
Punch cut-outs can equally be replaced by washi tape but nothing can replace the glitz of a personalized handmade business card. These designs are simple and elegant!
3. Homemade Business Cards
A homemade business card like the one shown in this tutorial will reflect your love and passion towards your work.
4. Cool Business Card Ideas
Clients should be impressed with you from the moment you give them your business card and for that, you really need to make it cool.
5. Fabric Business Card Design
Business cards are far more important than you think. They are the ones that fetch more client and don't you think they must reflect your choice of style?
6. Cute DIY Business Card Tutorial: How to Make
Who said business cards cannot be cute? Check this tutorial and you will be baffled by the cute designs.
7. Funny Business Card Template
Why should you let people think that business cards mean something boring and plain-looking? Prove them wrong with this wonderful design.
 8. Last Minute Business Cards
Have you run out of your set of business cards and you have an urgent meeting with someone? Don't worry, this last minute business cards tutorial is the messiah for you.
9. Crafty Business Cards
For those who want to make something out of the box, these crafty business cards are just the ones you need. It is perfect for those who run a business of homemade things. With this, you are also gifting a vial of glitter to your favorite client.
10.  DIY Black Business Cards
The adorable stitched business cards with a black base are not only cute but also unique. So if you ever feel that you need to refresh your business card, this design is a must try.
11. Watercolor Business Cards
Make your business cards colorful and showy instead of dull and plain. And what is better than watercolors to paint your cards? Stamp a logo or print the company's name or your name and the turn your creativity on with the colors. Focus on the information on the card and at the same time make it creative.
12. Free DIY Recyclable Business Card Design
Sometimes its better that you surprise your clients with your creative skills but not with colors. Show them that business cards can be made equally attractive with recyclable materials.
13. Fun Shaped Business Cards (Craeative Cut-Outs)
The business card shown in this tutorial has certainly taken creativity to an all new level. With just the right amount of space to print your information, this tutorial will show a perfect merchandising card that is not only fun to make but also quirky.
14. DIY Spray Paint Business Cards (Amazing Designs)
The and voguish look of the spray painted business cards are perfect for the fashion bloggers and stylists. Who says that play and work are two different entities? These cards are perfect for those who love to play with their creativity and love their field of work.
15. Best Artist Business Cards
Bring out the artist in you and go back to the childhood days when you used to play with colors. The simple yet creative look of these business cards are really enticing. Professionalism, where the first impression is what really matters, really needs business cards like these.
16. Photographer Business Cards
Once you have opened your photography group you would also need a business card to provide to your clients. So why not grab this opportunity to impress them with your photography?
17. DIY Pretty Business Cards
Classy and beautiful, these business cards are customizable and yet so catchy. It is a wrong notion that you need to make something very much showy to make them beautiful. Simle things have their own beauty.
18. Make Your Own: DIY Stamped Business Cards
The preppy stamped design of these business cards have their own appeal and are sure to lure your clients.
19. DIY Custom Textured Business Cards
A fun modification of the traditional cards, these textured business cards, have added an extra touch of elegance with the lace.
20. DIY Creative Personal Business Cards
Show off your professionalism and love towards your work through a personalized business card. And also present a show of your creativity in the process. With all these things together, the client is bound to be impressed.
21. Creative DIY Inexpensive Business Cards
Having a vintage look, these business cards are very much inexpensive yet unique. If you want something that is wallet-friendly but will be equally enticing then this tutorial is what you need.
22. DIY Unique Transparent Business Cards
Transparent business cards are not only voguish but are also the best option when you are looking for something minimal.
23. Printable Business Card Craft
Curvy and stylish, these print business cards are sure to make your client look at them for a second time.
24. DIY Luxury Business Cards 
Are you looking for something that is different from the traditional cards? Then here is something that you are looking for. These are sure to be remembered by your client for a long time.
25. DIY Square Business Card Ideas
Are you particular about a certain shape for your business card? Is it square? Don't worry, it is perfectly normal to want a business card of a particular shape and here we are catering to your wishes.
26. Frosted Plastic Business Cards
The frosted plastic cards are not only catchy but also pretty epic. Well if you are thinking whether this is easy to make, then I must say yes, they are absolutely easy.
So, with these wonderful tutorials at your step, making DIY business cards will be a cakewalk. Upgrade your old business cards and add creativity and liveliness to them. And what is the easiest way to that? The answer is simple. Do it yourself!
Leave a comment