40 DIY Soy Wax Candles | How to Make Tutorials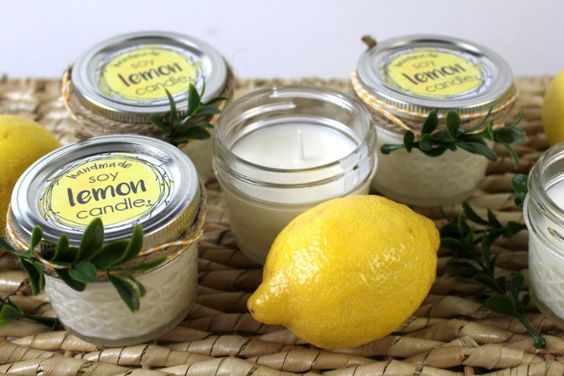 Learn how to make beautiful soy wax candles and illuminate your home with nice smelling candles all over. This candle making project calls for some ingredients like natural soy wax flakes, cotton wicks, some scented fragrance oil, and a recycled glass container of your choice.
Soy candles have some great advantages as they burn longer and cleaner than regular paraffin candles. Soy candles does not emit carbon dioxide into the air which is eco-friendly and beneficial overall. There are very basic supplies needed to make your own soy wax candles at home. The following DIY tutorials give you an idea of using natural soy wax to make beautiful candles yourself.
Soy candle making kits ~ Buy here
Soy wax flakes ~ Buy here
Wooden Wick ~ Buy here
Essential oils for Candles ~ Buy here
Containers ~ tin, glass, mason jars, copper, plastic and more
Collection of How to Make Soy Wax Candles Tutorials & Ideas
Add charm to your home decor with DIY Candle projects. You can turn simple mason jars into beautiful scented candles and put them in your rooms.

You May Also Like ~ "DIY Mason Jar Candles & Candle Holders"

Celebrate light and coming of spring with handmade candles made from soy wax. An easy to make craft ideas for kids too. Flowers and candles always enhance the ambiance and add an element of calmness!

You can use small tea cups or coffee mugs as containers to make these candles. They make great gifts and are pretty easy to make! You can add essential oils or color to add a soothing element to the candles.

You May Also Like ~ "DIY Seashell Candles & Candle Holders"

The recipe for the making the citronella soy wax candles is very simple. The fragrance helps to keep mosquitoes and bay and you can enjoy your time nicely in your backyard. You can recycle small planters, cups or glass jars as the containers for the soy candles.

In the image, they have used coffee beans to create these homemade soy candles, but dried flowers or chunks of colored wax would work well too to give it a creative edge.

Lighten up your home with these beautiful homemade soy candles.  They make wedding favors, you could also use for gifts for special occasions like birthdays or Mother's Day. Once the candles are made you can add embellishments and give it a unique packaging style.

If you have spare teacups at home use them to make beautiful soy candles for those winter seasons!

Easily make your own homemade soy candles using just 2 simple ingredients – soy wax flakes and the essential oil of your choice.  Enjoy 50% longer burning with soy candles and fewer toxins in the air.

If you're looking for an easy last minute gift these pine scented, striped soy candles are such a lovely way to spread a little Christmas cheer!

Try interesting ways to display your handmade candles and give your decor a facelift. Follow the tutorial below to make amazing designs!

Learn how to make soy wax candles quickly using plastic tealight cups. You can use them as floating candles too!

There's something about candles floating on the water that gives off a peaceful and even romantic feeling. They make great centerpieces as enhance your room decor!

Follow the step by step tutorial on how to make some soy candles of your very own!

You can use crayons of your choice to add color to the soy wax. A great blend of colorful scented candles will deck your living room and add some romantic vibes.

Soy wax candles are a greener alternative to paraffin wax, being less toxic and safer for the environment also.

Decorate and light your home with the warm glow of candles this Easter. These agg shaped candles are a treat to the eyes and are super easy to make!

You can also try making these pumpkin spice candles from soy wax flakes. Kids will love to decorate their house with these candles burning around.

Why buy expensive candles when you can make customized ones yourself. Make these candles in bulk for Christmas and gift it to your near and dear ones!

These beautiful candles look and smell divine, but by doing them yourself, you won't have to splurge on those fancy candles. Click the linked tutorial to get the complete candle making guide!

Here's great way and tips on how to make soy candles with essential oils or perfume fragrance.

Once you have melted the soy wax flakes add some essential oil drops of your choice and fill small glass bottles/jars to make amazing candles. You can use flavor of your choice for the scented candles be it peppermint, lavender, vanilla or citronella.

Light your candle on a chilly fall night and remember those farmer's market flowers that brightened so many summer days.

Aromatic candles are pretty accents that amplify the charm of your home.

Though these candles look like traditional candles, they're actually a solid body oil blended with essential oils. Once lit, the oils melt at a warm temperature that can be poured directly into your hand and massaged into the skin.

Make these lemon-scented soy candles in less than 30 minutes. They are cleaner and great alternative to paraffin wax for a cleaner and eco-friendly light.

Recycle and transform wine bottles into handmade candles made from soy wax and essential oils for fragrance. These make fabulous Christmas decorations and gifts. They have used wooden wicks and soy wax flakes to make this one!

Learn how to make citrus and spice scented candles using cinnamon sticks, clove bud, cardamom essential oils and and some soy wax chips.

You can place these beautiful candles in your bedroom for a romantic lit-up night.

Add a decorative twist to the surroundings with these pretty soy candles.
Leave a comment