Free 33 DIY Beaded Bracelet Patterns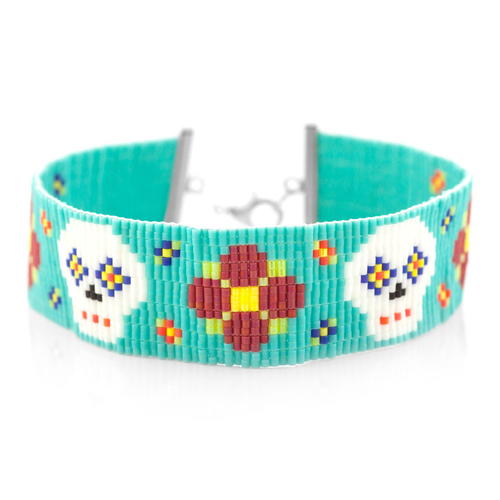 Nothing can be easier than making a beaded bracelet. You can string together a variety of pearls, acrylic beads, glass beads or anything of your choice for a simply tasteful and stylish beaded bracelet. You can not only make them single-stranded but also multi-stranded. They can be made by people of all ages. The color is regarded as one of the most utilitarian and influential tools to highlight your DIY Jewelry. People reciprocate to different colors in widely different ways. Some colors can make them feel better, calm, de-stressed and instill a touch of exuberance into their lives.
ORIGIN OF BEADWORK
The origin of beadwork dates back to 10000 BC in the African tribes. The materials used varied from bone to glass. The color and size of the beads indicated a person's feelings, passion, opinion and capability among many other things. Beads were also used in rituals.
 Here is 33 ideas of DIY Beaded Bracelets are listed and each of them is equally gorgeous and fashionable.
Seed bead bracelets are an all time favorite and they can even give a vintage look. A seed bead is usually a small bead which is round in shape.
You can make them out of single colored beads or even give a patterned outlook like the one shown in the link provided.
You can make them with beads and embroidery threads of different colors of your choice. Crimp beads can be used as an easy alternative to normal beads.
Bead looming is a conventional Native American art form. This is the best gift for those who love conventional art.
Everyone loves flowers and when it comes to beading bracelets, flower beads allure all. Here you will learn the Tibetan style flower bead bracelet.
The peyote stitch is also known as the gourd stitch and it is easier than you think. If you are planning to make something out of the way for your friend or for that special someone then go ahead and check the link.
Pony beads always bring back childhood memories. So why not dig up your box of pony beads and use them to make something innovative.
Macramé bracelet patterns add a give a bohemian touch to your look. Macramé knotting, when applied with beads, gives the most stylish look.
Hemp bracelets with beads are easy to make and you can use glass beads or even acrylic beads in place of pearl beads.
Who doesn't love crocheting right? So go ahead and crochet a bracelet along with beads in them.
These bracelets are perfect for that special man in your life. Surprise him with your creative skills by making these beaded bracelets.
You can replace pink leather with a darker color to achieve a bold look. On the other hand, this sweet pink leather is a must have in your accessory collection.
Kumihimo is actually a traditional form of Japanese braid-making. Instead of the jade beads, you can use beads of your choice.
Braided bracelets when worn singly give a simple look but when worn as a set of 5-6 bracelets provide a statement look.
Native American bracelets have their own traditional and a statement look. They are easy to make and yet appear ultra-modern.
This glass bead bracelet pattern is a bit different from the others but the detailed instruction provided will surely help you out. 
Bugle beads are itself different from other types of beads. This bugle bead bracelet can be worn with casuals t give a chic look. 
This bracelet pattern is easy and does not require much effort but gives a very sophisticated outcome. This bracelet would go well with your everyday-wear.
The woven beaded bracelet is eye-catching and it will highlight your outlook.
Perler bead bracelets are an impeccable piece of jewelry. Its colorful beads will give you a sparkling look.
Gift your friends this friendship bracelet and make them happy and impress them with your creative skills.
This unusual stringing technique is not at all difficult with such a good tutorial. Enjoy making and flaunting such a different kind of bracelet made with small beads.
This pearl bracelet is gorgeous and classy. You can flaunt it with your evening wear.
This crystal bead bracelet has its own charms. You can use multicolored crystal beads and this bracelet would be an eye-catcher.
This bracelet will perfectly complement your western as well as ethnic outfits. You can use colors of choice which will be in accordance with your outfit.
This bracelet will accentuate your feminity and perfectly complement your autumn wear.
This beautiful bracelet will add a modern look to any ensemble and deliver a dose of vivid style to your look in one easy step.
Add a dash of glamor to your overall look with this red cuff bracelet. It is easy to make with such a superb tutorial.
Embrace your beauty and highlight your pretty appearance by wearing this bracelet featuring an exquisite design. The bugle beads are an added charm.
Make a trendy update of your chic casual outfit to look even prettier than before by wearing this zigzag beaded bracelet. So go ahead and make it.
Take the fashion world by a squall and make the rest follow your style as you strut by with these waves patterned bracelets.
Cruise through the fashion world with wearing this daisy bead bracelet meant for a fashion forward woman. Make it as colorful as you want by altering bead colors of your choice.
Get in touch with your feminine side with this simple and sleek bracelet. It is easy to make and worth investing your time in.
So, here are 33 amazing beaded bracelets patterns. So shun the shackles of bygone fashion and make these on your own and flaunt them in style.
Leave a comment
One comment on "
Free 33 DIY Beaded Bracelet Patterns

"