Tag: Paper Mache Projects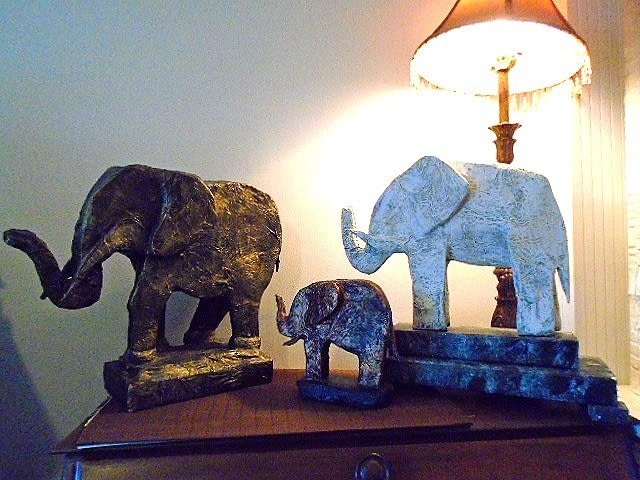 Paper mache is the popular art with the mache mix made from shreds of paper or paper pulp mixed with glue. This mixture could be molded into several shapes when it's wet. Once they dry and become hard they are suitable for painting and decorating them. Paper Mache Elephants are quite a buzz these days. You can create numerous designs in it. This is a great way to make paper mache traditional toys, masks, pinatas, wall hangings, sculptures and more. We have listed all possible designs for the paper mache elephant. Let's explore how to create your fav pattern.
How to Make Paper Mache Elephant with Step-by-Sep Instructions
This sculpted elephant is made from using paper mache paste and cardboard. Once dry, paint it with traditional colors making it an elegant masterpiece. This is easy to construct and you can use it to decorate your side table. You can even use printed wrapping papers and cover the top layer with it to give it a unique look.

 

This standing sculpture of the elephant is an easy to make paper mache craft. All you need is some cardboard cut-outs, glue and paper strips to make the animal figure. Once dry, paint and decorate it.

 

Instructions to Make Papier Mâché Elephant Head

 

This design works well if you want to work on miniature-sized paper mache animals. I loved the cute elephant which was super easy to make, just follow the instructions to make one of your own.

 

Elmer the elephant is a colorful character. His heady optimism and unbridled sense of humor keep the entire community in a cheery mood. So try to decorate yor piñata with colorful confetti papers and let the kids enjoy the theme on birthdays and parties.

 

This traditional Indian design was initially made in Kashmir. The intricate designs showcase the artistic zeal of the Mughal Empire.

 

If you are keen to make a life-size elephant sculpture, then making the base frame with chicken wire is a sturdy and affordable option. It takes less time to create the animal figure and is easy too. Chicken wire is easy to mold into any shape and the material is light and solid too.

 
Once you are finished with your paper mache animal heads, we love the idea of using them as nursery decor or accents for a kid's bedroom. You can hang them in your living room for some crafty inspiration for your next project.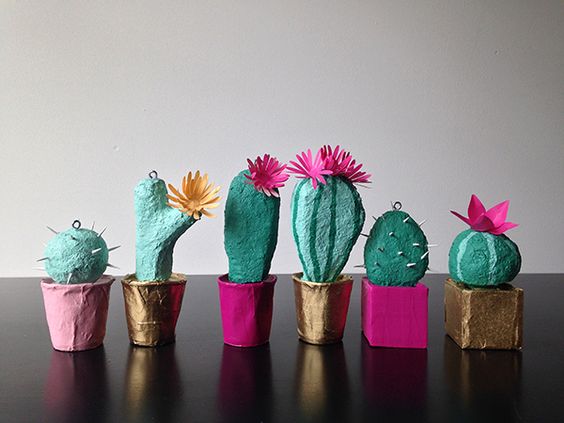 Paper Mache(Papier-Mâché) is a fun project for both kids and adults. If you are fond of succulents and can't maintain real ones, so we have some adorable paper mache cactus (cacti) tutorials for you. Spruce up home with these green funky cactus plants which are easier to maintain. We have rounded up some of the best DIYs and paper mache recipe for this desert plant, which kids will have fun decorating.
Things Required for the Project
Newspaper
Modge-Podge
Cardboard or Styrofoam
Paints
Toothpick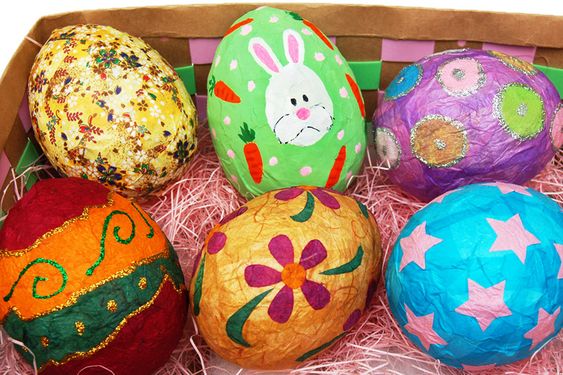 If you're gearing up for Easter with some handmade stuff then DIY paper mache eggs are fun to make and look lovely placed in your house decor. They easily add a spark of brightness to the mundane decor. So get your kids along and indulge in this crafty affair which is simple to make and fun to design. Today we are discussing some interesting ways to make your own paper-mâché egg for this spring with simple ingredients available at your home.
For people who haven't tried paper mache craft before here are the steps involved in making the perfect recipe for mache eggs.
Mix some glue and water in a bowl in the ratio of 3:2 and mix them well (For paper mache paste)
Now, dip the paper cuttings in the glue completely.
Start with sticking the newspapers strips on your plastic egg or balloon.
Be sure, you completely cover the egg with the glued paper strips.
Once dry and hard paint and decorate them.
DIY Paper-Mâché Egg Tutorials with Instructions
These cute painted paper mache eggs are made with easily available materials such as strips of paper, glue and plastic eggs (as a base) for this project. You can also alternatively use styrofoam as the base. Once the eggs are ready and dried, paint it with interesting patterns.
These set of colorful eggs are made from small balloons and filled with treats for little kiddos to go crazy for. And the eggs are decorated with bright confetti and this craft will surely get your children excited.
This is quite a simple tutorial which can be made using balloons, plastic eggs of cardboard. Once the paper-mâché is dried on the egg you can paint it or wrap it with paper and ribbons to fill your egg cartons this Easter.
This is quite a colorful design and is quite simple to make with bright and torn tissue papers, glue, water, and some balloons. Try using both smaller and bigger balloons, for the project. As the smaller ones will be ideal to decorate the Easter basket, while the big ones can be your hanging decorations.
Learn to make Paper Mache Letters – Here
I loved these quirky unfinished eggs designs. You can easily use them as ornaments to decorate your interiors or fill these half-broken eggs with treats for the little ones.
Since these are dinosaur mache eggs in the tutorial, you need to use big balloons for this craft. Kids love playing with Dino eggs and they are fun and messy to make them. The big eggs are placed on a bowl and you may also fill them with small gifts for your child. Once they find these eggs they will be thrilled to get their gifts along with the eggs.
You can make a dinosaur also and place these eggs beside him. A lovely theme for your Halloween parties too.
I loved these polka-dotted Easter Eggs. You can create them easily with small water balloons, some tissue paper and fill them with toys and treats and tie interesting messages to the string. Kids will be quite excited to see these and to open them to see their gifts.
If you want to make paper mache eggs without using balloons, then this the best option. This tutorial uses homemade glue and egg boxes. You can easily store your itty bitty stuff inside it and kids love to play with them.
I love the detailing and design done in this tutorial. A perfect Easter Egg Basket to keep your bunnies and treats.
The egg is decorated with tissue papers at the end. You will need the balloon pump to blow those tiny water balloons in this project.
To make painted eggs, use plain white paper to make the topmost layer of your papier mache once the eggs are dry and hard. Paint patterns, textures or some Easter-themed images like bunnies, flowers and carrots and add some glitter to it.
Once your eggs are done, you can also use printed antique wrapping papers to wrap the top layer and add a vintage look to your eggs.
This is a very interesting one for all Game of Thrones fans. A unique design with a classy touch to put on your tables.
With so many designs now you are good to go and make funky paper mache decorations for your home. Attach some strings to your creations and hang them or place them in a basket near your Easter bunnies. Use your creativity to add to the charm to your hanmade decor, and share these ideas with friends and family online.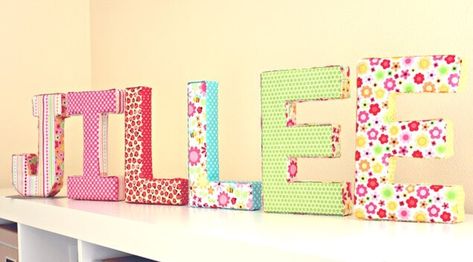 Making paper mache letters is quite simple to make than anyone could have ever thought. The letters are prepared by mixing shreds of old papers in water and glue, is an interesting craft material that can be molded into some outstanding artworks. It also brings out the little creative side to you along with a quick way to impress your beloved in an inexpensive way as well. So if you are wondering how to make paper mache letters then here are 25 incredible ways in which a paper mache letters can be used beautifully, incredibly and innovatively.
Learn How to Make Paper Mache Boxes Here
How to Make DIY Paper Mache Letters Tutorials
You can use handmade papers to make these small paper mache letters. Also you can opt to create homemade letters to decorate your trees and place them anywhere to add a touch of creativity in the festive season.
Large paper mache letters are a great way to decorate your home parties or gift to any of your favorite people. These mache letters are really easy to be made only using paper, glue, and water and won't cost you much too.
A small to medium-size paper mache word has its own beauty in bringing out a realistic effect n the piece of art. You can easily place this in your kid's nursery or toy room to add to the brightness of the decor.
A 24 inch paper mache letter is not a matter of joke and can be used as a wall, door or kitchen hanging. You can easily add colors and glitters to it to make this monogram letter more embellished.
A 23.5-inch paper mache letter can also be used as a beautiful theme decorative purpose. I loved the black and white effect given to it making it elegant and yet charming.
This is very simple to make vintage theatre-style marquee lights or even a monogram for a room. Kids love to decorate their rooms with this kind of decor.
What is the best way to paint paper mache letters? Here this tutorial goes with s small-sized letter is an awesome décor fitting in everywhere in the room.
Pop up your room with these ideal sizes of paper mache gifts and decors. You can place this letter in your room wall and make a bold statement with this. Easy to make and adds a quirky element to the decor.
A size that can be hung outdoors or indoors for an inevitable glamor to your room. You can make this with 12-inch or 18-inch variety.
Glitter can add a new oomph to the paper mache letters. These letters can be a really good decoration for parties, baby showers and can be a pop tassel banner.
This tutorial is awesome, where it can be used as a home décor especially by the sofas because anyone can be mistaken by thinking it to be a cushion. Covering paper mache letters with printed fabric is ideal for a girly room decor.
Place it anywhere to get yourself appreciated by visitors with these beautiful creatives.
These are really interesting ideas that can be customized with any occasion possible. And once the letters are ready to paint them with your fav colors.
A personalized gift, that can make anyone cherish the happy and golden memories. Personalize it with your favorite photos and make it special.
A huge party needs huge decors and what else can be ideal but simple than this?
Making paper mache letters with lights is the cheapest thing that one can make to add class and glamour to one's room.
Lower case paper mache letters are the easiest type of craft gift that can be made.
The monogram letters are not only easy but also classy. And you can use your old cheerios boxes to make the base of these alphabets. With the use of golden and silver metallic colors gives it a rustic and elegant look.
Some birthday or class party round the corner? Paper mache letters are so flexible to be constructed that even Greek letters are possible to be made. Thus adding a crafty element of sequins makes it beautiful.
Make your baby shower décor prettier by hanging the baby's name or initials with ribbons. 
A strong paper mache letter would stand steadily in any extreme party condition to maintain the look of your place. You can make this for your wedding decor and give the decorations a special handmade touch.
Impress your teacher with easily crafted letters made by your own choice.
Making a paper mache letter strong is very necessary to make it last longer. That is why cardboard letters are a good choice.
Preparing the paper mache with the mod podge can be messy at times, but it's quite a fun craft, where you can put a lot of your creative instincts to work with.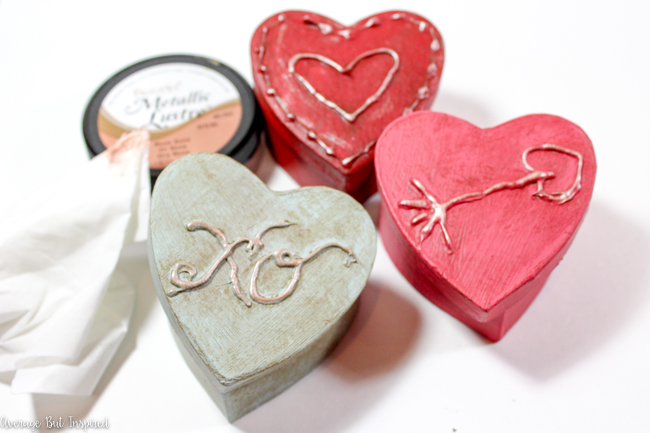 Get creative with an array of choices of DIY paper mache boxes. You can make them of any shape and size. From animal shaped paper mache boxes to letters or numbers and more. Here we share some amazing and unique tutorials on how to make paper mache boxes and decorate them.
Collection of DIY Paper Mache Boxes Tutorials & Ideas
This is an egg shaped paper mache box which is easy and quick to make. It doesn't take days to dry.

 

This Paper Mache Project is a big hit and loved by most readers! Ideal for putting cakes and gifting and easy to make!

 

Cute Paper Mache boxes of different shapes and sizes. They are ideal DIY storage spaces and great for gifting too. Decorate it the way you want.

 

A very sweet paper mache trinket box made for your dressing table. You can make a box or purchase an inexpensive paper mache box of your choice and decorate it.

 

If you are an ardent stamp collector, you will love this. Ideal for all stamp collectors. A vintage feel and a simple tutorial.

The festive season is round the corner. Looking to make some creative paper mache boxes for gifting. This one is very cute where you can personalise the boxes with alphabets.

 

Kids will love this paper mache box! You can use colors of your choice!

 

You can buy some small heart shaped paper mache boxes for this tutorial. Decorating them is fun and interesting.

 

An amazing tutorial which shows different ways to paint paper mache boxes.Pic Courtesy: www.PetScribbles.Com

 

You can use beautiful printed fabric to cover and decorate you paper mache box. Adding buttons, ribbons or accessories to it will add an elegance to the finished look.

 

If you love to do makeovers then go for this tutorial. You can turn inexpensive and simple paper mache boxes into eye-catching and funky boxes at home.

 

If you are in a celebration mood and it's a birthday party try and do something handmade and creative. Making and decorating these round paper mache boxes adds a great element to the decor.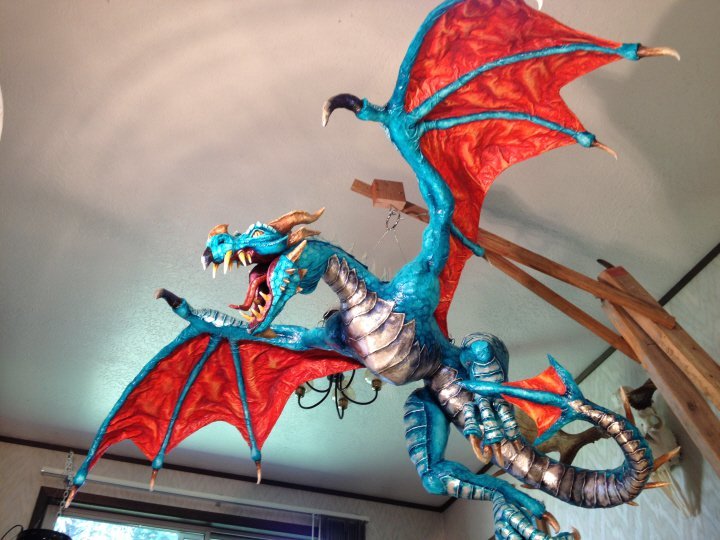 Paper Mache projects are fun to make and trying your hand on a paper mache dragon isn't a daunting task as it may seem. With tons of photos and step-by-step detailed instructions, it will be easy and fun!
Compilation of 7 DIY Paper Mache Dragon with Step-by-Step Instructions
Making a paper mache dragon sculpture is not as difficult as it seems. If you are wondering how to make a Paper Mache Dragon, then we get you this simple tutorial with step-by-step instructions. All you need to put your ideas in creation is dragon some newspapers, paste, masking tape, and paint. And in some creative time, your dragon is ready with paper mache.

 

It's Chinese New Year and you are all set to Paper Mache a Dragon Head to adorn your room. Not a very difficult one to do it yourself. Make this dragon head with some basic paper mache material supplies and make this wonderful dragon head.

 

If you want to craft and create a big dragon then this video tutorial is the right one for you. The finished product looks amazing. I'm sure you won't resist making this. It's explained in detail and won't take much time to make this! Making the teeth gives it a natural look! This tutorial is credited to Gourmet Paper Mache.

 

If you want to create a masterpiece or we can say the ultimate paper mache dragon then you can go for this tutorial. It's a time taking paper mache project which will ultimately turn in to a big real looking dragon. I loved this awesome tutorial!

 

If you want to make a simple and easy paper mache dragon with your kids then go ahead with this tutorial. This dragon is made using bubble wrap. A fun crafty idea for the little fingers to make and paint.

 

If paper mache is your passion, then take it to a new level with this out of the world, ultimate tutorial. It explains each detail step-by-step and helps you in making a wonderful paper mache sea dragon.

 

Actually, in the tutorial, they have finished sanding the eggs and sculpting a baby dragon to go in the nest. Full PDF instructions for the design!