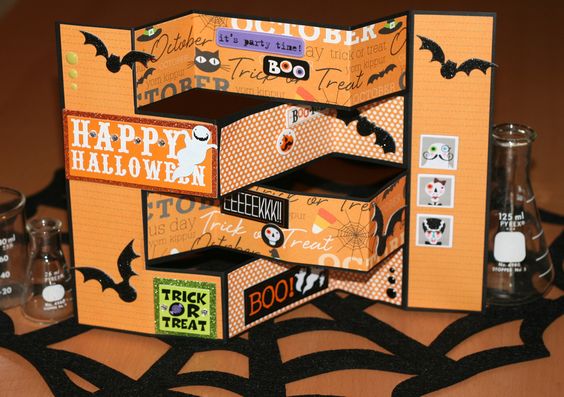 Halloween is around the corner and making a handmade Halloween Card is quite a popular tradition in the U.S and other countries as well. So no need to brainstorm ideas for this holiday, as we've got your back. We have compiled some of the most spooky and creative card ideas for Halloween.
These cute ghosties and pumpkins are great to greet your friends and family "Happy Halloween". Use colors like orange and blue to match your theme and make sure you add your creative touch to them with witty Halloween captions and sayings. These designs are freely printable and are a great idea for both kids and adults.

 

This holiday try to make these interesting card ideas to prepare invitation and greetings cards for Halloween. This cut-out card is not as difficult as it seems. You can add as many spooky elements you wish to make it more exciting.

 

Making these ghostly glow-in-the-dark cards can be exciting and fun to make. You need some simple greeting card supplies along with glow-in-the-dark embossing powder to make your project. The linked tutorial explains you in details how to make this fun craft, which kids will surely love to create.

 

Try to wish your friends in unique and interesting ways. With the simple card supplies, you need some googly eyes to create the mummy effect. You can make a bunch of the cards and use them to make Halloween party invites. The tutorial is quite easy and has step-by-step instructions to guide kids and adults and a free template for the design.

 

I love the cut-out effect on the front giving the perfect spooky eye effect. Using the glow in the dark embossing powder you will get the glowing effect on the web pattern. I'm sure kids will love to make this creative card for friends and family.

 

Handmade Card Ideas for Halloween

 

Here is a cute shadow box card. Perfect to wish someone a Happy Halloween.

 

These are simple pop-up pumpkin card invitations with a sense of humor. Great for your Halloween party!

 

Let this dancing skeleton read your message for Halloween. The glittery skeleton will surely turn some heads.

 

Check out this flying witch card, where the blogger has used 3D tricks to give it a wow effect. You can add sparkles to add some bling to the card!

 

Show off your creative side by making these simple cards with stamps, washi tapes, glitters and more for family and friends. Use these interesting ideas and jazz up your card with colorful stamped cut-outs.

 

Download the free printable pdf version of this design for your pop-up card.
Don't you want to send your warm wishes to the dear one before they blow out all the candles on their birthday cake? Nothing can be better than a perfect handmade card for your loved one. Revamp the ways in which cards can be made. Take your creativity to a new level with these easy and simple DIY Birthday Cards tutorials. If you are short of quirky ideas then here I am providing you with loads of them. All you need to do is sit with all your colors, papers and all other things that are needed and just Do It Yourself!!
>> Creative DIY Business Cards Ideas <<
Collection of Awesome DIY Happy Birthday Card Tutorials with Detailed Directions
Make cute and adorable birthday cards for your loved ones and make their birthdays look special. Make loving designs and let them feel the warm feelings of your heart through handmade birthday cards.
Use your vivid imaginations and create all the cool ideas and designs that have been popping out of your head for a long time. It's time to use your creativity to put a smile on the faces of your near and dear ones.
Unique DIY Card Ideas for Him (Happy Birthday)
In today's world, it is very easy to send your birthday greetings online. You can simply wish your loved ones on Facebook or any other social networking site. But wishing all those special men in your life in person and giving them a gift which is specially made by you cannot be replaced by online greetings. It may be your father, husband, brother, boyfriend or anyone else, surprise them with a special handmade card.  So here are some cool and catchy ideas for you.
Is the birthday of that special someone around the corner? Yes? Then why don't you make this amazingly sweet birthday card for him? This is not only easy to make but also overloaded with cuteness.
Gift your dad this shirt card with the 'best dad' badge on it and make his birthday special. If you want you can even write a 'Happy Birthday' note on top. You can make this in the measurement of your choice.
Surprise your husband with a birthday card right on the morning of his birthday. I'm sure that special gift is going to make his entire day even better. It is really difficult at times to choose the perfect gift for your husband so why not make something for him.
Choosing the perfect gift for your brother can be really overwhelming but with this simple DIY card it will be easier for you to make your brother's special day even more memorable. Everyone has their own choices. But a handmade birthday card is never out of fashion.
Cute DIY Cards for Her (Tutorials)
Birthdays are a day special to every individual. Add a delight to the joyous day of your loved ones in your very own way and make them feel special. Is it your mom or your sister? Or is it your lovely wife, or the girl with whom you've had a crush for some time? Bring a smile to her lips by presenting a wonderful birthday card carved and crafted by your own hands.
Hey, how do you like the idea of presenting your love with a nice handmade card containing the memories of your time spent together? Will it not be an awesome present for a birthday surprise?
Whoever you be, your mom is the most special and loved person in your life. Shower your affections on her birthday with a beautiful birthday card with new ideas and designs. And what more, do it yourself!
Now, are you not getting enough ideas on what to give your lovely wife on her birthday? Start out by making a cool birthday card. Get creative and bring back fond memories for her. What more, you may even get ideas about the presents she had always desired but kept a secret from you.
After all the year-long fights and quarrels, you have already decided to make up amends. So is it the birthday of your sweet little sister? Do not forget to tell her how much you love and care for her. Present her with the most beautiful birthday card, and that too made by you.
 Best DIY Card Designs for Special People
Now, what about all the sweet people in your life? Are you not telling them enough how much they mean to you? Are their birthdays around the corner and you haven't thought of a nice gift?  Oh, that's rude. Wait, why not make the best greetings for them. Present them with a creative handmade birthday card and try out all your new patterns and ideas. Do it yourself!
Well, if it's your best friend on the line, you should put up your absolute best. Get going and jot down your coolest ideas. Make the best birthday card for your beloved.
Is your teacher something of a role model to you? Or do they stand out to be too cool or too nice? Send your thoughts to them by designing a cool card for their birthday. Make this day special for them.
Friends are the answers to all the problems in one's life. Make their birthdays special by giving them a nice personalized touch in a handmade birthday card. Make someone's special day even more so.
Is there a kid in your neighborhood who is just too adorable and has his birthday around the corner? Hey, no worries. Why not show your affections for him through a special birthday card designed for kids. Maybe he'll love it and love you too.
You have a cousin or a friend who's just turning 18? Well, that is a very special occasion.  Make it even more special and memorable by designing a birthday card just for the occasion. You can add new ideas and designs of your own, and make it more creatively highlighting the pros and cons of this specific b'day.
 Personalized DIY Birthday Card: Fun Tutorials
So you have a geeky friend who is too much into something? Well, this is your opportunity to show him your support by making a personalized birthday card just for the occasion. You can even make a card that is very classy or is very creative.
Make a cool Captain America birthday card for your crazy Captain America-fan friend. Add cool action sequences of this Marvel comic character and totally delight him.
Make an awesome vintage Birthday Card with all the classy ideas you have. There is an adage 'Old is Gold'. Wish someone on his/her birthday in the classic old style, but remodeled using your own ideas and designs.
Hey, what do you think of those wonderful pop-up birthday cards? They are not just a delight to look at, but a tad-bit intriguing to make. Make an awesome pop-up birthday card for your special one and share the love you have for them.
What about a variety of the pop-up card where you make a pop-up in the form of a birthday cake? Try out this cool idea and surprise your friends on their birthday. It's a very cool idea to try on anyone's special day.
Are you a little short on ideas on what to gift this year to your loved one on her birthday? Hey, what about trying out a quilling birthday card? The quillwork on birthday cards would actually look very cute and adorable. Try out this new exciting idea.
An explosion box is bound to sweep anyone off the feet. Make your beloved feel the warmth in your heart by making her a birthday explosion card box. Make this special day for her an absolutely memorable one.
DIY Cards for Hasty Moments (Easy & Quick DIY Ideas)
Do you not have enough time to gather all the requirements for making a handmade birthday card? Worry not, you can always make something that will not take up too much time.
This is just for the occasion when you do not have enough time to put in the effort to make a full-fledged birthday greetings card. Make the birthday card in just the nick of time and put a smile on the lips of your loved ones.
Are you having second thoughts about the making of the card? Are you not sure enough to bring it to completion? Well, if you are unsure about all the art-and-craft stuff, what about DIY printable birthday cards? Surprise your beloved with these printable cards and download them for free!
DIY Cool Birthday Add-Ons
Try out the various add-ons to make your birthday card all the more presentable. Create these make-and-stick designs that would totally complement your birthday card and give it a catchy look.
Does your birthday card look like it's missing something? Well, obviously, it might be. Try out adding the cool birthday card candles on them and see how exciting they would look now.
Pic Credit: LovenStamps.Com
You can add the birthday card balloons on your existing card and give them a flashy look. Balloons always bring a look of celebration in any party, and it will do the same for your special handmade birthday card.
Not only a birthday card for others, you can also design a cool birthday invitation card for your very own birthday party. Make a handmade one or devise something printable if you are going to distribute a bunch among your friends. Get cool and creative with your birthday invitation card.