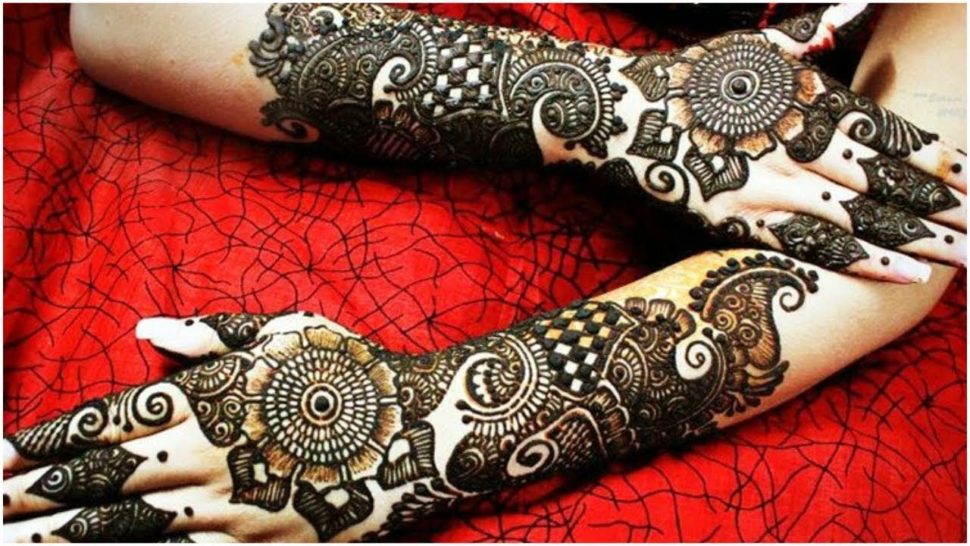 The wedding season is around, and putting mehndi or henna is an important part of the wedding tradition in many countries like India, Bangladesh, Pakistan and more. The mehndi ceremony is one of the most fun-filled and glamorous pre-wedding rituals where the hands and feet of the bride are adorned with beautiful and intricate mehndi design. The traditional designs of mehendi have become more decorative and unique with time, by fusing modern and traditional bridal mehndi designs.
The designs shared below are a mixed bag including, easy, simple and intricate for full hand, front hand, foot.
Compilation of Latest Bridal Mehndi Designs with Pictures for 2019
This wedding season, we have compiled some of the most stunning and pretty bridal mehndi (henna) designs collection 2018-2019 that you will absolutely adore. The Bride (known as Dulhan in India) can flaunt these amazing designs on her big day!
Top Beautiful Bridal Mehndi Designs for Full Hands Images
Bridal Mehndi Designs have a great range of patterns from floral, motifs, peacock or traditional ideas! The tiny leaves accentuate the bride's long fingers and the large flower design is on the hand looks intriguing and delicate. Most popular among the bridal mehndi designs are Arabic, Indian, Pakistani, Rajasthani and Marwari designs.
This design showcases an artwork of a king and queen popularly known as the Raja-Rani design for the wedding!
The colored mehndi design combined with glitters and stones is a relatively new concept. The different colors stand out, making the design more interesting giving it a unique twist.
Exclusive Bridal Mehndi (Henna) Designs for Full Hands and Legs Pictures
Professional & Intricate Bridal Mehndi Designs for Feet Photos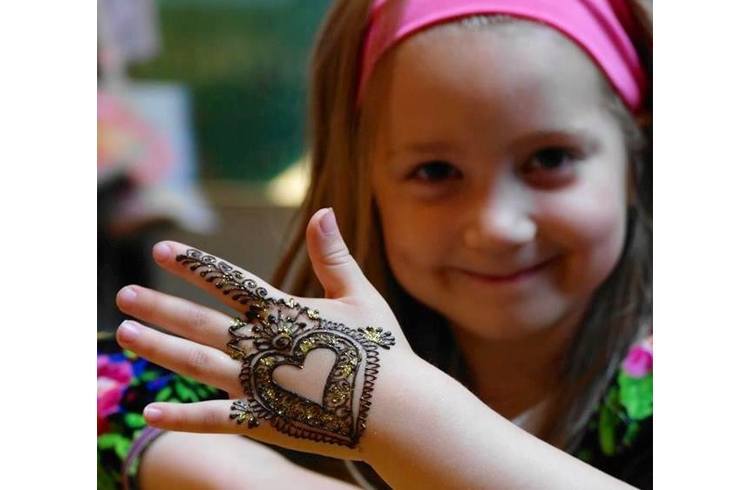 Mehndi or Henna obsession for kids starts at a very early age mostly. Girls have a great craze for putting mehndi on their hands. Decorate your little girl's hands with most beautiful and amazing mehndi designs from traditional to most fashionable designs. Let her chose the design from these creative ones and get a smile on her face with bright hands and legs. Sharing some Pretty Mehndi Designs for Kids which are easy to make for beginners also!
Collection of Simple Mehndi Designs for Kids and Babies
Mehndi Designs for Kids

This wedding season don't clad your little one's hand with bangles or accessories. Try these cute bumble bee design with some leaf or floral pattern.

Best Mehndi Designs for Kids

 

Simple Mehndi Designs for Kids

 

Cute Mehndi Designs for Kids

This cute heart design looks adorable on your kid's palm. Simple and beautiful. You can practice mehndi designs on paper also.

 

Mehndi Designs for Kid

 

Easy Simple Mehndi Designs for Kids

 

 Mehndi Design for Kids 

Floral designs are the kid's favorite and looks most pretty on them.

 

Easy Mehndi Designs for Kids

 

Simple Mehndi Designs for Kids Step by Step

Round Henna Design with leaves looks amazing on their sweet little palm.

 

Mehndi Easy Designs for Kids

A simple and elegant design on the back of the hand of your girl looks most beautiful.

 

Designs of Mehndi for Kids

 

Beautiful Mehndi Designs for Kids

 

Simple Mehndi Designs Kids Hands

 

Simple Mehndi Designs for Hands for Kids

Since kids are too fussy and often fidget with their hands, minimalistic design is a great option for the little children. A slight detailing of drops and will add to the beauty of those small palms.

 

Simple Mehndi Designs for Kids Feet

Children are always excited to henna design on their hands and feet. This striking design will look beautiful with motifs and extensions on the fingers.

 

Easy Arabic Mehndi Designs for Kids

Arabic Mehndi Designs are most popular amongst everyone these days! Try this pattern today!

 

Arabic Mehndi Designs for Kids

 

Mehndi Simple Designs for Kids

 

Easy Mehndi Designs for Kids Hands

 

Very Easy Mehndi Designs for Kids

Simple and Easy to make this pattern on their front hand with cure heart and round mandala patterns.

 

Easy Mehndi Design for Kids

 

Simple and Easy Mehndi Designs for Kids

 

Easy Mehndi Designs for Hands for Kids

 

Mehndi Designs for Kids Hands

 

Simple Arabic Mehndi Designs for Kids

 

Mehndi Designs for Baby

 

Baby Mehndi Designs 2017 ( Mehandi Designs

 

Mehndi Designs Baby Hand

 

Mehendi Design Images for Kids

Full coverage mehndi designs for children's hand is a little tough thing as kids are often not patient enough to sit for so long duration of the application of mehndi. Still, kids who are fond of elaborate design can try this pattern.

 

Butterfly Mehndi Designs Kids 

 

Mehndi Designs Kids Easy

 

Mehndi Designs Children's Hand

 

Henna Designs for Kid

 

Mehandi Designs for Kid

 

Mehndi Designs Kids Simple Flower

 

Mehndi Designs Kids Front Hand  

 

Henna Designs for Kids Backside Hand

 

Classy Mehndi Designs for Kids

 

Mehndi Designs Kids Cartoon

Awww! Cute little cartoon designs on their little palm looks so adorable.

 

Sweet Mehndi Designs Kids

 

Mehndi Designs Kids Henna Designs 

 

Mehndi Rose Designs Kids

 

Pakistani Mehndi Designs Kids

 

Full Hand Mehendi Designs Kids

 

Beautiful Floral Mehndi Designs for Kids  

 

Best Mehndi Designs for Kids Full Hand  

 

Top Mehndi Designs for Kids with Glitters Adding glitters to the mehndi design on their hand is the perfect blend for an ideal design.

 

Kids Mehndi Designs

 

Kids Mehndi Designs Images

 

Mehndi Designs for Kids Images

 

Easy Mehndi Design for Babies

 

Mehndi Design for Kids Pictures