Category:
Interior Design
It is difficult to find the exact furniture that matches your taste as well as the house. Headboards are one of them. Creating one on your own will not only help save a lot but also give it a personal touch to your decor. In addition, it will give you the cozy comfort that you have always desired. We have rounded up some easy and amazing DIY Ideas to make mirror headboards at home.
A mirrored headboard is both functional and ornamental in nature giving a major facelift to your bedroom design. You can easily create your own mirror headboard by using mirror tiles, plywood, mirror adhesives and some simple tools. You can add elements like making a mirror headboard with storage or with lights as per your discretion.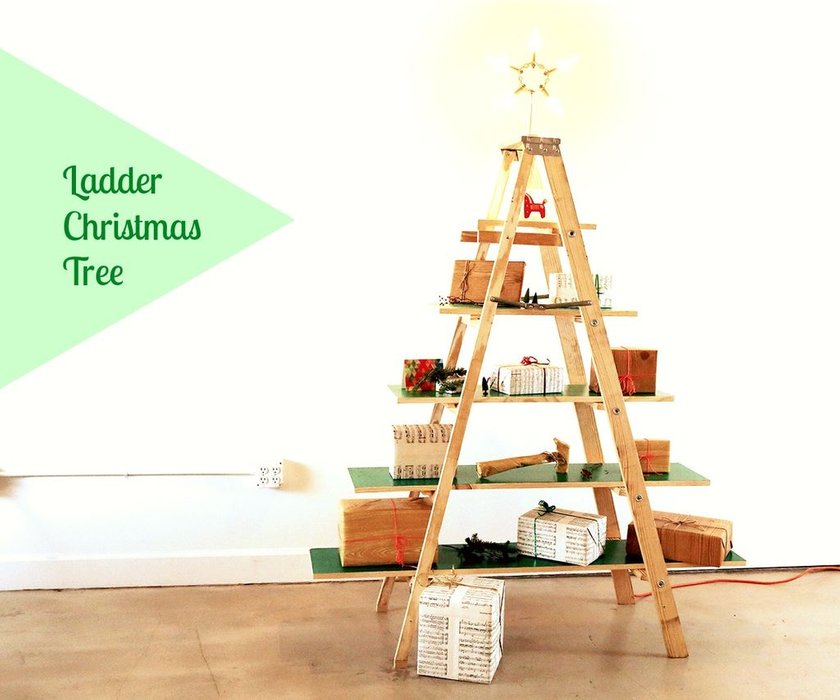 Repurposing an old ladder into a bookshelf can instantly turn a room into a library and organize your cluttered corner into a modern storage space. Building a functional home décor by recycling distressed ladders is a trending style these days. You can make a new ladder from pine wood or pallets or use an old one and lean it against the wall for a cool display or your books. Learn how to transform old ladders into a new bookcase with step-by-step instructions in the tutorials to guide you.
You May Also Read: "DIY Pallet Bookshelf Plans"
31 Ways to Build Unique Ladder Bookshelves and Ladder Bookcase Ideas
Give your treasured books a new space with these projects listed above and give your room a makeover.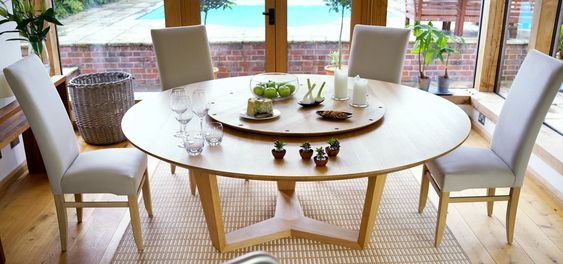 Every room in the house provides a unique experience for the residents. The dining room is important because it provides an ample environment for the family to come together to eat, chat, and celebrate.
This makes the dining table to be one of the core aspects of the home. Dining tables come in different sizes, colors, designs, shapes, and finishes to meet the diverse needs of homeowners. Below are five reasons why a lovely dining table complements every kitchen.
1. Multifunctional Purposes
A lovely dining table is highly practical, convenient, and multipurpose. It can be used solely for dining or as a multifunctional piece of furniture. A dining table can be used for an array of purposes such as holding private conservations, children can do their homework from there, the family plays board games from there and birthdays are celebrated there. In other occasions, a dining table is used as an office or storage.
2. Center of a Home
A lovely dining table is considered as the heart and center of the home that complements all furniture and accessories. After your bed, the dining table is the most important piece of furniture in your home. It is a place where all family members are present at the same time. The dining table is a quiet and warm place where you welcome guests. The interior design and décor of the dining room have a big impact on guests and homeowners alike.
3. Add style to a home's décor
A lovely dining table adds style and complements the home's décor. It fits into the home's décor and enhances its aesthetics. For instance, if your home has a modern style, the dining table must have a modern style. The table adds liveliness to the room and makes it appealing for guests and homeowners. The style of the dining table should match your home's décor and personal style.
4. Conveys different Meanings
Dining tables come in different sizes, shapes, and colors to symbolize different things. These features communicate volumes about the people living in a home. A small dining table can denote a small family and a love for intimacy. In the Chinese culture, the dining table is a sign of status and wealth. A big table shows that you can feed a large family so the bigger, the better.
5. Good fit
A lovely dining table fits into the dining area to complement every kit. If your dining table is too big, it will not fit into the dining area and hence will not go well with the other kits. Therefore, an ideal table has to fit in the stipulated space and give room for chairs and movement. Large dining tables are elegant and fit beautifully in spacious homes.
The dining table plays an important role at home and brings good energy and social connectivity. It is a symbolic piece of furniture that depicts status, strength, unity, and community with guests. A lovely dining table complements every kitchen because it is multipurpose, the center of a home, and adds style to a home's décor.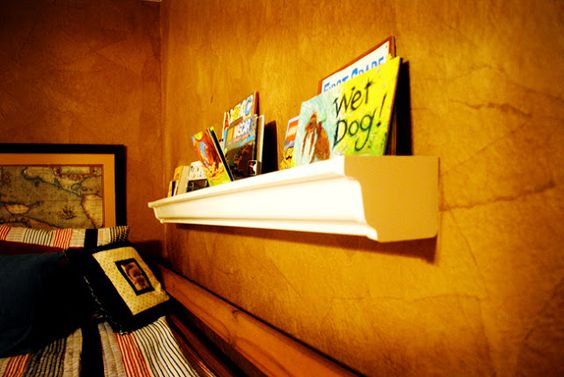 Rain gutter bookshelves is a great way to transform simple things into more useful ones. Rain gutters lie uselessly in our attic, so getting a little creative can result in useful decors! Rain gutters are sturdy and take only a short time to be installed. A big plus is the total cost for a few shelves is probably below $20. With the book fronts facing out, kids are likely to read more—and they can get and put away the books themselves.
How to Make Innovative Rain Gutter Bookshelves Designs with Instructions
This is a step-by-step guide for making a bookshelf out of vinyl gutters. This is intended to be used as a kids' book shelf. Bedside shelves made of rain gutters enhance the look of your home décor. You can [lace two or more shelves in a tandem to make like one in the picture.

 

You May Also Like ~ "Pallet Bookshelf Ideas"

An innovative do-it-yourself project to add to your children's study! You can paint the walls with quirky pictures of animals, trees, and cartoon characters and make book reading an exciting affair for your child. To make them more appealing, paint the racks with bright colors matching your room aesthetics!

 

Once you install your handmade rain gutter bookshelf on the wall, you can decorate it with paint or danglers and create a wonderful reading nook in your room.

 

This bookshelf is made using Vinyl rain gutters. This will look amazing in your child's nursery or the kid's room where you can organize all the books in one place!

 

Here's an easy and inexpensive way to create bookcases that are great for kids by turning rain gutters into wall-mounted bookcases! Paint them in quirky designs!

 

An inexpensive and adorable recycling craft idea. Create the long rain gutter bookshelves for the classroom, Montessori and play schools. Kids will love to browse the books stacked in this cute bookshelf. You can paint them in different colors.

 

Long rain gutter bookshelves installed in the corner of the room is an ideal plan to use the unused spaces in the corners! It can add to the room decor and organize your books perfectly.

 

They are a great way to have the books visible and accessible to my kids and they made great use of an awkward spot behind the door or unutilized space in the room. For toddlers, you can place the rows closer to the ground so that they can easily reach them.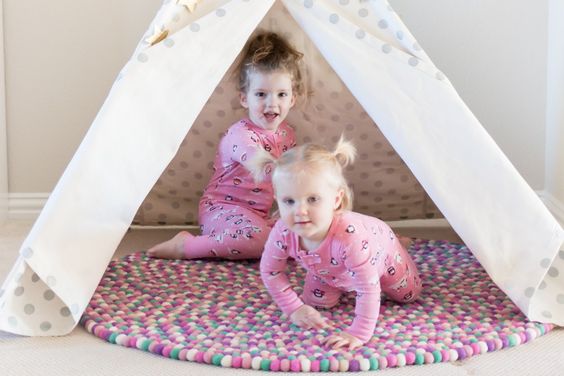 Felt ball rug, also called mats or mini-carpets are the special type of rugs in which felt balls of same (or different) sizes and colors are stitched together to prepare a warm and cozy rug. Felt rugs add a colorful and quirky touch to any room, and their cushy and soft texture makes them a treat to walk or sit on.
You need some simple supplies to make your own felt ball rugs. Felt balls of required sizes and colors (ranging from 5 mm to 50 mm), strong thread and needle (easy stuff, isn't it?). You can make your own woolen felt balls or buy them online.
Compilation of How to Make Felt Ball Rugs ~ Ideas & Tutorials
Make amazing crafts with felt balls and try exploring new creative ideas! Try and maintain the felt rug properly at all times to keep away dirt and dust.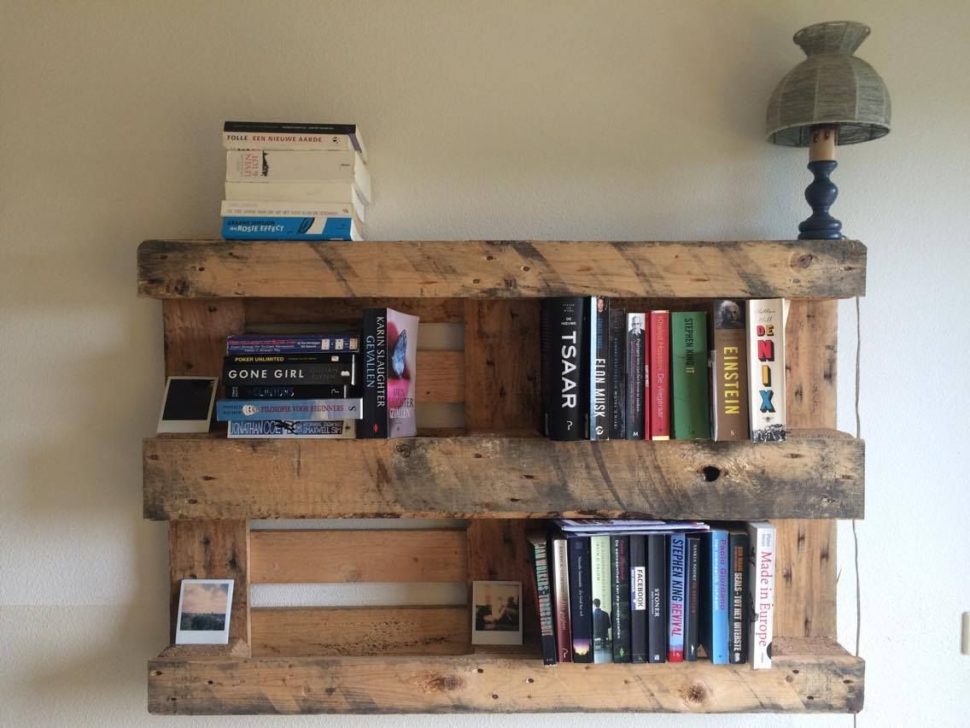 A bookshelf is always an attractive and good look furniture piece much needed for all book lovers to organize the collection of books. You need bookshelves in the study room, offices and kid's room! If you have some old unused wooden pallets in your store then you can make some amazing and beautiful Pallet Bookshelf and recycle your old wood.
Collection of Interesting DIY Pallet Bookshelf Ideas and Tutorials
Shelving out of pallets can be a fun task! If you love these easy DIY Pallet Bookshelf projects and ideas its time to go make yourself one!! 🙂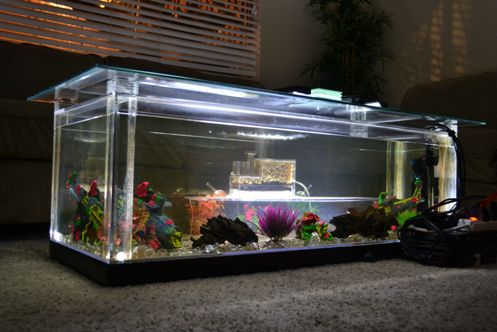 There are a lot of enthusiastic fish lovers who like to place aquariums in different corners of the house! These days, fish tanks are not just rectangular glass affairs of the past. Now, they come in the form of coffee tables, bar counters, and slim, wall-mounted ones in square, round, rectangular, hexagon, octagon, and oval shapes to add glamour to your interiors.
You can explore and make interesting DIY Fish Tank Coffee Table Designs made from wood and glass and decorate them with a terrarium, lights, colorful stones, pebbles and more to add to its exclusivity! Keeping these designs in mind create a variety of modern and attractive fish tank or aquarium coffee tables and enhance the decor of your home!
Collection of Creative How to Make a Fish Tank Coffee Table Tutorials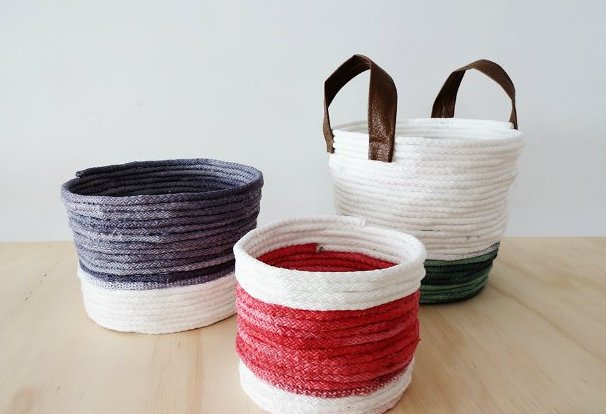 Baskets are the simplest way to store anything from your craft supplies to office stationery. A rope basket is quite easy to make with some simple supplies like yards of rope and a loaded glue gun! These DIY rope baskets are the perfect way to make your own personalized storage and organization solutions! They can be made in numerous shapes and sizes, and they're surprisingly stylish, textured, strong and sturdy to be used as multipurpose utility holders!
Learn How to Make Newspaper Baskets – Here
Different and Amazing Ways How to Make Rope Basket – Tutorials with Step-by-Step Instructions
All you need is some rope (cotton rope or hemp rope as per your choice) and some colorful threads or yarn of your choice to sew this simple yet chic basket piece to add to your home decor. Making your own handmade baskets are always special for keeping stuff on the side tables or your dressing rooms!

 

Rope craft is a great way to recycle your old ropes and coil them up to make elegant utility baskets! Using white colored cotton rope gives it a natural and earthy touch. Ideal to keep your stuff organized in one place. You can add tassels or embellishments to give it a colorful element.

 

Make these beautiful cowboy baskets using old lariats. You can decorate these with a small horseshoe or other accessories. A great idea to upcycle unused lariats and ropes in your backyard.

 

Give your rope basket a unique vintage touch and wrap them with printed fabric. This tutorial explains in details how to make a rope basket with a handle using fabric of your choice! You can choose the size of the basket as per your storage needs.

 

Try mixing some wool with rope to make this amazing basket design. It gives a contemporary look to your interiors where rustic meets traditional look. You can use a hemp or cotton rope as per the look you want.

 

With some yards of rope, a glue gun, and some decorative accessories you can make these quick and cool baskets to store your stuff! You can add handles to give it a creative look. Adding colors to the white rope gives it an artistic touch and is a treat to the eyes.

 

This wonderful crocheted rectangle basket is a great handmade craft with some basic supplies. Making the handle is optional, but it makes it easier to carry the basket. You can use the basket for your laundry stuff, organize your daily things and more. A lovely rustic and earthy addition to your home decor.

 

These mid-sized coiled rope baskets are ideal for storing little bits and pieces in. You can use them to store craft supplies, stationery, jewelry, makeup, toiletries, small toys. They are great multi-purpose stuff and would also make a great gift hamper to be filled with treats.

 

Do you have any home decor plans for the fall? If not try making a set of these braided baskets in different sizes.

 

This handmade basket is an amazing piece of art, using synthetic rope. It's a sewn basket and quite a sturdy one. The painted (dyed) colors look beautiful and can be used in myriad ways in your rooms! You can change colors to your preference. This is pretty large in size and can accommodate a lot of stuff at a time!

 

Try making these simple and affordable baskets from rope and threads. A very easy holiday craft which can be interesting for kids and adults.

 

Time go stylish with a rustic handmade touch. Adding leather handles to the jute roped basket gave a modern blend to the creativity. An absolute delight to keep your utilities and supplies stacked in one place.

 

Homemade Rope Basket Instructions

 

Make these white elegant baskets and use them to keep accessories, fruits, or small planters. You can add a fabric, paper base to avoid any stains to the light color!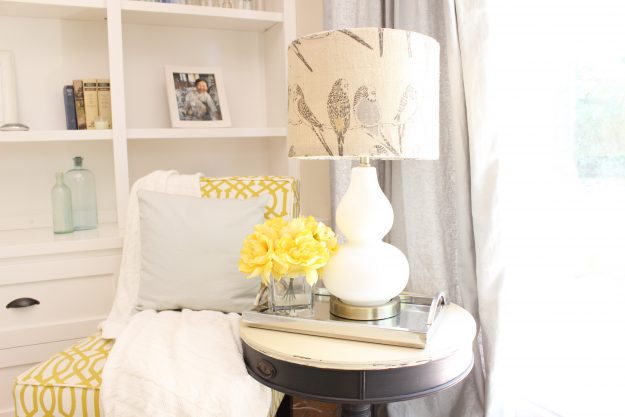 Do you love crafting with burlap? I love it!. There is a lot to Burlap Crafting, it is great for making creative home decor items like Burlap Wreath, Burlap Flowers or Burlap Gift Bags. They add a rustic look to your decor and give it an amazing look. How about making a Burlap Lamp Shade? Wondering how to redo a lampshade with burlap? Sounds interesting! Let's scroll down and browse through the different DIY tutorials with detailed instructions!
Collection of DIY Burlap Lamp Shade Tutorials with Step-by-Step Instructions
 

Burlap Fabric has a great texture and its natural quality is what I love the most. It's one of the most inexpensive fabrics you can buy to make wonderful home decor with a country look. Burlap can experiment in different crafts and this tutorial is simple and easy to make!

 

Want a new look for your side table, but u don't want to spend much! Here is an eco-friendly and pocket-friendly DIY Tutorial for you. Make this chic large burlap lamp shade and adorn your side table beautifully.

 

Don't want to make the conventional lamp shaped shade? Let's try this drum-shaped, simple and classic burlap drum lamp shade. Very easy to make, you can recycle a burlap fabric and make this creative lamp. You can add some embellishments to give it a look of your choice!

 

Sharing a burlap lampshade DIY project done with mod podge by Debbie Doo. Fun to make and great to look. All you need is some old printed burlap and you can recycle it to make this amazing peppy burlap lamp shade. Time to join the burlap club now!!

 

If you are looking for a no sew, no glue kind of burlap craft, then this is the perfect one for you. All you need is some burlap fabric and a lamp shade you want to give a new look. In some minutes you can turn it into a chic burlap lamp.

 

Do you have a floor lamp that has fallen over too many times to count and the shade has been fixed, taped and stuck back somehow? If yes then its time to recycle the old lamp and give it a new look. Burlap DIY's are economical and are a great way to give the old a new look! Try this lamp shade idea todayl!

 

Done with the conventional simple burlap lamp shades? Time to turn creative! Let's give it a new look and add some fringes to the burlap to give it a layered look. With step-by-step instructions given in this tutorial, it won't take much time and you will find yourself complete this burlap project.

 

I have a great love for making unique home accessories, but not with the high price tag which we often find in stores. This ruffled burlap lamp shade is a great DIY idea to give your room an artistic touch!

 

Burlap covered lamp shades give a great country look to your tabletop. Try making this small burlap lamp shade which is cute enough to resist making one! You can turn your old lamp shade with this simple tutorial with instructions.

 

Do you have a lamp that needs a new lampshade? Or a lampshade that is outdated or the wrong color or style? This tutorial is the perfect solution for you! In just a couple of hours transform your old lampshade into a sassy, one-of-a-kind decor element! The best part is you don't need to sew it!

 

Burlap was a forgotten fabric that has it's place in the home in all sorts of creative projects from table runners to lamp shades. Make this stylish burlap lamp shade with a modern touch with the instructions provided. A fabulous idea to turn burlap fabric in a beautiful burlap shade for your lamp shade.

 

This new upcycled rustic modern white and burlap lamp is a perfect fit for your room. Create new elegant burlap lamp shades quickly and give your table a new look.

 

If you are in love with an old heritage chandelier of yours and you don't want to part with it, try to repurpose the old chandelier and cover it with a burlap shade! This will add to the vintage look of your chandelier and look like an absolute new comer. Getting creative in this way will surely save you a lot on your new stuff.

 

Give your old lampshades a makeover with these modern burlap shade adorned with a fabric flower.

 

If you have a Victorian light set in your house and you are looking to redo it, then some homemade creative solution with the burlap fabric is quite an amazing idea to make a burlap lamp shade and give it a country look.

 

Recover your lampshade with some burlap and fix the old shade to a new cooler version.

 

You can enhance the look of the Burlap covered shades by using lace, ribbons, flowers or any other accessory. This one looks elegant with some curls and ribbon.