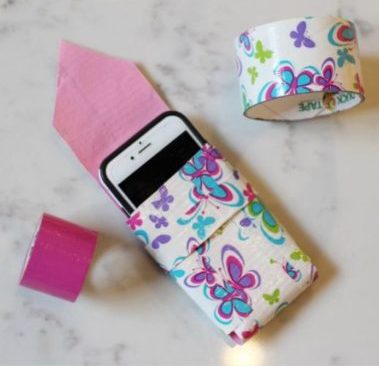 Duct tape crafts and projects are always in demand owing to its easy availability and inexpensive cost. You can experiment with endless duct tape projects from wallets to phone cases. You can learn some amazing and interesting ways to make unique DIY Duct Tape Phone Case and decorate it with buttons, accessories or embellishments! We list some creative DIY Duct Tape Phone Case tutorial with step-by-step instructions to guide you make your project easily.
Compilation of How to Make Duct Tape Phone Case Tutorials
This holiday season time to make these cute and amazing designs for your phone cases and flaunt new cases every day. You can make this for guys as well with less girly prints on the duct tape. An affordable and quick way out for cell phone cases!
Crafting with Duct Tape can be fun. Let's look at these duct tape flower pens that you can create as easily. Truly, these duct tape flower pens come with simple and easy DIY tutorials that will give you all the needed instructions on how to make them at home. You will get a number of ideas from these tutorials and pretty soon you will be making one for yourself.
How to Make Duct Tape Flower Pens DIY Tutorials
This is one of the easiest ways in which you can make a duct tape flower pen. The DIY will guide you through the making process with pictures and written instructions. These pink flowers will be amazing for your daughter or a friend. You can change the color of the duct tape as well.
This is perhaps one of the best guides that you will get out there. Apart from the fact that the end product is so fantastic, the step by step guide will help you throughout the process of creating your own duct tape rose pens.
Pictures along with written instructions are always a hot favorite. If the pictures are as good as this one, then you can only imagine how helpful it is. This guide will get you through the artsy project with ease and promptness.
Ah! How beautiful are these tulip flowers? Can you even articulate that these are made up of duct tapes of all things? You can make them with this easy DIY tutorial. Make them as a gift or just for your study, coz they are amazing!
Now, how great are these blue flowers? They look stunning! You know, what is more remarkable? How easy these are to make. Yes, the DIY instructions will give you the entire guide you need to make these simple yet stunning flowers.
These are unique, these are exclusive and these are fantastic! These multicolor duct tape flower pens will be the best thing that you have created in a very long time. Look at how distinguished they look.
These animal print duct tape flowers are so popular among teenagers that you will be surprised how glad your teenage daughter will be, when you make it for her. They love animal prints and it is just the right thing for them.
Unlike the usual ones that you have seen in this list, this one is quite different. The process of designing these are a little unusual and you will have a hoot making these. The step by step tutorial will guide you through the whole process.
Are you wondering, how to make duct tape flower pens? Fret not, because this DIY guide is ideal for you. You will get one of the easiest tutorials available, to make your own duct tape flower pens. These flowers are vibrant, colorful and topped off with studded stones.
These flowers are flawless. The beauty of a flower is well-known and when you can have them on your pen and cherish it every time you sit to write is an amazing feeling. Experience that with these DIY tutorials which are packed with the step by step guide.
Who would have thought that making duct tape flower pens can be this gorgeous? When you use different designs of duct tape to make the flower, see how magnificent the end product can be. It's something that you haven't seen before and you are certainly not going to forget anytime soon.
These white flowers are stunning. This tutorial comes loaded with pictures so as to give you an idea of the whole process of making them as pictures are worth a thousand words. It will make the whole experience fun and simple.
Beauty and creativity come from within. You never know where you will find your next inspiration. These printed duct tape flower pens are quite like that. They will inspire you to make these duct tape flowers. And you can make them easily with the written instructions that are available here.
The big duct tape flower pens are ideal to make when you have wider duct tapes. Wider duct tapes when used literally, help you to get bigger flowers for your pen. This DIY will show you how to make them.
These small duct tape roses will be an ideal choice for your little kids, as they won't make the pen heavy and will look cute in their hands. Use small thinner in width duct tapes to make these.
Daisies have the capabilities to brighten up anything. They are the joy of a garden, so why not embrace it to create a wonderful duct tape flower pen. This DIY is supported by pictures and written instructions. You will have the greatest joy while making these.
This DIY has a video in it to give you a thorough idea of how to make duct tape flower pens. This will make it easier for you to follow the instructions and create your own duct tape flower pen with maximum ease.
Look at these! How gorgeous they look. These white flowers are just the right thing to make with duct tapes. Imagine the compliments that you will get while using these duct tape flower pens.
Even though this instruction comes with a normal ball-point pen, you can easily use an ink pen to form the base of the flower. The other instructions, though remain the same.
Creativity knows no bound as it is evident from this DIY. This star printed duct tapes looks dazzling as flower petals. Who would have thought of that? These directions will help you to make such a unique flower for your study as well.
This will make a fantastic mother's day gift. The rose design adds to the love that you have for your mother. What better way to express it than by making a duct tape flower pen by your own hands? The instructions come with a video as well, so that you are covered on the DIY front.
YouTube tutorials give you the leisure of all the details of making something with thorough instructions. Take this duct tape flower pens for example. This easy and simple video tutorial will guide you to produce an awesome duct tape flower pen.
SoCraftastic is one of the finest YouTube channels, where you will get detailed instructions on duct tape flower pens. The creator of the channel publishes remarkable tutorials on craftsy items and duct tape pens are one of her popular videos.
No matter how much you love crafts, it is always better if the process becomes easy and simple. So, this DIY is perfect for you as in just 6 steps you will be able to make a duct tape flower pen topper, without any hassle or chaos.
Now that you have acquired some of the amazing ideas of duct tape flower pens up your sleeves, try this tutorial which shows how to perfectly make a duct tape rose. It is your craft time of the day to try your hands on some duct tape art. Have some creative time with duct tape and enjoy new designs and ideas!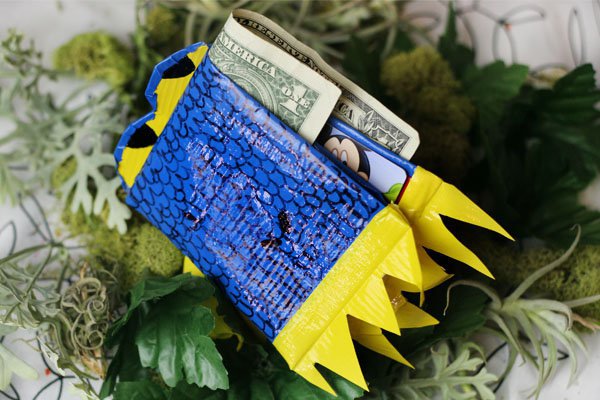 People spend a lot of money trying to find just the right wallet and still do not suffice themselves. Making a duct tape wallet by your own hands can really be a lot of fun and what more you could have just the right wallet for yourself. If you put a lot of effort into making it, you would surely love what you make at the end of the day. What more, you can personalize them the way you like, and if you want you could even gift the product or sell it if you would like. Time to have some fun with duct tape and go through some great tutorials on How to Make Duct Tape Wallet!
Compilation of DIY Duct Tape Wallet Ideas
However, making the duct tape wallet would make you put considerable effort. There are a few essential requirements that you would need to make the wallet. You would be needing duct tapes of various colors, gift cards, scissors, and rulers. The tutorials involve cutting the duct tapes and featuring them into the wallet of your choice. You would need to follow the tutorials to make the duct tape wallet of your choice.
The Duct Tape Wallet Wallet can be done yourself. Follow the Do It Yourself tutorials to make your own Duct Tape Wallet and enjoy the end product.
The Duct Tape Wallet Instructions are to be followed if you want to make your first ever duct tape wallet all on your own. These wallets will be quite fashionable and you can do them on your own.
If you find that the duct tape wallet is getting too tough for you, you can resort to something that would be quite easy. You can do something that would be just perfect for you.
Do you want to find out how to make a duct tape wallet? It is time to end your worries and get to work with the 'Do it yourself' tutorials.
There are many different designs for duct tape wallets. You could find one that seems suitable to you. The designs vary on the duct tapes that you choose and even on how you engineer the product.
Duct tape wallets do not need to be monotonous like ordinary wallets. You can make them any way you like. Try out some of the coolest designs that you can find.
There might be the case that you want a tri-fold wallet. You can make one yourself, yes, a tri-fold duct tape wallet.
Making a bi-fold duct tape wallet is a little different, but have no worries. If you have the drive in yourself, you can make the bi-fold duct tape quite easily.
Want to make a duct tape wallet that has options for change? That would be something quite useful. Why not give that a try? You can make that too.
Have you seen those wallets which feature a holder for the cell phones? Did you want one as well? Why not make one for yourself? Making a duct tape cell phone wallet is pretty easy.
Want to have an accordion duct tape wallet? That would be something. Here give it a try if you would like.
Want a guide to a simple instruction set for making a duct tape wallet? That is good. Starting small is sometimes the best way to achieve the target.
Making a woman's wallet through duct tape is also quite easy. There would not be much trouble if you want to make such a wallet.
Wow! That is surely a very cool idea that you've got. A woven duct tape wallet has surely got to be something else. Let us give a try at that.
If you would need a step by step guide to make a duct tape wallet, that would be no problem at all. Let us find one such.
Often you would need a good set of pictures for duct tape wallets to just give you the right boost. Finding a good source might give you just the right idea.
Making some of the wallets might take a bit of experience, at least those which are a little complicated. If you would want to start with the basics, that would be a good idea.  This wallet is made with card slots!
Want to make a cute duct tape wallet? Could it serve as the right option for gifting someone? Let us find out what can be done.
The word magic is sure to give you a nice boost. It does happen with everyone. Who would not like to have a few tricks up his sleeve? You can make a duct tape magic wallet for yourself.
Want to make a clutch type duct tape wallet? That can be done too. You can have the instructions laid out for out if you want to 'do it yourself'.
Don't duct tape flip wallets look cool? Yeah, they surely do. You would not need to buy one now. You can just 'do it yourself' if you would like.
Want to make a camo duct tape wallet? That would be a pretty innovative idea. Try that in the 'do it yourself' style.
Mini wallets are surely cool and no doubt they have the large popularity these days. You can just make one for yourself and do it the way you want to from this video tutorial on you tube.
You have already understood the steps to make a women's duct tape wallet. How about trying to a men's wallet instead?
This is surely a practical idea. Making a cheque book wallet will really help you out. Tutorial and Image from Sherri Osburn. 
Do you like the Minions? Surely everyone does. They are way too cute adorable. If you want to, you can create minion duct tape wallets as well.
There are pretty amazing duct tape wallets out there. You can make yourself awesome by trying out some personalized ideas as well.
Sometimes the duct tape wallets that you make tend to get too big. You might want to cut down on the size.
Kids have a rather imaginative world surrounding them. You can make duct tape wallets made just for them.
You can make duct tape wallet with several pockets. Just give them a try and you would surely love them.
There are surely lots of tutorials that you can find out on YouTube to make the 'do it yourself' duct tapes. You should check them out.
There are several ideas that you can try out while making duct tape wallets. Have a go at them.
All these ideas are really great and you would surely love them outright.