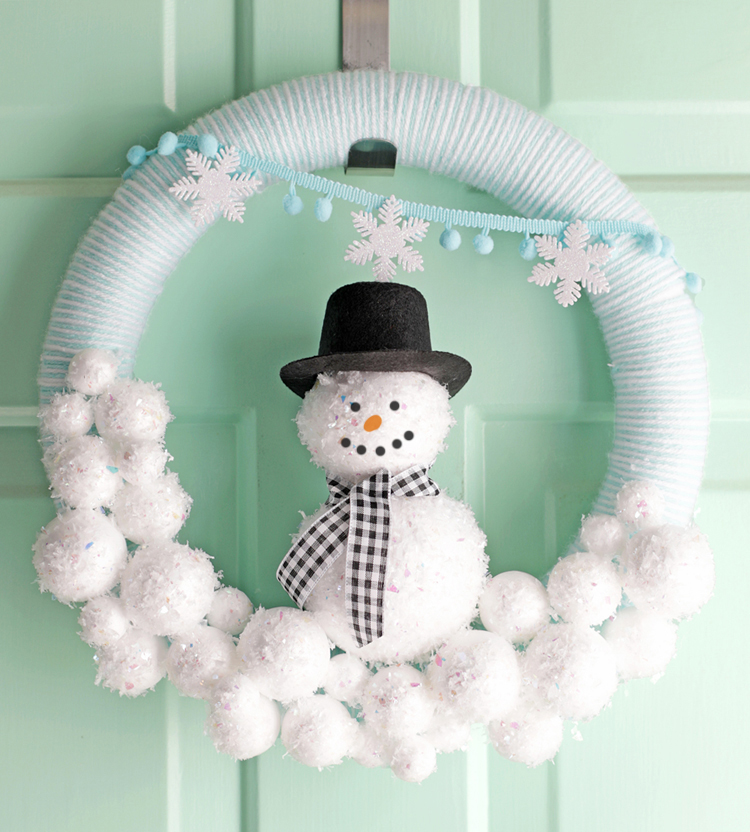 With the onset of winter, a snowman wreath on your front door will be the perfect decoration to welcome your guests home. There are numerous readymade snowman wreaths available in the market which are quite a pinch on your pockets. So if you are wondering how to make a snowman wreath at home which is affordable, then we've got you covered with some amazing tutorials and DIY Ideas.
Also Read: How to Make a Perfect Bow for Your Christmas Wreath
We have listed some of the easiest and creative snowman wreath DIYs, tutorials, which explain with step-by-step instructions to make the craft easily. In the tutorials there are different materials/fabric which are used to make the artificial snowman wreath, like; burlap, mesh,  felt, paper, foam, cardboard, grapevine wreaths and more.
This snowman is constructed using two foam wreaths, some ribbons and a hat to complete the look. The project requires simple supplies that are put together creatively. This is an easy one and you can make it in a couple of hours. Place this on your front door, this winter to welcome your friends and family.

 

In this linked tutorial, they start with painting the eyes first. This is followed by making a stuffed carrot-shaped nose out of felt. Once done gather the deco mesh to give it the required shape and tie it with a pipe cleaner. This is easier than it seems, and quick too. So check out the linked tutorial for complete instructions to guide you well.

 

This DIY snowball winter wreath is so cute and can be put on the door at Christmas and continue till Feb. This project is done with a lot of creative elements which makes it an absolute stunner. This amazing winter wreath covered in cozy yarn and glittery snowballs. The small snowman in the center steals the show.

 

For this project, you need three mirror frames of 3 different sizes available at the dollar store. Once glued together as directed in the linked tutorial you can decorate it in various interesting ways to add a cozy touch to your front door this holiday!

 

This is a wreath with a traditional touch made with ribbons, burlap, and mesh. Use lot of colored ribbons to make cute bows and add to the wreath. The wreath is made using the pouf technique explained in detail in the linked DIY.

 

Make your own snoman for your front door this winters! Enjoy this awesome addition to your outdoor decor and give your house entrance a cute faceift.

 

To really show off your crafting skills, intertwine your stick wreaths into the shape of a snowman, add some flowery ribbons, a top hat, and embellish, embellish, embellish!

 

When it comes to the wreath, burlap is another demanded material that can be used on a regular basis. Burlap can be easily molded into different shapes of your choice and used as a wreath. The snowman-shaped burlap wreath is simply pretty.

 

There's something about a wreath hanging on the front door that welcomes the festive vibes. This adorable wreath will look great when decorated outdoors.

 

 

Candy Sleigh Craft Ideas – Here

If you've got children then this fun craft will be perfect for your winter holiday. They will love this cute and friendly face will surely make them smile. You can also add a hat and some ornaments or other traditional holiday embellishments of your choice.

 

The snowman hat in this design is made using foam and then is painted black. This is a super cute and easy tutorial where you can turn simple platter to a lovely wreath using clothespin and other easily available supplies.

 

Snowman Wreath Door Hanger
We hope these wonderful winter wreath ideas beautify your day and you welcome your guests with a creative and adorable snowman wreath on your front door. Do share your creations in the comment sections below!
We all have our childhood days when we colored and scribbled with numerous crayons. Hundreds of colorful crayons can be used to adorn a wreath along with a chalkboard or other accessories in the center to add your personal message.
You May Also Like: "How to Make Candy Wrapper Purse"
This is a great crafty project for the kids to make during the holiday/Christmas season. The coolest way of making the walls of your rooms look vibrant would be by creating a lovely wreath out of crayon. This makes a lovely gift for teachers too. We are sharing some amazing tutorials and DIYs to make a handmade, multi-colored wreath made from crayons. The linked tutorials have step-by-step instructions to guide you well.
15 Cool Ways: How to Make DIY Crayon Wreath
This is an easy tutorial for kids and preschoolers who love making handmade stuff and try new things. You need an embroidery hoop for this craft, some crayons, and a hot glue gun. An ideal gift for teachers day!
This is one of the easiest ways to make a wreath out of crayons. You can add the monograms or name initials to add a personalized touch to it.
Grab your set of crayola colors and get creative with some ribbons, colors, and chalkboard. Embellish it with cute cut-outs to give it a classroom themed design.
Doing some out-of-the box craft with recycling old colors fascinates me a lot. You can get this rainbow shades of melted colors, by using heat from a blow dryer to get this amazing effect. You can easily use old crayons also for this DIY project.
You need the following supplies to make this wreath, 150 Crayons, a hot glue gun, (1) 10″ cake round, (1) 6″ cake round, an old CD, a pipe cleaner, and a paper punch. A unique way to make something your children will love to create.
Use ribbons, satin bows and more to make this unique wreath made from crayons for Christmas. You can change the colors of the ribbons and give it an interesting look.
This back to school crayon wreath makes for a perfect teacher appreciation gift craft project anyone can do!
A hanging monogrammed wreath made with ombre shades of crayons will make your child thrilled when he sees his initials on the walls of his room.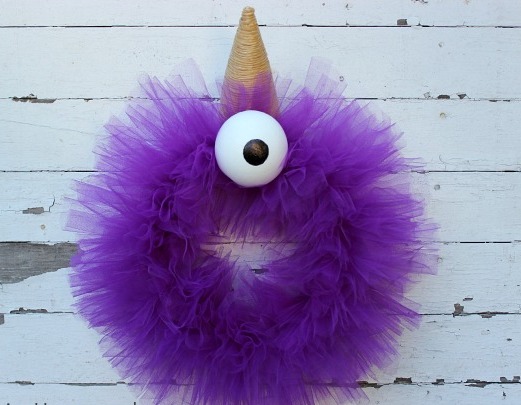 Halloween is the time for decorating, crafting, cooking and getting dressed in spooky costumes. Getting your front door ready is an important part of the celebration to welcome your friends/family with the perfect creepy decor. In this tutorial, we have shown you different ways to make our Halloween wreath from tulle and embellish it with lights, ghosts, pumpkins, glitters, flowers and more.
[Also Read: How to Make Mesh Wreath for Halloween]
How to Make DIY Halloween Tulle Wreath Designs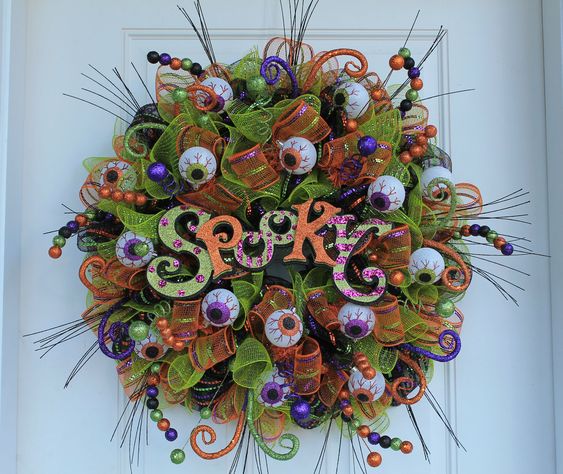 Creepy really can be beautiful and interesting when Halloween is around the corner. Spooky but beautiful was exactly what is wanted for the Halloween wreath for the front door.
All it takes to craft this wreath that will spruce up your front door for Halloween are a few simple steps and an inexpensive trip to the craft store.  You can use skulls, ghosts, skeleton, spiders, witches, pumpkins and more Halloween ornaments to give your house a spooky decor.
We are sure that the images would inspire you to make one on your own during fall.
[Read: How to Make Paper Pumpkins]
How to Make a Halloween Deco Mesh Wreath | DIY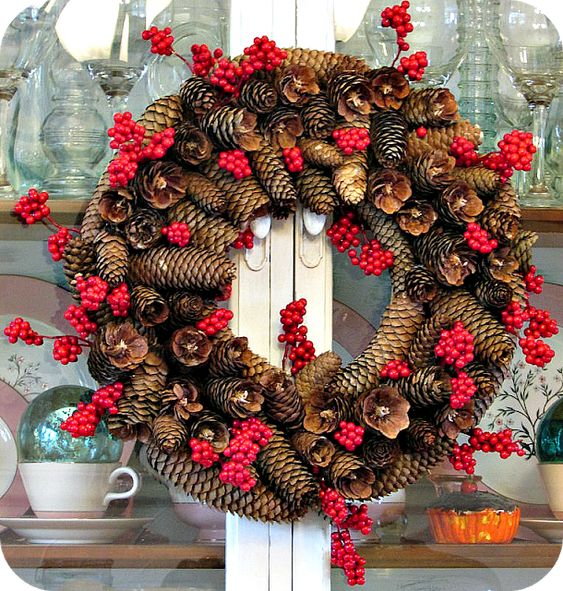 Making pinecone wreath is a fun and creative way to welcome guests and add a little curb appeal during holidays. Gathering natural objects from the outdoors like pinecones, acorns, some greens and bringing them together in a creative manner keeps you connected to nature. Create a fabulous wreath using the freshly cut pine cones, this might be one of your preferred craft idea for this holiday season. We have compiled some amazing tutorials which may make your wreath making project an easy one! It's simpler than you think and getting the pinecones ready makes your house smell amazing!
How to Make Decorative Pinecone Wreath~ Tutorials & Instructions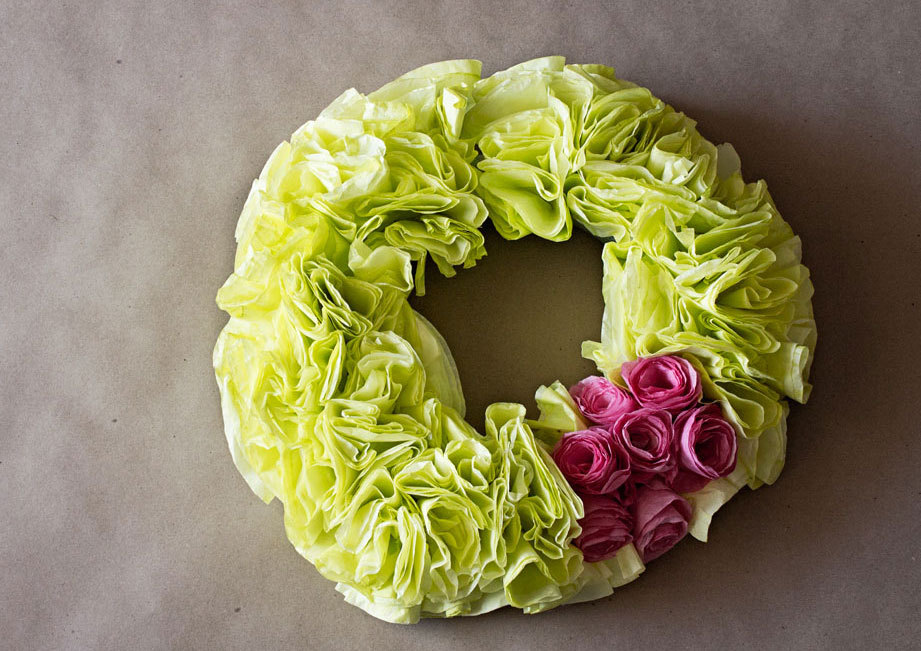 Papercraft is gaining immense popularity these days. If you are an avid coffee drinker then you will love this project with coffee filters. It's affordable and easily available! We love to share some amazing tutorials on how to make coffee filter wreath with you! This craft is fun to do with kids!
Collection of Some Great How to Make a Coffee Filter Wreath Tutorials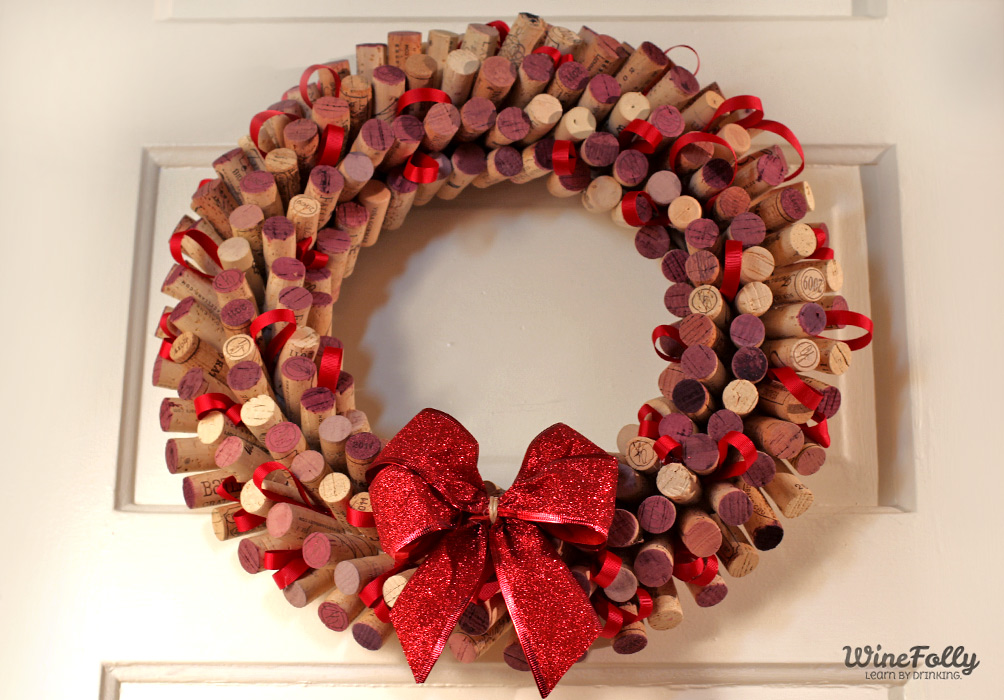 Wondering how can you get creative with popped corks from your wine bottles? Thinking what to do with leftover wine corks? Finish your wine and collect of all corks instead of throwing them. You can recycle or reuse wine cork to make some beautiful crafts like wine cork coasters, wine cork letters, wine cork board or wine cork wreath. Making a beautiful wine cork wreath can be very impressive and can enhance the beauty of your home decor. Getting crafty and making a handmade creation always gets you loads of compliments from friends and family. So let's start and adorn your doors with some unique wine cork wreaths.
Compilation of Tutorials on How to Make a Wine Cork Wreaths
If you are an avid wine lover, I'm sure you must have a lot of wine corks stacked in your vase. So lets put the leftover corks to use. This wreath will consume good quantity to wine corks. With the step-by-step instructions given in this tutorial, you won't take much time to create this wonderful one!
Flaunt your creativity by making this amazing Wine Cork Wreath for your door! This project takes some 200 wine corks. So if you don't have enough you can easily get this from the craft supply store. Adding ribbons as embellishments have splashed color in the rustic look. Get the complete guide in this tutorial.
Put your stash of wine corks to some creative use with this tutorial. A very simple one and is created very quickly.
This holiday season if you are bored and idle, put yourself to some quality artistry time. Try to DIY this stunning Wreath made of wine corks. You may use decoratives to add an element to the plain wine cork look.
There are myriad of ideas and tutorials on Christmas Wreath, but this one is my favorite. It is made out of wine cork and personalized with Reindeer, Santa and more accessories making it cute and lovable.
This Xmas try making this fun and unique wreath with a lot of red colors added in forms of bells and ribbons!
Making your own wine cork wreath is easy with these interesting tutorial which guides you throughout.
This tutorial guides you perfectly to make a dork wreath in 4 steps. All you require is your wine corks laying around your house, some toothpicks, wire, hot glue and lot of patience. You can Do-it-yourself now! You can ornament this with flowers, ribbons or beads.
Crafting with burlap and wine corks is a great combination. Adding a rustic touch to vintage creation. This video tutorial guides you with great instructions making it simple for you! Once ready hang this on your front door and adorn your entrance this festive season!
If Christmas is the theme, then this DIY idea is perfect for this holiday. Adding small bells in between the wine corks makes it look interesting and adds some color to it too. Time to jingle with this Wine Cork Jingle Bell Wreath hanging on your door.
Time to explore more alternatives with wine cork in making this wreath. This tutorial is simple and unique.
This one is a combination of 2-3 elements. So if you don't have a lot of wine corks, this DIY design is perfect for you. This makes a wonderful craft to gift or hang in your house!
Make this cork wreath with a lot of detailing and patience. Adding a bow or hanging it with a ribbon can be ideal. Giving you more reasons to drink wine and collect corks!
This simple wine cork wreath with a tinge of artistic design is going to look a masterpiece on your door this holiday season! Put your signature burlap bow to it!
The spray paint and the wine corks are an excellent combination to make this wreath. Wondering how to paint the corks? Don't worry and follow the instructions!
If you want to go all natural and hand made this season try making this Wine Cork Wreath Centerpiece for your room and get compliments and smiles! Time to DIY and get crafty!
So if you are a wine enthusiast then this cork wreath is the perfect idea of craft for you! Get your crafty supplies and make one design of your choice today! Hope you share your creations! We would love to see it! Happy Crafting!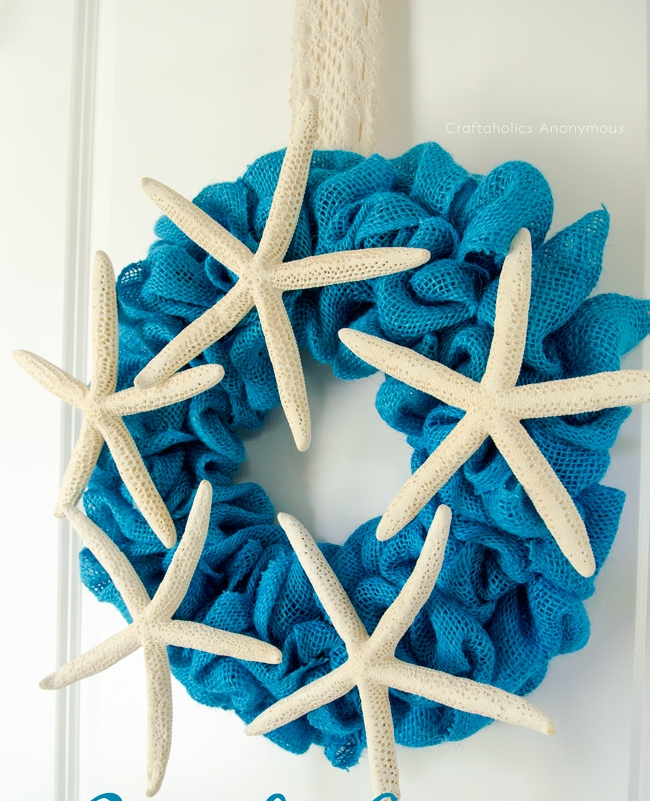 Making your own burlap wreath will quadruple the joy this season. You may be thinking that how are you going to make these burlap wreaths. These easy tutorials on how to make a burlap wreath will provide you a step by step guide to create something that is interesting and beautiful.
List of DIY Burlap Wreath Patterns with Step-by-Step Instructions
Adopt an eco-friendly environmentally sustainable approach this Christmas by using an innovative burlap wreath.
If you can't wait for the Christmas to come to satisfy your wreath fascination, then start by a fall wreath.
Making a burlap wreath for your door is extremely easy.
These add a bit of fun to your door. Follow the step-by-step instructions and you are ready with your ruffled burlap wreath.
Okay, these look amazing! They are tidy and add an elegant factor to your decorations.
These sunflower wreaths are ideal for the spring season. What can be more spring and summer put together than a sunflower?
It's time to get creative. Spring is here and so are marvelous craft ideas. Make these burlap wreaths colorful to welcome spring.
Pumpkin and Halloween go hand in hand. So it is natural that you are going to make a pumpkin-inspired burlap wreath this Halloween. Hang them on your windows and make this ruffled orange wreath with burlap.
Autumn is the prelude to the changing season. Welcome winter with a decorative wreath for autumn decorated with flowers and leaves!
These bubble burlap wreaths will create the most stunning appearance for your front door. Just wait and take pleasure in the awe of your guests.
Create these burlap wreaths to celebrate your country and show your patriotism.
Get some ideas by following the tutorials and make these wreaths as spooky as it is possible. It's Halloween, go nuts with burlap strips.
Burlap and lace make a fantastic combination. You can make homemade burlap and lace wreath, just by following the instructions in the tutorial. Adding
Christmas isn't complete without snowman and these are great as a Christmas decoration for your front door. In this video tutorial, you get a complete guide!
Decorate your wreath with the summer in your mind. Summer is all about bright and light colors like white so design accordingly.
Celebrate summer with these burlap beach wreaths, and you will be amazed by a number of compliments you will get.
The burlap front door wreaths are ideal for designing the front door so that it presents a welcoming atmosphere for the guests when they arrive.
Combine burlap with grapevines and you will have a perfect wreath to pay homage to the earth and the surroundings. Ah! The beauty that lies in this wreath's simplicity is commendable.
Check more driftwood wreath designs here
Ribbons are festive in itself. Putting them on your burlap wreath will add to its festive glory. You can use satin ribbons to add the shine against the matte and dull texture of burlap. Adding alphabets will help you customize it as given in the image!
To add a bit more of rustic quotient to your wreath use earthy toned items to decorate the wreaths like dry twigs, wooden items, etc. Follow the guide to make your own rustic burlap wreath and hang them on their front door.
Support the military with these wreaths. It is a nice gesture on your part to remember the fallen and pay respect to the ones fighting overseas with these wreaths.
Create a colorful and decorative reindeer wreath using burlap fabric. So get down and surprise your kids with a Rudolph hanging on their front door.
These are the simplest and the easiest burlap wreath ideas. Follow the instructions and you will have a wonderful piece of a wreath to hand on your front door.
Using wires to support the burlap fabric gives an added strength to the wreath.
Burlap and mesh go like salt and pepper. When you combine these two fabrics you get a superb wreath at your disposal.
This valentine's day surprise your loved one with a heart-shaped burlap wreath up on your door.
These burlap wreaths will be a perfect addition to your front door décor. Follow this DIY Burlap Wreath tutorial and you will be able to make your own burlap garland wreath.
Foam also provides a good support for the burlap to be decorated on. The porous nature of the foam allows you to pin in the burlap easily. Making these beautiful wreaths for Thanksgiving will be a great holiday burlap craft to indulge in.
So, why wait? Get down and make your own burlap wreaths that will stun anyone passing by your house.