13 Amazing DIY Halloween Mesh Wreath Ideas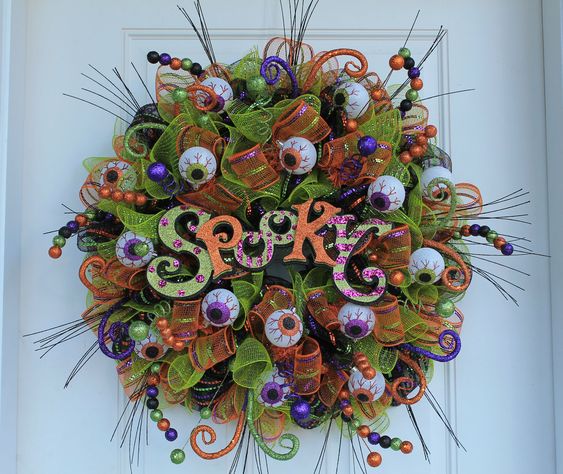 Creepy really can be beautiful and interesting when Halloween is around the corner. Spooky but beautiful was exactly what is wanted for the Halloween wreath for the front door.
All it takes to craft this wreath that will spruce up your front door for Halloween are a few simple steps and an inexpensive trip to the craft store.  You can use skulls, ghosts, skeleton, spiders, witches, pumpkins and more Halloween ornaments to give your house a spooky decor.
We are sure that the images would inspire you to make one on your own during fall.
[Read: How to Make Paper Pumpkins]
How to Make a Halloween Deco Mesh Wreath | DIY 
Halloween is around the corner and the preps to decorate the house and front door is on the rise. To make this handmade wreath you need simple supplies like black, orange and copper metallic mesh and some glitters and colors to play with creativity. You can add scary spiders and Halloween captions on it to give it a spooky touch.

The bow with the hand was secured to the bottom of the wreath. You could place your bow elsewhere, but we were trying not to cover up the boo sign.

[Also Read: How to Make Tulle Wreath for Halloween]

Some deco mesh ribbon roll, a wireframe some pipe cleaners are the main supplies for this tutorial. Decorate it with small colorful pumpkins, captions, and witchcraft ideas for a stunning wreath. This creative Halloween craft idea is taken from Big Bears Wife where they have explained the step-by-step instructions to make a super wreath hanger.

This deco mesh wreath looks beautiful decked up with A witch's hat and shoes and pumpkins and a "Witches on Broomsticks" or "Trick or Treat" sign. Shimmery bows added to accentuate the look of this witchy wreath.

Looking to make a unique wreath for this Halloween? Try making this wonderful primitive style wreath using burlap and deco mesh.  You can never deny the rustic charm of burlap. Fluff your ribbon and check your embellishments to make sure they will withstand door closings.

This quick and easy wreath uses purple and orange deco mesh, glitter floral stems and branches, bows and some spiders to give it a spooky look. It's a simple design which can be made easily at home without much pinch on your pocket. You can use geo mesh instead of deco mesh if you wish.

Kids are going to love this wreath hanging on your door with the funny guy on it. Follow the tutorial below and see how quick and easy it is to make the DIY Halloween. I bet it brings a chuckle to your guest when they are greeted by the friendly fellow waving at them.

All eyes will be on your house this October with a spooky DIY  Mesh Halloween wreath on your door. You will surely have fun making this easy wreath with mesh ribbons and decorate it with Halloween ornaments. The spooky eyes will surely give you jitters down your spine!

First striped green deco mesh is wrapped around the wire wreath in a floral pattern, followed by orange deco mesh. Then secure lime green tubing to the wreath with wire sprigs. For the rest, click on the above link. You can use geo mesh instead of deco mesh if you wish.

A DIY Halloween mesh wreath that even the most inexperienced crafter would master.  Give it a try and add Halloween whimsy to your door.

In this video, learn how to create a whimsical, full deco mesh wreath using 3 different types of mesh for the base, for your front door or interior home décor.
Leave a comment