Category:
Macrame Patterns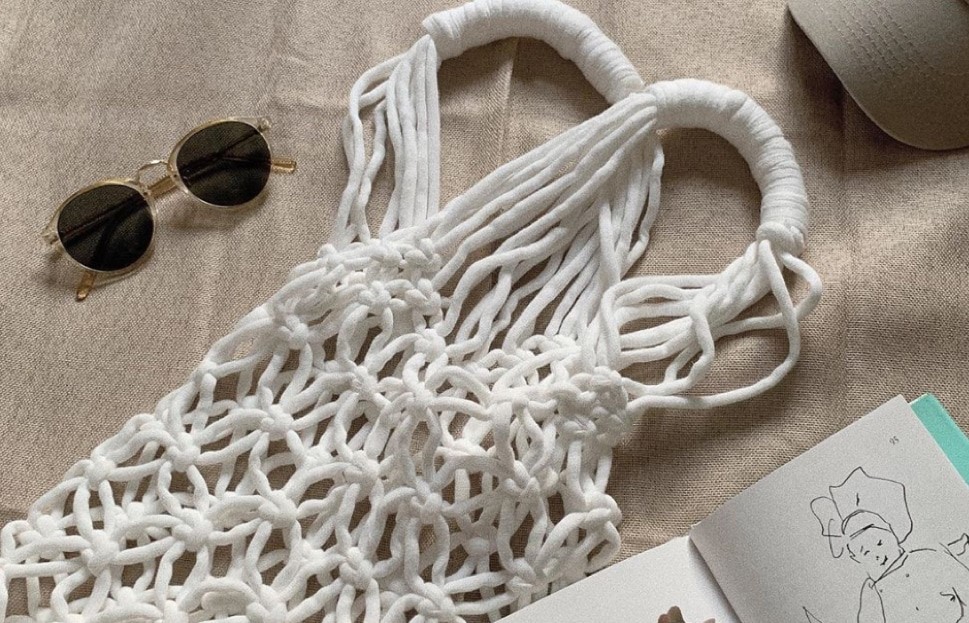 Did you know it's super easy to design your own Macramé bag? We have rounded up some of the best easy to follow Macramé Bag DIY tutorials to inspire your next Macramé project with step-by-step instructions.
The stylish knotted macramé pattern will look fabulous when implemented on bags. You can pick any design be it a purse, cross-bodied, clutch, a tote bag, sling bag, or anything else as per your choice.
The tutorials only takes a few basic knots to get started to make amazing macramé bags.
How To Make Macramé Bag – Patterns & Tutorials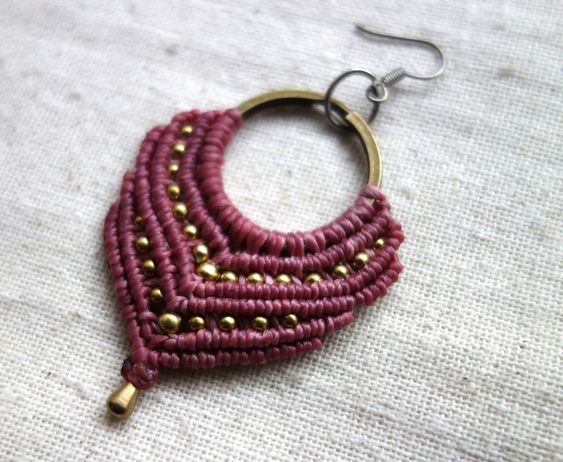 Do you ever get excited by intricately designed macrame jewelry? We love them too and so we have compiled some of the most gorgeous DIY macrame earrings tutorials for you. These complex-looking knots and fringes give a great finesse to the handwoven earrings which are easy to make at home too. Macrame earrings are the perfect ensemble to compliment a Boho-chic look for the summers.
For making macrame jewelry usually micro macramé technique is used. In this project usually, very thin cords are used to create delicate and intricate macrame accessories including bracelets, necklace, and earrings. In the tutorials mentioned below both traditional and micro-macrame techniques are listed.
Things Required for the Project
Cotton Cord or Hemp Cord
Jewelry Pliers
Pins
Project Board
Earring Hooks
Beads (if required)
Scissors
15 DIYs – How to Make Macramé Earrings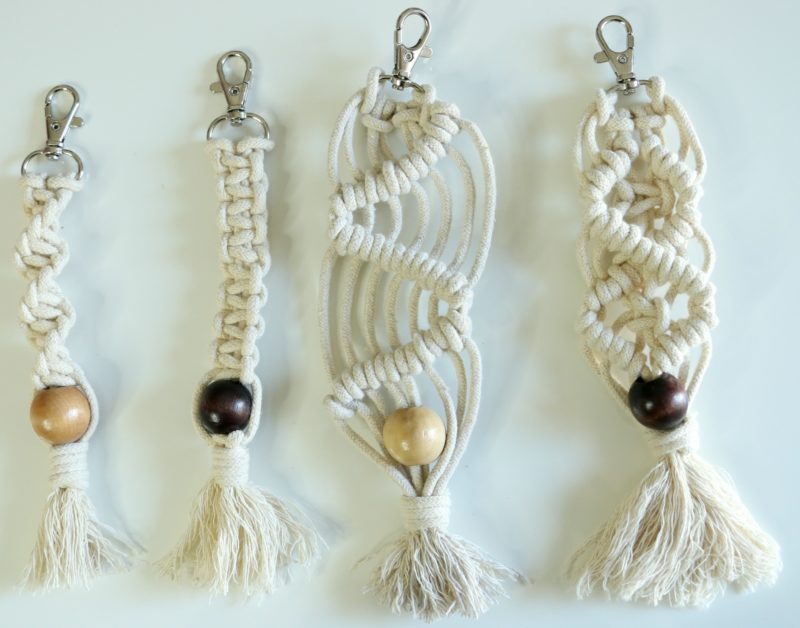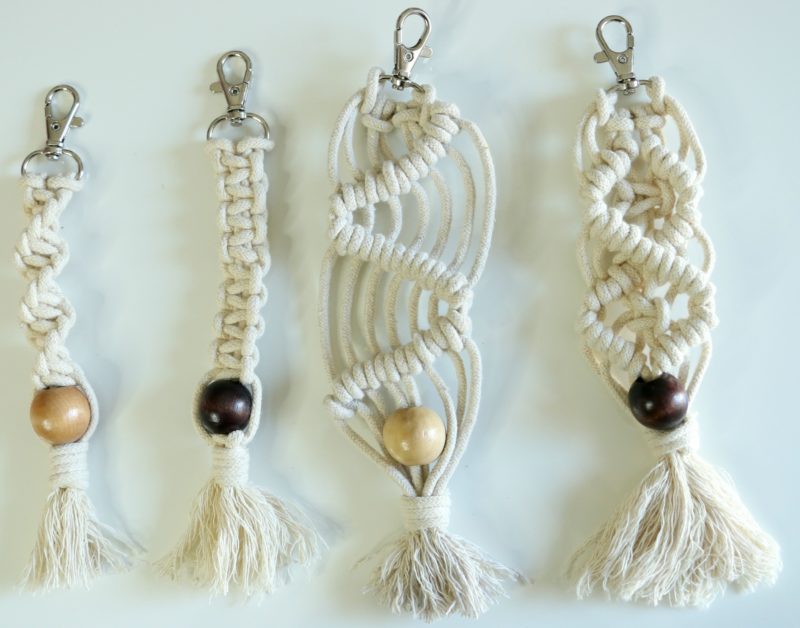 Macramé is not just popular for wall hangings and curtains, but custom macramé keychains are trending these days. They look elegant and artistic at the same time. Try these amazing knots and make your own keychains with macramé techniques. We have compiled some of the coolest macramé keychain tutorials with instructions to guide you.
You May Also Like: "How to Make Macrame Hammock"
How to make Macramé Keychains: 23 Unique DIY Ideas
This is an adorable macrame keychain is made using beads and easy macrame knots. You will need a metal clasp, some beads, and some macrame cord to finish this project. The finished product with amazing patterns is a great handmade gift for macrame lovers. Follow the amazing linked video tutorial by Melanie in melaniekham.com for the detailed instructions to guide you.

 

Make this rustic yet designer keychain pattern using square macrame knots. This textured pattern will surely be an eye-catching accessory to add to your charm.

 

Making interesting macrame keychain designs seems a cake walk with this tutorial. You can weave and knot amazing patterns using beads, colorful threads, and macrame cord.

 

I loved these interesting patterns from Creativkits.com.au. The different knotting techniques used with colorful wooden beads, fringes, and keyrings are tempting enough to make one of your own.

 

Making macrame owl designs is one of the most popular designs for all macrame lovers. For more macrame owl patterns click here.

 

This is quite a creative Do-it-Yourself macrame project to make your own unique keychains. You can use trendy colored ribbons to add to your creativity.

 

You May Also Like: "How to Make Beaded Keychains"

Learn how to make this macrame heart design for keychains, necklaces, and decorations for your loved ones on Valentine's Day.

 

This is an aesthetically beautiful design made with intricate macrame knots. This Boho touch looks amazing and is a wonderful gift for loved ones.

 

Cute Macrame Keychain Holder

This intricate design involves the basics of macrame knotting techniques and helps you create a textured keychain hanger that will gather all compliments. You can add them to formal bags for a quirky look.

 

Whether you're looking for a cool handmade keychain or an elegant beaded one that gets compliments everywhere, this tutorial is your answer.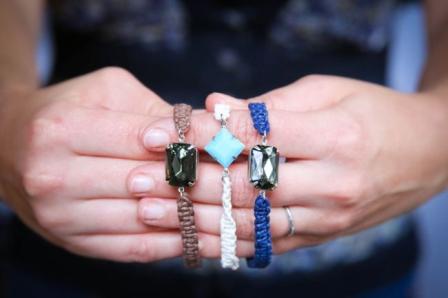 Macrame, Knitting, crochet and other textile arts with their different weaving, braiding and knotting techniques are great for DIY jewelry making. Macramé knotting is one of the most popular choices when it comes to making the pretty DIY jewelry be it bracelets, bangles, necklaces or earrings at home. You can customize them to your choice and use your creative instincts. We are sharing some 35 amazing tutorials which teach different ways how to macrame a bracelet using different knotting techniques.
For More Macramé Projects ~ Macrame Supplies
Collection of Easy DIY Macrame Patterns for Bracelet with Instructions Step-By-Step (Macramé Bracelets)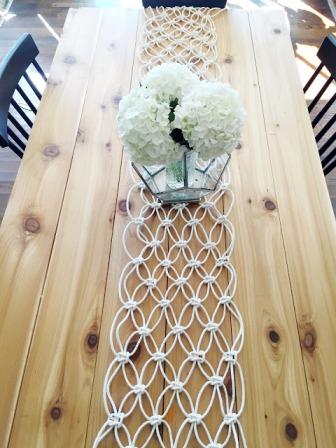 The beauty of handcrafted and weaved macrame table runner has taken the interior décor scene by storm these days. The best part about it is the white macrame table runner gives both a casual and sophisticated look. With a combination of twist, turns, and knotting techniques you could easily create beautiful macramé projects to feed your inner bohemian-chic decor.
Compilation of How to Make DIY Macrame Table Runner Patterns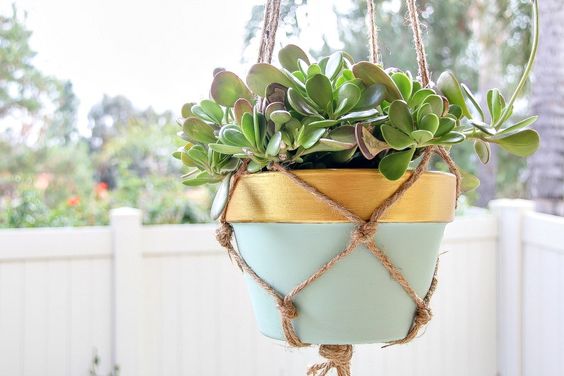 If you have a passion for gardening, but don't have enough open space for housing plants time to macrame plant hanger yourself.
Make your own hanging garden, where you can grow your favorite flowers in small planters, pots, and baskets hanging from rope hangers indoors or outdoors.
Learn how to macrame plant hangers quickly with complete directions to guide you with basic macrame supplies. Macrame projects are fun to do, you can even try making your own macrame hammock, wall hangings, and more macrame crafts.
Compilation of How to Make a Macrame Plant Hanger Tutorials with Instructions
The plant hangers add decoration to any room and are ideal for displaying your pots and plants away from window sills. The glass planters add elegance to your interiors. The linked tutorial uses twine to make the macrame knots and create this beautiful plant hanger.

How to make a modern macrame plant hanger with macrame cord, a stemless wine glass, an air plant and some decorative rocks.

 

This pink colored macrame plant hanger is one of those unicorn DIY projects – something that can appeal to all interiors, only uses a few macrame supplies and crafters at any skill level can easily make.

 

Make your own macrame decorative plant hanger pot basket with natural jute rope to get an amazing rustic look.

 

Use simple knots to create a stylish rope hanger for indoor plants and add a rustic touch to your modern home decor.

 

Display your favorite houseplant in this easy to make handmade macrame hanger. This macrame project can be adjusted to fit any succulents, planter, and since the rope is polyester, you can also hang this project outdoors.

 

This DIY macrame plant holder is a basic pattern, easy to make even if you have never tried macrame before. And the great thing about macrame is that if you do make a mistake or don't like your design, you can simply undo the knots and start again – easy!

 

Making macramé hangers are surprisingly easy! You can start with eight strings or cords, ropes. Cut them long enough so they will hang at your desired length. This design is ideal to hang your succulents in your living room. They look adorable and cute and will give a unique elevation to your interiors.

 

The net hanger is a two-tiered one made of solid hemp cord, it's natural color adds to the beauty of your pot plants.

 

Beautifully designed with basic macramé knots, this plant hanger is perfect for any decorating style. This corded yarn is great for trying macramé crafts. You can download this pdf instruction and is freely printable.

The most basic plant holder is the one made with twine. This one is ideal for small lightweight plants like succulents. It can even take the weight of moderately heavy pots, but it is better to avoid the risk of the twine breaking due to too much weight.

 

Learn how to make your own macrame plant hangers using colorful yarn with the easy step-by-step tutorial. It is an ideal choice for brightening up indoor spaces or prettifying the front porch for light weighted pots and planters.

 

Variations: You can adapt this plant holder method as creatively as you like. Try a large plant container. Try a tiny plant container. Try a rock or other natural object.

 

Make this super easy woven plant hanger using a bit of rope or jute, twine, leather, whatever is available. All you know need to know is how to make knots, you can make this in about 5 minutes flat. Follow the simple tutorial to make your own hanging planter for your interiors.

 

Make adorable macrame plant holders to hang them around your house.

 

This design features three types of basic decorative knots.  Make sure you practice them before you get started. You can add beads, decorations, or additional knots to add an element to the holder.

 
Have a look at this creative plant hanger with intricate knots making it beautiful.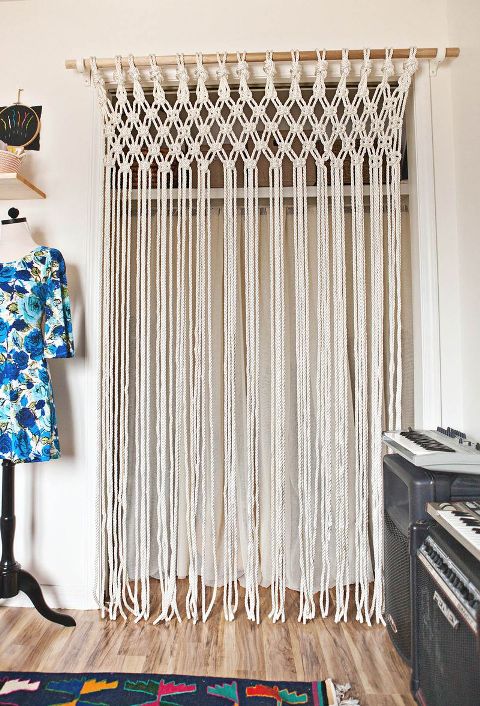 Macramé crafts and patterns are in rage this year. Woven hangings add a warm texture to a room that you just can't get with a traditional framed canvas. Keeping in tune with the various macramé belt and macramé hammock patterns, here are a few macramé curtains ideas provided to add a rustic charm to your interiors.
Compilation of Free DIY Macramé Curtains Patterns & Tutorials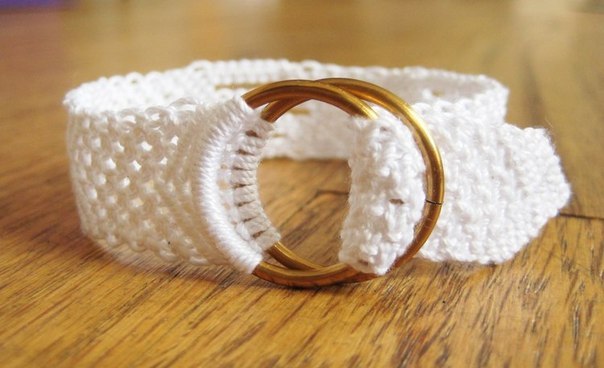 Macramé has become a popular way to design jewelry, wall art and home decor in recent years.  Macramé belt is belts made using the techniques of macrame, which knots thick macrame cord in colorful and decorative patterns.
Colloquially, "macrame" often refers to woven belts using the same cord. Let's browse through some amazing macrame belt ideas and free patterns to make wonderful accessories to match your outfit.
Also Read: "Macrame Plant Hanger Patterns"
Collection of Free Macrame Belt Patterns with Instructions
Macrame Owl Designs are very popular and in rage these days.  You can macrame an owl in various accessories like plant hangers, keychains, necklace, curtains, pendants, wall-hangings and get creative. It's a gives a handmade crafty look to the project and the end product looks amazing with its intricate designs.
You can make large owl macrame patterns or small ones depending on the end-use of it. Here we get you a list of some amazing Macrame Owl Patterns Tutorials to help you with instructions and the process of making it.
Compilation of How to Make Macrame Owl Patterns with Step-by-Step Instructions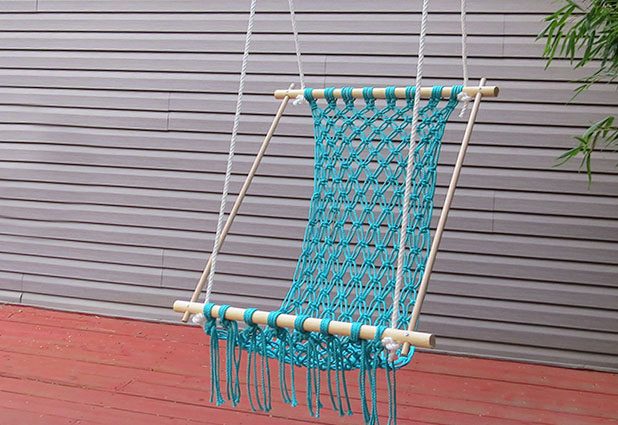 If you have a garden and want to sunbath this summers or have an outdoor party then macramé a hammock on your own! Macrame is an old art of tying knots to cords to create wonderful crafts with simple macrame supplies!
A Macrame Hammock is a great macrame project to add to the decor of your house! If you are wondering how to macrame a hammock then fret not! We have a collection of DIY Tutorials and Instructions on Macrame Hammock Patterns with step-by-step instructions to guide you perfectly.
How to Make a Macramé Hammock: Patterns and Tutorials with Step-by-Step instructions