50 Ways to Make Beaded Keychains: Patterns with Tutorials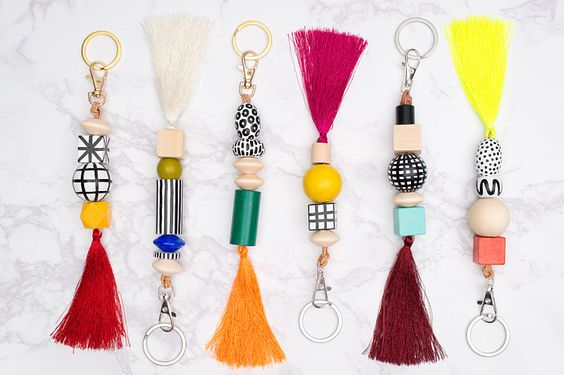 If you like creating accessories and keychains then try beading stylish designs. You can bead keychains in different ways, varying from Perler beads, gumball beads, seed beads, Hama beads etc. The DIYs listed below have used a variety of beads such as clay, plastic, seed, wood, metal etc. Go through the various DIYs and Tutorials with detailed step-by-step instructions showing you how to make beaded keychains.
You May Also Like ~ "DIY Cute Keychain Ideas"
How to Make Keychains with Beads ~ Tutorials with Step-by-Step Instructions
Use a mix of different shaped beads and make this quirky design. They have used both wooden and plastic ones to give it a colorful element.

Make these cute keychains with colored beads and animal charms. A great kids friendly DIY. You can easily use them backpack zipper charms. Just follow the step-by-step instructions to make these adorable key rings. You can use them as party favors too.

This is an easy-peasy project, easy enough for kids for sure. You'll just want to make sure you have some gloves handy. I think it would be extra fun with a few ink colors to see how they blend, but I only had the one on hand

The linked video tutorial shows how to use crafting acrylic gumball beads to make funky key chain fobs. Supplies needed include: 4-6 chunky beads, spacer beads, wire guards, wire, crimp tubes, pliers, 6mm split rings. You can customize it with monograms or alphabets.

This is an inexpensive and easy project for kids (or adults) and would even be a fun birthday party activity.  Just get some letter beads and make personalized keychains of your choice.

A fun craft for kiddos this summer holidays. They have used colorful pony beads to make the pattern. You can try making other animal figures too and explore your creativity.

You May Also Like ~ "Paracord Keychain Ideas"

Get ready for kickoff with this fun pony bead project! You can design and use colors of your football to match your team. Boys will love to use this cool football keychain.

Making this minimalistic yet classy keychain with leather lace and wooden beads is simple. Just follow the easy knots technique and your key chain is ready.

Bright nylon threads and alphabet acrylic beads are all you need to make this meaningful gift for your loved ones. You can make a pair of this to gift it to couples.

There are two-inch nail fashioned into a cross with wire and adorned with beads. You can use beads of your choice, but colored jeweled ones look so amazing! Tie a ring or carabiner at the top to make the keychain!

Made with cute pearl beads, this keychain can be used as hanging ornaments or zipper pulls too. Hope you could get some inspiration from it and enjoy the making process!

Use neon colored strings to make it vibrant. You can add tassels, small pom poms and other charms to make it innovative.

Learn how to make a heart keychain with pony beads using the peyote stitch technique! An ideal gift for Valentine's day.

You can make similar patterns for beaded alligator or crocodile keychain.

I loved these gratitude charm beaded keychain designs. The linked tutorial has made key chains with positivity charms as a reminder that when we leave home with our keys, we take the attitude of gratitude along with us.

Stringing wooden beads onto leather cords can be a fun crafty idea to make keyrings. The linked tutorial also shows how to color wooden beads of different shapes. Just follow the simple instructions and you're done!

These easy picture bead rainbow and unicorn keyrings are a trendy update for your keys. You can follow the pattern attached or make up your own design or even your initials. Free pattern in the linked tutorial.

Similarly using these beads you can make other animals if you want like an elephant, horse or a hippo.

Learn how to create a very stylish and chic keychain and bracelet in less than 5 minutes.

Use innovative keychains using colorful beads and macrame knotting techniques. The pretty flower design in green looks adorable.
Leave a comment