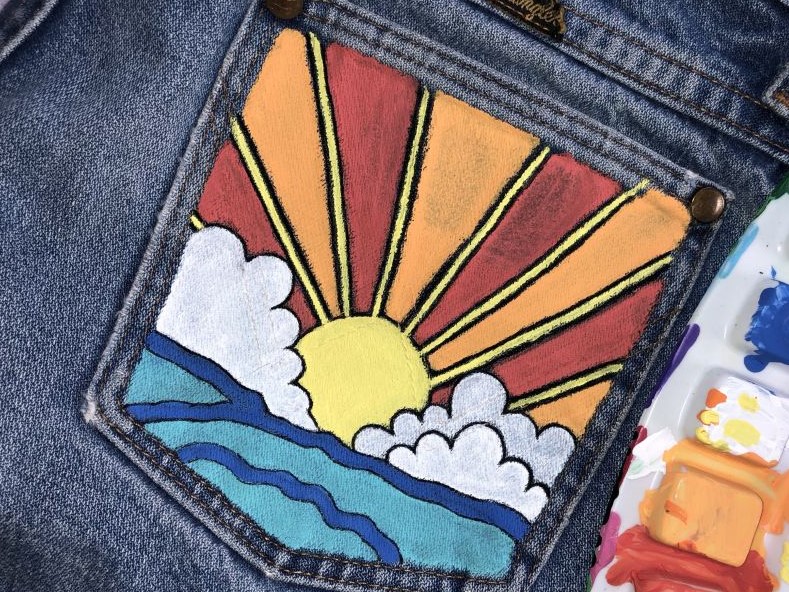 Those comfortable, old pair of denim are always a heartache to throw. So why not have some fun with it? Just use some art supplies like fabric or acrylic paint and brushes to paint anything and everything on the pockets of your jeans to give them that modern and edgy look. We have lined a series of some incredibly interesting paint patterns and known pieces for you to follow. You can definitely go all out with your imagination and skills.
DIY Painted Jean Pocket Ideas
Make your old blue jeans more colorful. The yellow sunset with red or orange rays, white clouds, and the wavy waters of the sea makes your jeans not only aesthetically bright bot also upgrades your wardrobe.

 

Vincent Van Gogh's painting, Starry night is too eye-catching and mesmerizing. So why no recreate that and make your pants one of a kind. The yellow color of the galaxy of stars and the moon added with black and blue hues will definitely take your jeans game up a notch. You can select other scenes like this as well for a highly artistic painted jean pocket. 

 

Play with your imagination and color palate. Use your skills to give your pants this multi-color wavy pattern look. Just remember to tape the borders for a messy free and clean finishing. Paint the other side using your creative side to make vivid patterns to enhance that 'different' look.

 

Sunflowers are always beautiful no matter where we see one. Paint this aesthetic bright yellow colored sunflower. Stroke out those lines with a fine brush for a new and refreshed pair of jeans giving a summer vibe. You can also paint your jean pocket with other seasons or festivals common symbols like snowflakes for winter to represent Christmas.

 

If going all out is not your taste try painting these flowers. All you need are some acrylic paints, tape, paintbrush and a pair of jeans. With minimal supervision, this painted pink flower pattern looks like an intricate print of machine.

 

You can never get out of ideas with art and craft. Paint the sea, a favorite object, or some abstract shapes and vivid patterns. Take some help from your friends for a perfect finished product like this.

 

Mix and match hues and create beautiful jeans that set a high benchmark of fashion. Paint this beautiful pink purple and orange sky scene using oil, fabric or acrylic paints. The attention drawn will definitely get you some DIY art projects.

 

This one is the easiest tutorial to follow. You need not have any artistic skills but only some art supplies and a stitch opener. Paint one pocket of the jeans white to get that out of the box look.

 

Another masterpiece to recreate and for some trendy fashionable look is The Great Wave off Kanagawa. The majestic waves and the hues of the sky complement each along with the blue color of your denim jeans.

 

American flags are a part of almost all trendy stuff, your jeans can be a part of that trend too. With colors that include white, red, and blue, create perfect line strokes and stars with your paintbrush.

 

We always want to crawl back to our childhood days, don't we? And who wasn't the biggest fan of scooby-do? Put cardboard in the inside of your denim jeans for some base and don't forget to add textile medium to your colors for it to be permanent. Draw and paint the classic van of the gang on one side and the set of the scene on the second pocket to seem like a follow-up story.

 

Fashion and art are all about out of the box thinking. Paint fire but with some modern and vivid touch to it. Instead of painting those yellow paint them black and white to uplift your fashion game.

 

For a throwback 90s chick look, draw and paint these simple flowers finished with detailed petals. Use can also paint them on the front side of the jeans for a consistent look.

 

Some More Jean Pocket Painted Ideas

Checkered Design Jean Pocket Painting 

 

Bees

 

 
Get crafty and show off your skills with these tutorials. Start with simple once and proceed to more advanced ones like that of famous paintings or your favorite Disney character.
The tutorials are easy to follow and fun to execute. You can always put your ideas to create even better DIY jeans, all you need is patience and practice.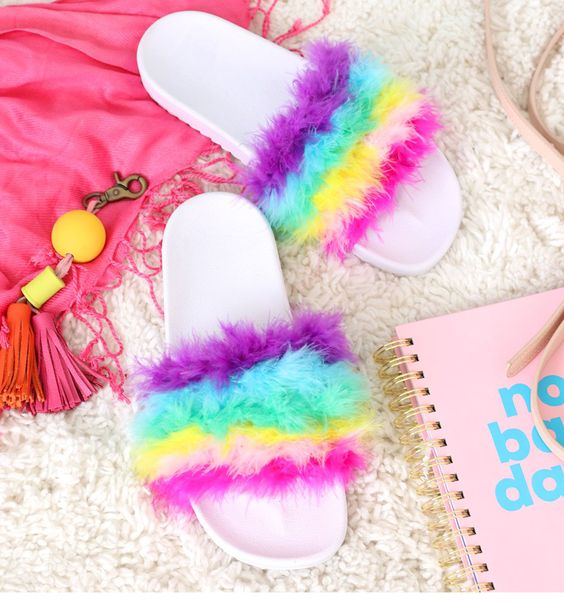 Do you love to wear fur slides as sport a stylish catty look but don't want to cough $70 or more for it? Fret not, as we've got you covered. Wearing slides shoe sandals is quite a trend for summers and spring. So we are sharing some interesting ways to make your own fur slides and don't feel a pinch on the pocket too. You can pick from a wide range of colorful faux furs. White, black, brown add to your elegance while hot pink, blue and red will add to your style quotient.
For More Interesting Shoe Lacing Ideas: Read Here
5 Interesting Ways to Make Furry Slides at Home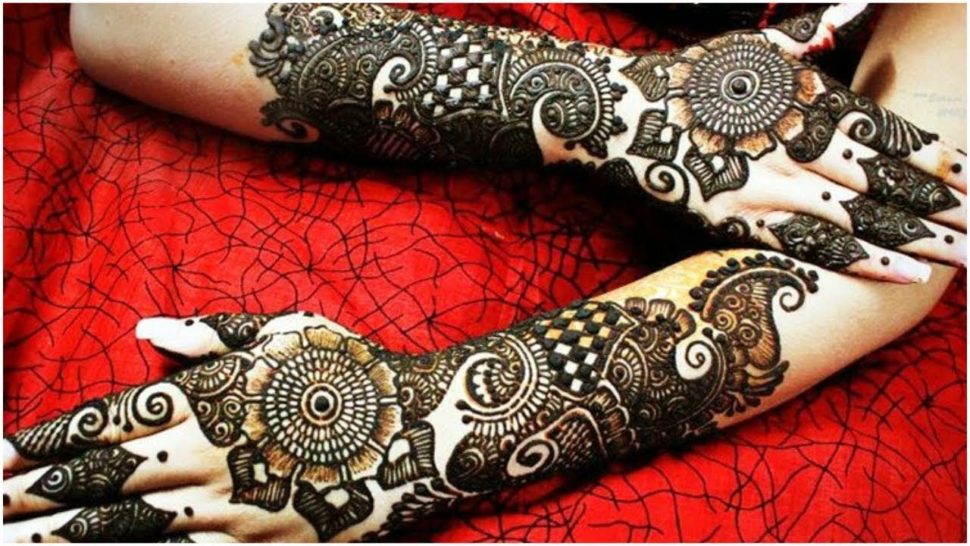 The wedding season is around, and putting mehndi or henna is an important part of the wedding tradition in many countries like India, Bangladesh, Pakistan and more. The mehndi ceremony is one of the most fun-filled and glamorous pre-wedding rituals where the hands and feet of the bride are adorned with beautiful and intricate mehndi design. The traditional designs of mehendi have become more decorative and unique with time, by fusing modern and traditional bridal mehndi designs.
The designs shared below are a mixed bag including, easy, simple and intricate for full hand, front hand, foot.
Compilation of Latest Bridal Mehndi Designs with Pictures for 2019
This wedding season, we have compiled some of the most stunning and pretty bridal mehndi (henna) designs collection 2018-2019 that you will absolutely adore. The Bride (known as Dulhan in India) can flaunt these amazing designs on her big day!
Top Beautiful Bridal Mehndi Designs for Full Hands Images
Bridal Mehndi Designs have a great range of patterns from floral, motifs, peacock or traditional ideas! The tiny leaves accentuate the bride's long fingers and the large flower design is on the hand looks intriguing and delicate. Most popular among the bridal mehndi designs are Arabic, Indian, Pakistani, Rajasthani and Marwari designs.
This design showcases an artwork of a king and queen popularly known as the Raja-Rani design for the wedding!
The colored mehndi design combined with glitters and stones is a relatively new concept. The different colors stand out, making the design more interesting giving it a unique twist.
Exclusive Bridal Mehndi (Henna) Designs for Full Hands and Legs Pictures
Professional & Intricate Bridal Mehndi Designs for Feet Photos
Safety Pin Earrings are in a rage with popular celebrities like  Kourtney Kardashian,  Miley Cyrus, Hillary Duff, Vivienne Westwood other stars flaunting the look. Many brands like Loren Stewart and more make these in gold, white gold, silver, and diamond for a hefty price. You will be amazed at how easily an original safety pin can be turned into funky earrings in just a few simple steps which are affordable and cheap!
Collection of Amazing How to Make Safety Pin Earrings Tutorials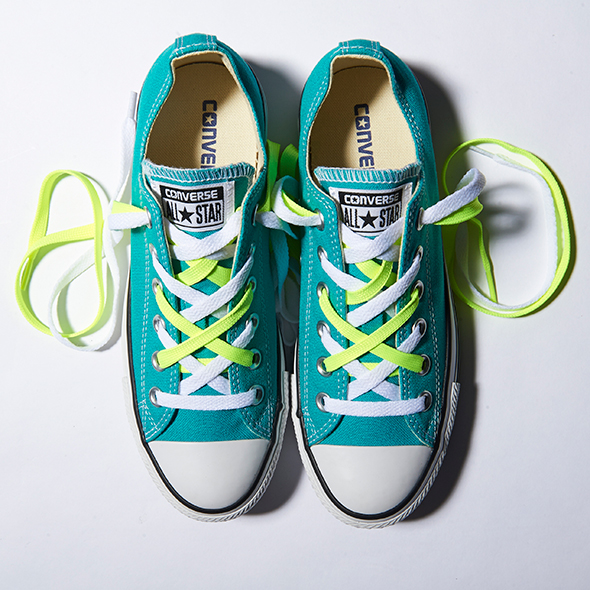 Shoelaces can give your old converse or running shoes a new cool look in no time. You can tie your shoelaces in a regular boring pattern or thousands of other creative patterns. Time to break the monotony and get creative with shoelaces. Let's explore the interesting ways to lace shoes and flaunt a trendy look with your shoes. There exists an infinite number of possibilities for shoe-lacing. Shoes can be laced for comfort, utility, trend or for fashion.
Collection of Different and Cool Ways to Lace Shoes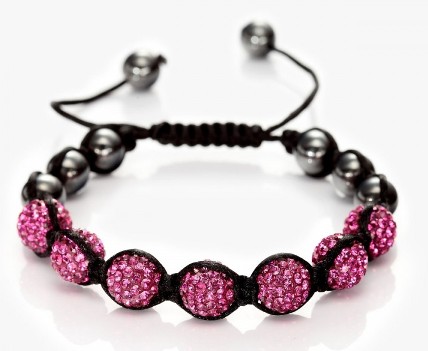 The Shamballa (also known as Shambhala and Shambala) style incorporates many cultural beliefs to bring it to this point. The heritage utilized is a vibrant and rich one being part of the Buddhist culture where the title of this jewel is derived from. A traditional Shamballa bracelet uses Macrame knotting with Chinese knotting cord and a series of large hole beads. Different combinations of Knotting Cord and Large hole beads can offer drastically different results.
Shamballa Bracelet Meaning and Color Significance
Shamballa bracelet patterns, designs, stones, gems, and metals are believed to have healing properties. The color you select promotes the feeling of well-being associated with the emotion or physical condition you wish to develop. The meaning of each kind of colors in Shamballa Bracelet is unique and is as follows:
Shamballa Bracelet Blue – Associated with the Throat Chakra, blue is the bringer of expansion and healing.
Shamballa Bracelet Black – Black as a color means the absence of any light and is associated with strength, authority,  power, elegance, formality, death, evil, and mystery.
Shamballa Bracelet White – White or clear is considered to be the color of perfection bringing clarity, peace, and purity, increasing the flow of the life force.
Gold or Yellow Shamballa Bracelet –  Yellow and Golden colors are associated with purpose, personal will-power, optimism, and self-confidence.
Shamballa Bracelet Red – Associated with the Root or Base Chakra the red colored Shamballa bracelet symbolizes passion.
Shamballa Bracelet Green – Associated with nature, it signifies forgiveness and growth.
You can start making this fun craft yourself with some basic supplies of nylon thread and beads of your choice. There are a lot of Shamballa Bracelet Kits available which are equipped with all necessary supplies required.
Compilation of Cool DIY Tutorials on How to Make a Shamballa Bracelet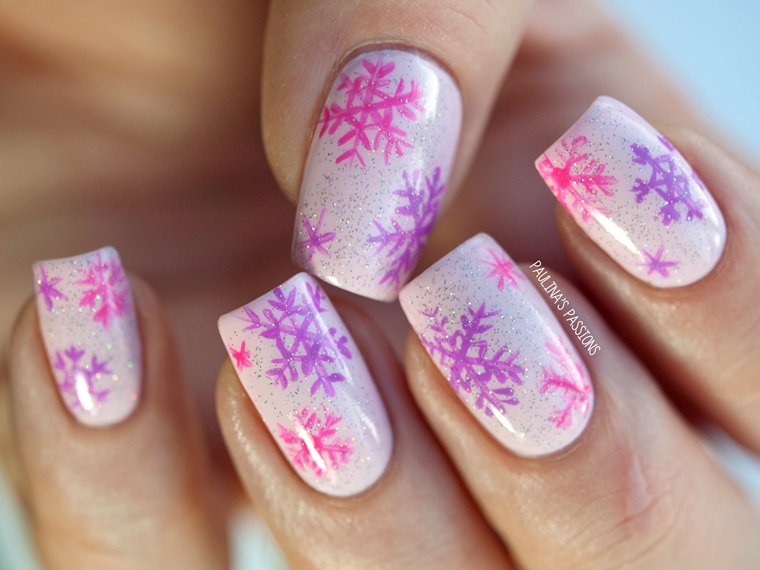 It's beginning to look a lot like Christmas! Time for come creative nail art this winter holiday season. Snowflake nail art is one of the favorite art when we talk about nail designs. There's something magical and cute about snowflakes so time to feast your eyes with some great designs. Find great Snowflake Nail Art Designs and Ideas from the pictures below with step-by-step instructions in tutorials and make them as soon as you can and you will be in trend with the latest fashions.
Compilation of DIY Tutorials of Snowflake Nail Art Designs
If you are not a fan of loud colors, try using this combination of subtle pink colored snowflake designs make your nails look stunning. Try this sophisticated pattern with full directions!

 

Blue isn't a perfect shade for Christmas, but if you are bored with the traditional green and red colors, you can change the base color and use this Christmas snowflake design.

 

The purple snowflakes made on the white base makes it look gorgeous. Do it neatly as the designs are very intricate.

 

Time to get inspired by the festive season and paint your nails with vibrant colors and detailed designs.

 

This Christmas go dazzling red with snowflake designs on your nails. Looks modish and is perfect for the party look.

 

Try making this simple snowflake nail design if you want to make a quick one.

 

This Gel nail designs give it great shining look on manicured nails. Add some glitter to add some element to it.

 

Explore new designs and ways to draw snowflake designs on your nails. You can use a toothpick to draw it!

 

These golden decals stamped on the nails are quite convenient if you can't draw a free hand design.

 

If you want to flaunt your toe nails with your short dress and stilettos, time to make adorable and stunning snowflake designs for your tor nails.

 

Frosted snowflakes look cute and elegant. Follow this video tutorial and make your nails look pretty this X-Mas.

 

In this tutorial there are five snowflake patterns which you can make on your nails. You can chose different designs for each nail.

 

This winter let is snow on your nails. Make this snowflake nail art with blue and white combination and look elegant.

 

A great retro design with a vintage feel, ideal for short nails. Try making this nail snowflake art this holiday season.

 

Beautiful gradient nail art design is elegant to look and easy to make. Once the base nail paint is dried, you can use stamps to get the desired look. Full instructions given in the tutorial.

 

Polish your nails with some pastel shades and glitter.

 

White goes well both in summers and winters. Team it up with glitter on the top or a contrast blue, red or golden for ultimate elegance.

 

Time to draw some cute designs on those short nails. Grey and pink are for the fall autumn season.

 

If you not an expert at nail art, no worries,make this simple pattern with step-by-step directions.

 

Green Snowflake Nail Art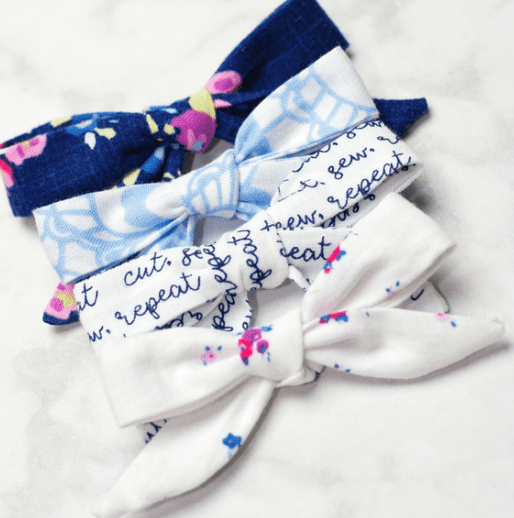 Hairs bows make great accessories to go out with various outfits. If you are looking for some creative and easy hair bows fashion ideas for your hair then go ahead with these cool DIYs and Tutorials on How to Make Cool Hair Bows. You can explore and create amazing designs matching your outfits. A wide range of ideas from satin ribbons to printed ones, polka dots to plain classic hair bows. You can make your own handmade hair bows which are inexpensive and great to wear.
Collection of Stunning Hair Bows  for Girls | Easy & Unique Ideas & Tutorials to Make Hair Bows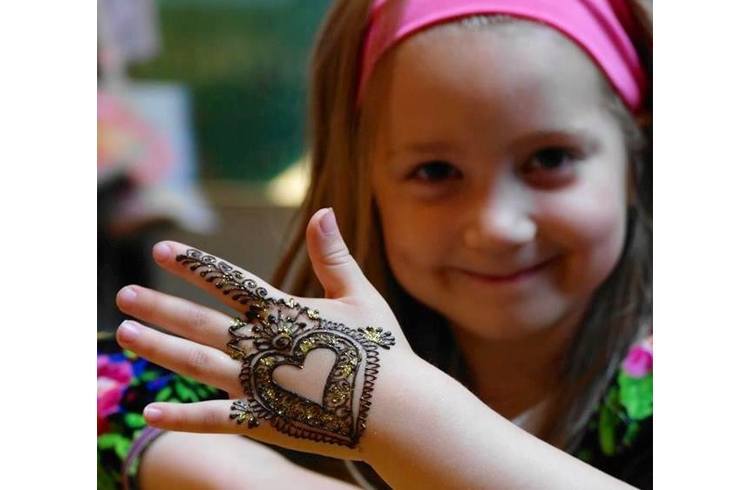 Mehndi or Henna obsession for kids starts at a very early age mostly. Girls have a great craze for putting mehndi on their hands. Decorate your little girl's hands with most beautiful and amazing mehndi designs from traditional to most fashionable designs. Let her chose the design from these creative ones and get a smile on her face with bright hands and legs. Sharing some Pretty Mehndi Designs for Kids which are easy to make for beginners also!
Collection of Simple Mehndi Designs for Kids and Babies
Mehndi Designs for Kids

This wedding season don't clad your little one's hand with bangles or accessories. Try these cute bumble bee design with some leaf or floral pattern.

Best Mehndi Designs for Kids

 

Simple Mehndi Designs for Kids

 

Cute Mehndi Designs for Kids

This cute heart design looks adorable on your kid's palm. Simple and beautiful. You can practice mehndi designs on paper also.

 

Mehndi Designs for Kid

 

Easy Simple Mehndi Designs for Kids

 

 Mehndi Design for Kids 

Floral designs are the kid's favorite and looks most pretty on them.

 

Easy Mehndi Designs for Kids

 

Simple Mehndi Designs for Kids Step by Step

Round Henna Design with leaves looks amazing on their sweet little palm.

 

Mehndi Easy Designs for Kids

A simple and elegant design on the back of the hand of your girl looks most beautiful.

 

Designs of Mehndi for Kids

 

Beautiful Mehndi Designs for Kids

 

Simple Mehndi Designs Kids Hands

 

Simple Mehndi Designs for Hands for Kids

Since kids are too fussy and often fidget with their hands, minimalistic design is a great option for the little children. A slight detailing of drops and will add to the beauty of those small palms.

 

Simple Mehndi Designs for Kids Feet

Children are always excited to henna design on their hands and feet. This striking design will look beautiful with motifs and extensions on the fingers.

 

Easy Arabic Mehndi Designs for Kids

Arabic Mehndi Designs are most popular amongst everyone these days! Try this pattern today!

 

Arabic Mehndi Designs for Kids

 

Mehndi Simple Designs for Kids

 

Easy Mehndi Designs for Kids Hands

 

Very Easy Mehndi Designs for Kids

Simple and Easy to make this pattern on their front hand with cure heart and round mandala patterns.

 

Easy Mehndi Design for Kids

 

Simple and Easy Mehndi Designs for Kids

 

Easy Mehndi Designs for Hands for Kids

 

Mehndi Designs for Kids Hands

 

Simple Arabic Mehndi Designs for Kids

 

Mehndi Designs for Baby

 

Baby Mehndi Designs 2017 ( Mehandi Designs

 

Mehndi Designs Baby Hand

 

Mehendi Design Images for Kids

Full coverage mehndi designs for children's hand is a little tough thing as kids are often not patient enough to sit for so long duration of the application of mehndi. Still, kids who are fond of elaborate design can try this pattern.

 

Butterfly Mehndi Designs Kids 

 

Mehndi Designs Kids Easy

 

Mehndi Designs Children's Hand

 

Henna Designs for Kid

 

Mehandi Designs for Kid

 

Mehndi Designs Kids Simple Flower

 

Mehndi Designs Kids Front Hand  

 

Henna Designs for Kids Backside Hand

 

Classy Mehndi Designs for Kids

 

Mehndi Designs Kids Cartoon

Awww! Cute little cartoon designs on their little palm looks so adorable.

 

Sweet Mehndi Designs Kids

 

Mehndi Designs Kids Henna Designs 

 

Mehndi Rose Designs Kids

 

Pakistani Mehndi Designs Kids

 

Full Hand Mehendi Designs Kids

 

Beautiful Floral Mehndi Designs for Kids  

 

Best Mehndi Designs for Kids Full Hand  

 

Top Mehndi Designs for Kids with Glitters Adding glitters to the mehndi design on their hand is the perfect blend for an ideal design.

 

Kids Mehndi Designs

 

Kids Mehndi Designs Images

 

Mehndi Designs for Kids Images

 

Easy Mehndi Design for Babies

 

Mehndi Design for Kids Pictures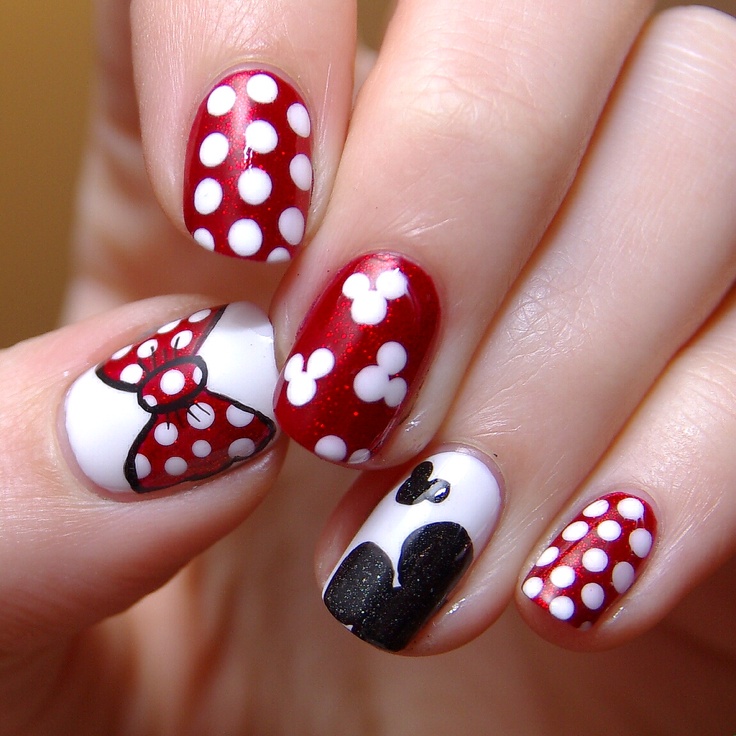 Are you obsessed with gel nail designs? Then you must be in search of new quirky designs all the time? If yes, then you have come exactly to the right place to replenish your store of ideas and if you haven't tried gel nail designs yet then please do try at once. Here I have provided you with some gel nail designs tutorials that will guide you to achieve the perfectly painted nails for that glamorous evening party.
Compilation of 40 Beautiful Gel Nail Designs and Gel Nail Art Ideas
1. Purple Gel Nail Designs
Are you a fan of the dark purple color? Purple reflects the passion and is a royal color and here are some luxurious gel nail designs and ideas for you.
2. Short Gel Nail Art Designs
Are you worrying about the fact that you have short nails so you cannot so the beautiful gel nail designs? Then this tutorial will prove you wrong.
3. Easy Gel Nail Designs
You do not need an elaborate design to make your nails look beautiful. These easy gel nail designs are equally attractive.
4. Simple Gel Nail Designs
Are you a newbie in the art of gel nail designs? You have nothing to worry with these simple tutorials which will be a cakewalk for you.
5. Gel Nail Polish Designs
Show off your manicured nails with this beautiful design and it will be a matter of minutes with this awesome step by step gel nail design.
6. Summer Gel Nail Designs
Flaunt your nails this summer with these chic gel nail designs that are so colorful and easy. All these designs will perfectly match your summer outfits.
7. Gel Nail Design
The gel nail design in this tutorial is a very intricate one and will leave everyone in awe.
8. Cute Gel Nail Designs
All the beautiful girls out there, these cute gel nail designs are exclusively for you.
9. Spring Gel Nail Designs
Embrace spring with open arms with these gel nail designs. Wear that new dress of yours and put on a new gel nail design and enjoy your perfect spring outing.
10. Black Gel Nail Designs
If black is the color that dominates your wardrobe then you must check these black gel nail designs that would go perfectly with your outfits.
10. Fall Gel Nail Designs
Get fall ready with these beautiful and trendy gel nail designs. Don't sit inside your house on such a cozy fall evening and go out with your friends all dressed up and flaunt your gel nail designs.
11. Awesome Gel Nail Designs
Get ready for that perfect dinner date and dress up your nails too!
13. Popular Gel Nail Designs
Stop ogling at the beautiful nails of the girl sitting next to you and turn your nails into the most beautiful ones that will make anyone look twice with these gel nail designs.
14. Pink Gel Nail Designs
Be the glam girl with these stunning pink gel nail designs.
15. White Gel Nail Designs
White gel nail designs look classic and serene. So check out these designs and try them now!
16. Gel Nail Designs with Rhinestones
Do you love rhinestone? Then why not try them on your gel nail designs and these ideas will help you decide which one to try.
17. Powder Gel Nail Designs
Look flawless on the next family occasion with these stunning designs that will blow everyone's mind.
18. Gel Nail Designs for Wedding
Dazzle up your nails and show off your ring finger with these super gel nail designs. Look chic on your wedding day.
19. Christmas Gel Nail Designs
I know you must have arranged all your candy canes in place and set up your Christmas tree but have you painted your nails? If not, then hurry up and paint your nails in these beautiful Christmas themed gel nail designs.
20. Rainbow Gel Nail Design
Accent your nails in a discreet way with this rainbow gel nail design. You can also add confetti to bring about that extra bling.
21. Neon Gel Nail Designs
 Get the bright chic look with the neon gel nail designs that are so much in vogue.
22. French Tip Gel Nail Designs
Show off the bling on your freshly done French tips in front of your friends.
23. Blue Gel Nail Designs
Find the perfect shades of blue for your nails and flaunt you sparkly nails.
24. Yellow Gel Nail Designs
Yellow is the color of the summer. So try these adorable designs which are stylish and smart.
25. Orange Gel Nail Designs
All the manicure lovers out there can try these peppy orange gel nail designs to look stunning on a bright sunny day.
26. Gel Disney Nail Designs
Get back to your childhood days with this Disney gel nail design and it is a versatile one so you can try with any of your casual outfits.
27. Glitter Gel Nail Designs
If you want a rich texture on your nails, then glitter gel nail designs are the best for you.
28. Funky Gel Nail Designs
All the women out there who prefer funky designs over a subtle one, here are the best funky and chic designs you will ever get.
29. Halloween Gel Nail Designs
Get spooky this Fall and Halloween with these gel nail designs that will perfectly complement your Halloween outfit.
30. Valentine Gel Nail Designs
Look pretty on your perfect date on the day of love with these hot gel nail designs for your valentine!
31. Winter Gel Nail Designs
Sparkle up your winter with these funky and cute gel nail designs.
32. Bright Gel Nail Designs
Get the sexy summer nails you have always wanted with these bright gel nail designs.
33. Classy Gel Nail Designs
Be the trendsetter in these classy gel nail designs.
 34. Gold Design Gel Nail Designs for Fall
The cute design of this gold and white gel nail design is super easy and trendy too.
35. Unique Design Gel Nails
Quirky and incredible, these gel nail designs, which look strikingly beautiful with all your outfits.
26. Snowflake Gel Nail Designs
The snowflake gel nail designs give an additional Christmas feeling to your outfit.
37. Zebra Gel Nail Designs
The Zebra gel nail design is a gorgeous accessory in itself to match your outfits.
38. 3D Gel Nail Art Designs
The 3D gel nail art ideas give a sophisticated look to your beautiful nails.
 29. Girly Gel Nail Designs
The girly gel nail designs in this tutorial are perfect for both women and young girls.
40. Hello Kitty Gel Nail Designs
The hello kitty gel nail designs are probably the cutest designs for your nails.
So, here are 40 amazing and stunning gel nail ideas and designs for you to try. From simple swirling designs to gold adornments, everything is given in the tutorials. So start planning your next ensemble on your day out and paint your nails accordingly.