20 DIY Shamballa Bracelet Tutorials & Instructions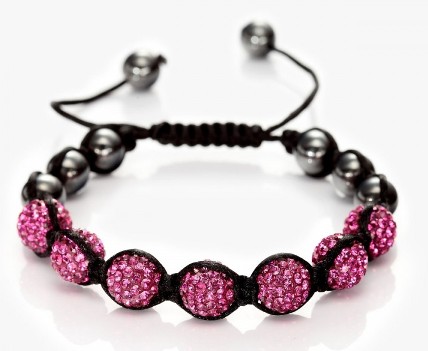 The Shamballa (also known as Shambhala and Shambala) style incorporates many cultural beliefs to bring it to this point. The heritage utilized is a vibrant and rich one being part of the Buddhist culture where the title of this jewel is derived from. A traditional Shamballa bracelet uses Macrame knotting with Chinese knotting cord and a series of large hole beads. Different combinations of Knotting Cord and Large hole beads can offer drastically different results.
Shamballa Bracelet Meaning and Color Significance
Shamballa bracelet patterns, designs, stones, gems, and metals are believed to have healing properties. The color you select promotes the feeling of well-being associated with the emotion or physical condition you wish to develop. The meaning of each kind of colors in Shamballa Bracelet is unique and is as follows:
Shamballa Bracelet Blue – Associated with the Throat Chakra, blue is the bringer of expansion and healing.
Shamballa Bracelet Black – Black as a color means the absence of any light and is associated with strength, authority,  power, elegance, formality, death, evil, and mystery.
Shamballa Bracelet White – White or clear is considered to be the color of perfection bringing clarity, peace, and purity, increasing the flow of the life force.
Gold or Yellow Shamballa Bracelet –  Yellow and Golden colors are associated with purpose, personal will-power, optimism, and self-confidence.
Shamballa Bracelet Red – Associated with the Root or Base Chakra the red colored Shamballa bracelet symbolizes passion.
Shamballa Bracelet Green – Associated with nature, it signifies forgiveness and growth.
You can start making this fun craft yourself with some basic supplies of nylon thread and beads of your choice. There are a lot of Shamballa Bracelet Kits available which are equipped with all necessary supplies required.
Compilation of Cool DIY Tutorials on How to Make a Shamballa Bracelet
Leave a comment