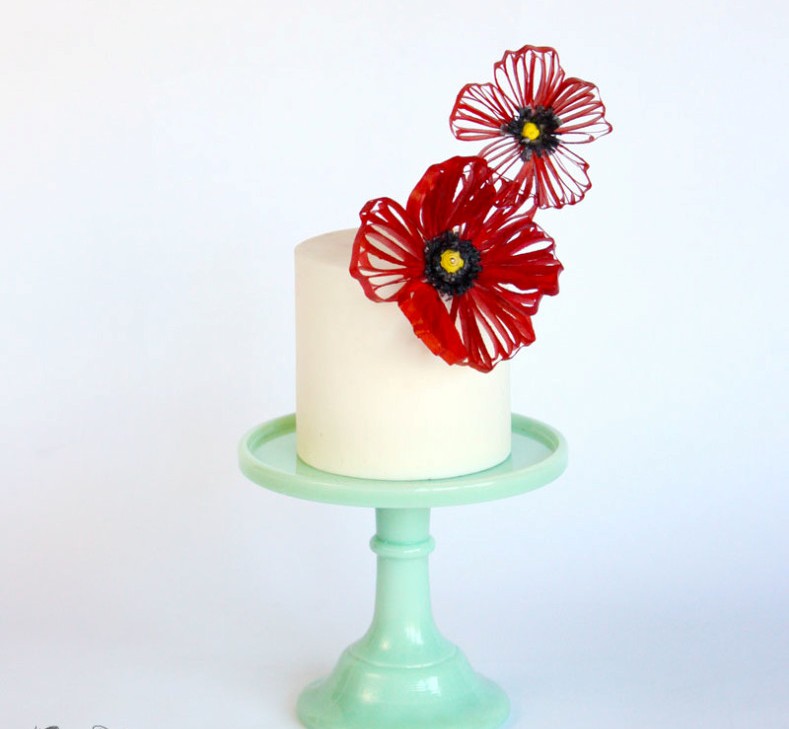 Wafer paper is an edible paper, usually made of rice or potato flour. And Wafer Paper Flowers are edible and are created to adorn cakes and give them a stunning look. Wondering how to make wafer paper flowers or how to color them, then fret not! Here you get detailed tutorials on making them with step-by-step instructions.  The wafer paper is so thin that it can be easily cut, rolled, quilled or wired to give it different floral designs. It's time to make some create some contemporary and creative floral designs with Rice Wafer Paper.
Collection of Easy DIY Wafer Paper Flowers Ideas & Tutorials
Learn step-by-step techniques to confidently create unique designs of wafer-paper flowers. In this Video Tutorial, the cake artist Stevi Auble takes decoration with wafer paper flower to a new level. Follow these easy instructions and make some beautiful and edible wafer flowers today.

You will love learning about using wafer paper flowers for cake decoration. It's a great option people who don't want use sugar flowers on the cake but still want a floral cake.  Elegant to look and easy to make! Follow the tutorial which guides you with step-by-step in detail instructions on how to make the design.

These are the hottest new trend for cake decoration. They're thin, light, beautiful, and elegant, can be made months in advance and are not a great pinch on the pocket. You can fall in love with these delicate printed wafer paper flower designs.

Wafer paper flowers continue to gain popularity in cake decorating these days. The only trouble is it comes in the color white. Some decorators color wafer paper by printing on it with food safe ink from a printer. In this tutorial, we show you step-by-step instructions on how to color wafer paper flowers. Easy and quick to make and adds a beautiful look to your cake.

A simple tutorial to make Wafer Paper Stephanotis flower that can also be used as a filler flower in your cake arrangements.

This tutorial teaches you how to do modern quilling with edible wafer paper for your cakes. As fancy as its name I hope you enjoy creating this wonderful Wafer Paper Filigree Flowers!

Here is an easy tutorial to make some stunning wafer paper flowers using wire. Wafer paper flowers are thin, delicate, ultra light, detailed and translucent. Decorate your cake with these and create a cake to remember.

Learn how to make amazing and easy wafer paper flowers bouquet with these step by step instructions given in this video tutorial.

Wondering how to make this amazing wafer peony yourself? Stress not! In this tutorial, learn step-by-step to do it yourself. Some amazing ideas in this video tutorial.

Add an elegant and feminine touch your cakes and make it look adorable. Here are detailed step-by-step instructions to make beautiful rose flowers using wafer paper.

Make these wonderful wafer paper flowers with petals with these tutorials. They can be premade and stored for days.

Make these amazing rolled roses with wafer paper.

Treat yourself with this beautiful hand crafted stunning wafer paper Tiger Lily flower and get creative with this amazing tutorial!

There are many wafer paper flower templates available online. The wafer paper flower templates in this post are free to download and print. Hope you all enjoy a crafty and creative wafer paper flower session!
Have you been planning to make something by your hands? Are you scouting for any ideas? Why waste your free time watching TV and playing video games, when you can utilize it to create something so beautiful that you will marvel at your creation. Crochet flowers – yes, you have read it right. Crochet flower could be your go-to project this time of the year.  Afraid not, as these are not complicated at all.
The step by step DIY tutorial will help you on how to crochet these amazing flowers. You can learn the basics of how to knit crochet flowers and apply it to create beautiful designs that are quick, easy and simple. Here are some of the DIY on how to make crochet flowers step by step.
List of Amazing DIY Crochet Flower Tutorials
Look how amazing these look. You know you want to make them, so why wait? Follow this easy guide and create one of your own.
The best thing about crochet flowers is that you can knit any pattern you like. This is one of the many patterns and you will certainly enjoy creating them.
Who doesn't love it when things get easy? Same with these flowers, they are easy to make and they are stunning. When you are just a beginner in crocheting, this is the perfect way to go.
You can use these small and tiny flowers to stitch them on clothes to give a fantastic 3D effect to the designer wear.
This is perhaps one of the best crochet flower design. Look how amazing they are!. Can they be any more beautiful?
When you are just a beginner treading in the path of crocheting then you will need to learn how to crochet flowers with a good and simple tutorial. This is apt for you.
This two layered crochet flower is perfect as a boutonniere or a corsage. Glam up your prom night with this crochet flower pattern.
This flowered lace crochet pattern is unique and fabulous. Make this with the instructions given and surprise your friends.
Why not make this large crochet flower to decorate your room? You can attach this to your door or even use it as Christmas wreath. Isn't this cool?
Express your love with this hand knitted rose crochet flower. Make a bouquet out of the rose crochet flowers and gift it to your loved one on Valentine's Day. Like your love these flowers will stay fresh for ages.
If you like your flowers small, like many do, then this tutorial is ideal for you. The step by step guide will give you all the information you need to make these.
Why not make these for the vase that you have in the living room? They will go perfectly with your home décor and you won't have to change the flowers daily.
The 6 petal pattern is just stunning. You can make them and then stitch it to your hand bag or tote to add the perfect summer feel to them.
Aren't these just adorable? They are perfect for your little girl's dress as they will bring out the femininity along with added cuteness.
What a great way to wish someone a happy birthday or congratulations. Dump the conventional flower bouquet and try using this. You can even use this in your wedding. Sounds perfect doesn't it?
This 5 petal flower looks great as well. You can learn how to crochet this beautiful 5 petal flower by following the instructions.
If you are looking for the perfect brooch to go with your dress, then search no more as the solution has arrived. Make these crochet flower brooch and stun everyone at the party.
You know that if you make a number of these and stitch them together, you will get an amazing shrug out of it. No need to thank for the tip.
The flat crochet flower pattern will be great for your baby's crochet dress. Make them with the tutorial provided.
The star and flower, what not to like in it? They are just the right thing to make with crochet.
Want to add the wow factor to your dress or gown? Make these crochet flower edging pattern to border your dress. Perfect for the summer dress you bought from the store.
When you are planning to make something unique to suit your personality, make these. It can't get more unique than this.
This pattern gives a 3D effect to the crochet flower, making them stand out whenever and wherever you use them.
If you love peonies so much, then make them in crochet. You can use them as a hairclip, brooch or a gift tag. The options are a plenty.
Daisies are the flower of all occasion and seasons. Making crochet daises will add to the beauty of the crochet that it already holds.
You can use this hexagonal flower pattern as coaster or glass cover. Beauty lies in detailing and these are as fantastic as it can get.
One of the finest things that you will create in your lifetime. Look how stunning they are. Make a bouquet out of them and present it to your loved one.
You should try to make these crochet flower as they are easy and the tutorial is free for you. Make them and marvel at their beauty.
Lotuses are a gracious flower in themselves. Making them in crochet adds to the graciousness. They will go perfectly on your crochet table cloth or wall hanging.
These colorful flower motifs are just the right thing to use in an afghan or a trendy muffler or scarf.  The idea should be yours on how to use them and you will be surprised to find out the ways they can be used.
This crochet flower motif is great for anything you want to use them in. you can use them solo or pair them with something else.
These are just the cutest thing. Make them with this easy tutorial and wait for people's reaction, when they see them.
You can even use button on crochet flower to add that extra bit of adorableness. Why wait for later? Make them now as you have the best tutorial available.
Pearls can be as elegant as elegance can be defined. Adding pearl to your crochet flower boosts up the graciousness of the design and the pattern. A fully white crochet flower is always preferable with pearls.
This vintage design brings out the depth of a crochet flower. They are stunning and you will be proud to own one yourself.
This layered pattern adds the bit of sophistication to the design. Flaunt it with your new dress and make everyone jealous.
By clicking on the link, you will get a thorough tutorial, supported by images and guide that will allow you to make crochet thread flower pattern easily and swiftly.
The ideas presented above will help you in your venture of crochet flower making with proper instructions. These are all crochet flower easy and free tutorial and you will even get YouTube videos to guide you as well. So have fun crocheting!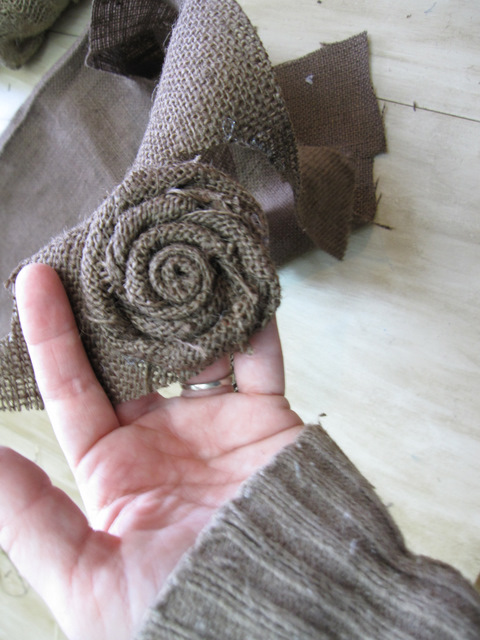 Burlap Fabrics are these beautiful pieces of textile that are made from jute. Being made from jute, burlap fabrics are eco-friendly and most importantly possess environmental sustainability. It is for this reason that burlap fabrics are preferred more than plastic and paper. Just bear the crafty brain and you could end up creating something unusual and unique like burlap flowers. Sounds shocking right? Follow these Easy instructions for DIY how to make a burlap flower and in no time you will have some amazing handicrafts on your hand.
Collection of Free How to Make Burlap Flowers Tutorials
Fed up with the usual flowers to decorate your home? Then these are for you. Make these simple burlap flowers with burlap fabric and change the look of your home.
This step by step guide will let you make something that you can put in your vase and brighten up your living room. Wait till the guests arrive and see the appreciation in their eyes.
Make easy and simple burlap flowers with this DIY. Plastic flowers are so backdated and you need something more innovative and stunning.
Have you ever wondered what can make your room special? Then these burlap flowers are the exact thing that you need. Make your own burlap flowers by following the DIY instructions.
Now, these are amazing! It's easy, it's simple and it's quick. What's not to like about it? This is a great idea to add some décor to your house.
In most cases, you are left with strips or ribbons of burlap after completing some other project that involved burlap fabrics. Don't throw them away. Instead, follow this tutorial to use them in a fantastic craft idea.
Can you make your wedding any more special? Apparently, you can. Use these burlap flowers for your wedding and see how the invitees revel at your crafty idea.
These are perfect for attaching on gift wraps or to be used as a tag.
Simplicity can convey a lot like these simple burlap flowers do. Follow the tutorial and create wonderful flowers with burlap.
Roses do grow on trees, but these are eco-friendly and you don't have to kill a flower to enjoy them.
You can make them by dyeing the burlap fabric and look how beautiful they are.
Fill your Christmas with more joy with these DIY burlap flowers.
An interesting craft idea, these flowers are full of elegance and sophistication.
These are may be the perfect flowers that you can make with burlap.
The best thing about DIY is that you can literally create anything with the basic idea. Like these crafty burlap flowers. Involve your kids to have a fun day out of making burlap flowers.
Sometimes you need a burlap flower that suits your urban chic yet shabby style. You are lucky that burlap suits your style so well.
The rustiness of burlap is superb for your earthy themed home. It goes well with the neutral colors of your rooms and you can even make them for a great centerpiece.
Daisies are beautiful. Burlap daisies are otherworldly. Follow the instructions on DIY and make your own burlap flower daisies.
 19. Purple Burlap Flowers Design
Purple burlap flowers will go well with your daughter's birthday party or in a bridal shower. These will bloom brightly and give a classy touch to your decorations.
There are a number of burlap flower pattern. Do these as they are the easiest to make.
Burlap and lace is a match made in heaven. You don't have to imagine the beauty of these flowers. Just make them.
Just grab glue and some burlap strings and you are good to go.
Dyeing burlap fabric will help you to produce some amazing colorful burlap flowers.
Be stunned at the design of these flowers. Make them yourself to get the proof.
Yes, buttons are not just for your shirts, they can be for flowers as well.
Sunflowers are amazing and so are these burlap sunflowers. Here's a DIY tutorial to get you through the creation of these.
Take a step towards future by saving plants and adopting these burlap rosette flower bouquets.
Have a look at these elegant Burlap Brooch Flowers and make one for yourself today!
Now that you have all the tutorials at your disposal get down and produce some stunning pieces of homemade flowers.