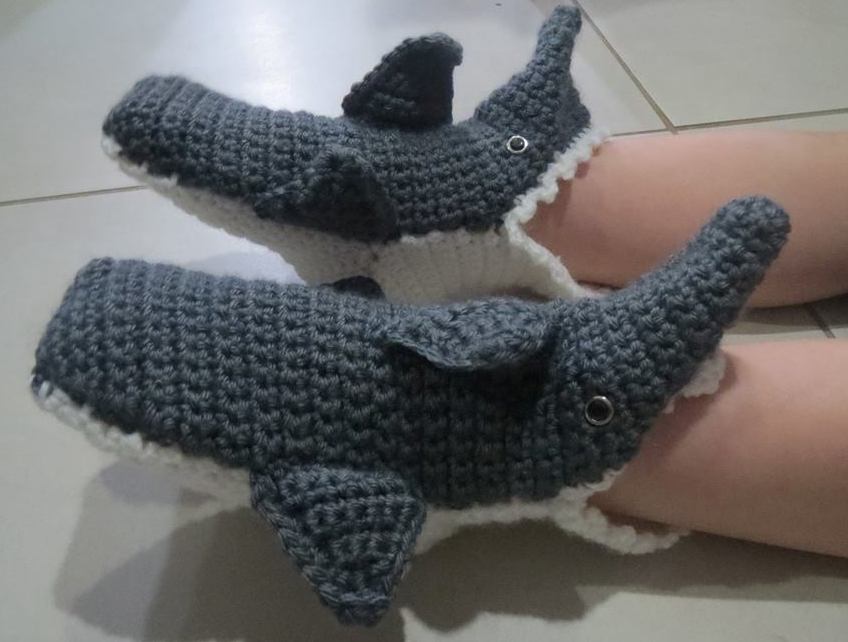 Crocheting a pair of quirky shark slippers can be quite fun if your kids love shark attacks! Shark Patterns are quite in trend after the shark week special aired on Discovery Channel. Instead of buying one online, try making your unique and interesting DIY Crochet Shark Slippers pattern using your crochet hooks and ball yarns for this winter!
Compilation of Free How to Crochet Shark Slippers Patterns and Tutorials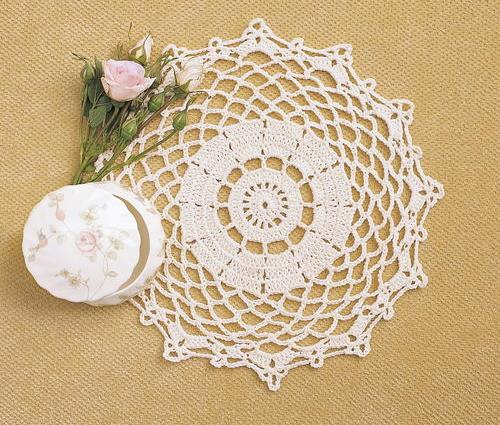 A doily (also doiley, doilie, doyly, doyley) is an ornamental placemat, typically made of yarn/thread and used as tabletops as mats! Crocheting doilies in various shapes, size and colors is a great crochet project and is ideal for lighting up your interiors, providing a splash of colors or pastel shades to the aesthetics. Find a collection of free crochet doily patterns to decorate your home with beautiful lace doily designs.
>> Learn How to Crochet Beautiful Tablecloth Patterns <<
Compilation of  Free How to Crochet a Doily with Step-by-Step Instructions for Beginners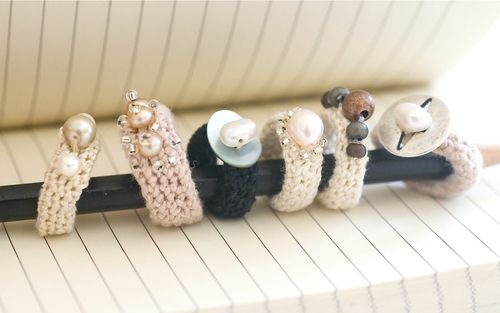 Make amazing crochet projects this holiday and make handmade jewelry on your own. Easy Crochet craft like making crochet rings won't take much of your time and look great with your outfits! Make your own pretty Crochet Ring Patterns with detailed explanation in all tutorials.
Collection of DIY Crochet Ring Patterns with Step-by-Step Instructions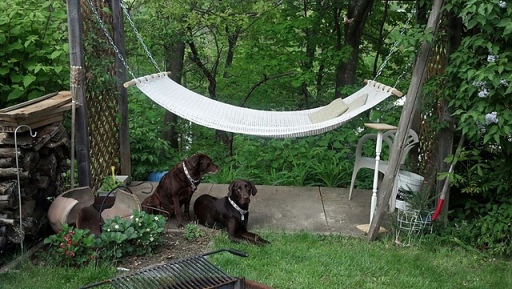 Relaxing in a hammock is a pleasure and if that is made by your own hands, the feel is heavenly. Though they look intricate, you can crochet them easily if you are adept with a few basic crochet stitches. Here are some  DIY Tutorials on how to make crochet hammock patterns with free tutorials and instructions.
Collection of Free Crochet Hammock Patterns with Instructions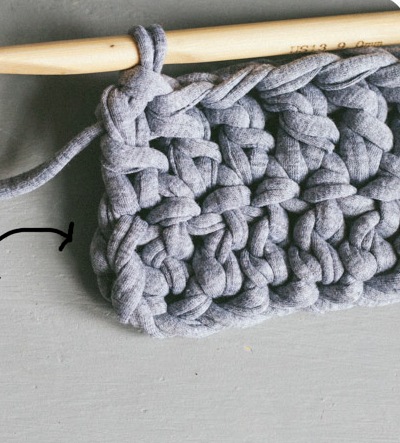 A treble crochet stitch abbreviated (tr) is also called the triple crochet stitch. It is taller than a double crochet and is made by working two yarn overs at the start of the stitch, instead of one yarn over as for double crochet. The term triple crochet stitch is commonly used in the United States, but if you hear the word treble you will now understand its meaning.
Crochet Projects ~ Crochet Supplies
What is a Treble Crochet Stitch
Treble crochet stitch is an important basic crochet stitch needed for working various crochet patterns. Like every other basic crochet stitch, trebles can be combined with other stitches to make unique and interesting stitch patterns. They can be used in different ways and worked into many various configurations, including squares, circles, triangles and other shapes. You can ideally use these tall stitching patterns to make baby blankets, afghans, scarfs, sweaters and more for your crochet projects.
Collection of How to Crochet a Treble Stitch Tutorials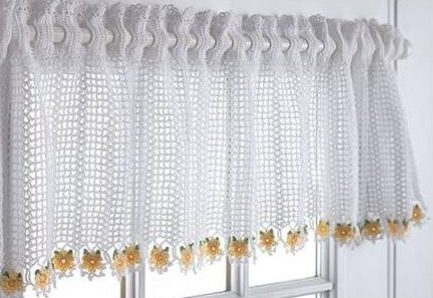 With summer approaching in some months, you are probably hoping to give your windows a new look. Custom handmade crochet valance or window treatments look nice and are great for pulling off the perfect look you are hoping to create in each room of your home.
Making your own crochet valance patterns can be a great way to save money when decorating your kitchen, bedroom or bathroom. Here are 30 Free Crochet Valance Patterns and Tutorials for your windows to get you started.
 Collection of Amazing Crochet Valance Patterns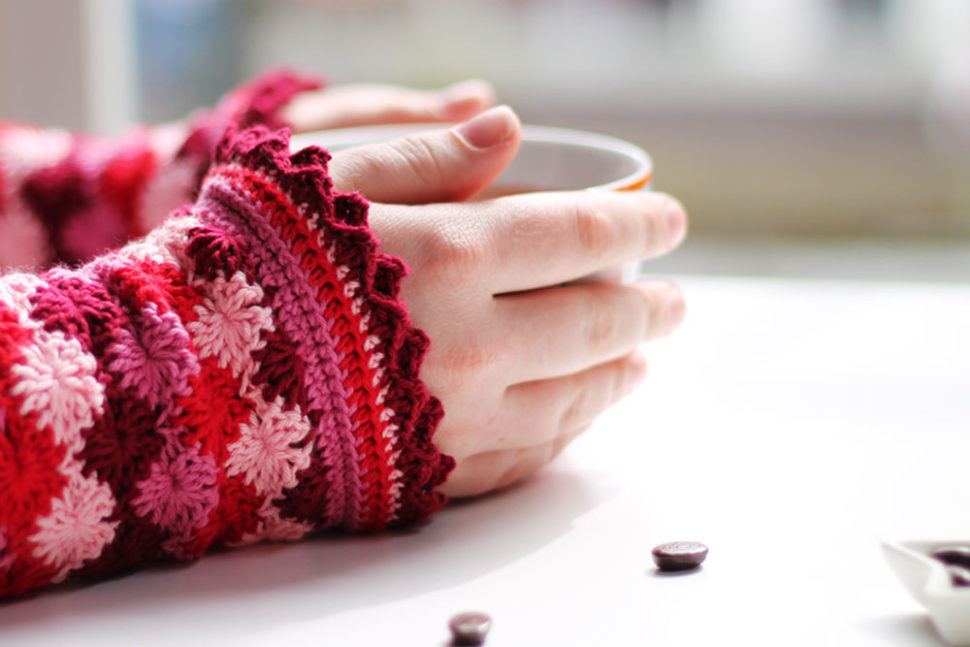 Winters are all about great clothes, jackets, warmers, and crafts! Enjoying the cold weather with a warm cup of coffee! It's winters knocking your doors, time to knit and crochet some amazing and easy fingerless gloves for the season.
Cover your hands with amazing colored and patterned Crochet Fingerless Gloves and flaunt your handmade creations! Sharing some simple and amazing Crochet Fingerless Gloves Patterns and Designs with all crochet lovers!
Collection of Free Easy Crochet Fingerless Gloves
Patterns & Tutorials
A perfect combination of comfort and style this winters to keep you warm! Knit these fingerless gloves with colors of your choice and flaunt this season! The tutorial explains step-by-step in details how to crochet it easy for beginners.

 

Fingerless gloves is an ideal choice for the in-between weather when it's not so hot or cold. It matches perfectly with outfits of all kind and gives a colorful element to the whole attire. The use of pastel color looks beautiful with this crochet pattern.

 

The use of amazing contrasting colors with this striped crochet pattern looks cute and stunning! Ideal for the winter season these mittens are surely a crochet project to be made.

 

If you are a beginner in crochet craft, then this is the perfect crocheting project you should start with. It's simple and easy to make with perfect instructions! A basic crochet fingerless gloves pattern made in a soothing color looks elegant!

 

Want to crochet something for the whole family? This tutorial is a great one! This has easy crochet patterns for everyone! Using different colors for each kind, it's an amazing idea to gift your family and friends these handmade mittens!

 

These lacy crocheted fingerless gloves are pretty enough for the winters! The intricate design adds an elegant element to the gloves and is perfect for all outfits.

 

The amazing use of different colors and the spiral pattern is unique and a style statement.

 

If you are looking for some cool crochet patterns then go for this design! An adorable handmade warmer for you! Lacy and pastel, a perfect combination for crocheting!

 

The creative use of the colored yarn with solid is apt for the winters to warm your hands! The instructions explain perfectly how to make these crochet mittens!

 

An amazing crochet project to start with for beginners!

 

These crochet gloves are great wrist warmers! The choice of colors and buttons to adorn is great!

 

If you have a passion for crocheting, knitting and exploring with wool, then just grab your knitting needle and make this amazing winter hand warmers for your kids!

 

Crochet a half finger glove this winters for men!

 

Classic vintage patterns for your crochet gloves with floral designs an lacy border!

 

Half Finger Gloves Crochet Pattern

The bright blue color and the design is a perfect combination! The tutorial has complete directions to make it easily!

 

This is the perfect pattern for crochet gloves for this fall season! In sync with the season and theme! Go for it this Halloween!

 

An amazing tutorial which explains all from needle to yarn to all instructions!

 

This one if my favorite pattern! Make your own crochet gloves and gather all compliments!

 

This tutorial is for advanced crochet knitters! The design has detailed stitching making the final product adorable!

 

These medium-sized gloves are weaved with green yarn and are half open to ease out the movement!

 

Ideal for the extreme cold season and wear to offices!

 

Beautifully Tunisian crocheted fingerless mitts for the winters! The tutorial makes it an easy task!

 

These cute crochet mittens with Minions design is idle for your kids this fall season! Try making this easy tutorial!

 

This video tutorial makes it simple to follow for all beginners!

 

This Christmas time to play with colors, yarn, lace and make magic! The unique design is stunning for the festive season around!

 

These cute puffed crocheted fingerless gloves are warm and cozy to combat the winter season! The button embellishments look cute and add a finished look to the gloves! You can add small crochet flowers if you want!

 

The pattern calls for 4 different colored yarns and adds a brightness to the beautiful floral design! I loved the catchy colors perfect to brighten up winter days! The borders are done perfectly!

 

The free tutorial uses butterfly stitch to complete the crochet project!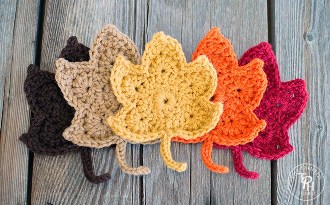 Crocheting is a passion for many! If are looking forward to making some easy and quick crochet project then try making these pretty crochet coaster holders! They are great to decorate your dining tables or to gift your loved ones!
Now no more staining of your furniture when you can use these handmade crochet coasters for your coffee cups and mugs! You can make them in different shapes and color combinations! I'm sure you will love these Crochet Coaster Patterns and Designs and get inspired to create some unique coasters for your table!
Collection of Easy How to Crochet a Coaster Patterns & Tutorials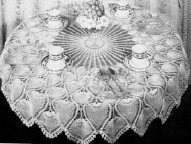 If you are passionate about crocheting and you want to give your dining room a new look then this crochet project is the perfect one! Crocheted Tablecloths are ideal to cover your tabletops with an elegant cover! This tablecloth can be crocheted in different shapes and patterns of your choice and color. The different designs are linked to the tutorials with step-by-step instructions to guide you how to make a crochet tablecloth.
Crochet Projects ~ Crochet Supplies
Collection of Free How to Crochet Tablecloth Patterns for Beginners and Advance Level
Create this wonderful crochet doily pattern. Don't fret with the term doily. It's simple and easy to make and involves basic crocheting techniques!

 

If you want to hone your crocheting skills and make bigger crocheting projects like a tablecloth or blanket, then this one is perfect for you. Making a square crochet tablecloth looks decorative and unique!

 

This crochet pattern is easy to make with all the step-by-step instructions given in this tutorial to make it easy for beginners.

 

If it's springtime and you are looking to make bright crochet tablecloth with butterflies then this is the perfect design and pattern for you!

 

Free Beginner Crochet Tablecloth Patterns, the design is vintage and gives your table a classy look.

 

Making small crochet doily to decorate your table is a great idea! For all crochet lovers,  this is a wonderful small project!

 

Making this intricate and detailed crochet pattern tablecloth (doily) will add an elegant touch to your living room. Follow the step-by-step instructions and make this wonderful design! The oval shape will suit the shape of the table if its long in length!

 

Making these beautiful motifs in squares to make this rectangle crochet tablecloth will adorn your dining table and make it look elegant.

 

This pineapple crochet pattern on the tablecloth is for advanced crochet skills. The round shape is lovely and ideal for a table of round shape.

 

This Christmas crochet a unique and creative tablecloth design so that your friends and relatives are amazed at your creation. Sharing this wonderful design which has detailed pattern and looks stunning on any table!

 

This crochet lace pattern for a tablecloth is adorable! This round shaped doily is a lovely pattern for crocheting.

 

This beautiful combination of floral and star-shaped motifs in making this crochet tablecloth is an intricate pattern which will look lovely on your tabletop! A perfect vintage crochet design to match the festive season!

 

Making this crochet pattern for your table cloth is very easy! This small doily pattern is for beginners who can make this perfectly to decorate your tables!

 

This video tutorial explains explicitly how to crochet a center tablecloth with detailed instructions.

 

This amazing floral crochet tablecloth is made with contrasting colors.

 

The pinwheel designed motifs give this rectangle crochet tablecloth a stunning vintage look! Ideal as a table topper for dinner and parties! A perfect handmade decor to flaunt!

 

Crochet Tablecloth Pattern Diagram
Hope you get a crochet pattern of your choice which is perfect as your table topper. However, there are various crochet tablecloth pattern books available which can help you in case you want more information and designs! Happy Knitting & Crocheting!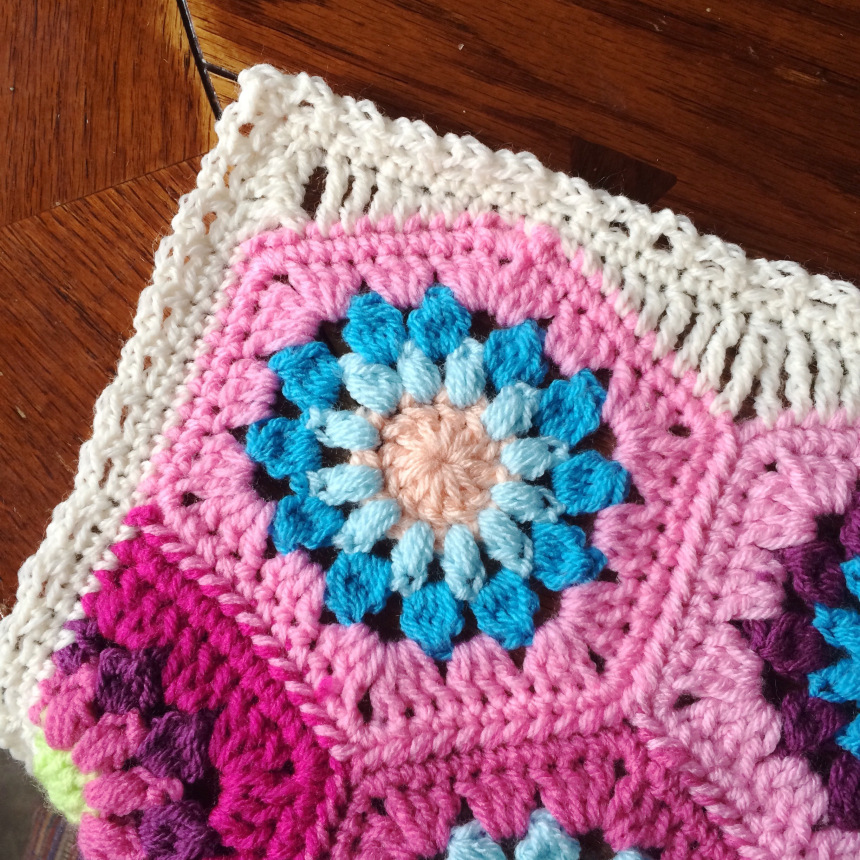 If you are a little unsure about how to crochet border patterns, then we have a compilation of some great tutorials and patterns to guide you with step-by-step instructions. These free crochet borders pattern is easy to follow and simple to make with crochet supplies. You can add these crochet edging borders to any of your crochet projects, be it scarfs, blankets, table runners or more.
Crochet Projects ~ Crochet Supplies
Collection of Free How to Crochet Borders & Edging Patterns and Tutorials
Have you been planning to make something by your hands? Are you scouting for any ideas? Why waste your free time watching TV and playing video games, when you can utilize it to create something so beautiful that you will marvel at your creation. Crochet flowers – yes, you have read it right. Crochet flower could be your go-to project this time of the year.  Afraid not, as these are not complicated at all.
The step by step DIY tutorial will help you on how to crochet these amazing flowers. You can learn the basics of how to knit crochet flowers and apply it to create beautiful designs that are quick, easy and simple. Here are some of the DIY on how to make crochet flowers step by step.
List of Amazing DIY Crochet Flower Tutorials
Look how amazing these look. You know you want to make them, so why wait? Follow this easy guide and create one of your own.
The best thing about crochet flowers is that you can knit any pattern you like. This is one of the many patterns and you will certainly enjoy creating them.
Who doesn't love it when things get easy? Same with these flowers, they are easy to make and they are stunning. When you are just a beginner in crocheting, this is the perfect way to go.
You can use these small and tiny flowers to stitch them on clothes to give a fantastic 3D effect to the designer wear.
This is perhaps one of the best crochet flower design. Look how amazing they are!. Can they be any more beautiful?
When you are just a beginner treading in the path of crocheting then you will need to learn how to crochet flowers with a good and simple tutorial. This is apt for you.
This two layered crochet flower is perfect as a boutonniere or a corsage. Glam up your prom night with this crochet flower pattern.
This flowered lace crochet pattern is unique and fabulous. Make this with the instructions given and surprise your friends.
Why not make this large crochet flower to decorate your room? You can attach this to your door or even use it as Christmas wreath. Isn't this cool?
Express your love with this hand knitted rose crochet flower. Make a bouquet out of the rose crochet flowers and gift it to your loved one on Valentine's Day. Like your love these flowers will stay fresh for ages.
If you like your flowers small, like many do, then this tutorial is ideal for you. The step by step guide will give you all the information you need to make these.
Why not make these for the vase that you have in the living room? They will go perfectly with your home décor and you won't have to change the flowers daily.
The 6 petal pattern is just stunning. You can make them and then stitch it to your hand bag or tote to add the perfect summer feel to them.
Aren't these just adorable? They are perfect for your little girl's dress as they will bring out the femininity along with added cuteness.
What a great way to wish someone a happy birthday or congratulations. Dump the conventional flower bouquet and try using this. You can even use this in your wedding. Sounds perfect doesn't it?
This 5 petal flower looks great as well. You can learn how to crochet this beautiful 5 petal flower by following the instructions.
If you are looking for the perfect brooch to go with your dress, then search no more as the solution has arrived. Make these crochet flower brooch and stun everyone at the party.
You know that if you make a number of these and stitch them together, you will get an amazing shrug out of it. No need to thank for the tip.
The flat crochet flower pattern will be great for your baby's crochet dress. Make them with the tutorial provided.
The star and flower, what not to like in it? They are just the right thing to make with crochet.
Want to add the wow factor to your dress or gown? Make these crochet flower edging pattern to border your dress. Perfect for the summer dress you bought from the store.
When you are planning to make something unique to suit your personality, make these. It can't get more unique than this.
This pattern gives a 3D effect to the crochet flower, making them stand out whenever and wherever you use them.
If you love peonies so much, then make them in crochet. You can use them as a hairclip, brooch or a gift tag. The options are a plenty.
Daisies are the flower of all occasion and seasons. Making crochet daises will add to the beauty of the crochet that it already holds.
You can use this hexagonal flower pattern as coaster or glass cover. Beauty lies in detailing and these are as fantastic as it can get.
One of the finest things that you will create in your lifetime. Look how stunning they are. Make a bouquet out of them and present it to your loved one.
You should try to make these crochet flower as they are easy and the tutorial is free for you. Make them and marvel at their beauty.
Lotuses are a gracious flower in themselves. Making them in crochet adds to the graciousness. They will go perfectly on your crochet table cloth or wall hanging.
These colorful flower motifs are just the right thing to use in an afghan or a trendy muffler or scarf.  The idea should be yours on how to use them and you will be surprised to find out the ways they can be used.
This crochet flower motif is great for anything you want to use them in. you can use them solo or pair them with something else.
These are just the cutest thing. Make them with this easy tutorial and wait for people's reaction, when they see them.
You can even use button on crochet flower to add that extra bit of adorableness. Why wait for later? Make them now as you have the best tutorial available.
Pearls can be as elegant as elegance can be defined. Adding pearl to your crochet flower boosts up the graciousness of the design and the pattern. A fully white crochet flower is always preferable with pearls.
This vintage design brings out the depth of a crochet flower. They are stunning and you will be proud to own one yourself.
This layered pattern adds the bit of sophistication to the design. Flaunt it with your new dress and make everyone jealous.
By clicking on the link, you will get a thorough tutorial, supported by images and guide that will allow you to make crochet thread flower pattern easily and swiftly.
The ideas presented above will help you in your venture of crochet flower making with proper instructions. These are all crochet flower easy and free tutorial and you will even get YouTube videos to guide you as well. So have fun crocheting!