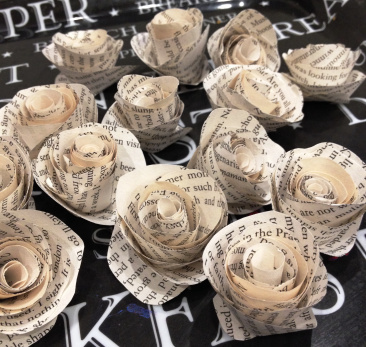 Having a short shelf life newspaper might seem useful only for one day. Newspapers can be easily reused and made into hats, baskets, and flowers too. Let's see some creative DIYs to make flowers our of newspaper, finally, a use for the "junk mail" newspapers and magazines that come through the door. They may not smell like the original ones but you can attach them to our headbands, barrettes, make costumes or make large flowers as centerpieces. Click on the following linked tutorials to open a whole new world of pulchritudinous flowers.
How to Make Newspaper Flowers – DIY Tutorials
These simple ideas not only help recycle but also brings out the creative side. The flowers can be used in a variety of ways to decorate the house, parties, or workspace. I hope the above ideas have interested you to grab the waste and make something beautiful out of it.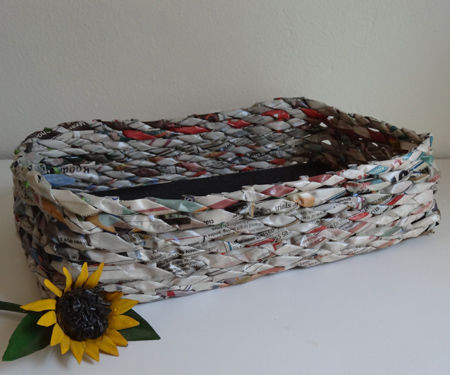 Newspaper Craft is quite popular and an easy project for kids and adults! Old waste newspapers are easily available in every house! Paper Crafts like Newspaper Hats, Newspaper bags or Newspaper Baskets made with Recycled Newspaper is quite a useful and affordable idea! We are sharing some of the most popular and simple newspaper basket tutorials and ideas with you to create something unique and amazing this holidays!
Compilation of Easy Newspaper Basket Tutorials & Ideas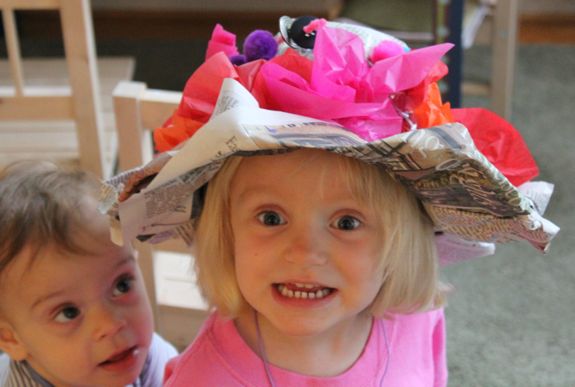 We all have a great fascination for hats! Hats of different shapes, colors, and material to go with our outfits. It's quite a stylish element which adds on to your personality. How would it be if you could make your own hat at your home? Great Idea! Let's explore how some simple household supplies like a newspaper can be turned into a wonderful hat for kids and adults! If you are wondering how to make a newspaper hat fret not! Here are some amazing ideas and tutorials to make them easily with step-by-step instructions!
>> DIY Newspaper Bags <<
Compilation of Easy DIY Tutorials on How to Make a Newspaper Hat
Making a newspaper hat is a great craft for kids! They have a lot of fun in doing this simple craft. Try making on this holiday season! Making Newspaper Hats for Boys is a great delight for your kid!

 

Recycling old newspapers and making derby hats for your kids is an amazing idea! Kids love to be creative with these things and make new crafts! Adding colorful papers to decorate the basic newspaper hat adds on to the charm!

 

A cool handmade newspaper hat decorated and painted to give it the desired look for your little girl! DIY this simple tutorial this festive season!

 

 

 

Time to make some hats for adults! The perfect cowboy hat look!

 

For some reason, kids love these sailor hats! Making these paper sailor hats with a splash of watercolors makes it bright and vibrant! A creative way to craft with your kids!

 

Newspaper Hat Instructions

Folding old newspapers to make some cool and creative hats is a fun-filled experience for kids and adults! Decorate it in your style and flaunt quirky newspaper hats that you can wear!

 

Perfect newspaper craft for preschoolers! Folding newspapers in simple ways to make a hat of your choice!

 

It's a birthday party at your place with a theme, then time to make some cool hats for kids to enjoy with!

 

This tutorial is a great one with step-by-step instructions with photos to make it easy for you to understand all newspaper folds and tips!

 

Video tutorials are easier to follow all instructions to guide you perfectly!

 

Making these cool newspaper sailor hats gets a smile on your kid's face! All instructions in the DIY tutorial to guide you perfectly.

 

Step-by-step instructions on how to origami a hat from a newspaper!

 

 

A great craft project to start with your kids!

 

If you have some cool graffiti printed newspaper, then it's ideal to be used for these hats for kids! It gives it a colorful and cute look which looks amazing on kids!

 

DIY Newspaper Hat Designs

Follow this simple and easy steps to make a newspaper hat today!

 

I loved this pattern and tried this too! Making last minute party hats as a craft activity is super fun! Adorning the hats with beautiful flowers to make it look pretty and stylish!

 

Making big and beautiful newspaper hats for kids in parties!

 

This round newspaper hat is a firm hat made easily in this video tutorial!

 

This Earth day go green and make some recycled crafts with your kids! This newspaper hat is an amazing idea!

 

Simple Ways to Make A Newspaper Hat

Easy tips and techiques to make a newspaper hat quickly!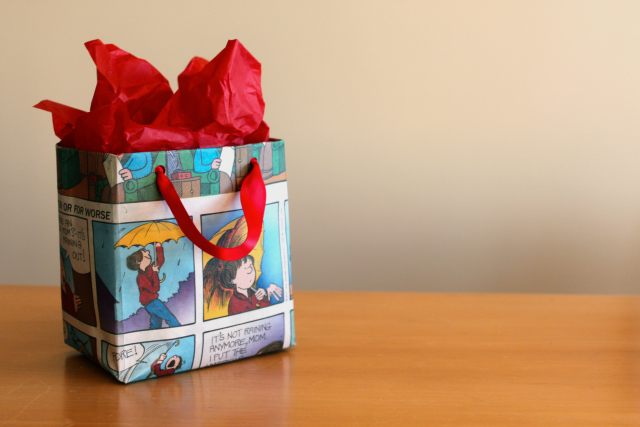 If you are wondering how to put your old newspapers to use and recycle them, then making gift bags is a wonderful idea! You can use old newspapers and decorate them with colors, ribbons, buttons and more elements of your choice.  Here we list a compilation of how to make an eco-friendly paper bag using old newspapers. These designs and ideas are easy, simple for you to make some amazing bags in no time! Time to make some DIY Newspaper Bags this crafty season with detailed instruction in the tutorials.
Compilation of Quick n Easy Tutorials on How to Make Newspaper Bags ~ Step-by-Step Instructions
Putting old stuff to use and creating something worthwhile is a great feeling. If you are sitting idle and you do not have much craft supplies, then fret not! Let's take some newspaper and get creative!
Using newspapers as an alternative to packing papers is a great idea! Sit with your kids and make some cool gift bags out of newspapers and teach them how to recycle newspaper in a perfect way! It's simple, easy and worthy!
This tutorial is an answer to your question how to make newspaper bags at home! With complete step-by-step instructions, this one is easy to follow! Newspapers have different prints, sometimes with colors or black and white! We can choose it as per our requirement!
Reducing the use of plastic bags and replacing it with old newspapers is an eco-friendly idea! Recycling goes very well with creative ideas! It's simple and affordable to create such bags with plastic handles to make it easy to carry!
Go through this tutorial for amazing ideas on making newspaper shopping bags for your groceries and more! The perfect folds and the finesse give it a complete professionally made look!
A great way to avoid waste and upcycle newspapers are creating this bag! This DIY tutorial gives you complete instructions to make a creative one! Adding a handle or folding the top is your choice!
This video tutorial gives you perfect instructions to make newspaper bags without glue and staples! Once you start making it you find it ready in no time!
Time for some newspaper craft with no clutter! Not many supplies required and just by folding your newspaper garbage bags are ready for the bin!
Why purchase gift bags or plastic bags when you can make an innovative and eco-friendly one at home! Handmade and homemade stuff is most special things we can gift our loved ones! Let's start with this newspaper craft project and make some bags of different colors!
Adding some simple elements like a bow, button, or flowers can totally give your newspaper bag a new look! Decorate it with things of your choice and see how amazing some old stacked newspaper can turn to be!
Making gift bags using any paper like old newsprint or brown paper is easy and fun. Time to turn your newspaper into cute little gift bags! These pretty and eco-friendly gift bags are a great idea to add a rustic touch to your party!
Making some beautiful newspaper bags and adorning them with lace looks great! In this tutorial, all you need is some newspaper, lace, and some glue!
Newspaper bags can be put to various uses from shopping bags, treat bags to making bags to keep pots and planters. This tutorial is one of my favorite showcasing a wonderful idea of using newspaper bags! DIY Today!
Get inspired and learn how to make some cool and simple newspaper bags! You can use thread and ribbons to add a handle to the bag and give it a creative touch
This tutorial shows the perfect folds and how neatly you can make a gift bag with old scraped newspaper!
This DIY idea is a great and cute guide to make gift bags for birthdays and parties! Using colorful newspapers with cartoons or graffiti is a great thought! Getting creative with no pocket pinch!
This video tutorial on youtube shows how to make some super cool handbags from newspapers! Using thin strips of newspaper and weaving them in a bag makes the end product look amazing!
Make a strong and durable paper bag with your news journal and get crafty! This one is simple involving some folds and is apt for using for shopping!
This holiday season ask your kids to make these easy to make gift bags from newspapers and go green! A good cause and great craft will make some amazing small gift bags! With the right cut and fold you will make some pretty looking bags in no time! Easy, Fun and Simple! The answer to your how to make gift bags from newspaper question!
his tutorial teaches you to make bags from newspaper journals of different sizes!
Reuse newspaper by making delivery bags out of them! Some simple DIY tips and tricks will help you out!
23. Newspaper Carrier Bags
So next time you dispose of your newspapers, remember to follow these instructions and create beautiful and useful bags which are inexpensive, affordable and can be made with simple techniques!