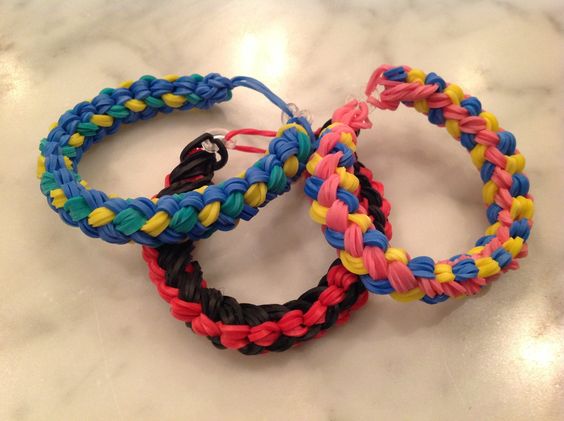 Rainbow Loom bracelet is a fun colorful band which is quite popular among girls, boys and even adults around the world. The technique uses a plastic tool to weave colorful plastic and rubber bands into decorative accessory such as bracelets.
You get the rainbow loom bracelet kits in craft stores and is a great craft for kids. You can weave various patterns from simple braided one, fishtail designs, ladder rainbow loom and more into wonderful accessories and wrist bands.
These amazing handmade bracelets are cheap (doesn't cost a dime), easy to make and make wonderful gifts to friends and family. We have compiled some of the best tutorials to guide you to make your own unique rainbow loom bracelets.
35 Designs & Tutorials: How to Make Rainbow Loom Bracelets
This is a very intricate tiger striped design which will enhance the look of the bracelet. The linked video tutorial helps you with step-by-step instructions to make one yourself.
If you are deeply immersed in the loom band bracelet craze then try making this butterfly effect. It will look pretty on your little girl's wrist.
The fishtail braid is one of the most popular techniques used to make a loom bracelet. Use funky rubber band colors to create this clean band in less than 10 minutes. They make great friendship bands.
The ladder effect is one of the top designs for a loom bracelet. An intricate pattern and a unique one too. You can use your fingers to create this if you don't have looms at your disposal.
This is one of my favorite patterns for rainbow loom bands. The starburst gives you bracelet a thick and vibrant look and is a great addition to your handmade accessory collection.
Get crafty with this cute rainbow bracelet made with colorful rubber bands with the help of a C clip. If you don't have a loom and still wish to weave a great wrist band, then tutorial will guide you with the step-by-step instructions.
This pattern is identical to the fishtail pattern, they have just doubled it up. The use of colored bands in the middle of white/black looks stunning. You can experiment and try different combinations of your own.
The blue and white bands look so classy weaved into this thick rainbow loom bracelet. This triple fishtail braid design is great for boys who want to sport a funky look on their wrists.
These gorgeous daisies will make a pretty bracelet for young girls. With the intricate design and amazing choice of colors, you can easily make an addition to your accessorize collection with these handmade loom bracelets.
This video tutorial shows you how to make a triple link chain bracelet using two pencils. You can also use a mini loom to do this because it works the same.
This famous Minion bracelet is a cute idea for kids who love this cartoon character. Add googly eyes to this bracelet and give it life.
If you are looking for a funky and chic rainbow bracelet for your friends, then try adding some charms or embellishments to decorate it further. The owl charms look amazing in the bracelet. Follow the instructions in the video tutorial to create this pattern in no time.
The Perler beads added to the loom bracelet gives it a unique look. You can try and personalize it for your friends with the letter beads (adding monogram) making it stylish.
A great bracelet idea for the 4th of July or Patriotic day. Kids and even grown-ups will love to wear this and flash their love for their country!
This tutorial uses bright neon bands to make this bracelet using the sailor knot technique. A great design for young girls and boys.
32.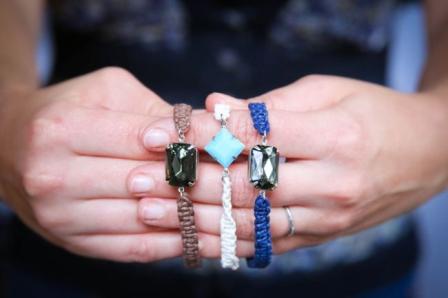 Macrame, Knitting, crochet and other textile arts with their different weaving, braiding and knotting techniques are great for DIY jewelry making. Macramé knotting is one of the most popular choices when it comes to making the pretty DIY jewelry be it bracelets, bangles, necklaces or earrings at home. You can customize them to your choice and use your creative instincts. We are sharing some 35 amazing tutorials which teach different ways how to macrame a bracelet using different knotting techniques.
For More Macramé Projects ~ Macrame Supplies
Collection of Easy DIY Macrame Patterns for Bracelet with Instructions Step-By-Step (Macramé Bracelets)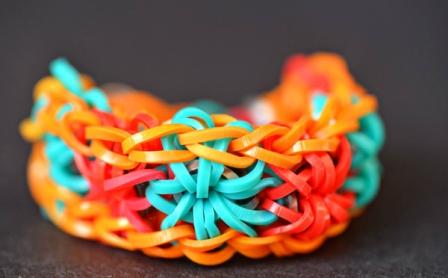 Jewelry making is quite fascinating for DIY lovers and craft enthusiasts. You can experiment making creative starburst bracelet using interesting ways like using a rainbow loom, colored loom, using 2 forks, or pencils, a loom, hooks, or just your fingers. Amaze yourself with these crafty techniques and stock your handmade jewelry.
Compilation of How to Make a Starburst Bracelet Tutorials 
This Christmas make your own starburst bracelet with red, white and green colors and make it a cool piece of accessory which will enhance the look of your outfits. This tutorial explains you with step-by-step instructions how to make your own starburst bracelet using beads on a rainbow loom. DIY today!

 

Use of bright and vibrant looms can change the look of a starburst bracelet. Time to make one of your own with contrasting combinations.

 

The amazing blend of different colors with a white border is a stunning handcrafted one! Explore different ways to make starburst bracelets.

 

A beautiful beaded flower bracelet using the Rainbow Loom and pony beads. This is an advanced level design, before attempting this pattern you should make a few traditional starburst bracelets!

All you need is lots of starburst wrappers to make this cool and easy bracelet. You can gift it on friendships days and sport a spunky look.

 

Tie this beautiful handmade rainbow loom bracelet around your wrist and let friends go crazy.The tutorial has detailed step-by-step picture instructions to make it easier for beginners to follow. All you need is your rainbow loom, the hook and C Clip.

 

Gather your supplies to make this colorful starburst bracelet. If you don't have your rainbow loom, fret not. You can make this amazing DIY using 2 forks. Time to go creative!

Fond of wearing wide and chunky bracelets. Making your own broad double starburst bracelet is quite easy and a fun craft.

 

Starburst Bracelet Template (Printable)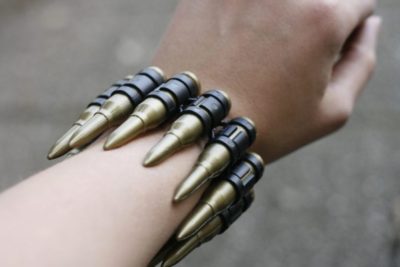 Bullet bracelet makes a  great style statement for men and women who love bullet style jewelry. Wearing this handmade bullet bracelet will surely make heads turn your way. You can explore the different ways you can make these bracelets with bullets shells, casings and more. Follow the tutorials with step-by-step instructions to create your own unique bracelet from bullets.
Compilation of How to Make DIY Bullet Bracelet for Men and Women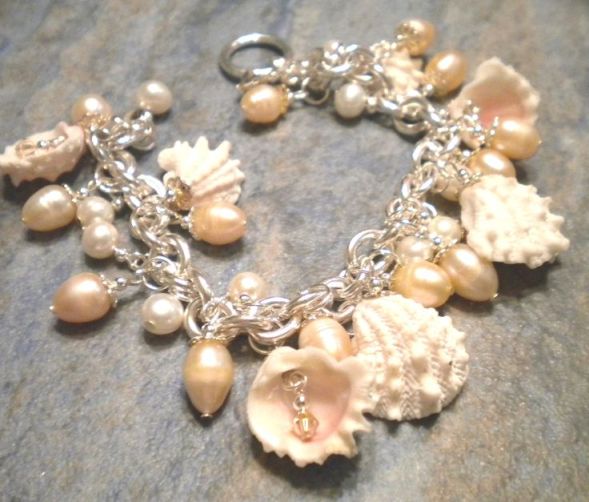 Seashells make an amazing piece of jewelry, be it shell necklaces, anklets or seashell bracelet. You can turn seashells into beautiful pieces of wearable art giving it a cool and funky look. From cuffed bracelet patterns to leather wrapped bracelets around your wrist, you can creatively explore and make various designs using seashells. Use various kinds of seashells like puka, cowry, paua, conca etc and blend them with colors like blue, pink, white etc of your choice to make bright designs.
>> DIY Shamballa Bracelet Tutorials <<
>>  DIY Beaded Bracelet Patterns <<
Different Ways on How to Make Seashell Bracelet from Tutorials with Step-by-Step Instructions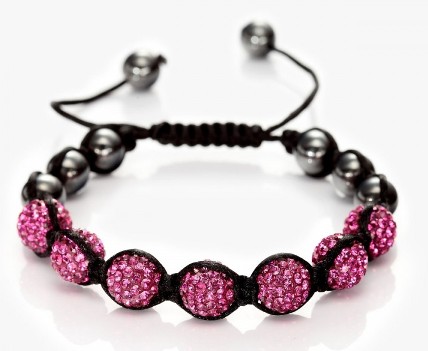 The Shamballa (also known as Shambhala and Shambala) style incorporates many cultural beliefs to bring it to this point. The heritage utilized is a vibrant and rich one being part of the Buddhist culture where the title of this jewel is derived from. A traditional Shamballa bracelet uses Macrame knotting with Chinese knotting cord and a series of large hole beads. Different combinations of Knotting Cord and Large hole beads can offer drastically different results.
Shamballa Bracelet Meaning and Color Significance
Shamballa bracelet patterns, designs, stones, gems, and metals are believed to have healing properties. The color you select promotes the feeling of well-being associated with the emotion or physical condition you wish to develop. The meaning of each kind of colors in Shamballa Bracelet is unique and is as follows:
Shamballa Bracelet Blue – Associated with the Throat Chakra, blue is the bringer of expansion and healing.
Shamballa Bracelet Black – Black as a color means the absence of any light and is associated with strength, authority,  power, elegance, formality, death, evil, and mystery.
Shamballa Bracelet White – White or clear is considered to be the color of perfection bringing clarity, peace, and purity, increasing the flow of the life force.
Gold or Yellow Shamballa Bracelet –  Yellow and Golden colors are associated with purpose, personal will-power, optimism, and self-confidence.
Shamballa Bracelet Red – Associated with the Root or Base Chakra the red colored Shamballa bracelet symbolizes passion.
Shamballa Bracelet Green – Associated with nature, it signifies forgiveness and growth.
You can start making this fun craft yourself with some basic supplies of nylon thread and beads of your choice. There are a lot of Shamballa Bracelet Kits available which are equipped with all necessary supplies required.
Compilation of Cool DIY Tutorials on How to Make a Shamballa Bracelet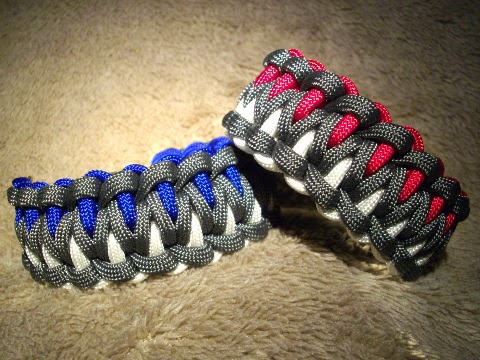 Paracord, which is also known as parachute cord, is a kind of rope with a keen core and outer mantle mainly used in parachutes in case of emergencies. They are not only fun projects to make but are also with a sporty appearance.
The DIY paracord bracelets have different designs. You can even modify these patterns with different kind of stitches.
Paracord bracelets can be with a buckle or even without a buckle. In this post, you will also learn different types of DIY Paracord Bracelet Patterns like the viper weave, cobra weave and much more which are simple and fun to make with instructions in the tutorials.
Here are 17 DIY Paracord Bracelet Patterns Tutorials with Step-by-Step Instructions:
Your day is going to get even better with these Viper Paracord bracelets when friends would ogle at them. So go ahead and make them. You can use any other color with black to get a look of your choice.
Chill and trendy have joined hands to bring you this black mamba paracord bracelet pattern which is a slight modification of the Viper pattern. This one is easy to make once you make the Viper. This is also known as Cobra over Fishtail Paracord Bracelet.
Do you love fishtail braids? I know you love it and this is certainly the one for you. No matter how many exotic markets you travel to the ones made by your own hands will always be more enticing.
For all those seeking adventure out there, this is a must-have on your next trip. Not only useful but also fashionable, you will definitely adore this.
Make your vacay that much cool with these bracelets with latest designs. They are extremely easy to make with this tutorial.
This gives a rugged look and is extremely handy. These cool-girl-must-haves depict a strong weaving pattern.
You must be wondering how to make a paracord bracelet without buckle? This bracelet without a buckle will make an outfit on point. Stay on top of the ongoing trends with this bracelet. Make it with dark colors to look bold and beautiful.
Summer is about having endless fun with your friends and family. So go out in your chic outfits sporting these bracelets. The buckle gives an additional paracord look apart from the firm weave.
Multiple snake knots when weaved together from this beautiful bracelet. Wearing the right jewelry is very important to highlight your overall look so choose the color of the paracords accordingly.
These bracelets would last a lifetime. Its like one-time investment your leisure time and you own them forever. 
Fashion is not always a huge investment. With just a meager amount of money, you can make such a trendy bracelet along with this informative free tutorial by your side.
There are some who always look up-to-date no matter what the occasion is but that doesn't mean a costly dress or a high budgeted piece of jewelry. You can update your look just with your casuals and a trendy bracelet like this.
For most of you out there assembling the perfect outfit may take hours but with this wide paracord bracelet, you can get a statement look in these small steps shown in the tutorial.
All those trend-conscious people out there, you know that fashion is best defined as cyclical.  These macramé paracord bracelets are back in trend and you know what, you can make them all by yourself by just following this tutorial.
Nothing can be more classic that this bracelet with three colors. You can obviously use colors of your choice. Fashion is nothing but expressing your own thoughts. This bracelet pattern is known as the Northern Spikes.
After making a basic paracord from the above types you can modify it with some stitches. You will get a detailed explanation in the following tutorial.
The sawtooth paracord bracelet looks very trendy when made with a darker color like black and contrasting it with a very bright color, similar to the one shown in the tutorial.
So, enjoy making all these 17 DIY paracord bracelets. Have fun. Stay trendy.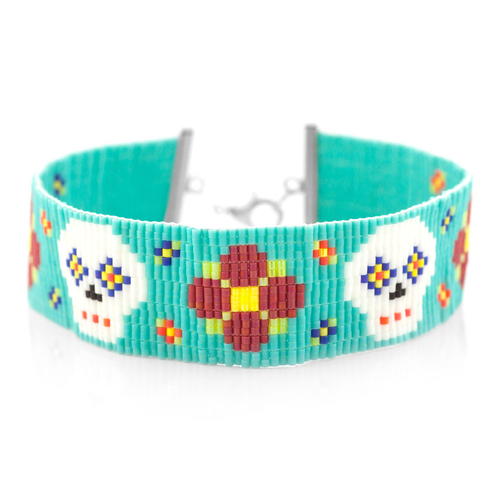 Nothing can be easier than making a beaded bracelet. You can string together a variety of pearls, acrylic beads, glass beads or anything of your choice for a simply tasteful and stylish beaded bracelet. You can not only make them single-stranded but also multi-stranded. They can be made by people of all ages. The color is regarded as one of the most utilitarian and influential tools to highlight your DIY Jewelry. People reciprocate to different colors in widely different ways. Some colors can make them feel better, calm, de-stressed and instill a touch of exuberance into their lives. You can also try making Stardust Bracelets DIY,  Seashell Bracelets, or Unique Bullet Bracelets.
List of DIY Bead Bracelet Patterns and Tutorials with Step-by-Step Instructions
Seed bead bracelets are an all time favorite and they can even give a vintage look. A seed bead is usually a small bead which is round in shape.
You can make them out of single colored beads or even give a patterned outlook like the one shown in the link provided. A handmade accessory is always special and will get you tons of compliments!
You can make them with beads and embroidery threads of different colors of your choice. Crimp beads can be used as an easy alternative to normal beads.
Bead looming is a conventional Native American art form. This is the best gift for those who love conventional art.
Everyone loves flowers and when it comes to beading bracelets, flower beads allure all. Here you will learn the Tibetan style flower bead bracelet. You can use a thin wire and bead it with colorful stones!
The peyote stitch is also known as the gourd stitch and it is easier than you think. If you are planning to make something out of the way for your friend or for that special someone then go ahead and check the link.
Pony beads always bring back childhood memories. So why not dig up your box of pony beads and use them to make something innovative.
Macramé bracelet patterns add a give a bohemian touch to your look. Macramé knotting, when applied with beads, gives the most stylish look.
Hemp bracelets with beads are easy to make and you can use glass beads or even acrylic beads in place of pearl beads.
Who doesn't love crocheting right? So go ahead and crochet a bracelet along with beads in them.
These bracelets are perfect for that special man in your life. Surprise him with your creative skills by making these beaded bracelets. You can use elastic strings instead of normal thread so that the bracelet is strechable as per the wrist size!
You can replace pink leather with a darker color to achieve a bold look. On the other hand, this sweet pink leather is a must-have in your accessory collection.
Kumihimo is actually a traditional form of Japanese braid-making. Instead of the jade beads, you can use beads of your choice. They look amazing when wrapped around your wrist!
Braided bracelets when worn singly give a simple look but when worn as a set of 5-6 bracelets provide a statement look.
Native American bracelets have their own traditional and a statement look. They are easy to make and yet appear ultra-modern.
This glass bead bracelet pattern is a bit different from the others but the detailed instruction provided will surely help you out. 
Bugle beads are itself different from other types of beads. This bugle bead bracelet can be worn with casuals t give a chic look. 
This bracelet pattern is easy and does not require much effort but gives a very sophisticated outcome. This bracelet would go well with your everyday-wear.
The woven beaded bracelet is eye-catching and it will highlight your outlook. An amazing DIY ideas with step-by-step instructions on how to make your own bracelet!
Perler bead bracelets are an impeccable piece of jewelry. Its colorful beads will give you a sparkling look.
Gift your friends this friendship bracelet and make them happy and impress them with your creative skills.
This unusual stringing technique is not at all difficult with such a good tutorial. Enjoy making and flaunting such a different kind of bracelet made with small beads.
This pearl bracelet is gorgeous and classy. You can flaunt it with your evening wear.
This crystal bead bracelet has its own charms. You can use multicolored crystal beads and this bracelet would be an eye-catcher.
This bracelet will perfectly complement your western as well as ethnic outfits. You can use colors of choice which will be in accordance with your outfit. The red, white and green combination makes it perfect for Christmas!
This bracelet will accentuate your feminity and perfectly complement your autumn wear.
This beautiful bracelet will add a modern look to any ensemble and deliver a dose of vivid style to your look in one easy step.
Add a dash of glamor to your overall look with this red cuff bracelet. It is easy to make with such a superb tutorial.
Embrace your beauty and highlight your pretty appearance by wearing this bracelet featuring an exquisite design. The bugle beads are an added charm.
Make a trendy update of your chic casual outfit to look even prettier than before by wearing this zigzag beaded bracelet. So go ahead and make it.
Take the fashion world by a squall and make the rest follow your style as you strut by with these waves patterned bracelets.
Cruise through the fashion world with wearing this daisy bead bracelet meant for a fashion-forward woman. Make it as colorful as you want by altering bead colors of your choice.
Get in touch with your feminine side with this simple and sleek bracelet. It is easy to make and worth investing your time in.
 So shun the shackles of bygone fashion and make these on your own DIY Beaded Bracelets and flaunt them in style.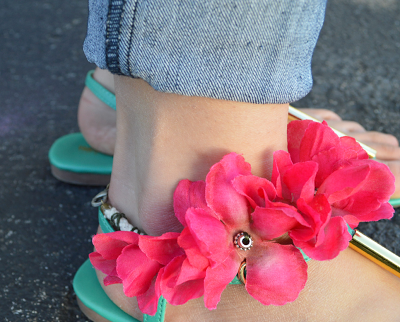 Before we used to have only gold or silver ankle bracelets but now we have such a huge variety of ankle bracelets, made of beads, various charms, pearls and are designed according to the latest trends. Ankle bracelets are also known as anklets. They look not only cool but also beautiful. So let us have a look at some of the type of DIY Ankle Bracelets tutorials and how to make them as flaunting an ankle bracelet is a trend of the season for women, men, and kids.
> Shamballa Bracelet Tutorials & Instructions <<
 >DIY Beaded Bracelet Patterns <<
How to Make Stylish Ankle Bracelet (Anklets) Designs with Step-by-Step Instructions
In these personalized bracelets, you can write anything you want, be it a particular word or someone's name, and attach it to a chain that would be of best fit. Once it's ready, wear the beautiful piece of fashion and seize the spotlight.
Leathers have always been used to give a rusty look. This leather cord bracelet will give you a rustic boho look along with a sleek appearance. You will be one with nature with this leather anklet. You can add any charm of your choice.
This bohemian ankle bracelet is the ultimate bohemian jewelry for your foot. This unique design is worn around your ankles, highlighting your beautiful feet. If you are going to the beach, this will suit you perfectly. Wear it with your beachwear to get an elegant gypsy look.
Channel your inner Boho chic with this vintage-style anklet. This anklet will transform your look to a gypsy-inspired ensemble. You can replace the beads with charms of your choice. Wear it to a beach or casual summer hangouts.
Anklets are not only worn by women but by men too. A simple anklet can make you look stylish and give a bold statement at the same. Be it leather or a simple chain, men do wear anklets. the one shown in the tutorial is a simple chain.
Upgrade any look with this subtle yet unique anklet. Instead of the sterling silver beads used, you can use colorful beads too. Made of hemp twine, it features an elegant appeal that's perfect for Boho, grunge or goth outfits. 
This beaded anklet is a simple and elegant accessory that's designed for the modern woman. It's a subtle yet stylish piece that works with almost any outfit. It's made up of pink beads.
Add subtle glamor to your everyday look with a delicate accessory. These string bracelets are delicate yet fashionable. You can either use a string of only one color or an assortment of colors.
Complete your Indian traditional look with this elegant vintage anklet. The fashion jewelry can also turn a simple look to an interesting ensemble. Relive the romance of traditional fashion combined with ghungroo to get a perfect look.
Take your style from blah to bling with this anklet and give your style statement a jump start in a few seconds. Wondering how to make these Charm Ankle Bracelets? Follow this video tutorial and make a chic piece for yourself.
Bring to each moment the needed style through this anklet which caters to your fashion needs. Tribal ankle bracelets are highly in vogue now, a common feature in them being coins, stars, the moon, etc.
Give your outfit a dose of bohemian style with these swinger ankle bracelets. In the tutorial Bead, Landing Work is used but you can use beads of your choice.
Anklets are always fun to make and even more, fun is there in flaunting them in summers. So go ahead and follow this tutorial to make this beautiful swinger ankle bracelet.
Earn an all-access pass with this ankle bracelet. It will also bring out your adventure loving personality. 
Decked with fringed fabrics all over this is a must-have in your collection. So go on and make it with this easy tutorial. 
You will definitely fall in love with this wish bracelet made out of the thread. Instead of a light color, you can use black thread to make it even more prominent.
If you don't like the gold color then use silver chains instead. The owl charm will elevate the visual appeal of this anklet. 
Cool and casual this starfish ankle bracelet will definitely grab attention. You can use colorful starfish charms instead of gold ones. Video tutorial here.
Let everyone take a peep at your vivaciousness by wearing this fashionable ankle bracelet made especially for the most fashion-conscious lady.
Painting a beautiful picture of fresh, vibrant hues and ethnicity, this macramé ankle bracelet maintains a perfect balance between sartorial elegance and ethnic grace.
Crocheting may seem complicated to you but with such a vivid tutorial it is much easier. So don't waste time and start crocheting this ankle bracelet with detailed directions.
The best thing about hemp ankle bracelets is you don't have to think about the risk of going into the water wearing them. They won't be spoiled by water. Leave them for some time and they will dry.
Don't you want to flaunt your legs by wearing a super stylish ankle bracelet on the beach this summer? So go on and make one for yourself by simply following this tutorial.
Braided ankle bracelets have been popular from the good old days and are still in trend. So, don't you think you should own too?
The black suede cord gives it an extremely classy appearance. It is indeed a sophisticated piece of jewelry. This can be worn both as a bracelet and an ankle bracelet.
You can use the cord of your choice. This ankle bracelet is a wardrobe essential for all women out there.
Summery and stylish, this pearl ankle bracelet is a perfect match for this summer. It gives a good traditional look too. 
Instead of the love charm, you can either use alphabet charms or bend the wire in the form of the particular word that you want.
This beautiful ankle bracelet with feathers and lace give a unique and perfect gypsy look. This will be a distinct addition to your accessory collection.
Shell ankle bracelets will give you the perfect beach look. You will just need some shells and beads of your choice to make this.
The coins in this ankle bracelet bring about a vintage look. Lease a new life to your trendy outfit with a little bit of vintage touch and flower designs like roses!
Want to be beach ready? So go on and make this simple beach ankle bracelet to flaunt in your next holidays.
Rope ankle bracelets give an out of the box look when paired with a short dress preferably of a dark color. It is easy to make. You only need a rope and make a knot as per the tutorial to sport a unique look on your legs.
This thick ankle bracelet will give you a floral and colorful appearance. It is best worn with summer flip-flops.
So, here is a list of 36+ types of ankle bracelets and all of them are equally captivating and beautiful. So go on and follow the tutorials to make these cool ankle bracelets.