20 DIY Shamballa Bracelet Tutorials & Instructions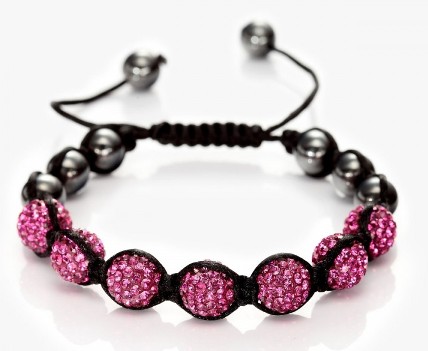 The Shamballa (also known as Shambhala and Shambala) style incorporates many cultural beliefs to bring it to this point. The heritage utilized is a vibrant and rich one being part of the Buddhist culture where the title of this jewel is derived from. A traditional Shamballa bracelet uses Macrame knotting with Chinese knotting cord and a series of large hole beads. Different combinations of Knotting Cord and Large hole beads can offer drastically different results.
Shamballa Bracelet Meaning and Color Significance
Shamballa bracelet patterns, designs, stones, gems, and metals are believed to have healing properties. The color you select promotes the feeling of well-being associated with the emotion or physical condition you wish to develop. The meaning of each kind of colors in Shamballa Bracelet is unique and is as follows:
Shamballa Bracelet Blue – Associated with the Throat Chakra, blue is the bringer of expansion and healing.
Shamballa Bracelet Black – Black as a color means the absence of any light and is associated with strength, authority,  power, elegance, formality, death, evil, and mystery.
Shamballa Bracelet White – White or clear is considered to be the color of perfection bringing clarity, peace, and purity, increasing the flow of the life force.
Gold or Yellow Shamballa Bracelet –  Yellow and Golden colors are associated with purpose, personal will-power, optimism, and self-confidence.
Shamballa Bracelet Red – Associated with the Root or Base Chakra the red colored Shamballa bracelet symbolizes passion.
Shamballa Bracelet Green – Associated with nature, it signifies forgiveness and growth.
You can start making this fun craft yourself with some basic supplies of nylon thread and beads of your choice. There are a lot of Shamballa Bracelet Kits available which are equipped with all necessary supplies required.
Compilation of Cool DIY Tutorials on How to Make a Shamballa Bracelet
Make your own Shamballa bracelets using simple macrame techniques, a bit of cord and beautiful colored beads. Tying a Shamballa bracelet around your wrist adds sparkle to your personality and outfit.

Make creative Shamballa bracelet designs using semi-precious beads such as Black Onyx and Amethyst, adding metal charms and stones for a unique bracelet pattern. They look elegant with outfits and adds a style statement to your personality.

Square knot Shamballa Macrame Bracelets are quite popular these days. You can use different types of beads of your choice, be it diamond studded beads or sparkling ones! A great addition to your jewelry box which is handmade and affordable!

If you are wondering how to make this beautiful bracelet with Shamballa beads then worry not, it's simple and affordable! In this tutorial, they have used crystals with Shamballa-style bracelets! Follow the step-by-step instructions to make this homemade piece of exotic jewelry.

Time to make some adorable Shamballa bracelets for those little wrists! Make them in beautiful baby colors, which looks bright and vibrant.

A very easy video tutorial with the step-by-step instructions to guide you to make trendy Shamballa bracelets in no time! Use amazing and vibrant colors to suit your outfit!

The Shamballa bracelet instructions will show you how to make a Shamballa bracelet with turquoise skull beads to get a rustic and trendy look. An ideal accessory for Halloween!

An amazing video tutorial showing you how to make a 3 row Shamballa bracelet. It's a wide one which is ideal to be worn over your wrist for a chunky and heavier look.

Black and white Shamballa bracelets are most popular and go well with all outfits. Use crystals or beads of your choice! This tutorial is good for beginners as well!

You can make this unique chocolate and caramel Shamballa Bracelet for men and gift it on special occasions like Valentine's Day or his birthday!

You need some simple supplies to do this craft namely, leather rope strands and Swarovski beads of colors of your choice. You can choose rainbow-colored beads which have all 7 colors.

Make this colorful Shamballa bracelet with different bead colors and sizes to get a great classic look. From starting with square knots and finishing off the ends, everything is well explained in this tutorials with proper directions!

Learn how to how to make a woven bracelet combining Shamballa and friendship styles. All you need is nylon threads and some gemstone beads to make this cool bracelet pattern. People often find it difficult to give a proper closure to the bracelet, in this tutorial, it is well explained how to make Shamballa bracelet closure in easy steps.

Shamballa bracelet in this DIY tutorial consists of a usual square knot and several colorful beads which I added to the bracelet along the way. There are two basic knots that you need to keep repeating until your bracelet is long enough. Macrame bracelet making is very easy and therefore perfect for beginners in bracelet making.

This time instead of buying a Shamballa bracelet online, try to be creative and make one double beaded bracelet for a stunning look.

Make this unique and fascinating bracelet design with beautiful fuchsia tiger eye bead. Get inspired to make these DIY's and make your own piece of custom jewelry.

Download this free printable instruction on how to make Shamballa bracelets with simple macrame knotting techniques.

Download free PDF instructions on how to make Shamballa Bracelets!

These Buddhism inspired bracelets have recently become a huge trend and a popular fashion accessory among celebrities. Team this with seed beads and pearls and make creative funky bracelets.
Leave a comment