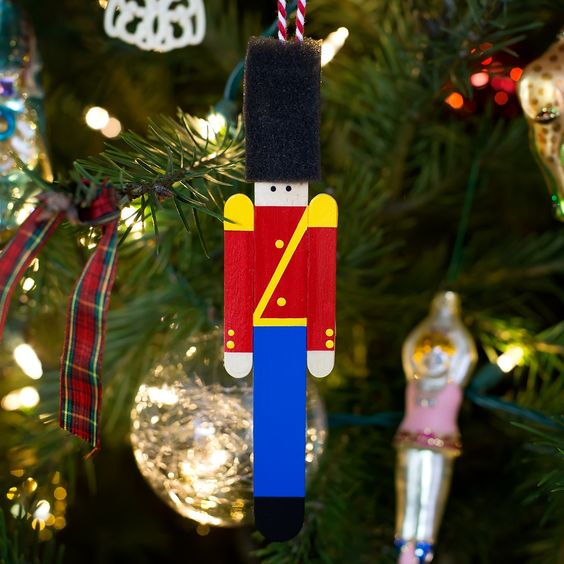 Its winters and popsicle sticks are one of the best craft items you can explore with. You can create beautiful Christmas ornaments of varied shapes and colors. The rustic look of the wood gives it a traditional touch. You can easily customize these ornaments with glitters, buttons, ribbons, stamps, and colors you might already have on hand.
Related: How to Make Cut Out Snowflakes
Your kids will love making these cute and easy popsicles stick Christmas crafts. They would make great handmade gifts for friends and family this holiday season! Scroll through the ideas below and be sure to click on the links if you want the individual popsicle stick ornament tutorials with step-by-step instructions.
Also Read: Popsicle Stick Snowflake Tutorials
The quirky snowman is the highlight of this tutorial. You can even make Santa, and the Christmas tree, which are bright and dazzling. The designs here are very creative and yet easy to make. Kids will love making these crafts for Christmas.

 

Start by painting the craft sticks, once dry stick them together in star-shaped. When the glue is dry, add the crafty jewels, or other embellishments to decorate your star ornament. This is an easy one for toddlers and preschoolers.

 

This is a fun craft for preschoolers and kids. You need simple supplies for this craft which include popsicle sticks, quirky buttons, bright thread, and paint. They'll look adorable hanging on your Christmas tree. This tutorial is easy and is a great one as a last-minute Christmas craft idea.

 

Kids can make this fun holiday craft in school or at home. You need 6 wooden popsicle sticks and stick three of them together as shown in the linked tutorial. These cute little rustic sleighs can be made in different colors and can be used as miniature gifts for grandparents from their loved kiddos.

 

DIY Santa Sleigh from Popsicle Sticks

Homemade Popsicle Ornaments

X-Mas Popsicle Ornaments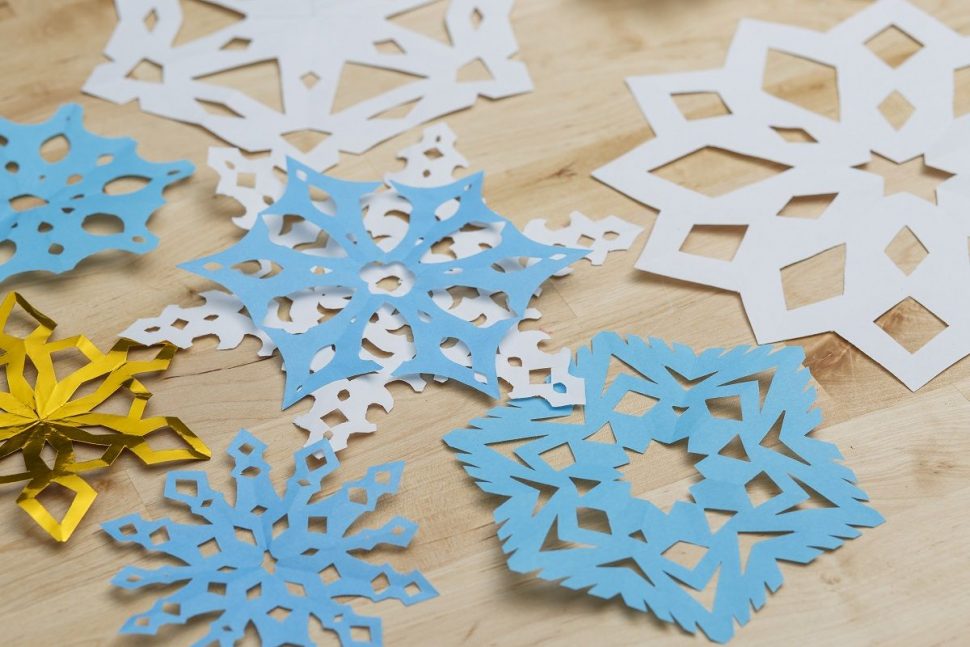 Winters are one of the most awaited times of the year. With the onset of holidays and the festive season, everyone is excited to make pretty crafts and DIY to decorate their home, Christmas trees, and more. Making snowflakes is a tradition that everyone enjoys be it, kids or adults.
You can make snowflakes from popsicle sticks, coffee filter paper, beads, and numerous such creative things. If you are wondering how to beautifully cut a snowflake out of paper, then we've got you covered. We have collected some of the most pretty paper cut out snowflake patterns, designs, template and tutorials with step-by-step instructions to guide you well.
Read: Coffee Filter Snowflakes Patterns
Instructions to Make an Easy Cut-Out Snowflake Pattern
Fold bottom left corner up to the right side of the paper edge.
Fold bottom right corner up to the left side.
Fold in half down the middle.
Now, cut off the bottom tip, where all of the folded paper is. You can do a rounded edge, or straight cut, or angled cut. Each will make a different snowflake shape ex: diamonds, star, lace, hearts, snowmen, and forest snowflakes.
Cut the bottom tip-off.
Now make whatever decorative cuts you'd like. Experiment with all the ideas you can think of!
Unfold the snowflake and flatten the creases!
Ready to Decorate!
You'll find classic paper snowflake designs, 3-D snowflakes, mini, large, that require some assembly, and even snowflake templates that feature your favorite characters from movies like Star Wars and Frozen.
Cutting out snowflakes is a winter tradition. This is a 5 pointer snowflake design and you can ask your little ones to make them. Pick up some colorful papers (computer paper or coffee filters) and draw the design as illustrated in the linked tutorial. The apply the folding techniques and then cut the snowflake along the design.

 

Kids love all Disney characters and this tutorial features a cute Mickey Mouse shaped snowflake design. The steps are easy to follow and you can easily involve your kids to make this one.

 

Keep your kids busy with this fun winter craft. For this craft use a thin paper, because thinner paper, is easy to cut out and add details and elements to it. You can pick pretty papers often used for origami—look for silver, gold, and holiday-hued papers to up the magic.

 

You can make these incredible 3-dimensional snowflakes. You can choose to make them of various sizes and decorate your Christmas tree or hang them to the ceiling. This design is super easy to follow and you can recycle your unused papers for the crafts. Add some glitter or embellishments to decorate it further.

 

Cutting wonderful paper snowflakes can be easy with these designs. It's fun and there is no limit to your creativity with designs.

 

People usually make different dimensions of snowflakes, 8 pointer snowflakes being the most common. But a real snowflakes in nature form with six points so here it is shown how to make homemade 6 pointed snowflakes yourself.

 

Take some newspapers for this project and paint it with watercolors and starch. Once painted and some glitter to some to really make them stand out! Hang them on your lights, ceiling and appreciate your kid's handmade winter craft.

 

Turn your home into a Christmas wonderland with these beautifully cut paper snowflakes. Try and make the folds as neat as possible for the end product to be clean and unique.

 

Choose from one of the collections to view and download the free printable templates to make them yourself.

 

Who's your favorite Frozen character? Anna, Elsa, Hans, Olaf, Sven, or Marshmallow? We've covered all these patterns for you in this linked tutorial. You can download the free PDF pattern for any of these characters.

 

There are both illustrative pictures and written directions that walk you through each step of creating one of these amazing snowflakes.

 

This unique Christmas tree is from Lia Griffith is made from cut snowflakes patterns of different sizes.

 

Some More Designs to Make the Perfect Snowflakes

 

Snowflake Cutting Tip for Crafters!

If you're constructing one of the more complex patterns which involve lots of cuts, try using tissue paper instead of standard copy paper. This will allow you to fold the paper easily and cut it neatly.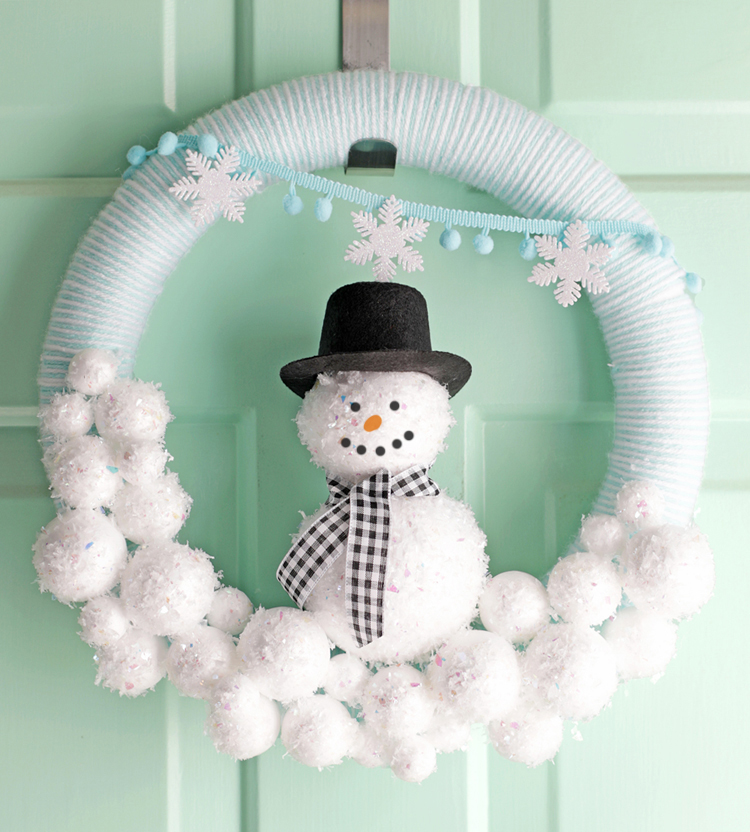 With the onset of winter, a snowman wreath on your front door will be the perfect decoration to welcome your guests home. There are numerous readymade snowman wreaths available in the market which are quite a pinch on your pockets. So if you are wondering how to make a snowman wreath at home which is affordable, then we've got you covered with some amazing tutorials and DIY Ideas.
Also Read: How to Make a Perfect Bow for Your Christmas Wreath
We have listed some of the easiest and creative snowman wreath DIYs, tutorials, which explain with step-by-step instructions to make the craft easily. In the tutorials there are different materials/fabric which are used to make the artificial snowman wreath, like; burlap, mesh,  felt, paper, foam, cardboard, grapevine wreaths and more.
This snowman is constructed using two foam wreaths, some ribbons and a hat to complete the look. The project requires simple supplies that are put together creatively. This is an easy one and you can make it in a couple of hours. Place this on your front door, this winter to welcome your friends and family.

 

In this linked tutorial, they start with painting the eyes first. This is followed by making a stuffed carrot-shaped nose out of felt. Once done gather the deco mesh to give it the required shape and tie it with a pipe cleaner. This is easier than it seems, and quick too. So check out the linked tutorial for complete instructions to guide you well.

 

This DIY snowball winter wreath is so cute and can be put on the door at Christmas and continue till Feb. This project is done with a lot of creative elements which makes it an absolute stunner. This amazing winter wreath covered in cozy yarn and glittery snowballs. The small snowman in the center steals the show.

 

For this project, you need three mirror frames of 3 different sizes available at the dollar store. Once glued together as directed in the linked tutorial you can decorate it in various interesting ways to add a cozy touch to your front door this holiday!

 

This is a wreath with a traditional touch made with ribbons, burlap, and mesh. Use lot of colored ribbons to make cute bows and add to the wreath. The wreath is made using the pouf technique explained in detail in the linked DIY.

 

Make your own snoman for your front door this winters! Enjoy this awesome addition to your outdoor decor and give your house entrance a cute faceift.

 

To really show off your crafting skills, intertwine your stick wreaths into the shape of a snowman, add some flowery ribbons, a top hat, and embellish, embellish, embellish!

 

When it comes to the wreath, burlap is another demanded material that can be used on a regular basis. Burlap can be easily molded into different shapes of your choice and used as a wreath. The snowman-shaped burlap wreath is simply pretty.

 

There's something about a wreath hanging on the front door that welcomes the festive vibes. This adorable wreath will look great when decorated outdoors.

 

 

Candy Sleigh Craft Ideas – Here

If you've got children then this fun craft will be perfect for your winter holiday. They will love this cute and friendly face will surely make them smile. You can also add a hat and some ornaments or other traditional holiday embellishments of your choice.

 

The snowman hat in this design is made using foam and then is painted black. This is a super cute and easy tutorial where you can turn simple platter to a lovely wreath using clothespin and other easily available supplies.

 

Snowman Wreath Door Hanger
We hope these wonderful winter wreath ideas beautify your day and you welcome your guests with a creative and adorable snowman wreath on your front door. Do share your creations in the comment sections below!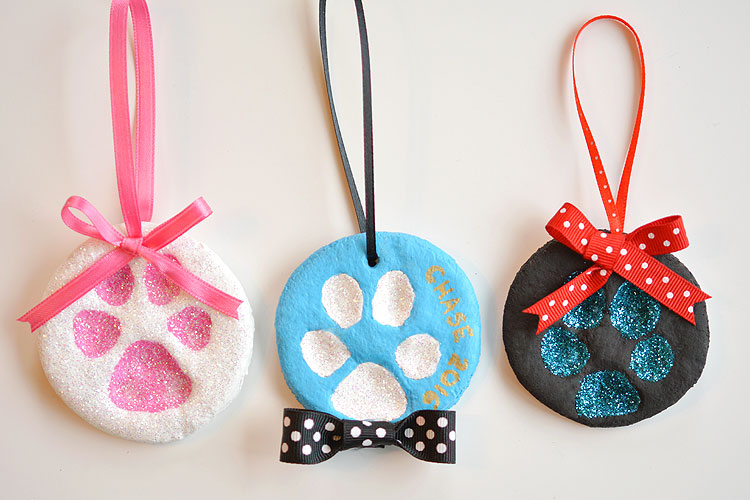 It's the most wonderful time of the year, and if you're looking for a fun holiday project to do with your furry friends, then we've got some adorable ideas for you. It's Christmas and we all buy ornaments to decorate our trees.DIY  paw print ornaments is a great idea to personalize them and get creative with your pooch.
You can use salt dough, clay, the plastic of Paris, ceramic to make these ornaments.
You can treasure these memories as they make wonderful keepsakes too. Let's see some beautiful designs to make. If you are running short of time you may buy paw print ornament kits and make them quickly. The linked tutorials come with easy-peasy instructions to help you throughout.
[You May Also Like: DIY Wine Cork Ornaments for Christmas ]
Cute Ways on How to Make Paw Print Ornament
You can give interesting shapes to the ornaments from molds and hang them around with impression of paw prints of your dog/cat, their name and year of birth.

The project can be easily made at home with some simple steps. The recipe includes dough, salt, and water. Add ribbons/twine to hang them on the Christmas trees or baskets.

 

Decorate your trees with a pawprint of your favorite pet. This unique art project can work for both dogs and cats and is a great way to keep kids occupied in holidays.

You need flour and salt to bake this one after the paw prints of your mutt is taken on it. Once cooled you can paint and add glitter, to jazz them up, and finish with a nice ribbon to hang it up with.

 

This is a cute Keepsake that you can cherish forever and get your dog's paw casting done and you get that sense of pride that you have made it yourself.

Wondering how to take a dog paw print on clay ~ Instruction guide here!

 

The linked tutorial uses polymer clay to create this ornament. These ornaments make perfect gifts for dog lovers who can cherish their pet's memories forever.

 

A very cute idea to make snowflake ornaments with paw prints on it. This project uses plaster of Paris, some cookie cutters, and silicone molds to make the snowflakes.

Add rhinestone stickers and other embellishments to decorate it. You can write your pet's name, year and more to keep it as beautiful keepsakes.

These ornaments are dried and painted later. There is no baking process required.

The amazing tutorial is from Rocketdogblog.com

 

You will love this Paw Print Ornament and it's a super easy DIY and we have the complete tutorial to show you how.

 

Paw Print Ornaments Template

In case your puppy is giving a tough time taking the paw impression, you can use this printable template to make the paw print. It contains small, medium and large paw prints.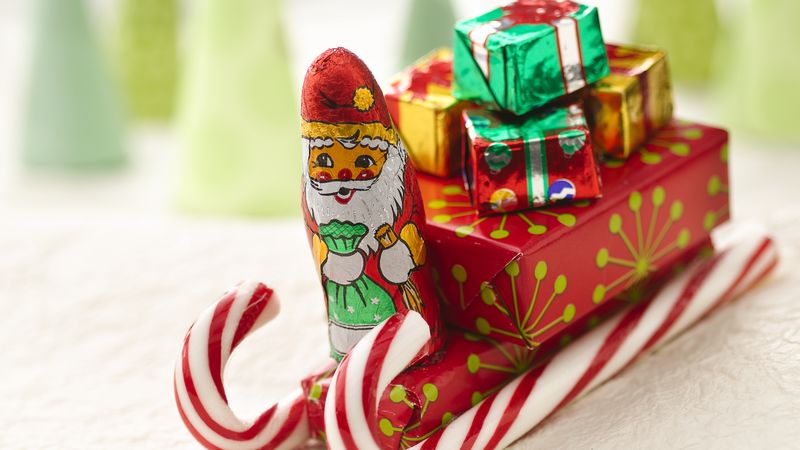 Creating some adorable and cute crafting ideas for kids this holidays! Turning candy canes into homemade sleighs topped with chocolate bars and goodies. These Christmas candy sleds make fantastic gifts for friends, neighbors, and co-workers and are great as table favors for your holiday celebrations.
You need a hot glue gun, glue sticks, bags, kit kat, candy canes and whatever candy you'd like to put in Santa's bag.
[Also Read: How to Make DIY Wine Cork Ornaments for Chrismtas]
How to DIY Make Candy Sleighs Yourself for Christmas
If you are wondering how to attractive do a table décor this Christmas, this candy treat could be your best bet. Click on the above link to know how to make it.

 

These Santa's Candy Sleigh treats are super easy to make, perfect table décor and a take-home treat too!

For each sleigh, pipe glue along sides of 2 candy canes (in wrappers); attach to either side of candy bar to make sleigh runners. Glue the Santa, trees and candies.

 

Your friends and kids are going to love this adorable candy sleigh idea. You can make a handful of them and give away as little favors to your guests.

 

These DIY Candy Sleighs are easy to make, and you can have them ready to go weeks before your big day.

 

I think these Candy Sleighs are perfect for stocking fillers and kids will love the chocolates and candies loaded on the sleigh.

 

Enhance the looks of this beautiful candy cane sleigh by attaching it to a handmade Santa or reindeer to pull it.

 

Milky Way Bar Teddy Graham Candy Cane Sleighs are pretty easy to make and a yummy treat too.

 

Free Printable Candy Sleigh Template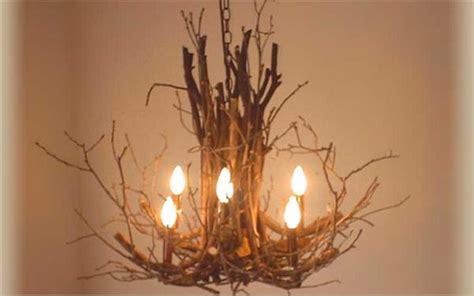 It's autumn and Christmas is coming soon. DIY enthusiasts love to create unique crafts for the holiday season and utilize almost everything available. We had earlier shown how to make candle holders using twigs. Now let's see how to transform a fallen tree branch and twigs into stylish chandeliers.
It's time to create handmade chandeliers with twigs and bring some nature into our interiors.
Interesting Ways on How to Make DIY Twig Chandeliers
This fall you have a great reason to upcycle the fallen branches, twigs and collect them and turn them into beautiful wreaths or chandeliers to light your house. Share your ideas and creations with us in the comment section below.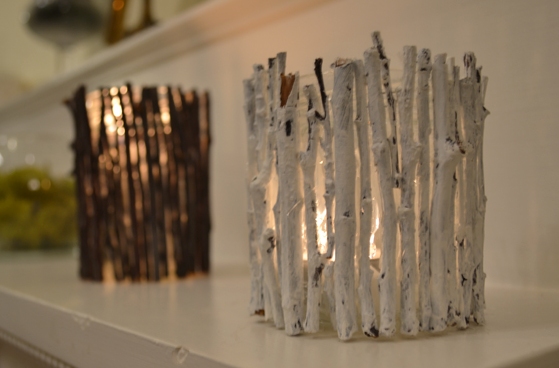 Candles are an infallible piece of home decor for the festive season or a candlelight dinner. It gives your home lovely romantic look. There is always an option to buy some cool designs of candle holders, but you can be a little creative and handy, and make your own with some interesting ideas. If you want to make your space a bit more cozy and warm this fall season, keep scrolling because we have lined up great DIY Twig Candle Holder Ideas. You can also try making mason jar candle holders or driftwood Christmas Trees.
Compilation of How to Make DIY Twig Candle Holder Tutorials with Instructions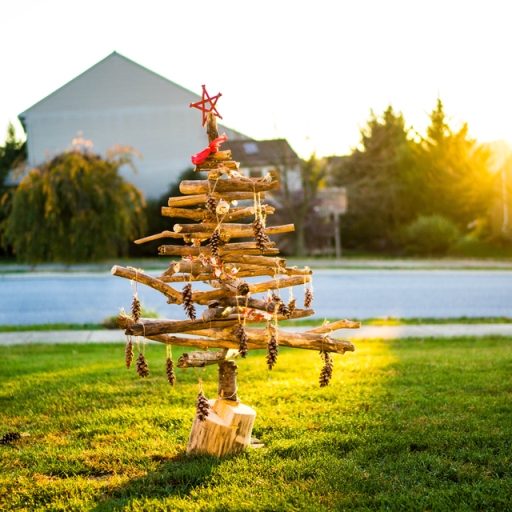 This holiday season why not make your very own Driftwood Christmas Tree. It is inexpensive, affordable, and easy to make. It's also the perfect opportunity to spend time outdoors, getting creative with the whole family. You can recycle twigs, tree branch, tree limb, beach wood or any other wooden log which you get to the beach or coastal areas.
Collection of How to Make a Driftwood Christmas Tree Tutorials with Step-by-Step Instructions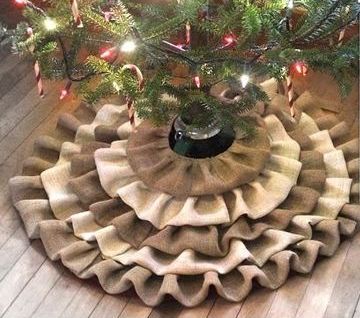 Burlap is a popular and timeless fabric. It is one of the hottest home trends this season for crafters to make interesting burlap projects. Christmas is right around the corner. A Christmas tree wouldn't be complete without a beautiful tree skirt. Let's explore some interesting Burlap Christmas Tree Skirt Tutorials & Ideas explaining different ways of making Burlap Christmas Tree Skirt!  Make white tree skirts or colored ones to match your winter wonderland theme.
Collection of How to Make Elegant Burlap Christmas Tree Skirt Tutorials
I hope this Christmas amidst all the excitement and decorations, your Christmas Tree is getting highlighted with some bells, ornaments, glowing lights, stockings, tassels and a wonderful handmade tree skirt made out of burlap. Share your creations with us!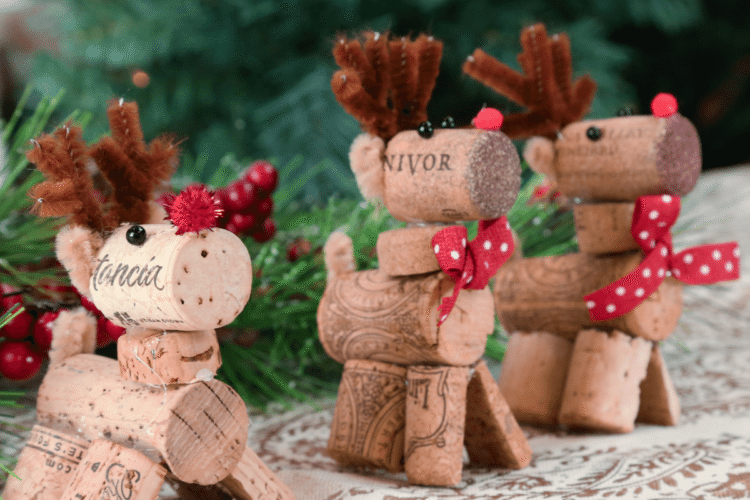 It's Christmas and time for some holiday crafts with kids! Let's use old popped wine corks and use them creatively to make stunning ornaments for the festive season. You can add embellishments, and colors to the natural color of the cork and turn them into great ornaments. Browse through some cool ways to repurpose your old wine corks and make beautiful and cute ornaments for the festive season.
Collection of Creative Wine Cork Ornaments Ideas and Tutorials