42+ Amazing DIY Mason Jar Candles and Holders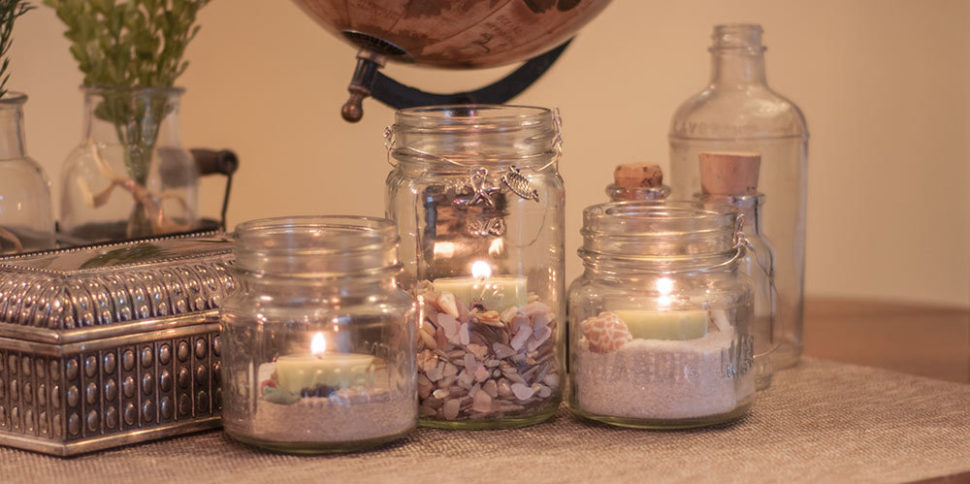 Mason jars provide us ample of choices for crafting! From funky pencil holders to elegant flower arrangements, we can decorate it anyway! Recycling old mason jars and making them as candle holders or candles is a great idea! We share with you some amazing and creative DIY Tutorials on Mason jar candles and holders so that you can use the design and idea to make a stunning candle!
Collection of Best DIY Tutorials on How to Make Mason Jar Candles and Holders
This DIY Project is amazing where you can combine some aromatic essential oils for wonderful aroma in your candles. Put it in a mason jar and decorate it with burlap and ribbons to get a rustic feel.

 

Mason jars are quite in trend for home decorations. From flower arrangement to candle holders, you can explore a number of crafts with Mason Jars. This festive season make a themed mason jar for this fall!

 

Making candles is fun! Making one in a mason jar is quite creative! This one uses colored wax and is quite a simple DIY Tutorial to make mason jar candles with step-by-step instructions.

 

Some amazing tips to make a quick DIY! You can use colored mason jars as well!

 

Citronella oil is quite a popular essential oil! Putting this in candles can give you a lovely aroma and ambiance! This DIY is simple and affordable to make!

 

These wonderfully decorated soy peppermint candles in mason jars are easy to make and a great gifting item to friends and relatives this festive season. A handmade craft adds a personal touch and love to any gift.

 

This video tutorial explains perfectly how to make amazing mason jar candles set. Ideal for gifting in any occasion!

Making a hanging mason jar candle holder is a great charming way to decorate your house and give it a country like decor.

Using glitters and other embellishments will enhance its look. An amazing gift for Valentine's Day!

Incredibly scented mason jar candles with fancy decorations!

 

You can use any other color of your choice! This festive season adorn your house with these beautiful handmade mason jar candles!

 

Step-by-step instructions with detailed pictures about how to make perfect DIY mason jar oil candles.

 

Gather your candle making supplies and start making this mason jar candle with detailed instructions to make it simple for you!

 

Making a mason jar candle with sand and decorating it with shells can look stunning. A creative handmade centerpiece for your house or to gift. A sea beach inspired candle in a mason jar!

 

Mason jar candles are a rage as centerpieces these days! It's inexpensive, easy to make and create! You can add as many elements to decorate it as per your creativity. Adorn your dinner tables with these beautiful mason jar candles!

 

Do-It-Yourself Home Decorating ideas with simple Mason Jars for this Christmas. Mason Jar can be recycled to make these beautiful looking mason jar candles and decorate your home!

 

Getting creative with mason jars is a great idea this holiday season! An old mason jar, a floating candle, and some cranberries or flowers

 

A beautiful combination of elegance and rustic touch while making this tea light candle in mason jars. Add charms or any accessory of your choice will enhance the look.
Leave a comment