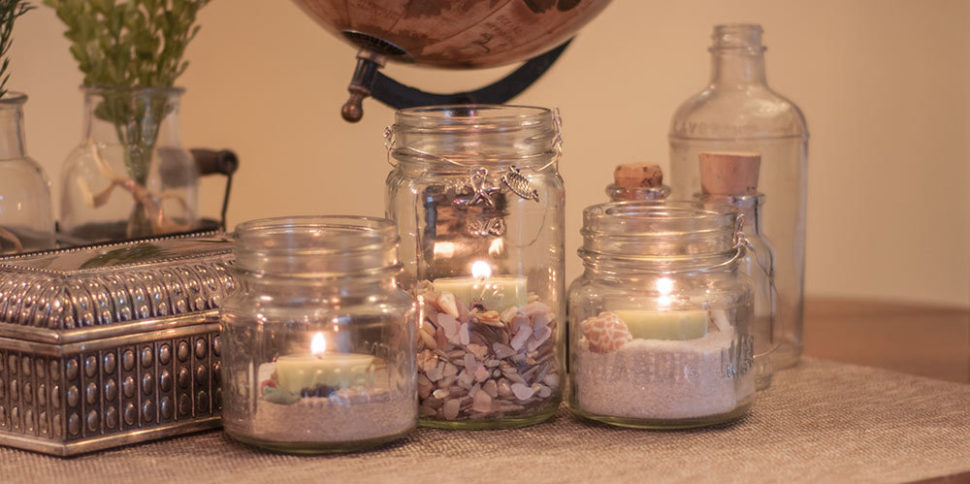 Mason jars provide us ample of choices for crafting! From funky pencil holders to elegant flower arrangements, we can decorate it anyway! Recycling old mason jars and making them as candle holders or candles is a great idea! We share with you some amazing and creative DIY Tutorials on Mason jar candles and holders so that you can use the design and idea to make a stunning candle!
Collection of Best DIY Tutorials on How to Make Mason Jar Candles and Holders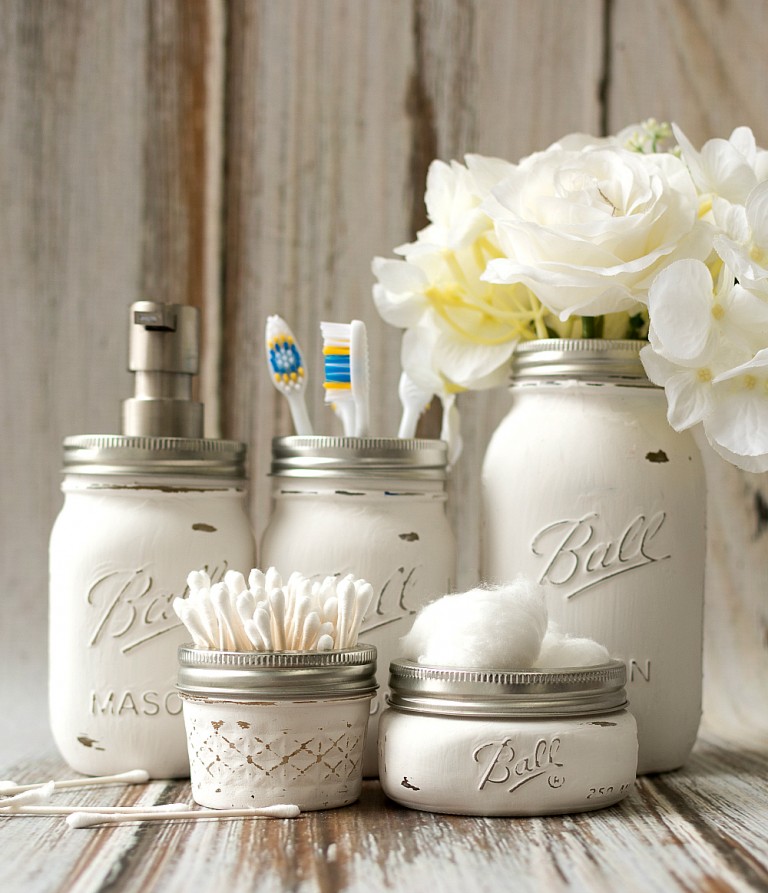 Mason jars are a hot favorite these days and people love crafting with them. You can explore a lot of projects with mason jars from painting mason jars to flower arrangements in mason jars! Let's try to recycle some of the old ones, and paint and decorate them and turn them into beautiful and cool mason jar soap dispenser.
Collection of Amazing How to Make Mason Jar Soap Dispenser Tutorials and Ideas
Converting a mason jar into a soap dispenser with these simple and easy instructions in no time. Get crafty and creative and DIY it today!

Some cool crafts this summer season! This blue mason jar soap dispenser is simple and techniques are quick to apply!

 

A simple plastic pump of your choice, drilling machine, and a mason jar is all you need to make this!

 

Make your own mason jar soap dispenser and add a great handmade look to your washroom.

 

This one is a simple and cute soap dispenser made from some extra mason jars at home!

 

Adorn your bathroom corners with this country like soap dispensers enhancing the look of the whole set up!

 

This mason jar project is simple and recycling a jar into a soap dispenser with quick instructions is a cool idea.

 

Converting a mason jar into a soap dispenser to add to the decor of your bathroom looks pretty cool. It's an affordable, quick and creative idea to use your bathroom storage place.

 

An easy tutorial on how to make it yourself in no time with plastic mason jars.

 

Once you turn a mason jar into a soap dispenser you can decorate it with accessories and give it a jeweled look of your choice!

 

Some basic tips and trick with step-by-step instructions to turn mason jars into soap dispensers.

 

Adding copper metallic pump to mason jar soap dispensers adds a rustic touch to it!

 

All you need to do is do some spray paint to the mason jar of the color of your choice before you add the lid to it!
Let's add a little creativity and art to our soap dispensers! Giving it an antique look is the flavor of the season!
A complete guide with step-by-step instructions on how to transform a simple mason jar into a stylish soap dispenser for your wash basin!
Putting lotion, soap or shampoo in a mason jar soap dispenser is an ideal choice for your bathroom counter. Try this amazing idea and DIY  now!
Make your own pump mason jar soap dispenser at your home with supplies you already have! This one has a wide mason jar wid lid!
You all must be having a mason jar or two lying ideal at your home. Get creative and put them to good use! Make some amazing soap dispensers from those mason jars.
Using different colored liquid soap inside the mason jars can also enhance the ultimate look of the dispenser.
If you have seen distressed mason jar bathroom set for storage online on stores and find it intriguing then let's try and make one from this amazing idea!
A beginner level's easy DIY project for all mason jar craft lovers!
Ideal DIY Mason Jar Soap dispensers for your kitchen!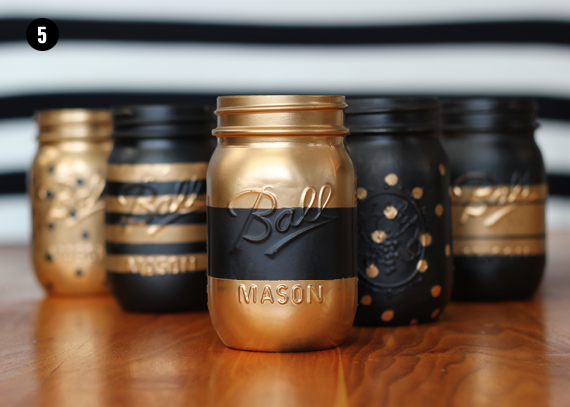 Mason Jar Crafts and Projects are the most popular thing going around now. Painting Mason Jars and turning them into candle holders, mason jar flower arrangements or centerpieces is quite in trend these days. It's a simple, easy and affordable craft that can be made at home by kids and adults. Sharing some cool, quirky, and amazing designs about painting mason jars. Happy Crafting!
Compilation of Easy Tutorials on How to Paint Mason Jars
Painting old mason jars to give them a new look and purpose is quite in trend these days! crafty and creative way to recycle old Mason Jars. The techniques and directions are given in the tutorial with step by step instructions.

Adding some glitter with the paint to mason jars can give it a beautiful and creative element. In this tutorial, the glitter is added to half the Mason Jars to give it a classic touch. Ideal for gifting or table centerpieces.

 

Doing spray paint on mason jars gives it a professional look. You can try different color combinations and add ribbons or other embellishments to add to the look.

 

This one is easy and simple to make! You can use these as a decorative vase or centerpiece in your room.

 

Using chalk paint on Mason Jars is the best choice as it covers the jar with its thick coat. This mason jar painting idea is a quick one to make in no time.

 

This tutorial explains in detailed instructions on how to paint mason jars and make beautiful and inexpensive table decor for any occasion! The pastel colors used adds elegance to the decorations!

 

Painting mason jars for kids is fun, creative and useful too. You can make different organizers using mason jars and paint and decorate them as per your wish.

 

A perfect DIY Idea to paint tinted Mason Jars and color them in rainbow colors. An ideal crafting idea for holidays which is simple and affordable.

 

This fall, try and go countryside rustic with your creativity. All you need is some mason jars and colors and create some wonderful centerpieces.

 

Using Acrylic paints is another option for mason jars. DIY these creative ideas today!

 

Painting Mason Jars at home to give it a vintage look makes it perfect for flower arrangements. Pretty, beautiful and sauve to look at!
Are you a baseball fan? Let's paint our surroundings with baseball?
It' s your wedding and you want to go handmade with your decorations, then this is perfect for you!
This Fall, turn your mason jars into Halloween Luminaries and paint your mason jars in candy corn colors.
Giving Mason jars a metallic touch adds vibrancy to the whole look! Painting mason jars in silver or golden look stunning on some occasions! Adding elements like glitter, stars or ribbons adds to the finesse.
17. Mason Jars Painted for Christmas
Let's explore some magical ways to decorate mason jars for this Christmas.
If your nail polish goes bad and seems of no use now, then let's have some fun and color some mason jars with old
nail polish and re-use them.
Adding puffy paints to your mason jar for a 3d look can be a great idea for this festive season! Try and get it for a simple, easy and quick craft this weekend.
Have some fun time with craft tutorials, mason jar and glitter is the call for this festive season! DIY today!
If you are wondering how to paint mason jars from inside then this tutorial has the perfect answers!
Looking for some quick ideas and designs to paint mason jars this autumn? This will help you.
This tutorial is from 36thAvenue.com. Ideal for a wedding or bridal decorations!
This Halloween try this spooky and quirky mason jar crafts with paints and other embellishments to add to the decor.
DIY Distressed Mason jars at your home with kids. Amazing and wonderful ideas in the tutorials to guide you completely with step-by-step instructions. Ordinary mason jars turned into bbeautifully patterned decoratives.
Get inspired and explore the array of designs and ideas to paint mason jars and use them in unique ways. A great DIY for kids!
Follow this tutorial for some cool and pretty mason jar painted drinking glass.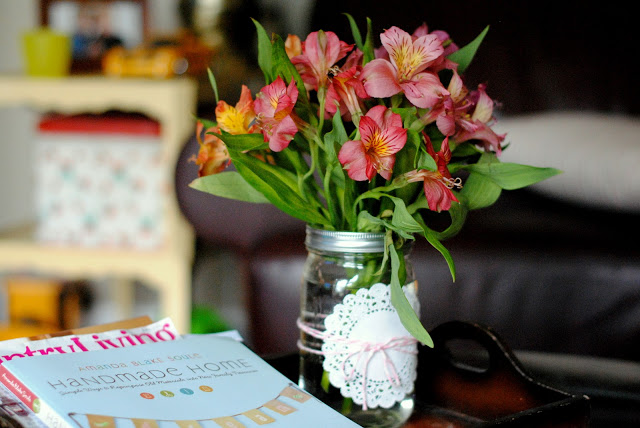 Give your house a new look this summer with a little wow factor with some handmade DIY Mason Jar Flower Arrangements. Get all the mason jars that you have lying around the house because you are going to make some amazing DIYs using these jars.
These jars are perfect for flower arrangements and when it is summer, you can't do without a bunch of flowers gracing your living room at the least. These mason jar flower arrangements ideas will steal your heart and in no time you will be making your own with the easy and simple tutorials provided below.
List of Amazing Mason Jar Flower Arrangement Ideas and Tutorials
#Mason Jar Flower Arrangements For Different Seasons
Seasons come and go, but do we fail to enjoy each of them? So, why not create something to make each season as special as they are? These flower arrangements in a mason jar are dedicated to the beautiful seasons that we experience.
The warmth in the breeze, the sweet smell of the grass, the bright colorful outside – what can be more reminiscent of summer than these? Capture all of these in a jar by creating this special flower arrangement within a mason jar.
Winter calls for lovely roses, blooming in your garden. Now, how are you going to display them in your room? The bored old vases or these unique and creative Mason Jars? The choice is yours and you know that uniqueness always wins.
Spring is the season of flowers. The beauty of your room should match the beauty of the surroundings. These mason jars will be perfect to display the newly bloomed flowers.
A fall flower arrangement should be beautiful and pretty. This mason jar flower arrangement ideas will help you make your own fall-dedicated flower arrangement.
# Mason Jar Flower Arrangements For Different Occasions
Every occasion calls for new and innovative flower arrangements because you know that your guests will micro-scrutinize your arrangements. So, it is better that you don't give them the opportunity to find any fault with these mason jar flower arrangements.
Aren't these just the cutest thing you have ever seen? They are great to gift someone on their baby shower or make them decorate your home when you are celebrating your baby shower.
Bridal showers is just the occasion to make someone feel really special, and what more can you do than to make these handmade mason jar flower arrangements and gift her on this special day.
These Christmas inspired mason jar flower arrangements are easy to make and an amateur like you can make them with this DIY tutorial.
The foods aside, centerpieces are the most talked about item on a dining table. So, why not make them as good as the food or even better? Don't worry, the instructions will help you.
Use white lilies and white roses teamed with white daisies. The perfect wedding flower arrangement has arrived. Make these before it is lost forever.
Centerpieces are an important component of any event, be it a wedding or a formal dinner with special people. These mason jar flower arrangements will be a gracious addition to the table, once you make them with the step by step guide in the link.
# Mason Jar Flower Arrangements Using Different Stuff
When you are full of ideas, you craft can lead to amazing new levels. These below ideas and designs are a proof of that.
How chic are these? Always stick to your own personal style, as you can never go wrong with it. Make these mason jar flower arrangements to compliment your own boho-chic style.
It's time to get creative. You know being creative is therapeutic. Hard time believing it? Make these unique mason jar flower arrangements and see for yourself.
Burlaps are these making fabrics made out of jute. They will be a perfect companion to your flower arrangement in a mason jar. Tie burlap around the jar to give them an earthy look.
Tying a ribbon around anything makes it look fantastic. So why not use some ribbons in these mason jar flower arrangements to bring out the beauty of them.
Has anything ever looked bad with a lace? Follow the instructions and make these mason jar flower vase and decorate them with a stunning piece of lace.
Sunflowers do bring out a certain kind of brightness in your room. They are lovely to look at and you should make a mason jar flower arrangement in honor of the sunflowers alone.
Roses are the flower for all season. A flower that can be used to express love can never be out of fashion. Make these mason jar flower holders for the stunning roses with the DIY tutorial.
Daisies, peonies all are summertime flowers. They make for an incredible centerpiece for your dining table. Make these pretty flower arrangements with the step by step guide.
Imagine these at the entrance of your house or at the corridors. They are just fantastic! The great thing is that you can make these mason jar flower holders with the simple and easy do it your self-instructions.
Mason jars are not always for fresh flowers, you can also use dried flowers for decorations. Not only that, potpourri is also preferred for adding into the mason jars. If you are wondering how to display them, here goes the tutorial!
Rustic taste is a unique taste as it is most closely rooted to the earth. These rustic designs and ideas are perfect for such a unique person.
Silk flowers show your elegance and when you use them in mason jar flower arrangements you boom with the glory of possessing a refined taste. Make them with the help of this guide and instructions.
Sometimes simple things convey a lot more than it is supposed to. It also makes it easier for you to create them. The easy tutorial will prove that.
These small mason jar flower arrangements will be ideal for bathrooms and kitchen. Try to make them and surprise your guests.
Wondering what to put in that corner table of yours? Don't wonder anymore as you have the best solution at your hand. These large mason jar flower arrangements are the right fit for your corner table.
Do you know that you can use the lid of your mason jars to disintegrate the flowers in the arrangements so that they remain separate and don't mix with each other? Make these with the simple instructions and see for yourself.
Fake flowers are in vogue nowadays. This option is eco-friendly and you don't have to cut the flowers adorning your garden. Here's an idea for you to make a mason jar fake flower arrangement.
You may call it vintage but you know it very well that these are classic and timeless. They never go out of trend and they never will be. Your interest in making these proves the same.
# Mason Jar Flower Arrangements Different Colors
It's so heartwarming to see what great things you can do with colors. Colors are life and so are these DIY mason jars in different colors, each to suit a different occasion.
A blue mason jar filled with flowers is a perfect item for decoration during a baby shower. What screams "It's a boy!" more than blue color?
Lavenders are just the thing to make your house gorgeous! These purple flowers smell great and frankly, they look great as well.
You can choose from a variety of pink flowers, roses, peonies, you name it. And let them adorn these mason jars gracefully.
White is the color of grace, dignity, and elegance. They go perfectly with weddings and even funerals. Make these with the DIY tutorial to suit your occasion.
Be colorful as you can be when you are making these painted mason jar flower arrangements. Your creativity should not know any bounds.
After going through all of these you must be surprised by the fact that the jar you have been using to store your pickles is capable of accomplishing so many things. It is amazing what creativity can do. Now that you have a thorough knowledge on how to make a mason jar flower arrangement, why wait, pick up the jar and get on with the business, the flowers need a perfect mason jar flower vase.