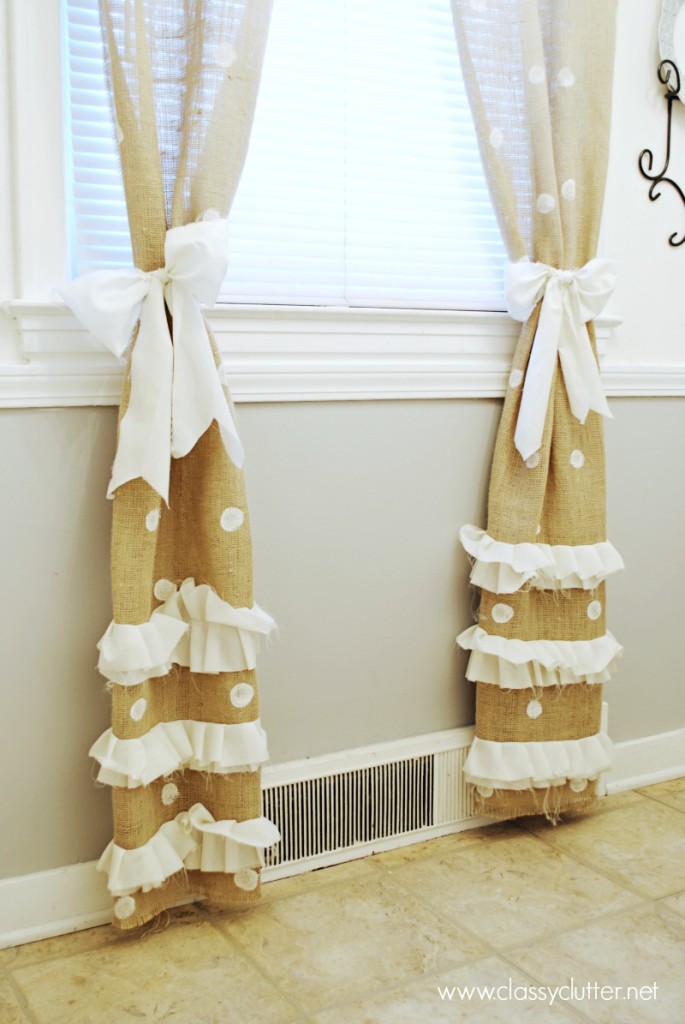 Burlap bags and burlap sacks have become quite popular. These eco-friendly items have made their way to your closet swiftly. They are recyclable and versatile and that is why people are using more and more burlap fabrics to create their own accessories. Bags and sacks have become common now, so why not try something absolutely new and novel? Let's make burlap curtains. Yes you read it right, burlap curtains! Just when you thought that you have exhausted every kind of use of burlap fabrics, voila, enters the curtains!
Have you every seen the beauty of burlap fabrics? The net-like texture is perfect for curtains as they create a soothing sunlight effect in your room. The earthy, rustic color goes perfectly with your room, and if you dislike the brown color then you can always dye them. You have the liberty to decorate them according to your taste. Want to know, how to make burlap curtains? Search no more, as here is some DIY step by step easy and creative guides to create your own burlap curtains.
Collection of Quick, Simple DIY Burlap Curtain Ideas & Tutorials
1. Burlap Shower Curtain
Ever thought to give your bathroom the much-needed attention? Start by using a burlap shower curtain. These are sure to make your bathroom look fantastic and give your guests something else to look into rather than your medicine cabinet.
Lined Burlap curtains will give your room the much needed details. You will be surprised with the result. If you have an abundance of burlap fabrics then go for this option.
What's best about burlap fabrics is its netted texture. This texture allows the light to pass through them, making your room illuminated enough that you feel a level of coziness. Make burlap curtain panels and revel in its wonder.
This is a burlap curtain idea you won't be able to ignore. Just look at the intricacy of the design. What more could be better suited for your room?
This is perhaps one of the easy burlap curtains to make. The brown color of the burlap fabric will add a rural farm-like touch to your room. For best effect use it against the white or earthy wall color.
Curtains are an important kitchen décor. With this guide, you will be able to make homemade burlap curtains for your kitchen in simple, easy steps.
Valance Curtain designs add a level of elegance to your home. Making them in burlap fabric will give you that same elegance and sophistication, yet it keeping you rooted. This tutorial will give you an idea of how to make your own burlap valance curtain easily.
8. Burlap And Lace Curtains
Lace and burlap is a match made in heaven. The fine detailing of lace goes perfectly with the blunt design of the burlap fabric. Make one yourself and witness the beauty.
White Burlap Curtains
You can easily dye the burlap fabrics and make white colored burlap curtains to go in contrast with the color of the walls. Easy tutorials like this will show you how to dye a burlap fabric white.
Burlap fabrics are best for cafes. The brownish-yellow color of the fabrics goes perfectly with the coffee colored theme of the café. Most cafes are painted with earthy tones to psychologically impact you with the taste of coffee. Burlap curtains fit right into that theme. Moreover, you can recycle the burlap coffee bags or sacks to make interesting curtains that go perfectly with the coffee theme of the café.
Who has so much of time to sit and sew a curtain? Just get some glue, anything that has a strong adhesive power and you are good to go. These will finish in no time and you will be left with a curtain that no one will even understand the difference.
Designs and patterns are what make a curtain beautiful. This ruffled design will also do the same. Follow the guide to make these unique looking curtains to go with your amazing home décor.
The burlap curtain tie backs are easy to make and you can make them at your home just by following the step by step guide provided. Once you have completed, you will be proud of your achievement.
Burlap Shower Curtain With Bullion Fringe
Bullion fringe are a beauty in itself. Add to them the tone and texture of burlap and you have a winner in your hands. The burlap shower curtains with bullion fringe are perfect to get a little but crafty and produce something so beautiful that your guests could say nothing but appreciate it.
These curtains made from burlap are something every home needs. Easily created, yet it adds a value of labor to the creation, as they seem that you have spent days to create such a stunning piece of décor.
Burlap fabrics have a strong durability and a long shelf value. It is for these reasons that you can recycle burlap sacks to make pristine curtains for your home.
DIY Painted Burlap Curtains
There are so many DIY tutorials for you to make your own painted or decorated burlap curtains. You can design them as per your own taste and you can use acrylic colors to paint them. Use stencils to paint interesting and fun designs. Get crafty!
Use a thick cotton lining to create your own burlap blackout curtains. The thick cotton lining will not allow any light to pass through the curtains. These are the best option during summer.
Burlap, the fabric in itself is rustic and earthy. These fabrics carry the flavor of earth and the color, the texture, and even the smell will testify to that. Making burlap curtains are nothing but adding the rustic touch to your home.
Now that you have acquired every possible knowledge to create your own burlap curtains, what are you waiting for? Buy some burlap fabric and get started with your unique burlap curtain. Make sure that you wow your guests with your fantastic creation.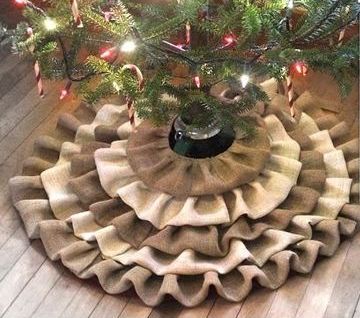 Burlap is a popular and timeless fabric. It is one of the hottest home trends this season for crafters to make interesting burlap projects. Christmas is right around the corner. A Christmas tree wouldn't be complete without a beautiful tree skirt. Let's explore some interesting Burlap Christmas Tree Skirt Tutorials & Ideas explaining different ways of making Burlap Christmas Tree Skirt!  Make white tree skirts or colored ones to match your winter wonderland theme.
Collection of How to Make Elegant Burlap Christmas Tree Skirt Tutorials
I hope this Christmas amidst all the excitement and decorations, your Christmas Tree is getting highlighted with some bells, ornaments, glowing lights, stockings, tassels and a wonderful handmade tree skirt made out of burlap. Share your creations with us!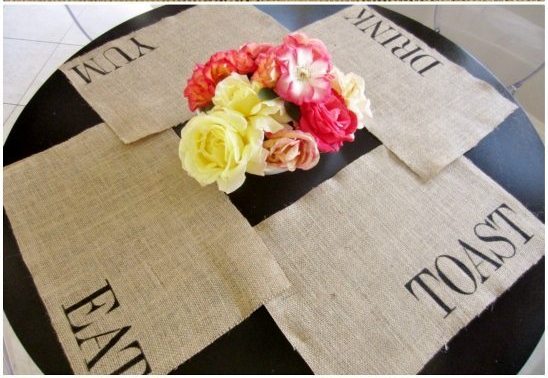 Burlap is one of our favorite craft fabric because of its versatile uses. We have tried making burlap bows, burlap table runners, and burlap flowers. Let's try and make some handmade burlap placemats to adorn your tables with this rustic fabric and give your home a country touch. Burlap is an inexpensive and classy fabric for crafts and projects. So time to do some amazing DIYs with burlap.
Collection of DIY Burlap Placemats with Step-by-Step Instructions
This tutorial is a creative one with some simple steps. All you need to do is work on the edges of the burlap placemat with slight fringes and then stenciling your number on it. Looks country like and amazing!

 

A great combination of burlap and velvet ribbons to finish the edges! This design is easy and plain with minimalistic intricacy. The traditional decor with burlap mats is idle for this festive season.

Give your dining room an earthy look and make this amazing woven burlap placemat. Loved this burlap pattern for my table!

 

A quick and easy burlap project with step-by-step instructions. A complete set of burlap placemats will be an amazing idea when making them takes no time! It's a no-sew craft, best when you are short of time!

 

A simple no-sew burlap project for your outdoor table decor.

 

This spring make some homemade placemats out of burlap and make your tabletop look beautiful. Adding some colors and polka dots to the burlap placemats gives it a unique vibrant touch.

 

This fall decorate your home with these pretty handmade burlap placemats. Cutting the burlap into leaves of different size and sewing them together. Be ready to gather lots of compliments for this creative burlap craft idea!

 

These holidays try this affordable and amazing burlap project to make a set of creative placemats. You personalize and decorate it to give it a personal touch.

 

You can use colored burlap for this simple tutorial. The edges have small fringes adding on to the country chic look. It's an easy no-sew design!

 

Adding a colorful ribbon completes the burlap placemat look and makes it bright with a primitive look.

 

Using black burlap fabric or any color of your choice and painting it will make it beautiful. Time to get creative with burlap and colors.

 

Get inspired with this stunning design and make a set of perfect burlap placemats. Stenciling it with some cool words and add charm to the theme.

 

The natural brown burlap fabric is great to make table runners and placemats and give your decor a look close to nature. A quick no-sew burlap craft tutorial.

 

This is an elegant burlap placemat design with step-by-step instructions to make it perfect for this festive season. Burlap mats with sayings and quotes is a wonderful centerpiece idea for your tabletops.

 

This fall no need to buy expensive placemats for your table. Make your own handmade placemats with burlap and impress friends and family. Give your table a classic vintage look.

 

A wonderful contrast of crocheting borders on a burlap placemat. I loved the pattern and the finished look is amazing.

 

Burlap Coastal Placemats

An amazing idea to color your burlap mats with coastal designs or starfish to match your theme of the party.

 

Once your burlap table mat is complete you can add ribbons, bows and other embellishments to decorate it.

Simple ways to make burlap place mats to add a shabby touch to your dining table.

 

Adding a cotton or lacy ruffle to burlap placemats will add to the elegance to your dining room.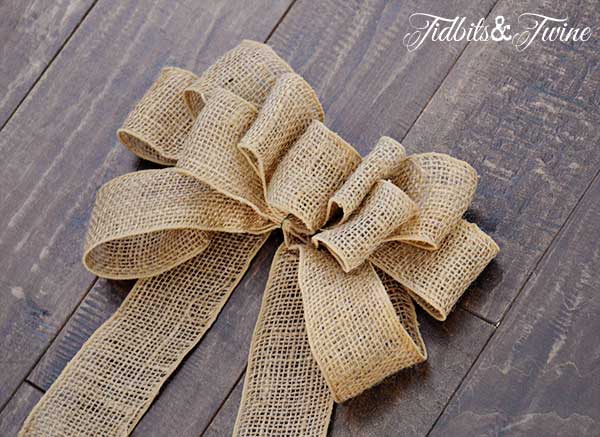 Burlap is one of the trending craft fabric for a long time now! It's affordable, natural and adds a country side element to your home. It adds an understated elegance to your decor whether it's a burlap table runner, lamp shade, wreath, or burlap flowers! There are endless projects you can make with burlap. Time to incorporate the burlap fabric in your next DIY with Burlap Bow!
Compilation of How to Make a Burlap Bow Tutorials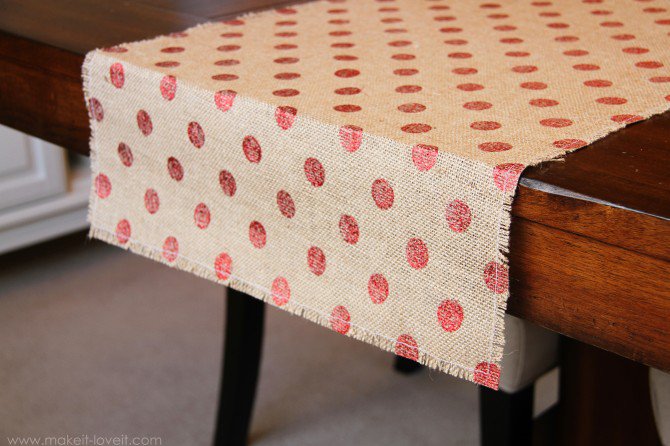 If you are not getting the perfect table runner as per your aesthetics, then making a table runner isn't a knotty task. You can create one as per your choice and the one which suits your home decor. Burlap is a great fabric to start with.
The natural quality of the fabric and the rustic touch makes it an amazing choice to match with your dark furniture. Burlap is one of the most in trend fabric used for crafting Burlap Bags, Burlap Wreaths, Burlap Flowers and more! So let's explore the different designs and ideas which we can experiment with burlap to make some beautiful table runners.
List of Easy DIY's on How to Make a Burlap Table Runner
Burlap and Lace make an amazing combination of mixing elegance with a rustic taste. This easy to make simple tutorial is a great idea for adding a handmade touch to your home.

 

Decorating your tables with creative burlap centerpieces is an exciting thought. Let's get crafty and spend some time making beautiful burlap table runners to adorn your house. Get inspired to make this printed burlap runner which is fun to make and great to look.

 

The Burlap fabric has a great texture and is ideal to make some amazing handmade crafts and home interiors. Adding some embellishments or accessories of your choice to the burlap fabric is creative enough. You can use ribbons or lace ribbons as of different colors and match it with your theme. Pink used in this tutorial makes it look pretty.

 

The burlap fabric is great for doing embroidery! If you have a passion for embroidery and threads then this is the perfect design for you. Going country style with burlap table runners! You can do embroidery on the burlap or add an embroidered piece and stitch it.

 

If you have a long dining or kitchen table then you can try making an extra-long table runner with burlap. Making this is inexpensive and quite easy. The unfinished look at the ends adds to its beauty and the finished product looks great.  These burlap runners would look great for an event in a barn or on a farm!

 

Is it a wedding at your place? And you want to create something exclusively handcrafted for the occasion. Then going for this unique DIY is a perfect choice. Woven and intricate, it's a no sew burlap runner making it a wonderful choice for your farm house table.

 

Adding an element of lace or cotton fabric to the burlap runner will give it an amazing look. Try making this easy ruffled burlap runner with step-by-step instructions given below.

 

A patriotic homemade table runner for the 4th of July is quite a cute idea. This tutorial is so simple and easy with no-sew and just adding some red and blue ribbons would be sufficient. Obviously, you can explore your creativity by adding extra decorative.

 

The natural brown color of burlap goes pretty well on your deep brown table top. Making this table runner is simple with all instructions given in the tutorial.

 

Give your dining table a complete look with personalized table runner with a monogrammed. You need to do the applique in this tutorial or else you can choose to stick the monogram with glue!

 

Christmas is around the corner and you are looking to decorate your table with an interesting homemade table runner. As Christmas is all about the red and green color, why not try making a runner with a red, green colored burlap? Won't it look amazing?

 

If you have an artistic bent and you want to mix paint with burlap then that should be an amazing idea! Try this idea as painting burlap is very easy! Tutorial at uncommondesignsonline.com

 
It's Halloween and decorating your house and the table is the most important part! Making a burlap table runner as per the theme will enhance the look of your table decorations!
A simple pattern for the runner using burlap is a quick affair. When short of time, this is a perfect DIY Idea!
A very cute and unique creation for your Thanksgiving tablescape, I loved the palette of colors used on the fabric with burlap.
Don't want to give that unfinished look at the end of your burlap table runner? Tying a bow at the ends on both the sides will add a creative element giving it a complete look. It's a new sew tutorial, easy to make and beautiful.
Once you have decided on the burlap fabric for the table runner and the dimensions you want, all you need is to think of creative ideas to decorate it. Here some gold metallic ribbon is taken to add some element!
Time to get inspired by these burlap table runner ideas and add a natural tone to your dining room.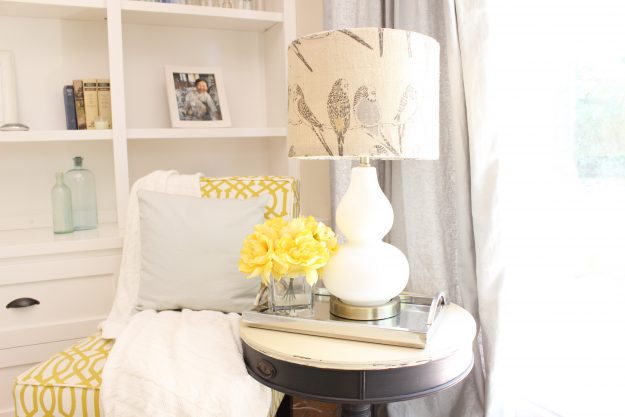 Do you love crafting with burlap? I love it!. There is a lot to Burlap Crafting, it is great for making creative home decor items like Burlap Wreath, Burlap Flowers or Burlap Gift Bags. They add a rustic look to your decor and give it an amazing look. How about making a Burlap Lamp Shade? Wondering how to redo a lampshade with burlap? Sounds interesting! Let's scroll down and browse through the different DIY tutorials with detailed instructions!
Collection of DIY Burlap Lamp Shade Tutorials with Step-by-Step Instructions
 

Burlap Fabric has a great texture and its natural quality is what I love the most. It's one of the most inexpensive fabrics you can buy to make wonderful home decor with a country look. Burlap can experiment in different crafts and this tutorial is simple and easy to make!

 

Want a new look for your side table, but u don't want to spend much! Here is an eco-friendly and pocket-friendly DIY Tutorial for you. Make this chic large burlap lamp shade and adorn your side table beautifully.

 

Don't want to make the conventional lamp shaped shade? Let's try this drum-shaped, simple and classic burlap drum lamp shade. Very easy to make, you can recycle a burlap fabric and make this creative lamp. You can add some embellishments to give it a look of your choice!

 

Sharing a burlap lampshade DIY project done with mod podge by Debbie Doo. Fun to make and great to look. All you need is some old printed burlap and you can recycle it to make this amazing peppy burlap lamp shade. Time to join the burlap club now!!

 

If you are looking for a no sew, no glue kind of burlap craft, then this is the perfect one for you. All you need is some burlap fabric and a lamp shade you want to give a new look. In some minutes you can turn it into a chic burlap lamp.

 

Do you have a floor lamp that has fallen over too many times to count and the shade has been fixed, taped and stuck back somehow? If yes then its time to recycle the old lamp and give it a new look. Burlap DIY's are economical and are a great way to give the old a new look! Try this lamp shade idea todayl!

 

Done with the conventional simple burlap lamp shades? Time to turn creative! Let's give it a new look and add some fringes to the burlap to give it a layered look. With step-by-step instructions given in this tutorial, it won't take much time and you will find yourself complete this burlap project.

 

I have a great love for making unique home accessories, but not with the high price tag which we often find in stores. This ruffled burlap lamp shade is a great DIY idea to give your room an artistic touch!

 

Burlap covered lamp shades give a great country look to your tabletop. Try making this small burlap lamp shade which is cute enough to resist making one! You can turn your old lamp shade with this simple tutorial with instructions.

 

Do you have a lamp that needs a new lampshade? Or a lampshade that is outdated or the wrong color or style? This tutorial is the perfect solution for you! In just a couple of hours transform your old lampshade into a sassy, one-of-a-kind decor element! The best part is you don't need to sew it!

 

Burlap was a forgotten fabric that has it's place in the home in all sorts of creative projects from table runners to lamp shades. Make this stylish burlap lamp shade with a modern touch with the instructions provided. A fabulous idea to turn burlap fabric in a beautiful burlap shade for your lamp shade.

 

This new upcycled rustic modern white and burlap lamp is a perfect fit for your room. Create new elegant burlap lamp shades quickly and give your table a new look.

 

If you are in love with an old heritage chandelier of yours and you don't want to part with it, try to repurpose the old chandelier and cover it with a burlap shade! This will add to the vintage look of your chandelier and look like an absolute new comer. Getting creative in this way will surely save you a lot on your new stuff.

 

Give your old lampshades a makeover with these modern burlap shade adorned with a fabric flower.

 

If you have a Victorian light set in your house and you are looking to redo it, then some homemade creative solution with the burlap fabric is quite an amazing idea to make a burlap lamp shade and give it a country look.

 

Recover your lampshade with some burlap and fix the old shade to a new cooler version.

 

You can enhance the look of the Burlap covered shades by using lace, ribbons, flowers or any other accessory. This one looks elegant with some curls and ribbon.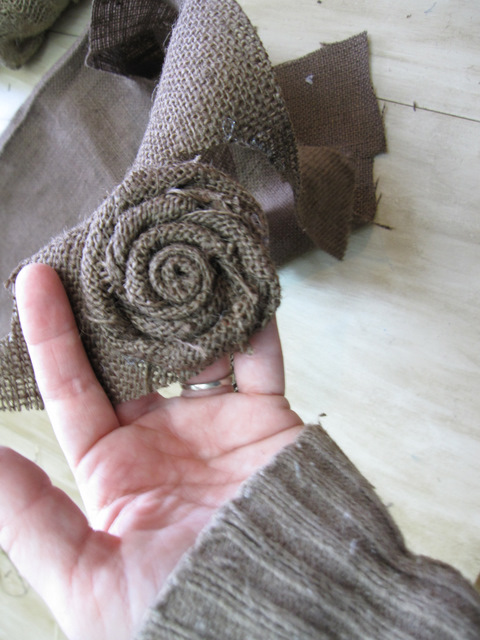 Burlap Fabrics are these beautiful pieces of textile that are made from jute. Being made from jute, burlap fabrics are eco-friendly and most importantly possess environmental sustainability. It is for this reason that burlap fabrics are preferred more than plastic and paper. Just bear the crafty brain and you could end up creating something unusual and unique like burlap flowers. Sounds shocking right? Follow these Easy instructions for DIY how to make a burlap flower and in no time you will have some amazing handicrafts on your hand.
Collection of Free How to Make Burlap Flowers Tutorials
Fed up with the usual flowers to decorate your home? Then these are for you. Make these simple burlap flowers with burlap fabric and change the look of your home.
This step by step guide will let you make something that you can put in your vase and brighten up your living room. Wait till the guests arrive and see the appreciation in their eyes.
Make easy and simple burlap flowers with this DIY. Plastic flowers are so backdated and you need something more innovative and stunning.
Have you ever wondered what can make your room special? Then these burlap flowers are the exact thing that you need. Make your own burlap flowers by following the DIY instructions.
Now, these are amazing! It's easy, it's simple and it's quick. What's not to like about it? This is a great idea to add some décor to your house.
In most cases, you are left with strips or ribbons of burlap after completing some other project that involved burlap fabrics. Don't throw them away. Instead, follow this tutorial to use them in a fantastic craft idea.
Can you make your wedding any more special? Apparently, you can. Use these burlap flowers for your wedding and see how the invitees revel at your crafty idea.
These are perfect for attaching on gift wraps or to be used as a tag.
Simplicity can convey a lot like these simple burlap flowers do. Follow the tutorial and create wonderful flowers with burlap.
Roses do grow on trees, but these are eco-friendly and you don't have to kill a flower to enjoy them.
You can make them by dyeing the burlap fabric and look how beautiful they are.
Fill your Christmas with more joy with these DIY burlap flowers.
An interesting craft idea, these flowers are full of elegance and sophistication.
These are may be the perfect flowers that you can make with burlap.
The best thing about DIY is that you can literally create anything with the basic idea. Like these crafty burlap flowers. Involve your kids to have a fun day out of making burlap flowers.
Sometimes you need a burlap flower that suits your urban chic yet shabby style. You are lucky that burlap suits your style so well.
The rustiness of burlap is superb for your earthy themed home. It goes well with the neutral colors of your rooms and you can even make them for a great centerpiece.
Daisies are beautiful. Burlap daisies are otherworldly. Follow the instructions on DIY and make your own burlap flower daisies.
 19. Purple Burlap Flowers Design
Purple burlap flowers will go well with your daughter's birthday party or in a bridal shower. These will bloom brightly and give a classy touch to your decorations.
There are a number of burlap flower pattern. Do these as they are the easiest to make.
Burlap and lace is a match made in heaven. You don't have to imagine the beauty of these flowers. Just make them.
Just grab glue and some burlap strings and you are good to go.
Dyeing burlap fabric will help you to produce some amazing colorful burlap flowers.
Be stunned at the design of these flowers. Make them yourself to get the proof.
Yes, buttons are not just for your shirts, they can be for flowers as well.
Sunflowers are amazing and so are these burlap sunflowers. Here's a DIY tutorial to get you through the creation of these.
Take a step towards future by saving plants and adopting these burlap rosette flower bouquets.
Have a look at these elegant Burlap Brooch Flowers and make one for yourself today!
Now that you have all the tutorials at your disposal get down and produce some stunning pieces of homemade flowers.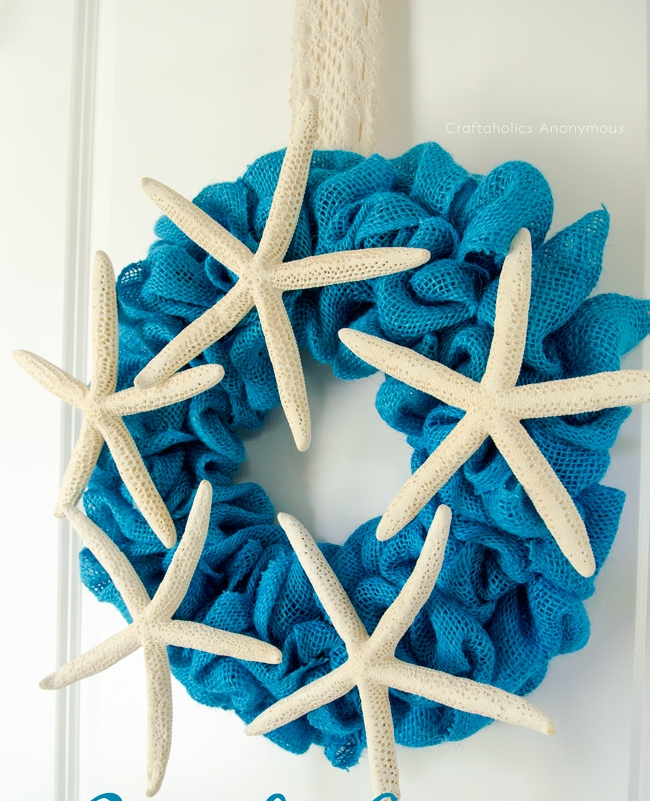 Making your own burlap wreath will quadruple the joy this season. You may be thinking that how are you going to make these burlap wreaths. These easy tutorials on how to make a burlap wreath will provide you a step by step guide to create something that is interesting and beautiful.
List of DIY Burlap Wreath Patterns with Step-by-Step Instructions
Adopt an eco-friendly environmentally sustainable approach this Christmas by using an innovative burlap wreath.
If you can't wait for the Christmas to come to satisfy your wreath fascination, then start by a fall wreath.
Making a burlap wreath for your door is extremely easy.
These add a bit of fun to your door. Follow the step-by-step instructions and you are ready with your ruffled burlap wreath.
Okay, these look amazing! They are tidy and add an elegant factor to your decorations.
These sunflower wreaths are ideal for the spring season. What can be more spring and summer put together than a sunflower?
It's time to get creative. Spring is here and so are marvelous craft ideas. Make these burlap wreaths colorful to welcome spring.
Pumpkin and Halloween go hand in hand. So it is natural that you are going to make a pumpkin-inspired burlap wreath this Halloween. Hang them on your windows and make this ruffled orange wreath with burlap.
Autumn is the prelude to the changing season. Welcome winter with a decorative wreath for autumn decorated with flowers and leaves!
These bubble burlap wreaths will create the most stunning appearance for your front door. Just wait and take pleasure in the awe of your guests.
Create these burlap wreaths to celebrate your country and show your patriotism.
Get some ideas by following the tutorials and make these wreaths as spooky as it is possible. It's Halloween, go nuts with burlap strips.
Burlap and lace make a fantastic combination. You can make homemade burlap and lace wreath, just by following the instructions in the tutorial. Adding
Christmas isn't complete without snowman and these are great as a Christmas decoration for your front door. In this video tutorial, you get a complete guide!
Decorate your wreath with the summer in your mind. Summer is all about bright and light colors like white so design accordingly.
Celebrate summer with these burlap beach wreaths, and you will be amazed by a number of compliments you will get.
The burlap front door wreaths are ideal for designing the front door so that it presents a welcoming atmosphere for the guests when they arrive.
Combine burlap with grapevines and you will have a perfect wreath to pay homage to the earth and the surroundings. Ah! The beauty that lies in this wreath's simplicity is commendable.
Check more driftwood wreath designs here
Ribbons are festive in itself. Putting them on your burlap wreath will add to its festive glory. You can use satin ribbons to add the shine against the matte and dull texture of burlap. Adding alphabets will help you customize it as given in the image!
To add a bit more of rustic quotient to your wreath use earthy toned items to decorate the wreaths like dry twigs, wooden items, etc. Follow the guide to make your own rustic burlap wreath and hang them on their front door.
Support the military with these wreaths. It is a nice gesture on your part to remember the fallen and pay respect to the ones fighting overseas with these wreaths.
Create a colorful and decorative reindeer wreath using burlap fabric. So get down and surprise your kids with a Rudolph hanging on their front door.
These are the simplest and the easiest burlap wreath ideas. Follow the instructions and you will have a wonderful piece of a wreath to hand on your front door.
Using wires to support the burlap fabric gives an added strength to the wreath.
Burlap and mesh go like salt and pepper. When you combine these two fabrics you get a superb wreath at your disposal.
This valentine's day surprise your loved one with a heart-shaped burlap wreath up on your door.
These burlap wreaths will be a perfect addition to your front door décor. Follow this DIY Burlap Wreath tutorial and you will be able to make your own burlap garland wreath.
Foam also provides a good support for the burlap to be decorated on. The porous nature of the foam allows you to pin in the burlap easily. Making these beautiful wreaths for Thanksgiving will be a great holiday burlap craft to indulge in.
So, why wait? Get down and make your own burlap wreaths that will stun anyone passing by your house.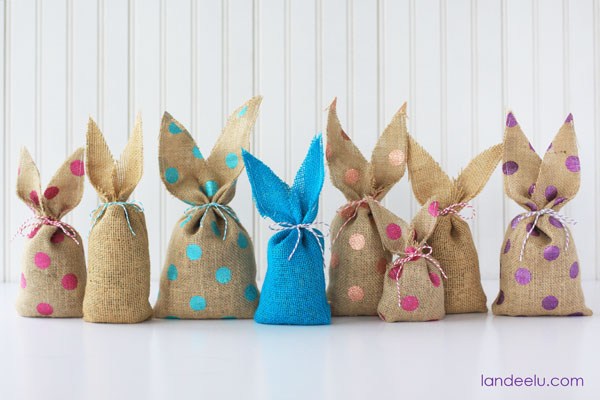 Having a burlap bag as a fashion accessory has been quite promoted. Even you may have one in your closet. These eco-friendly fashion items have become a trend among the millennials. It's rustic, earthy look and versatility have made it an ultimate piece of handicraft to go with your casual outfits. Now setting aside the obvious use of burlap, have you ever thought that this burlap can be used for making gift bags as well? It may come as a surprise to you, but burlaps are great for making gift bags and you would be amazed to know the numerous styles of gift bags that you can make with burlap.
Move over from your plastic gift bags and wrappers, it's a new era now, and new era certainly demands new items loaded with creativity. Burlap gift bags fit exactly into the criteria. Plastic gift bags and wrappers are not at all eco-friendly, even an environmentalist will protest against paper wrappers and bags, so the best option to go for, is burlaps. These are easily decomposable as burlap is a fabric made from jute and frankly, they come cheap. Now, how to make gift bags out of burlap? Don't wonder, because, there are several burlap gift bag patterns that are easy, quick and simple to make. Here are some DIY that will provide you step by step guide to make different easy styles of burlap gift bags.
Collection of How to Make DIY Burlap Gift Bag Tutorials
Now, if you have ever carried gifts in your life, and it's suspected that you had, you would know what benefit a gift bag with handles serve. Put your gift in the bag and just carry them to your invitation. No need to hold them this way or that way; no worry of dropping the expensive gift that you've bought. With handles everything is perfect.
As it has been the case, quite often, you may have bought some amazing crystal curio to gift your loved one. This beautiful showpiece deserves the perfect gift bag to match its flawless design. The burlap gift bags generally come in large sizes, so what options do you have? Make your own. Just get the measurements right and make your own burlap gift bag to go with the gift that you have bought.
Large burlap gift bags give you the opportunity to carry that lovely vase or wall clock into the party. These large bags will provide a nice cover for the huge gift that you are carrying. Make sure that you have enough burlap fabric to create this bag which can be used for gifting wine bottles and more.
These are perfect for carrying jewelry. Whether you are planning to gift it to your wife or partner or you are giving it to your loved one, these mini sized bags will perfectly encapsulate the jewelry box, adding another level of gravity to the gift. This tutorial is about keeping all kinds of fabulous treats in this mini Halloween Burlap Bag
Now that you have got yourself covered with the tutorials of large, small and mini burlap gift bags, it is natural that the next in line is a medium burlap gift bag. These are perfect for carrying clothes to gift someone. These are not as big as the large ones that the gift will look small and odd inside the bag neither re these so small that the gift won't even fit inside the. The medium burlap gift bags are of the perfect size.
These are perfect as thank you gifts for the guests at your children's party. Moving away from the boring old plastic goody bags, these are a welcome change. Draw on some Disney princesses or superhero to bring out the smile in your little guests.
Why not make your wedding or your bridal shower a little bit more precious? You maybe are planning to use favor bags for your wedding, instead of using the conventional paper bags, use burlap and surprise the guest. Color them and design them with laces to make it more intimate.
Candies are something that everyone likes, especially during Halloween. So why not make it a little bit more interesting by putting them in small burlap sacks and designing them with spooky Halloween themed designs? You can also put some candies in decorated burlap sacks and present them to someone on to make them feel special.
These are amazing! Drawstring bags are just cool in itself, add to it burlap and you have a winner in your hand. Use decorated strings to add that touch of perfection to the bags.
This eco-friendly alternative will make you the talking point at the party, if you feel like it, then get creative and decorate the bags, otherwise. These burlap bags are amazing in itself.
Christmas is perhaps the only time in the year when you buy an innumerable amount of gifts. With gifts comes the headache of wrapping them. Let's say you have a solution here. Burlap bags are perfect for your gifts. Create your own Christmas burlap gift bags by decorating them with Christmas motifs and colors. And to add that little bit of holiday joy, customize each bag according to the person you are gifting to.
Creativity makes a huge difference. Want proof? Then look at these burlap bags which have been made combining lace with burlap fabric. The intricate designs of the lace are a direct contrast to the robust, blunt design of the burlap fabric. And that is what makes them so beautiful.
Why waste you time in sewing when you have glue in your desk drawer. These burlap bags are the easiest to make. Just have a hot glue gun or any glue, a piece of burlap fabric and some strings, you have completed about eighty percent of your bag.
14. Burlap Gift Bags With Wooden Handles
The wooden handles are multipurpose. First, they make these bags look amazing. Then these handles add a touch of elegance to the bags. Adding in the endurance factor to the bags, the wooden handles make them easily reusable, enhancing their lifetime by years.
Who doesn't like personalized items? Personalized items make a person feel intimate and loved. That person knows that you have taken out the time to make something that is unique and exclusive. Make someone feel special by creating a burlap gift bag that is personalized for that person only. You can draw initials, print pictures or stick photos. The ideas are in abundance but make something close to that person's heart.
If it is that time of the year when you are planning to go hunt for chocolate eggs in the garden, then make this year memorable. Put the eggs in small burlap sacks in the shape of bunnies and place them around the garden. All you need are colors, fabric and a lot of fun.
A burlap gift bag does not mean that you have to keep them drab and boring. Decorate them as per your liking. Color them, use sparkles, stencils, stones, stickers, anything and everything. Just go nuts. You can never go wrong when you are crafty.
Kids are excited on all occasion. So make your burlap gift bag or a small burlap pouch look fun. You can also color them in either blue or pink or even a gender neutral color like yellow. Draw some baby pictures or cartoons on the bag to make it look interesting.
The best thing about handmade burlap gift bags is that you can make them to your liking. Take the measurement of the gift and make a perfect bag that fits your gift like a glove.
Now that you have a thorough idea about these gift bags, treat bags, pouches made of burlap get to business and make some great burlap gift bags to astonish your families and friends on their birthday, wedding etc.