31 Interesting DIY Burlap Bow Tutorials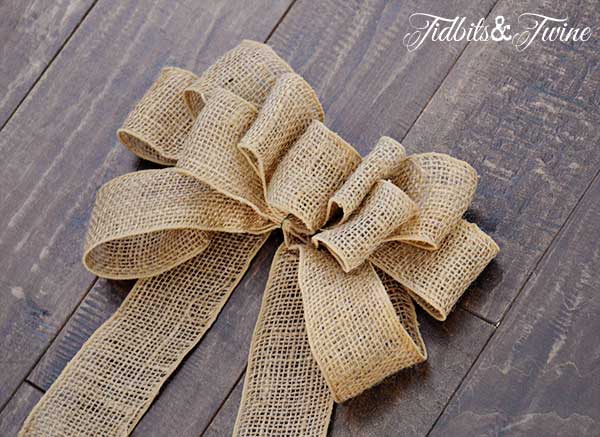 Burlap is one of the trending craft fabric for a long time now! It's affordable, natural and adds a country side element to your home. It adds an understated elegance to your decor whether it's a burlap table runner, lamp shade, wreath, or burlap flowers! There are endless projects you can make with burlap. Time to incorporate the burlap fabric in your next DIY with Burlap Bow!
Compilation of How to Make a Burlap Bow Tutorials
Learn how to make perfect burlap bow in just minutes! It's great to add to gifts, wreaths, parties, and more!

Add a rustic charm to your home decor or gift wrapping. The beige color adds a natural elegance. You can use colored burlap too!

Add a little countryside element to your outdoor decor with this bow made of burlap fabric.

I love burlap and adding burlap bows to gifts and presents, makes it look very cute. This ruffled burlap bow is easy to make! The pastel color goes well with all kind of theme.

The bright color added to the burlap makes it perfect for Christmas and Fall Decoration!

A combination of two contrast colored burlap looks perfect to adorn wedding decoration.

Red burlap bow is the perfect choice for Christmas or tree topper decor!

Using Lace with Burlap is an ideal combination to give your wedding pew an elegant look.

This Christmas lets go creative and make some handmade burlap bow to decorate the Christmas Tree. Add a country feel to your decor this festive season.

Adding a Burlap Bow to your wreath completes the look and gives it a handmade touch. This festive season use this wonder burlap fabric to create fancy bows!

If you are wondering how to make a perfect bow with burlap then this is the right tutorial for you, with complete instructions! Making this with green colored burlap gives it a vibrant look, which can be used to decorate anything.

Burlap is one of the best fabrics for making bows because of its texture and fall. And combining it with ribbon or lace can be magical. Adding blue or pink ribbons to the burlap bow is perfect for baby shower decorations! Follow the simple techniques with step-by-step instructions to make a good one.

Instructions and tips on how to make a burlap bow with layers. Perfect for decorating gifts.

A budget friendly alternative to other bows, a homemade burlap bow is a great DIY Idea to add a rustic touch to your home decor or gifts.

Making a fancy burlap bow in quick and easy steps to add it to your fall wreath is the perfect idea for this festive season!

Easy Tutorial with great tips to make a no-sew burlap bow in less than 30 seconds! If you are running out of time, try this!

Want to decorate your picture frames and add embellishments to those special moments? Add a burlap bow and enhance the beauty of the frames.

Using accessories and embellishments to adorn this burlap bow looks beautiful. Adorn your gifts and make it look stunning with this vintage hand made bows.

This video tutorial explains in detailed instructions about making a pretty burlap bow!

Adding a burlap bow to your fall wreath will look amazing on your front door.

If you are looking for a no-sew burlap bow, then using glue will take some minutes to make a perfect bow.

Red and green burlap bows are ideas for Christmas Decorations!
Leave a comment