How to Make Burlap Table Runners | 19 DIY Tutorials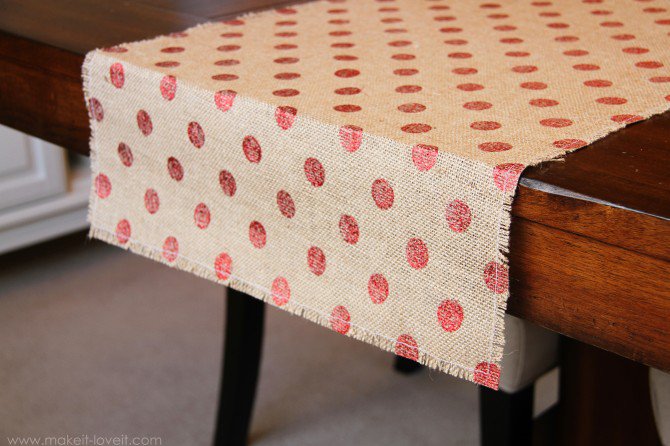 If you are not getting the perfect table runner as per your aesthetics, then making a table runner isn't a knotty task. You can create one as per your choice and the one which suits your home decor. Burlap is a great fabric to start with.
The natural quality of the fabric and the rustic touch makes it an amazing choice to match with your dark furniture. Burlap is one of the most in trend fabric used for crafting Burlap Bags, Burlap Wreaths, Burlap Flowers and more! So let's explore the different designs and ideas which we can experiment with burlap to make some beautiful table runners.
List of Easy DIY's on How to Make a Burlap Table Runner
Burlap and Lace make an amazing combination of mixing elegance with a rustic taste. This easy to make simple tutorial is a great idea for adding a handmade touch to your home.

 

Decorating your tables with creative burlap centerpieces is an exciting thought. Let's get crafty and spend some time making beautiful burlap table runners to adorn your house. Get inspired to make this printed burlap runner which is fun to make and great to look.

 

The Burlap fabric has a great texture and is ideal to make some amazing handmade crafts and home interiors. Adding some embellishments or accessories of your choice to the burlap fabric is creative enough. You can use ribbons or lace ribbons as of different colors and match it with your theme. Pink used in this tutorial makes it look pretty.

 

The burlap fabric is great for doing embroidery! If you have a passion for embroidery and threads then this is the perfect design for you. Going country style with burlap table runners! You can do embroidery on the burlap or add an embroidered piece and stitch it.

 

If you have a long dining or kitchen table then you can try making an extra-long table runner with burlap. Making this is inexpensive and quite easy. The unfinished look at the ends adds to its beauty and the finished product looks great.  These burlap runners would look great for an event in a barn or on a farm!

 

Is it a wedding at your place? And you want to create something exclusively handcrafted for the occasion. Then going for this unique DIY is a perfect choice. Woven and intricate, it's a no sew burlap runner making it a wonderful choice for your farm house table.

 

Adding an element of lace or cotton fabric to the burlap runner will give it an amazing look. Try making this easy ruffled burlap runner with step-by-step instructions given below.

 

A patriotic homemade table runner for the 4th of July is quite a cute idea. This tutorial is so simple and easy with no-sew and just adding some red and blue ribbons would be sufficient. Obviously, you can explore your creativity by adding extra decorative.

 

The natural brown color of burlap goes pretty well on your deep brown table top. Making this table runner is simple with all instructions given in the tutorial.

 

Give your dining table a complete look with personalized table runner with a monogrammed. You need to do the applique in this tutorial or else you can choose to stick the monogram with glue!

 

Christmas is around the corner and you are looking to decorate your table with an interesting homemade table runner. As Christmas is all about the red and green color, why not try making a runner with a red, green colored burlap? Won't it look amazing?

 

If you have an artistic bent and you want to mix paint with burlap then that should be an amazing idea! Try this idea as painting burlap is very easy! Tutorial at uncommondesignsonline.com

 
It's Halloween and decorating your house and the table is the most important part! Making a burlap table runner as per the theme will enhance the look of your table decorations!
A simple pattern for the runner using burlap is a quick affair. When short of time, this is a perfect DIY Idea!
A very cute and unique creation for your Thanksgiving tablescape, I loved the palette of colors used on the fabric with burlap.
Don't want to give that unfinished look at the end of your burlap table runner? Tying a bow at the ends on both the sides will add a creative element giving it a complete look. It's a new sew tutorial, easy to make and beautiful.
Once you have decided on the burlap fabric for the table runner and the dimensions you want, all you need is to think of creative ideas to decorate it. Here some gold metallic ribbon is taken to add some element!
Time to get inspired by these burlap table runner ideas and add a natural tone to your dining room.
Leave a comment