10 Cute DIY Paw Print Ornaments & Keepsakes for Christmas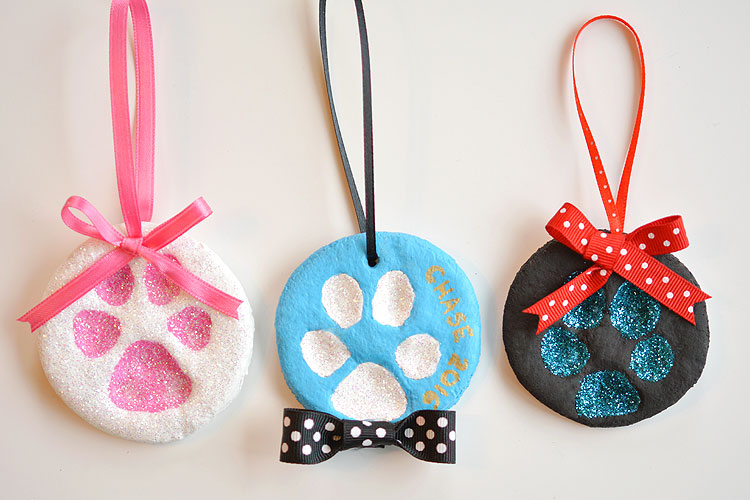 It's the most wonderful time of the year, and if you're looking for a fun holiday project to do with your furry friends, then we've got some adorable ideas for you. It's Christmas and we all buy ornaments to decorate our trees.DIY  paw print ornaments is a great idea to personalize them and get creative with your pooch.
You can use salt dough, clay, the plastic of Paris, ceramic to make these ornaments.
You can treasure these memories as they make wonderful keepsakes too. Let's see some beautiful designs to make. If you are running short of time you may buy paw print ornament kits and make them quickly. The linked tutorials come with easy-peasy instructions to help you throughout.
[You May Also Like: DIY Wine Cork Ornaments for Christmas ]
Cute Ways on How to Make Paw Print Ornament
You can give interesting shapes to the ornaments from molds and hang them around with impression of paw prints of your dog/cat, their name and year of birth.

The project can be easily made at home with some simple steps. The recipe includes dough, salt, and water. Add ribbons/twine to hang them on the Christmas trees or baskets.

 

Decorate your trees with a pawprint of your favorite pet. This unique art project can work for both dogs and cats and is a great way to keep kids occupied in holidays.

You need flour and salt to bake this one after the paw prints of your mutt is taken on it. Once cooled you can paint and add glitter, to jazz them up, and finish with a nice ribbon to hang it up with.

 

This is a cute Keepsake that you can cherish forever and get your dog's paw casting done and you get that sense of pride that you have made it yourself.

Wondering how to take a dog paw print on clay ~ Instruction guide here!

 

The linked tutorial uses polymer clay to create this ornament. These ornaments make perfect gifts for dog lovers who can cherish their pet's memories forever.

 

A very cute idea to make snowflake ornaments with paw prints on it. This project uses plaster of Paris, some cookie cutters, and silicone molds to make the snowflakes.

Add rhinestone stickers and other embellishments to decorate it. You can write your pet's name, year and more to keep it as beautiful keepsakes.

These ornaments are dried and painted later. There is no baking process required.

The amazing tutorial is from Rocketdogblog.com

 

You will love this Paw Print Ornament and it's a super easy DIY and we have the complete tutorial to show you how.

 

Paw Print Ornaments Template

In case your puppy is giving a tough time taking the paw impression, you can use this printable template to make the paw print. It contains small, medium and large paw prints.
Leave a comment