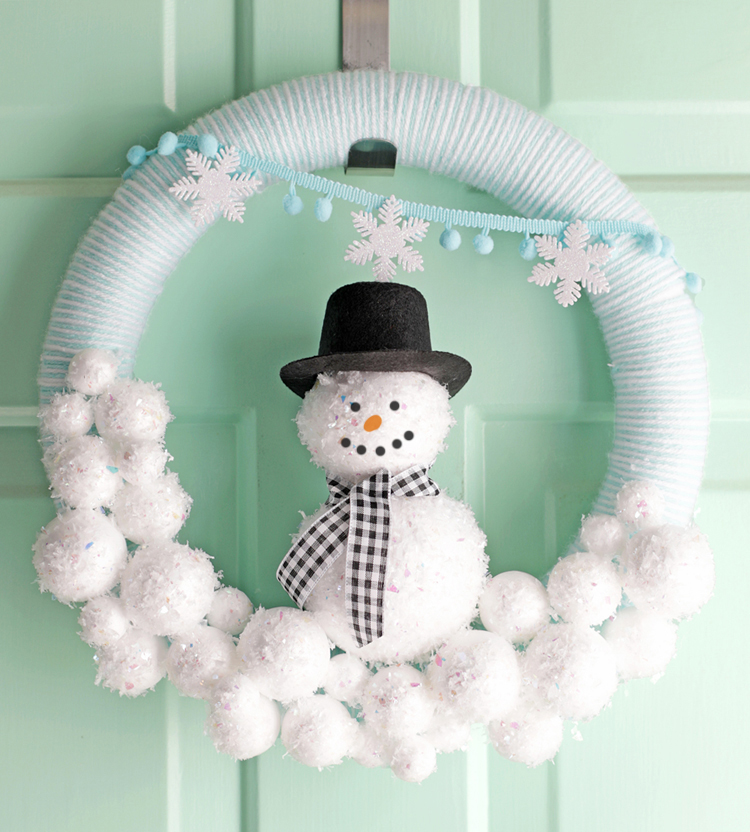 With the onset of winter, a snowman wreath on your front door will be the perfect decoration to welcome your guests home. There are numerous readymade snowman wreaths available in the market which are quite a pinch on your pockets. So if you are wondering how to make a snowman wreath at home which is affordable, then we've got you covered with some amazing tutorials and DIY Ideas.
Also Read: How to Make a Perfect Bow for Your Christmas Wreath
We have listed some of the easiest and creative snowman wreath DIYs, tutorials, which explain with step-by-step instructions to make the craft easily. In the tutorials there are different materials/fabric which are used to make the artificial snowman wreath, like; burlap, mesh,  felt, paper, foam, cardboard, grapevine wreaths and more.
This snowman is constructed using two foam wreaths, some ribbons and a hat to complete the look. The project requires simple supplies that are put together creatively. This is an easy one and you can make it in a couple of hours. Place this on your front door, this winter to welcome your friends and family.

 

In this linked tutorial, they start with painting the eyes first. This is followed by making a stuffed carrot-shaped nose out of felt. Once done gather the deco mesh to give it the required shape and tie it with a pipe cleaner. This is easier than it seems, and quick too. So check out the linked tutorial for complete instructions to guide you well.

 

This DIY snowball winter wreath is so cute and can be put on the door at Christmas and continue till Feb. This project is done with a lot of creative elements which makes it an absolute stunner. This amazing winter wreath covered in cozy yarn and glittery snowballs. The small snowman in the center steals the show.

 

For this project, you need three mirror frames of 3 different sizes available at the dollar store. Once glued together as directed in the linked tutorial you can decorate it in various interesting ways to add a cozy touch to your front door this holiday!

 

This is a wreath with a traditional touch made with ribbons, burlap, and mesh. Use lot of colored ribbons to make cute bows and add to the wreath. The wreath is made using the pouf technique explained in detail in the linked DIY.

 

Make your own snoman for your front door this winters! Enjoy this awesome addition to your outdoor decor and give your house entrance a cute faceift.

 

To really show off your crafting skills, intertwine your stick wreaths into the shape of a snowman, add some flowery ribbons, a top hat, and embellish, embellish, embellish!

 

When it comes to the wreath, burlap is another demanded material that can be used on a regular basis. Burlap can be easily molded into different shapes of your choice and used as a wreath. The snowman-shaped burlap wreath is simply pretty.

 

There's something about a wreath hanging on the front door that welcomes the festive vibes. This adorable wreath will look great when decorated outdoors.

 

 

Candy Sleigh Craft Ideas – Here

If you've got children then this fun craft will be perfect for your winter holiday. They will love this cute and friendly face will surely make them smile. You can also add a hat and some ornaments or other traditional holiday embellishments of your choice.

 

The snowman hat in this design is made using foam and then is painted black. This is a super cute and easy tutorial where you can turn simple platter to a lovely wreath using clothespin and other easily available supplies.

 

Snowman Wreath Door Hanger
We hope these wonderful winter wreath ideas beautify your day and you welcome your guests with a creative and adorable snowman wreath on your front door. Do share your creations in the comment sections below!