20 Amazing DIY Burlap Christmas Tree Skirt Patterns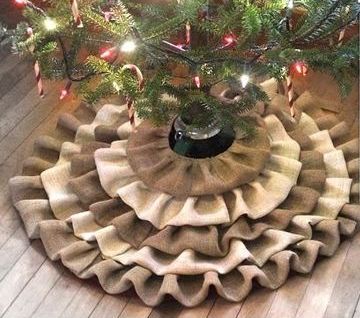 Burlap is a popular and timeless fabric. It is one of the hottest home trends this season for crafters to make interesting burlap projects. Christmas is right around the corner. A Christmas tree wouldn't be complete without a beautiful tree skirt. Let's explore some interesting Burlap Christmas Tree Skirt Tutorials & Ideas explaining different ways of making Burlap Christmas Tree Skirt!  Make white tree skirts or colored ones to match your winter wonderland theme.
Collection of How to Make Elegant Burlap Christmas Tree Skirt Tutorials
A warm and rustic alternative to traditional red and green Christmas Tree Skirt.  It adds great natural texture that works beautifully with any decor season after season. This handmade skirt for your Christmas Tree is a perfect project for your holiday season. Adding lace to the borders adds a classy elegance to the decor!

Make your own burlap tree skirt for Merry Christmas. Draping burlap underneath in combination with the red color adds a great mix of festivity and natural rustic touch!

This tutorial walks you through the process of creating a gorgeous burlap ruffled Christmas tree skirt. No sewing required! Just grab that hot glue gun and chose burlap colors of your choice! The red color adds charm to the Christmas decor while the brown one is more for an elegant decor!

Burlap is a great fabric for crafters! Explore this new idea for making a tree skirt for this X-Mas. Using white burlap and white lining for this pleated skirt will look amazing with the snowfall in the winters!

This burlap project requires some neat handwork and a little patience. It's a no-sew burlap tree skirt made with burlap and felt. Follow the step-by-step tutorial to make an elegant skirt for your Christmas tree. Adding layers of the burlap fabric can make it large in size as per your requirement.

You can add embellishments like buttons and ribbon to add some creative elements to the natural looking fiber. It is an easy to make quick tree skirt tutorial with simple step-by-step instructions.

If you like light-colored decor with little prints, try making this tree skirt with printed burlap fabric. You can embroidery at the borders or stitch a cloth fabric to give it a complete look.

If you are running late for your Christmas decorations and looking for a quick, easy to make a tutorial, then try this interesting idea to give a country like look to your decor.

Burlap projects are always fun to make! A great last-minute no-sew Christmas craft. If you find the natural burlap very plain then you can paint circles on the burlap using the craft paint and sponge brushes!

Just looking at all of those pretty ruffles gets my heart all a-flutter!  Here is how you can make a no-sew burlap beautiful tree skirt for yourself.

Add a touch of a farmhouse to your Christmas decor this season with a personalized Christmas tree skirt. Personalize it with a monogram or family the last name for the perfect finishing touch.

If you are looking for cheap Christmas decorations that you want to be really special, this DIY project is for you! You can glue pretty felt flowers on with the petals going in all directions, or pull them down like in the tutorial.

You can personalize the burlap skirt with a monogram or stencil cute snowflakes and ornaments on it to give it a classy finesse.

Making this adorable DIY painter's drop cloth & burlap ruffled tree skirt will be a style statement in your Christmas decor. You can make a burlap bow and add under the tree to give it a cute finished look.
I hope this Christmas amidst all the excitement and decorations, your Christmas Tree is getting highlighted with some bells, ornaments, glowing lights, stockings, tassels and a wonderful handmade tree skirt made out of burlap. Share your creations with us!
Leave a comment