25 Ways to Cut Out Snowflakes: DIYs, Tutorials, Free Templates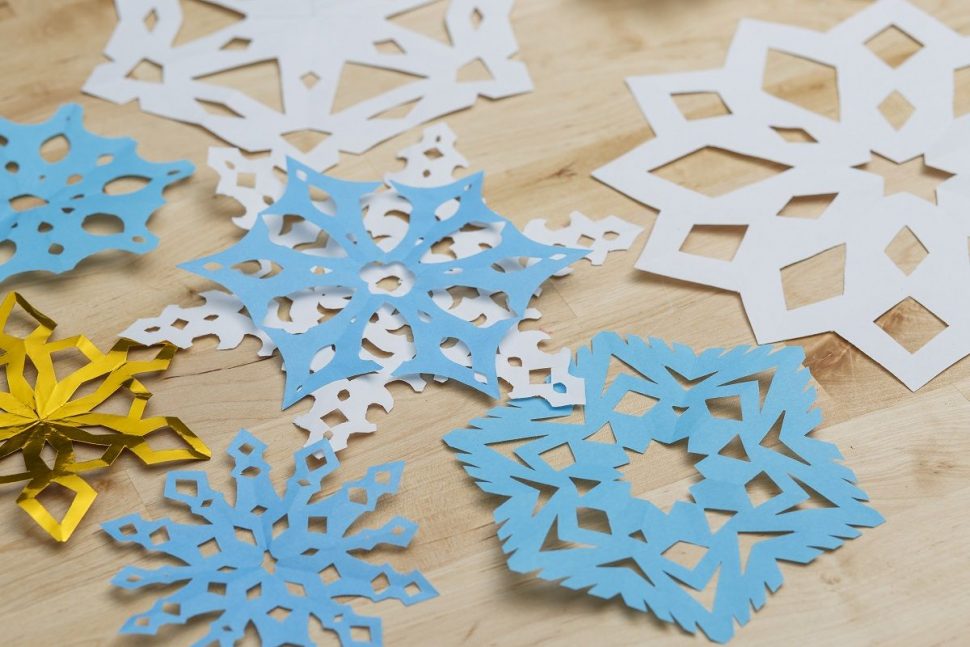 Winters are one of the most awaited times of the year. With the onset of holidays and the festive season, everyone is excited to make pretty crafts and DIY to decorate their home, Christmas trees, and more. Making snowflakes is a tradition that everyone enjoys be it, kids or adults.
You can make snowflakes from popsicle sticks, coffee filter paper, beads, and numerous such creative things. If you are wondering how to beautifully cut a snowflake out of paper, then we've got you covered. We have collected some of the most pretty paper cut out snowflake patterns, designs, template and tutorials with step-by-step instructions to guide you well.
Read: Coffee Filter Snowflakes Patterns
Instructions to Make an Easy Cut-Out Snowflake Pattern
Fold bottom left corner up to the right side of the paper edge.
Fold bottom right corner up to the left side.
Fold in half down the middle.
Now, cut off the bottom tip, where all of the folded paper is. You can do a rounded edge, or straight cut, or angled cut. Each will make a different snowflake shape ex: diamonds, star, lace, hearts, snowmen, and forest snowflakes.
Cut the bottom tip-off.
Now make whatever decorative cuts you'd like. Experiment with all the ideas you can think of!
Unfold the snowflake and flatten the creases!
Ready to Decorate!
You'll find classic paper snowflake designs, 3-D snowflakes, mini, large, that require some assembly, and even snowflake templates that feature your favorite characters from movies like Star Wars and Frozen.
Cutting out snowflakes is a winter tradition. This is a 5 pointer snowflake design and you can ask your little ones to make them. Pick up some colorful papers (computer paper or coffee filters) and draw the design as illustrated in the linked tutorial. The apply the folding techniques and then cut the snowflake along the design.

 

Kids love all Disney characters and this tutorial features a cute Mickey Mouse shaped snowflake design. The steps are easy to follow and you can easily involve your kids to make this one.

 

Keep your kids busy with this fun winter craft. For this craft use a thin paper, because thinner paper, is easy to cut out and add details and elements to it. You can pick pretty papers often used for origami—look for silver, gold, and holiday-hued papers to up the magic.

 

You can make these incredible 3-dimensional snowflakes. You can choose to make them of various sizes and decorate your Christmas tree or hang them to the ceiling. This design is super easy to follow and you can recycle your unused papers for the crafts. Add some glitter or embellishments to decorate it further.

 

Cutting wonderful paper snowflakes can be easy with these designs. It's fun and there is no limit to your creativity with designs.

 

People usually make different dimensions of snowflakes, 8 pointer snowflakes being the most common. But a real snowflakes in nature form with six points so here it is shown how to make homemade 6 pointed snowflakes yourself.

 

Take some newspapers for this project and paint it with watercolors and starch. Once painted and some glitter to some to really make them stand out! Hang them on your lights, ceiling and appreciate your kid's handmade winter craft.

 

Turn your home into a Christmas wonderland with these beautifully cut paper snowflakes. Try and make the folds as neat as possible for the end product to be clean and unique.

 

Choose from one of the collections to view and download the free printable templates to make them yourself.

 

Who's your favorite Frozen character? Anna, Elsa, Hans, Olaf, Sven, or Marshmallow? We've covered all these patterns for you in this linked tutorial. You can download the free PDF pattern for any of these characters.

 

There are both illustrative pictures and written directions that walk you through each step of creating one of these amazing snowflakes.

 

This unique Christmas tree is from Lia Griffith is made from cut snowflakes patterns of different sizes.

 

Some More Designs to Make the Perfect Snowflakes

 

Snowflake Cutting Tip for Crafters!

If you're constructing one of the more complex patterns which involve lots of cuts, try using tissue paper instead of standard copy paper. This will allow you to fold the paper easily and cut it neatly.
Leave a comment