22+ Amazing DIY Seashell Bracelet Ideas | Stunning Designs & Tutorials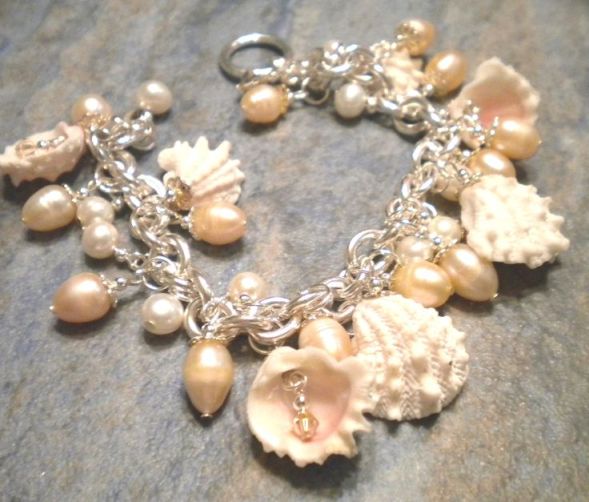 Seashells make an amazing piece of jewelry, be it shell necklaces, anklets or seashell bracelet. You can turn seashells into beautiful pieces of wearable art giving it a cool and funky look. From cuffed bracelet patterns to leather wrapped bracelets around your wrist, you can creatively explore and make various designs using seashells. Use various kinds of seashells like puka, cowry, paua, conca etc and blend them with colors like blue, pink, white etc of your choice to make bright designs.
>> DIY Shamballa Bracelet Tutorials <<
>>  DIY Beaded Bracelet Patterns <<
Different Ways on How to Make Seashell Bracelet from Tutorials with Step-by-Step Instructions
If you can't bear throwing the lovely seashells from the beach, then let's  get creative with them and make a DIY Silver Leaf Shell Bracelet!

This Seashell Cluster DIY Bracelet is fun to make and a stunning piece of jewelry to accessorize your outfits. With white shells, it makes an elegant style statement and is must DIY for all coral lovers. Just take out your shell collection and use the best ones to make this design.

This Youtube tutorial shows you how to make this aesthetic bracelet jewelry using shells and pearls and a silver chain. You can replace the pearls with beads if you want to.

For all beach lovers time to go boho style with seashells and suede cord with just a few simple bead charms. Make this cool easy wrap bracelet in minutes and sport a chic look!

Make this simple and easy to create bracelet using cowrie shells and wear them remembering your beach summer days! A quick tutorial for beginners.

An easy to make DIY bracelet that gives you beach style look with simulated shell beads. This is perfect for summer months. Learn how to make one with this video with step-by-step directions.

Make an amazing piece of handmade jewelry giving it a rustic beachy look. Add some cowrie shells to the hemp rope and knot amazing designs for yourself this summer.

This beautiful chunky shell bracelet is a great design to make and is in trend with the fashion these days! Make this handmade jewelry and gift it to your special loved ones!

You can make this pretty bracelet using beads and shells and use them as a wristlet or even anklet to sport a cool look.

If you love wearing homemade bracelets, then perhaps a hemp bracelet with shells might interest you if you are a beach lover. Take out your shell and beads collection and explore interesting hemp bracelet DIY design.


Summers are all about crafts, interesting ideas, and DIYs. Time to get creative with beautiful cowrie shell, bright tassels, and some brassy beads to make this pretty bracelet!

Gather some twine, a few small shells, and some beads of your choice to create chic ankle bracelet designs.
Leave a comment