Macrame Table Runner: 9+ Stunning DIYs and Tutorials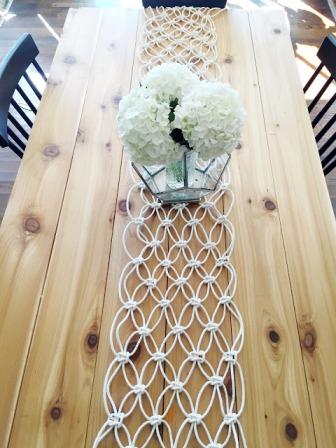 The beauty of handcrafted and weaved macrame table runner has taken the interior décor scene by storm these days. The best part about it is the white macrame table runner gives both a casual and sophisticated look. With a combination of twist, turns, and knotting techniques you could easily create beautiful macramé projects to feed your inner bohemian-chic decor.
Compilation of How to Make DIY Macrame Table Runner Patterns
Showcase your macrame knotting techniques using square knots to make this beautiful white macrame table runner. A perfect summer craft for macramé lovers. The classic look enhances the look of your table decor.

 

Go stylish with a boho-chic macramé table runner on your tabletop. You can create amazing macramé patterns and adorn your tables in weddings with this classic retro table runner.

 

All you need is a cotton rope to make this beautiful and delicate table runner. The design is not very intricate and is made using one single type of knot, square knots to keep it simple. Try making your own table runner with step-by-step instructions in the tutorial.

 

Learn how to make an Anthropologie inspired macrame table runner with a clothesline and simple knots from this video tutorial.
Leave a comment