31 DIY Macrame Plant Hanger Patterns | Macramé Plant Hanger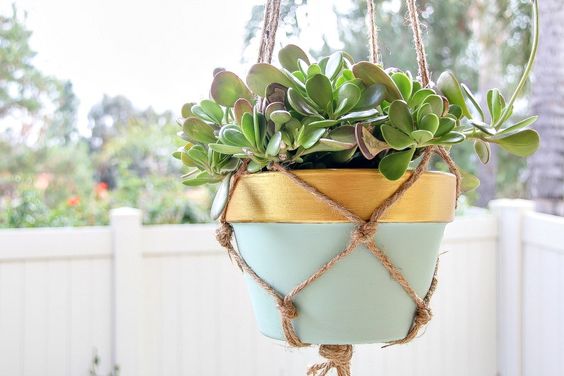 If you have a passion for gardening, but don't have enough open space for housing plants time to macrame plant hanger yourself.
Make your own hanging garden, where you can grow your favorite flowers in small planters, pots, and baskets hanging from rope hangers indoors or outdoors.
Learn how to macrame plant hangers quickly with complete directions to guide you with basic macrame supplies. Macrame projects are fun to do, you can even try making your own macrame hammock, wall hangings, and more macrame crafts.
Compilation of How to Make a Macrame Plant Hanger Tutorials with Instructions
The plant hangers add decoration to any room and are ideal for displaying your pots and plants away from window sills. The glass planters add elegance to your interiors. The linked tutorial uses twine to make the macrame knots and create this beautiful plant hanger.

How to make a modern macrame plant hanger with macrame cord, a stemless wine glass, an air plant and some decorative rocks.

 

This pink colored macrame plant hanger is one of those unicorn DIY projects – something that can appeal to all interiors, only uses a few macrame supplies and crafters at any skill level can easily make.

 

Make your own macrame decorative plant hanger pot basket with natural jute rope to get an amazing rustic look.

 

Use simple knots to create a stylish rope hanger for indoor plants and add a rustic touch to your modern home decor.

 

Display your favorite houseplant in this easy to make handmade macrame hanger. This macrame project can be adjusted to fit any succulents, planter, and since the rope is polyester, you can also hang this project outdoors.

 

This DIY macrame plant holder is a basic pattern, easy to make even if you have never tried macrame before. And the great thing about macrame is that if you do make a mistake or don't like your design, you can simply undo the knots and start again – easy!

 

Making macramé hangers are surprisingly easy! You can start with eight strings or cords, ropes. Cut them long enough so they will hang at your desired length. This design is ideal to hang your succulents in your living room. They look adorable and cute and will give a unique elevation to your interiors.

 

The net hanger is a two-tiered one made of solid hemp cord, it's natural color adds to the beauty of your pot plants.
Leave a comment