25 Free Halloween Table Runner Patterns & Ideas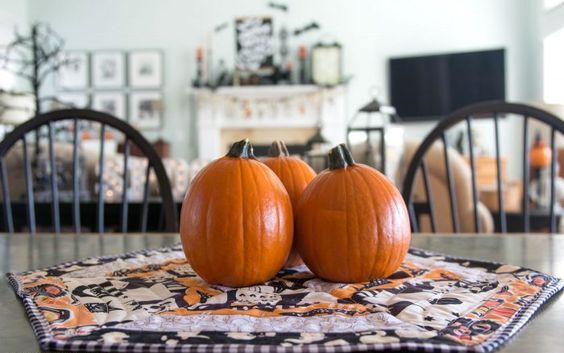 This Halloween turn your table decor to a crafter's paradise. If you love to spruce up your whole house in Halloween, don't let your dining tables be an exception. Table runners are an easy way to dress up your table setting for any Halloween gathering! Make your meal spook-tacular with these great homemade table runners! Obviously, the color code would be majorly orange and black to go with the theme.  We have some amazing easy to make Halloween table runner patterns which are free and ready to be put to work.
Most of the tutorials listed need some simple supplies and do not need a lot of time to be made. The crochet and sewing ones need a bit of detailing. Choose your craft idea be it, cutting, painting, sewing or crocheting and get started now!
Collection of Free Halloween Table Runner Patterns for this Fall
Display with some of your favorite Halloween Decor or maybe even a big bowl of Halloween candy! Add some fright to your table for Halloween in just a few minutes.

Crocheting the stacked pumpkin design on the table runner will be an amazing addition to the table decor. The fringes on the ends complete the Halloween look.

What a spooky quilt perfect for the Halloween season! You will surely need to throw a party to show off your creations!

This Monster Munchies quilted Halloween table runner pattern is a great way to showcase any group of holiday fabrics and it's so quick, you can stitch it today for your party tonight!

Add a rustic touch to your Halloween table setting with a burlap runner decorated with ghostly bare branches and ravens.

Sew this "Bat Table Runner" to decorate your tabletops in a unique way. I loved the technique used in the tutorial. You need to know basic sewing to make this one. They look cute and spooky at the same time!

To give it some creative element you can add beads or tassels to the ends.

Try making these cute pumpkin table mat cum runners. You can add a dash of colors to the stenciled felt and make it gothic with amazing carvings.

Once you got you cool jack o' lantern pictures and spooky pumpkins ready just iron them on the burlap and you're done with a great table runner for your Halloween decor. A black or an orange burlap would be a perfect choice for the occasion. A quick tutorial which requires no sewing fuss. Time to make yours today!

You will love the cute dangling spiders on this table decor and just how easy it is to make.  You may even have everything you need to make this one at home.
Leave a comment