25 Easy DIY Paper Pumpkin Craft Ideas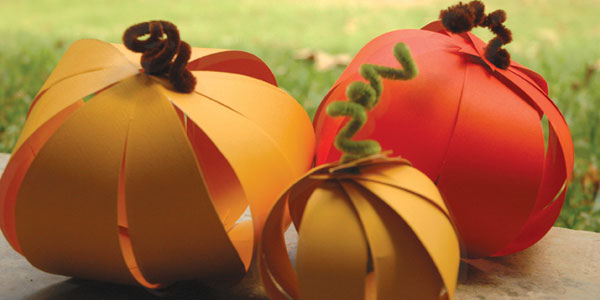 Keep your Halloween or Thanksgiving table setting a bright and fun look by adding DIY decor that's easy, inexpensive and so cute, it might even grab the attention away from the turkey!  These little handmade pumpkins are so much fun to make.
It's a fun Fall craft you can do with your kids or a great adult craft to spruce up your mantel or table decor. You can try it with different colored papers (crepe, tissue, cardstock, old book papers, newspapers, scrapbook pages etc.) in different patterns as well. Go through the versatile DIY tutorials and make your own paper pumpkin craft this Halloween!
How to Make Easy Paper Pumpkins ~Tutorials & Instructions
These lovely pumpkins are made from patterned paper in different colors and prints. You can decorate your house with these cute different sizes of pumpkins made from scrapbook paper.

Craft enthusiasts can draw some inspiration from the amazing DIY origami tutorial to give their indoors a Halloween facelift. You can play around with the sizes, colors, and patterns.  Group a few together at a kid's table, adult's dinner table with decorated skull heads, and the gothic zombies.

A very unique project with a vintage touch. Use printed crepe papers or paper of your choice and create decorative centerpieces for your Thanksgiving table or sideboard this Fall. A free template for the pumpkin design is given in the linked tutorial.

 You May Also Like ~ "Halloween Pumpkin Designs & Ideas"

Spend more time to decorate your pumpkins you could do different colors of glitter, gold leaf flakes, or buttons or paint them too. Let it last till Thanksgiving to double up the fun quotient. Using cinnamon sticks as stems give it a beautiful rustic touch.

The Halloween fever will increase manifold with glow-in-the-dark pumpkins that can be placed at the doorstep or in the yard alongside those twinkling lights.

You May Also Like ~ "How to Make Halloween Table Runner"

Get the kids involved in Halloween and Fall decorating with these super easy kids' tissue paper pumpkins.

A super easy crafting idea to make pumpkins with scrapbook papers. Kids will love this holiday project. You can further decorate the pumpkins using glitters, ribbons etc.

Handmade pumpkin will give you not only the warmth and good humor but some unforgettable moments of creativity too.

Create a beautiful ombre effect with this no-carve pumpkin decorating project. An interesting way to make pumpkins for this Halloween.

These smiling Jack-O-Lantern Paper Pumpkin puppets will surely get a smile on your munchkin's face.

Learn how to make a beautiful pumpkin using quilling techniques. An easy to make a tutorial for beginners as well. You can hang them on walls or your doors for this Fall.

Elementary, classy and vintage, this pumpkin look great with the maple leaf and glittered stems. Display them on your walls, tables, or hang them on the door as these are versatile enough for a lovely display.

Directions for making a spooky, Halloween pumpkin decoration from paper. Kid crafters can indulge in this impressive pumpkin cut-out fall project to bring back the old-fashioned glamour to the Halloween party.

Celebrate the fall season and add colorful handmade paper pumpkins to your home décor. The linked tutorial has used orange and green construction paper for a sturdy finish.

Folded strips of old brown paper are the perfect pumpkin crafting material to add some neutral-toned rusticity to your tablescape.

Funky and quirky Halloween design made by turning an ordinary paper lunch bag into a pumpkin favor bag with just a few simple craft materials and splashing some colors.
These fun paper crafts projects are so splendidly simple that you can make whole pumpkin patches of decoration for your tablescape, decorating your doorstep, porch display or mantel. Enjoy and share your unique creations with us in the comment section below.
Leave a comment