30 DIY Pallet Bookshelf | Plans & Instructions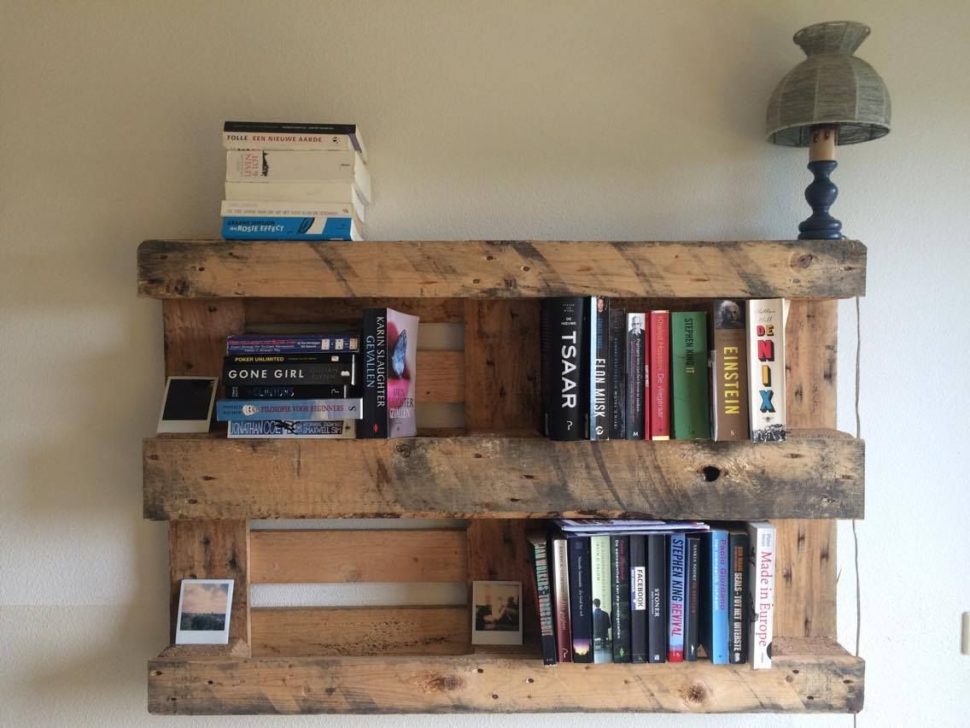 A bookshelf is always an attractive and good look furniture piece much needed for all book lovers to organize the collection of books. You need bookshelves in the study room, offices and kid's room! If you have some old unused wooden pallets in your store then you can make some amazing and beautiful Pallet Bookshelf and recycle your old wood.
Collection of Interesting DIY Pallet Bookshelf Ideas and Tutorials
If your kid's room is overflowing with stacks of books, time to build a wooden pallet bookshelf for the room. This DIY Bookshelf is a simple pallet project and a great DIY adventure. Mount this wood pallet wall shelf!

This tutorial is from www.wherethesmileshavebeen.com

an amazing blog by Christine!

     

No time to make one? Buy this Pallet Bookshelf

from Amazon here.


Decorate your child's bedroom with these colorful bookshelves made from pallets. Paint the wooden pallet with the matching colors of the room!

If you have some old pallets stacked in your store, you can recycle them into this useful bookshelf for your bedroom corner! An amazing and affordable addition to your room furniture.

This is a simple pallet bookshelf tutorial with repurposed pallets! Follow the instructions to make your own handmade book shelf.

Time to feature this handmade pallet bookshelf in your living room to organize your clutter of books here and there!

Give your room a makeover and make a new pallet bookshelf from old leftover pallets! Arranging and organizing books won't be a tedious task anymore with this hanging bookshelf on wall, made from pallets.

Adding a rustic touch to your decor for the country like feel is quite in trend these days!  A hanging pallet shelves can be easily hooked!

Combine upcycled materials and pallets to create this multipurpose pallet wood bookshelf for your room!

If you want to build a bookshelf with pallets and some basic hand tools, this is the right one for you! A simple and easy to make a design which does not involve many techniques.

A super easy and fun pallet project which doesn't occupy much space in the room. It's a useful wall mounted decor to stack your collection of books!

Wondering how to build a pallet chair which can accommodate your books too. Make a style statement with this pallet book shelf in your couch. A great artistic and creative touch to your decor. Get the complete pallet chair instructions here!

Time to upcycle your discarded pallet boards which you think are useless. Re-use them and make stylish headboard bookshelf for your room.

Learn how to build a pallet bookshelf with some simple techniques.

 

You can Buy this Bookshelf On Amazon here!

Amazing idea to give your room a new look with this recycled bookshelf ideas. You can make small bookshelf if you have lesser number of crates available!

Learn how to make shelves with pallets for your drawing room! A simple design to organize your books and magazines! The tutorial is from ohohblog.com, visit tutorial for complete instructions!

Anything made from pallet wood looks warm rustic and interesting. You can easily make such a bookshelf on your own and paint it white. Check out the tutorial for more information on how to make this pallet corner shelf!

Customise your child's room with handmade colorful bookshelves and keep all books systematically.

A perfect easy video tutorial on how to build bookshelf from pallets!

A country look bookcase made out of pallets! Paint it or decorate it matching to your room decor.

   This tutorial is from lifewelive4.com by Laura Cano.

 No Pallets to make one? Buy this from Amazon here!   

These bookshelves are made out of wooden shipping pallets. They are easily available and essentially, free wood that has already been distressed!

Make customized shelves from pallets for your kid's room, study or nursery!

You can fit all your books in this bookcase pallet which has 5 shelves. Shelves made with pallets are affordable and easy on your pocket!

This rustic, yet adorable pallet book rack is so easy to make, three cuts will do the job! Do-it-Yourself today!

This DIY Pallet Wood Floating Shelf is a great woodworking project and is at the more advanced level.

 It 's budget friendly, does not take long to make,

and adds a classic touch to any wall.

If you are wondering how to make bookshelves out of pallet giving it a vintage touch go for this tutorial.

An amazing and creative blend of reclaimed pallets and crates to make this unique bookshelf. Full detailed building plans and tutorial for this Pallet Shelf DIY rustic is in the tutorial.

Click on the tutorial to get complete pallet shelf plans and instructions to guide you with step-by-step instructions.

Get free wood pallet shelves instructions and plans!

Rustic DIY Pallet shelf to organize your room and give you extra space for storage!

 

Get this Bookshelf from Amazon. Buy Here!

Shelving out of pallets can be a fun task! If you love these easy DIY Pallet Bookshelf projects and ideas its time to go make yourself one!! 🙂
Leave a comment