20 DIY Halloweeen Card Ideas for Kids and Adults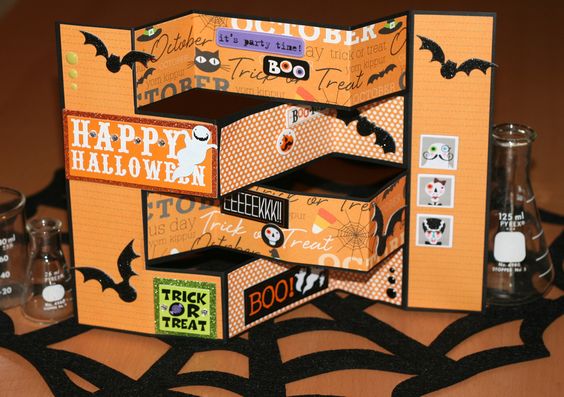 Halloween is around the corner and making a handmade Halloween Card is quite a popular tradition in the U.S and other countries as well. So no need to brainstorm ideas for this holiday, as we've got your back. We have compiled some of the most spooky and creative card ideas for Halloween.
These cute ghosties and pumpkins are great to greet your friends and family "Happy Halloween". Use colors like orange and blue to match your theme and make sure you add your creative touch to them with witty Halloween captions and sayings. These designs are freely printable and are a great idea for both kids and adults.

 

This holiday try to make these interesting card ideas to prepare invitation and greetings cards for Halloween. This cut-out card is not as difficult as it seems. You can add as many spooky elements you wish to make it more exciting.

 

Making these ghostly glow-in-the-dark cards can be exciting and fun to make. You need some simple greeting card supplies along with glow-in-the-dark embossing powder to make your project. The linked tutorial explains you in details how to make this fun craft, which kids will surely love to create.

 

Try to wish your friends in unique and interesting ways. With the simple card supplies, you need some googly eyes to create the mummy effect. You can make a bunch of the cards and use them to make Halloween party invites. The tutorial is quite easy and has step-by-step instructions to guide kids and adults and a free template for the design.

 

I love the cut-out effect on the front giving the perfect spooky eye effect. Using the glow in the dark embossing powder you will get the glowing effect on the web pattern. I'm sure kids will love to make this creative card for friends and family.

 

Handmade Card Ideas for Halloween

 

Here is a cute shadow box card. Perfect to wish someone a Happy Halloween.

 

These are simple pop-up pumpkin card invitations with a sense of humor. Great for your Halloween party!

 

Let this dancing skeleton read your message for Halloween. The glittery skeleton will surely turn some heads.

 

Check out this flying witch card, where the blogger has used 3D tricks to give it a wow effect. You can add sparkles to add some bling to the card!

 

Show off your creative side by making these simple cards with stamps, washi tapes, glitters and more for family and friends. Use these interesting ideas and jazz up your card with colorful stamped cut-outs.

 

Download the free printable pdf version of this design for your pop-up card.
Leave a comment