25 DIY Paper Mache Letters [Cardboard Letters]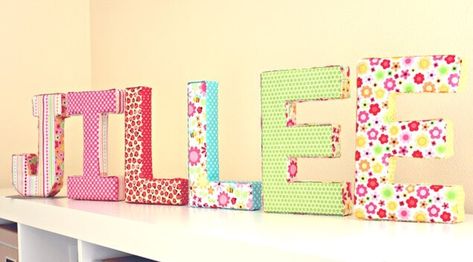 Making paper mache letters is quite simple to make than anyone could have ever thought. The letters are prepared by mixing shreds of old papers in water and glue, is an interesting craft material that can be molded into some outstanding artworks. It also brings out the little creative side to you along with a quick way to impress your beloved in an inexpensive way as well. So if you are wondering how to make paper mache letters then here are 25 incredible ways in which a paper mache letters can be used beautifully, incredibly and innovatively.
Learn How to Make Paper Mache Boxes Here
How to Make DIY Paper Mache Letters Tutorials
You can use handmade papers to make these small paper mache letters. Also you can opt to create homemade letters to decorate your trees and place them anywhere to add a touch of creativity in the festive season.
Large paper mache letters are a great way to decorate your home parties or gift to any of your favorite people. These mache letters are really easy to be made only using paper, glue, and water and won't cost you much too.
A small to medium-size paper mache word has its own beauty in bringing out a realistic effect n the piece of art. You can easily place this in your kid's nursery or toy room to add to the brightness of the decor.
A 24 inch paper mache letter is not a matter of joke and can be used as a wall, door or kitchen hanging. You can easily add colors and glitters to it to make this monogram letter more embellished.
A 23.5-inch paper mache letter can also be used as a beautiful theme decorative purpose. I loved the black and white effect given to it making it elegant and yet charming.
This is very simple to make vintage theatre-style marquee lights or even a monogram for a room. Kids love to decorate their rooms with this kind of decor.
What is the best way to paint paper mache letters? Here this tutorial goes with s small-sized letter is an awesome décor fitting in everywhere in the room.
Pop up your room with these ideal sizes of paper mache gifts and decors. You can place this letter in your room wall and make a bold statement with this. Easy to make and adds a quirky element to the decor.
A size that can be hung outdoors or indoors for an inevitable glamor to your room. You can make this with 12-inch or 18-inch variety.
Glitter can add a new oomph to the paper mache letters. These letters can be a really good decoration for parties, baby showers and can be a pop tassel banner.
This tutorial is awesome, where it can be used as a home décor especially by the sofas because anyone can be mistaken by thinking it to be a cushion. Covering paper mache letters with printed fabric is ideal for a girly room decor.
Place it anywhere to get yourself appreciated by visitors with these beautiful creatives.
These are really interesting ideas that can be customized with any occasion possible. And once the letters are ready to paint them with your fav colors.
A personalized gift, that can make anyone cherish the happy and golden memories. Personalize it with your favorite photos and make it special.
A huge party needs huge decors and what else can be ideal but simple than this?
Making paper mache letters with lights is the cheapest thing that one can make to add class and glamour to one's room.
Lower case paper mache letters are the easiest type of craft gift that can be made.
The monogram letters are not only easy but also classy. And you can use your old cheerios boxes to make the base of these alphabets. With the use of golden and silver metallic colors gives it a rustic and elegant look.
Some birthday or class party round the corner? Paper mache letters are so flexible to be constructed that even Greek letters are possible to be made. Thus adding a crafty element of sequins makes it beautiful.
Make your baby shower décor prettier by hanging the baby's name or initials with ribbons. 
A strong paper mache letter would stand steadily in any extreme party condition to maintain the look of your place. You can make this for your wedding decor and give the decorations a special handmade touch.
Impress your teacher with easily crafted letters made by your own choice.
Making a paper mache letter strong is very necessary to make it last longer. That is why cardboard letters are a good choice.
Preparing the paper mache with the mod podge can be messy at times, but it's quite a fun craft, where you can put a lot of your creative instincts to work with.
Leave a comment