25 DIY Tote Bag Patterns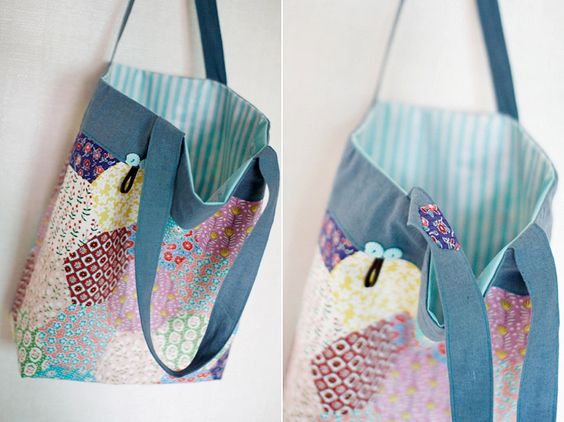 Do you love totes and just cannot find the perfect one for yourself which you can afford? Then what are you waiting for, go on and make one for yourself? You will just need some colorful threads, maybe your old clothes or you can even crochet one. It may seem difficult to you now but with this collection of tutorials listed below, you would be able to make cute DIY tote bags at home. So don't fuss the next time you go out and you feel you don't have a decent bag, just make one for yourself.
25 DIYs- How to Make Tote Bags with Step-by-Step Instructions
Just pick up some acrylic paint and canvas and paint your heart out be it geometric shapes or even a scenery. All you have to do is paint on two canvases and then sew them together in the shape of a bag and here it is, your new tote bag is ready. The best thing about it is you can make it according to the color of your outfit. So don't depend on the shops and do it yourself.
Are you worried about the fact that you don't know sewing? Don't worry this tutorial is just perfect for you. No sewing doesn't mean plain and mainstream. Just look at it, it's so beautiful and flowery. You just need a white t-shirt or even a black one would work. Painting on a black t-shirt would result in a dark floral tote which is just perfect.
If you have an old tote which is of no use to you o you have grown pretty bored with it then why not transform it into something new? Follow this amazing tutorial to turn your old tote bag into a new backpack.
This reversible tote bag is certainly something out of the box. It may seem tricky but every detail has been shown in a step-by-step manner in this tutorial. You just need some piece of cloth and a little bit of your time to complete this.
Making DIY tote bags doesn't mean they have to be of paper or fabric. They can be of leather too. Follow this simple tutorial and with a piece of leather and a bit of sewing, you will get a good tote bag for your groceries.
Gift your teacher or any friend this tote bag and surprise them with your creativity. Instead of a name, you can also put any appropriate quotation.
This denim tote bag doesn't even look like it has been handmade. Get yourself a chic look with this tote. Take out that old denim you don't wear anymore and sew the appropriately cut pieces into a tote. A denim tote is much durable than the others.
This fabric tote bag can be perfectly used as a beach bag. It's colorful fabric, though you can use fabric of your choice, brings about a glowing and bubbly effect. 
You just need to be handy with your scissors and you have your new tote bag ready. You just need o cut some fringes and tie them up so no problem if you don't know sewing.
The tribal pattern that is done on this tote is no doubt amazing but you can do your patterns too. Don't panic by the thought of dyeing something, trust me it's a lot easier than anyone can ever imagine. You just need the right dye and a good pattern to highlight the overall appearance.
This striped flat bottom tote bag is a perfect one to make when stripes are in trend. Women! make your own statement by this unique tote bag.
You don't even need to buy that tote bag as is shown in the tutorial. You can make yourself one by stitching two canvas clothes together as you have learned in the first tutorial mentioned in this list and then paint the monogram on it.
Burlap tote bags are very much fashionable and trendy like the fabric ones. In fact, they give an additional rusty look which the fabric ones cannot give. Burlap tote bags have grown immensely popular not only because of their durability but also their impeccable appearance.
Leave a comment