15 Cat Tent DIY Ideas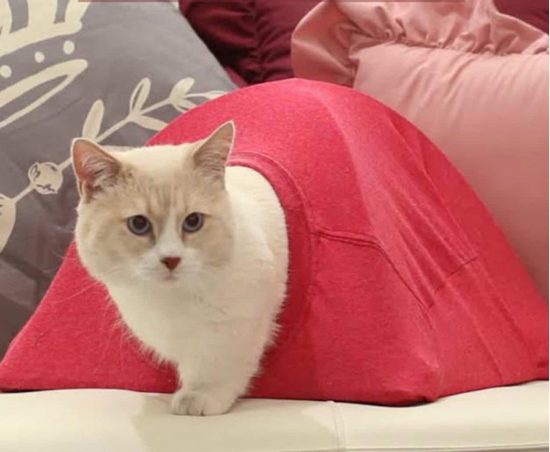 Cats love tiny, warm, dark places. But why buy a mini carpeted cat hole when you can make a cat tent with materials found around your house at most affordable prices? So if you need a DIY project for your cat, we have compiled some simple tutorials to make Cat Tents with recycled stuff like t-shirts, hangers and more.
How to Make Cool Cat Tents for Indoors & Outdoors
Your furry baby will love this cute cat tent as it's new hideout. It's easy to make and an inexpensive project using a cardboard box as a base. and an old T-shirt. They will be snug as a bug and love hiding out here. Create your own very simple kitty bed by repurposing an old coat hanger and t-shirt!

 

A very sweet idea for all cat lovers. All you need is some canvas, cardboard, and fabric. You can place a thin cushion at the base to provide a warm bedding for your kitty.

 

Use your old cotton shirt to create a comfortable and fun tent for your lovely cat. This tent project needs you to apply your simple sewing skills.

Pic Credit goes to Flynnside Out Productions.

Make your furry friends happy with this handmade cute cat tents. They will love to crawl in and enjoy their time and relax. They will love this colorful hiding place to sneak in.

 

This is a quick DIY cat house that only takes 5 minutes to make using an old t-shirt and a cardboard box. Your cat will love to spend time in her privacy tent.

 

Cats love boxes, so use your old litter box and tee and wire coat hangers to make an amazing tent for your kitty. You can involve kids in the fun craft.

 

Give this no-sew simple tutorial a shot when out for camping with your pet kitty. They will surely love to snuggle in this warm private enclosure.
Leave a comment