30 Clothespin Bag Patterns & DIY Ideas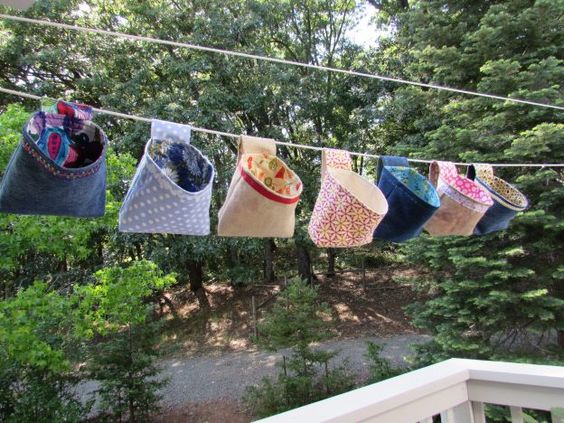 Sunny days are around and with the warm winds its time to hang our sheets on the clothesline. Finding clothespin to hang your clothes while drying is often a challenge for some, as they end up losing most of them. Thus a peg bag is of great help to stash the clothespin into it and keep them handy whenever needed. You can easily transform leftover fabrics or worn out bags into a clothespin bags and peg holder. There are a lot of creative and unique ways to make clothespin bags from different fabrics and interesting techniques. Sharing some tutorials and DIYs with step-by-step instructions to guide you!
How to Make DIY Clothespin Bag Patterns & Peg Bag Holders
Make your own bag for clothespins from printed fabric. An easy to sew project for beginners too. Just follow the instructions and make a useful craft in no time!

The daily chores of washing and drying clothes can be made fun when kids help you with it. Make this unique and playful clothespin bag which will surely be very exciting for the kids too.

It's very simple and will make your life easier in the summer season: pretty homemade clothes peg holder, easy to hang at the end of your clothesline.

Recycle your old top/tees to make this simple bag to store your clothespins from losing! Don't buy a peg bag this season and try making the unique ideas yourself!

Sewing enthusiasts now have another crafting idea in their kitty to make a peg bag holder with few pieces of fabric with vintage inspired prints. You can do some patchwork on it give it a personalized look. Insert a metallic hanger inside and put it up on your clothing line.

Stitch this clothespin bag in a sling style. You can carry it on your shoulders while putting your clothes on the clothesline. A handy and useful bag to make your laundry life easier.

Use your old pair of jeans to make some creative bags to hold your clothespin. Handy hanging clothespin bag scoots along with you on the clotheslines.

Thes cute handmade peg bags are really easy to sew and make wonderful gifts. You can easily use them to keep other little things as well.

A unique and embellished clothespin bag for crafters who want to go an extra mile. Make this beautiful bag using laces, buttons, flowers and other accessories of your choice. You can display this in your backyard or garden and gather complements for your creation.

You can add an Amish touch to the clothespin bag, layering the collar and center of the bag with a different fabric.
Leave a comment