33+ DIY Coffee Filter Flowers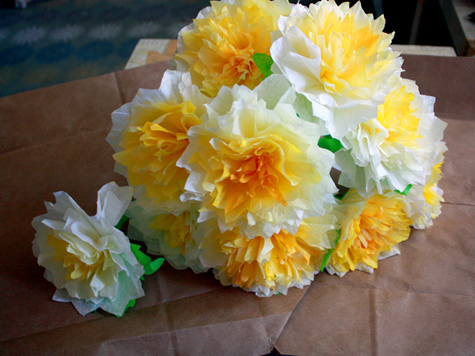 Coffee Filter Paper Flowers are quite a popular craft because it's inexpensive and they never wither away or die, and are great for decorations! Sharing some easy, simple and quick DIY  to make coffee filter flowers with step by step instructions! These flowers made of coffee filter paper are affordable and great for decorations!
Collection of How to Make DIY Coffee Filter Flowers Tutorials
You need large coffee filters for these flowers! So that the petals come out to be perfect. This is quite an easy craft for kids!

Making coffee filter roses are easy!

Learn how to make coffee filter paper flowers and dye them in different colors of your choice!

You can choose big or small coffee filters for this project as per your design you have finalized! It's super easy and beautiful!

These wonderful coffee filter paper flowers can be made by kids or toddlers for Mother's day or any other special occasion! All you need to do it watercolor the white coffee filters and make flowers out of them. Using different colors gives them a vibrant look.

Making handcrafted flowers from colored coffee filter papers is quite a creative project! Making coffee filter flower arrangements in weddings and centerpieces is a great idea! This DIY explains step-by-step in detail all instructions!

Coffee filter papers have an amazing texture which is great for crafts especially making flowers! You can use stained coffee filter paper or colored ones! The pastel shade in this tutorial looks great.

This tutorial shows how amazingly you can make a giant flower with coffee filters! It's easy to make and the design is simple but elegant!

Making coffee filter crafts is fun! You can use watercolors to give an element to your creation!

These coffee filter peonies look stunning and are great for home decor!

I loved this tutorial for its step-by-step instructions with photos. Made it very easy for me to try this DIY. Tie-dye is a very popular technique and the effect of colors on the flowers are amazing! If you are wondering how to dye coffee filter paper, don't fret it's very simple!

This springtime adorn your house with these handmade artificial coffee filter paper flowers! The different pastel colors look great!

This tutorial uses jumbo coffee filter papers to make large flowers! You can use these beautiful coffee filter flowers to decorate your outdoor parties or patio! This will make amazing backdrop  decorations!

Easy and simple coffee filter flower craft for kids and toddlers! This looks beautiful with the use of watercolors.

Making coffee filter roses is a simple and elegant craft project. Using this as a centerpiece decoration in wedding, parties etc is a great idea! Handmade projects are always special and are appreciated by friends and family.
Leave a comment