15+ DIYs to Make Minion Pinata with Instructions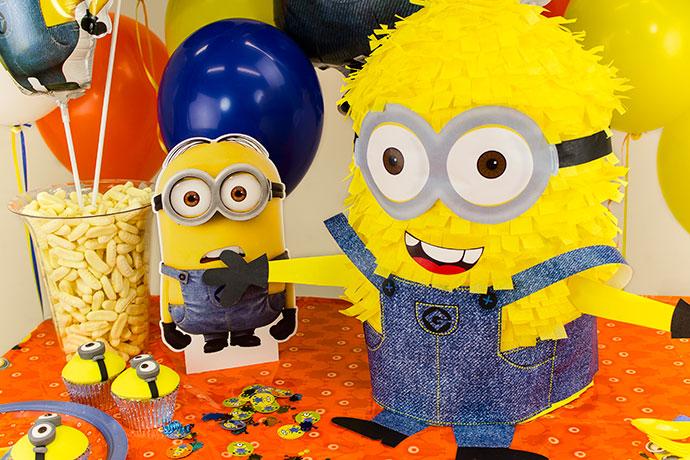 Kids love pinatas! They love to break a box character which overflows with candies, goodies, and amazing stuff to make them excited. Minions, the tiny yellow creatures, appearing in the Despicable Me franchise is a rage among many particularly the little ones. Let's make a Minion Pinata to make all kiddos get nuts over their fav cartoon character. We have a compilation of different DIYs, and tutorials to make Minion Pinatas. You can use the paper mache technique or even make creative piñatas using boxes, cardboard or tin cans.
How to Make Minion Pinata ~ Cool DIY's, Ideas & Tutorials
This huge minion piñata gracing your garden would be a fabulous outdoor party idea. You need some balloons for making the paper mache character. Adding the blue and yellow fringed papers may take some time, but the finished pinata is quite eye-catching and will surely make the kids excited at the birthday party.

Make a big Minion Pinata to decorate your tables and fill it with goodies, candies and fun stuff for kids to enjoy. The linked tutorial shows you how to make your very own minion piñata out of paper maché. Follow the few easy steps and once finished we can guarantee that it'll be a hit at your party!

You can play with colors and use pink instead of purple for a more girlie themed party. Embellish them with caps, bows or other interesting add-ons to give the piñata for an attractive look.

You can fill this pinata with small toys, sweets, and goodies and get super happy kids!

Short of time to make something special for the birthday party? Yes, try making these easy pinatas from cardboards and minion prints. You can make several pinatas for each kid as return gifts and party favors. The kids will love goodies in their favorite cartoon character.

In this youtube video, they have used yellow paper, you can use purple crepe paper and cut fringes in the similar way as shown to get your evil pinata.

You can make creative Minions Stuart, Kevin, and Bob and hang them outdoors to decorate your garden.

Make interesting designs for your Minion Pinatas using cardboard boxes. Just add a string at the top to hang it or place it on the table.

An interesting party decor for all minion fans. You can also add other Disney pinatas and make it a cartoon corner for kids to enjoy. After you have paper mache and added the crepe papers, all you need to do is add the printed cut-out of minion googles and wohooo you pinata is all ready! A set of big and small minion pinatas will give an amazing look.
Leave a comment