Log Planter: 18 DIY Ideas & How to Make Tutorials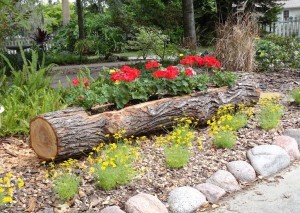 Re-use fallen tree logs by creating a natural Log Planter for your home. The greenery creates a natural look that pairs well with the rustic look of the logs. You can plant anything you like in your log planter including flowers, succulents, herbs, ferns and even vegetables. Explore interesting ideas with logs of different sizes and fill them up with a variety of plants and flowers to see which look you like best, and create a woodland garden that other people will stop and notice. Browse and learn various ways of how to make a log planter and tree stump planter from elements in nature which can be found in your own backyard.
Different Ways to Build a Log Planter for Outdoor and Indoor Decor
These wooden log planters look very natural and enhance the overall beauty of your garden. You can plant herbs in them.

Add some wooden handmade character to your garden or patio by making your own log box planter. It's an easy project to customize for your space, for an added bonus, you can also use these indoors!

If you love the organic and rusticness of tree logs and stumps, try making this beautiful planter with stands to decorate your house! A blend of unique and interesting ideas to upcycle old wooden logs!

I love this idea for repurposing wood logs that would otherwise just get chipped. Try making these adorable planters and decorate your doorsteps lined with your creations!

Here's how to plant succulents in a driftwood or old log planter. They give a great uneven edge look. A fun DIY for all plant lovers!

These vertical log planters look great in pairs, so try to make more than one, or include varied sizes and shapes for a big statement.

Recycle and use your old logs stacked in your backyard or garden and make this beautiful vintage look log planter for your colorful flowers. You need to hollow out of the log from the middle using an ax and then plant your flowers as shown in the tutorial. You can place them on your patio and get all compliments on the look. You can choose a long or a short log depending on the space and log available!

This horizontal planter made from a log is a quite pretty addition to your garden. For all gardening lovers, try this project and go make use of old tree logs to create beautiful planters!

Planters made with wooden logs add a great natural touch to your decor and it uses something you may already have on hand in your backyard!

Innovate a piece of old log and make painted planters for succulents and herbs for your front porch or window sills. You can use large logs or smaller ones as available. Ensure that the log you select to cut has even flat ends so that it stands upright and does not wobble.

Make this train shaped log planter and create a mini-garden on tracks!

Make this unique design for your succulents and flowers. A cool DIY idea to re-purpose wooden logs and driftwood.

A wonderful woodcraft to plant your succulents and use them as amazing centerpieces. You can use branches or relatively thin tree logs to make this! It is quite an affordable craft and can make wonderful gifting items. Go green with this project made with logs!

Learn how to make a birch bark succulent planter with easy step-by-step directions!

A handmade planter is always special if you can use old dried logs to make one! A simple tutorial on how to turn a tree stump into beautiful planters.
Leave a comment