33 DIY Paracord Belt Patterns, Tutorials with Instructions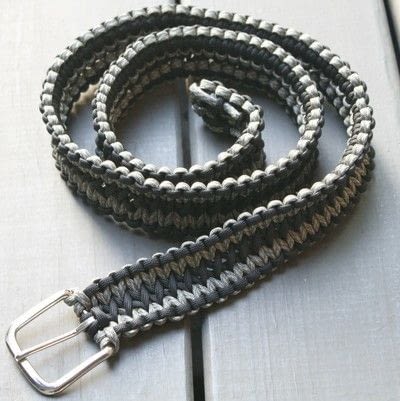 Paracord Belts are a great idea for the outdoors, especially if you are traveling. It will give you a great piece of mind knowing that you have a good quantity of paracord with you all the time. There are many creative places to store paracord for survival situations like boot laces, a bracelet, and a knife handle wrap. however, none of these allow for storage of very large amounts of paracord.  Paracord belts fulfill this purpose, while also replacing a piece of gear that you may otherwise take for granted. Learn various interesting ways to make paracord belt tutorials with directions to guide you.
How to Make a Paracord Belt Projects with Step-by-Step Instructions
Sport this monochrome weaved belt which is durable and rugged for your treks and adventure trips. A cool accessory which is most affordable to make! With good quality 550 paracords available in survival situations, you can rig a tent, make a fire bow, set snares, go fishing, repair gear, and much more.

An easy to do paracord project which is quite affordable and a must do for all paracord adventurists! You can play with different color combinations.

Make this handmade paracord belt using  Lark's head knot and cobra knotting techniques. The step-by-step picture tutorial guides you well.

A cool survival hack for traveling. Pair this light grey colored belt with contrasting plastic buckles to go with your jeans! Using paracord loop techniques making this design is quite easy!

Make amazing patterns for your belts using vibrant colored paracords. You can use reflective cords too, this will make your belt easy to locate and a funky style statement!

Create a sturdy paracord belt using 550 Paracord that should hold all the rope you need for an emergency. Using 2 colors of colored paracord will make an interesting pattern. This design is made with some 100 ft of paracord which is great to be a part of your survival kit. Using 2 shades of green gives it a tinge of camo look which is quite cool!

A useful survival gear that showcases your creativity and sense of style around your waist.  This belt made from parachute cord does a whole lot more than hold your pants in place! For detailed step-by-step directions on creating your own paracord belt check out this tutorial.

Make a belt woven from paracord on your own and gift it to a survivalist in your family. Over 150 feet of paracord and a big dose of patience goes into making this handsome belt.

This paracord belt is cool and strong enough to be used as a strap. This pattern uses over 120 feet of 550 lb paracord, so you'll never be without cordage in your survival situation. Making a belt with a metallic buckle is very convenient and makes the use easier.

Educational and detailed instructions on how to make a Double Cobra Belt, using an emergency buckle that comes with both a fire starter and a whistle.
Leave a comment