21+ DIY Rope Basket | How to Make Rope Basket Tutorials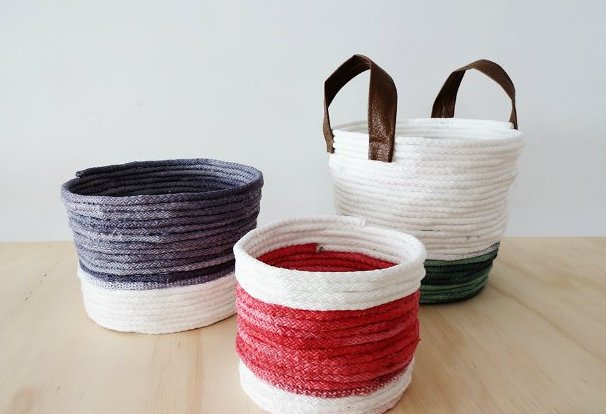 Baskets are the simplest way to store anything from your craft supplies to office stationery. A rope basket is quite easy to make with some simple supplies like yards of rope and a loaded glue gun! These DIY rope baskets are the perfect way to make your own personalized storage and organization solutions! They can be made in numerous shapes and sizes, and they're surprisingly stylish, textured, strong and sturdy to be used as multipurpose utility holders!
Learn How to Make Newspaper Baskets – Here
Different and Amazing Ways How to Make Rope Basket – Tutorials with Step-by-Step Instructions
All you need is some rope (cotton rope or hemp rope as per your choice) and some colorful threads or yarn of your choice to sew this simple yet chic basket piece to add to your home decor. Making your own handmade baskets are always special for keeping stuff on the side tables or your dressing rooms!

 

Rope craft is a great way to recycle your old ropes and coil them up to make elegant utility baskets! Using white colored cotton rope gives it a natural and earthy touch. Ideal to keep your stuff organized in one place. You can add tassels or embellishments to give it a colorful element.

 

Make these beautiful cowboy baskets using old lariats. You can decorate these with a small horseshoe or other accessories. A great idea to upcycle unused lariats and ropes in your backyard.

 

Give your rope basket a unique vintage touch and wrap them with printed fabric. This tutorial explains in details how to make a rope basket with a handle using fabric of your choice! You can choose the size of the basket as per your storage needs.

 

Try mixing some wool with rope to make this amazing basket design. It gives a contemporary look to your interiors where rustic meets traditional look. You can use a hemp or cotton rope as per the look you want.

 

With some yards of rope, a glue gun, and some decorative accessories you can make these quick and cool baskets to store your stuff! You can add handles to give it a creative look. Adding colors to the white rope gives it an artistic touch and is a treat to the eyes.

 

This wonderful crocheted rectangle basket is a great handmade craft with some basic supplies. Making the handle is optional, but it makes it easier to carry the basket. You can use the basket for your laundry stuff, organize your daily things and more. A lovely rustic and earthy addition to your home decor.

 

These mid-sized coiled rope baskets are ideal for storing little bits and pieces in. You can use them to store craft supplies, stationery, jewelry, makeup, toiletries, small toys. They are great multi-purpose stuff and would also make a great gift hamper to be filled with treats.

 

Do you have any home decor plans for the fall? If not try making a set of these braided baskets in different sizes.

 

This handmade basket is an amazing piece of art, using synthetic rope. It's a sewn basket and quite a sturdy one. The painted (dyed) colors look beautiful and can be used in myriad ways in your rooms! You can change colors to your preference. This is pretty large in size and can accommodate a lot of stuff at a time!

 

Try making these simple and affordable baskets from rope and threads. A very easy holiday craft which can be interesting for kids and adults.

 

Time go stylish with a rustic handmade touch. Adding leather handles to the jute roped basket gave a modern blend to the creativity. An absolute delight to keep your utilities and supplies stacked in one place.

 

Homemade Rope Basket Instructions

 

Make these white elegant baskets and use them to keep accessories, fruits, or small planters. You can add a fabric, paper base to avoid any stains to the light color!
Leave a comment