40+ Free Crochet Dishcloth Patterns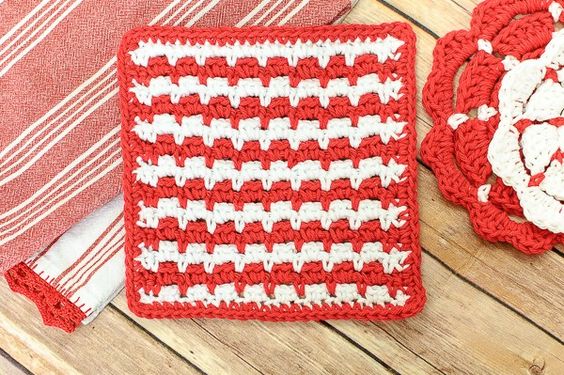 A dishcloth is used in the kitchen to clean dishes and other surfaces. They are made from cotton or other fabric. Crochet dishcloths are easy to make and ideal for beginner crocheters. Handmade dishcloths using cotton yarn is important because it absorbs water well.
Acrylic or wool yarn would not work well for a practical dishcloth. If you are new to crocheting, this is a very simple yet practical project for you. Create a few dishcloths quickly because these will come in handy in the kitchen!
If you are ready to tackle this crochet project then keep on scrolling down to find different shaped patterns! Happy Crocheting!
How to Crochet a Dishcloth: Free DIY Patterns & Tutorials
Make this quick snuggly crochet dishcloth for your kitchen using chain stitch and slip stitch. An easy to make a tutorial which makes durable and useful washcloths in no time..

The unique combination of colored yarn makes extra-ordinary dishcloths. This is a quick pattern and can be finished in a day!

Handmade hanging towels and dishcloth make great housewarming gifts. This cute crochet pattern is from Tiffany Roan! You can download free PDF pattern on Ravelry.

The cute fish dishcloth starts with a basic circle and then you add the tail, lips, and fins are added later. It can be used as a dishcloth, but also works as a large coaster or pot holders.

One easy yet pretty design for those of you just beginning to learn the wonders of the crocheting techniques.

This beautiful pattern is from Little Monkeys Crochet. This "pattern" can be used to make dishcloths, washcloths, dish or facial scrubbers, placemats, table runners, potholders or more crocheted projects.

If you are bored of the regular shaped dishcloth then try these flower patterns. You can use colored yarns to make it a beautiful dishcloth to wipe your dishes.

The chevron pattern in two shades of blue and a white border looks amazing for your kitchen platform. A great design for intermediate crocheters.

These easy to make crochet dishcloth patterns make great gifts and are great projects for beginning crocheters.

These free washcloth patterns by Pam Daley are amazing for your Halloween theme! Simple enough for beginners and spooky enough for everybody. Download this cute Pumpkin pattern from Ravelry.

Decorate your kitchen this holiday season with Christmas Granny Square Dish Cloths. These festive Christmas themed granny square dishcloths/Washcloths are inexpensive and can be made in a weekend.

Cotton yarn is always the best option to make crochet dishcloth/washcloth. Because cotton is a good absorbent and durable, which means it's the perfect fiber for scrubbing and cleaning! dishes and utensils.

Using multi-colored cotton yard for this square dishcloth looks quite vibrant. To crochet this design you need to know how to simple single and chain crochet.

A great design by Annabella. The stylish colors make this washcloth a delight to use. They have used Sugar and Cream Yarn in the tutorial. Follow the step-by-step instructions to make your own dishcloth.

This pattern looks really pretty that will bring some summer fun to your kitchen. The design can be used to make dishcloths, washcloths, dish or facial scrubbers, placemats, table runners, afghans, blankets! Make yours today!

Make this bright and beautiful dishcloth with detailed yet easy patterns.

This crochet project was created with half-double crochet but this recipe can be followed using single crochet, double crochet or your favorite stitch! The red and green colors are ideal to make during Christmas.

(Yarn used in this tutorial: Lily Sugar n Cream in Mistletoe and Bernat Handicrafter in Red Liqorice)

The purple, white and turquoise combination makes this spiral pattern even more special, with the lacy lines adding a fresh touch.

Make this quick and easy dishcloth patterns using simple crocheting techniques. Adding pretty laces or frills will enhance the look of the dishcloth.

This is a loose and thinner pattern to make one in a single color. Worsted weight cotton yarn and an H hook are used in crocheting this.

This starfish is an elegant pick for crocheting a beautiful dishcloth. The light colors used with a contrasting border will give your kitchen a vibrant touch.

Made with worsted weight cotton yarn by Maggie Weldon. You can download the free pattern from Ravelry. If you like floral designs, you can choose to make different patterns like sunflower, lily, rose and more.

It's a super easy stitch which creates a beautiful texture that gives a knitted or woven look to the finished dishrag. The stitch used is the granite stitch (aka moss stitch, seed stitch, etc.) which is easy to follow for beginners too.

You can choose different colors and make wonderful Easter gifts too with unique handmade crochet projects.
Leave a comment