35 Free DIY Crochet Crop Top Patterns with Instructions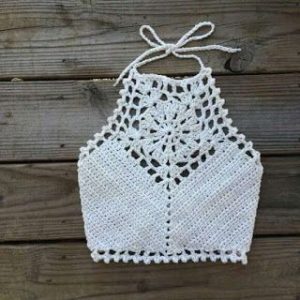 Cool Crochet Crop Top is the perfect summer staple for all crochet lovers. The weathers warming up, time to team gorgeous tops them with denim, skirts or jeans and flaunt a classic look with these stunning designs.
The crochet top patterns in the tutorials are for skilled, intermediate and beginners. Browse the various interesting designs and make your own outfit in no time!
Easy DIY Crochet Crop Top Tutorials with Step-by-Step Instructions
With summer arriving soon, be ready with your dainty lacy crochet crop tops. This crochet top makes the perfect summer accessory to wear on the beach or in the fields during festivals.
The strap goes around the neck and the top clings without having any loose ends giving it a glamorous look.
If you are done with bright colors and yarn try making sober and soothing khaki crochet crop top.
A very cute crochet top design with short sleeves to go well with skirts and jeans. The colorful borders add a dash of vibrancy to the grey top!
Crocheting crop tops with chunky yarn and knitting them in beautiful colors and patterns is a fun craft for all crochet lovers! It's the perfect top to wear with a cami on cooler days or evenings.
The pattern is written for the size medium, but it's easily adjustable for many other sizes.
Make this stylish top yourself using some basic crocheting skills and techniques. The maroon or burgundy colors are deep and great for winters if you can team it up with a jacket or shrug!
Mesh crochet tops are in trend this season! Pick your crochet needles are yarn color of your choice and make this pretty design for your pool party.
A multi-colored crochet crop top is a great delight to wear for casual outings!
You can make adjustments to the measurements for crocheting a plus size crop top.
Time to update your wardrobe with these super stylish crocheted turquoise cover-up tops! This is a great top to wear with a bathing suit or tube top. This makes a great halter top or cover up using granny squares stitching pattern.
This unique pink crocheted top will be a great addition to your closet! Team it up with beautiful dresses and get an amazing look.
This Bea Crop Top is a simple and free crochet pattern with step-by-step photo tutorial. A perfect top for a casual outfit during those hot summer days.
Knit this beautiful grey crochet top with fringes. The detailing done is intricate and will add a gorgeous touch to your outfit
Using lightweight cotton yarn makes this design a great layering piece for all seasons, and the classic pattern with long sleeves will look great on women of all ages.
Leave a comment